Liverpool host Fulham at Anfield on Saturday at 3pm. The Reds are looking to bounce back from defeat at Arsenal with a win. Rory Fitzgerald provides his in-depth analysis of the opposition.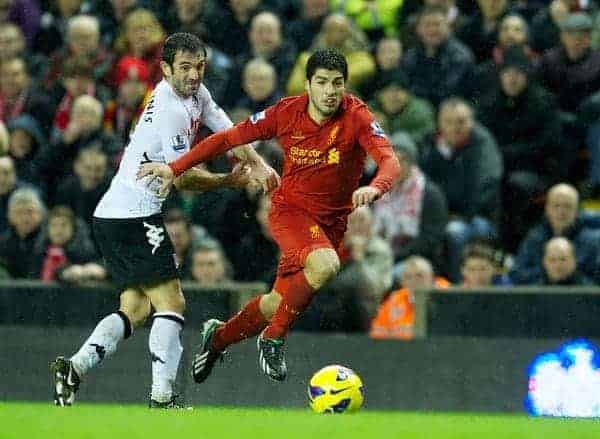 Fulham's set up
If an established Premiership side were to be relegated this season, Fulham were my prediction at the start of the campaign. Of their 10 games so far this season, they have lost 6 with 3 wins and 1 draw. However, 2 of those wins were against teams even worse than themselves i.e. Palace & Sunderland. Their set up is a 4-2-3-1 type formation though in 3 of the last 5 games its been Berbatov and Bent in attack with Berbatov the deeper of the two.
There has been little consistency in the team selections as there has been a high degree of rotation, even within the backline. The midfield is anchored by Scott Parker and Steve Sidwell, who is also a willing forward runner. However, some of the players in advance of midfield are hardly the most industrious with the exception of Kasami who puts in a shift from out wide. As such, the disconnect between the work rate of the 2 and the 3 in midfield causes problems for the team especially given the poor performances of the back line – both individually & collectively – so far this season.
Fulham's defence
Fulham have conceded 15 goals in 10 league games which is the 5th worst in the league. Whilst they put in a good shift at Chelsea earlier in the season 'only' losing 1-0 until the last 5 mins, lately teams have generally been able to comfortably play football through the likes of Ruiz, Berbatov & Bent meaning that there is no real pressure on the ball until the midfield get involved. Whilst Kasami is a willing worker, if the front players are not working as a unit, the work of one player cannot effectively counteract the opposition in that area of the pitch.
With not enough protection from the front, the back line need to be on their game. However, too often they have been blighted by individual lapses and collective disorganisation. The screenshot below is example of some poor awareness within the defensive ranks at Southampton that they ultimately got away with. In fact this screen shot is almost a mirror image of some of the balls that Gerrard whipped in against Newcastle in the 2nd half recently.
However, their luck did not last long with Amorbieta not getting close enough to Lambert at the back post allowing him to head the ball without any real challenge on the 6 yard line.
Whilst the above is an example of individual lapses, the following passage against Stoke questions the organisation of the defence but also demonstrates the lack of pressure on the ball with N'Zonzi and Ireland having the freedom to receive passes, get their head up and play horizontal passes forward. This did not lead to a goal on this occasion but its indicative of the problems that the team are having.
Below are examples of their defence against Man Utd in their most recent game. The first graphic shows some questionable positioning in part due to Richardson not receiving support from Kasami whilst the other 2 are more examples of a poorly deployed offside trap, though this time leading to goals despite getting away with it against Stoke.
Statistics on Fulham
Here are some stats which highlight just why Fulham are struggling;
Average the lowest no. of shots on goal at just 8.3 per game which falls to as low as just a paltry 4.4 per game in away games.
Average the 2nd highest no. of shots conceded at 18.2 per game and in away games they concede the most shots on goal at 20.4 per game.
Conceded the most shots from within the 6 yard box which is indicative of how poorly they have been defending their goal.
Of their 10 goals scored, they were reliant on 5 of them from set pieces (2nd highest in the league).
Away from home they have scored 5 goals, of which 4 were in 1 game against Palace and the other against Sunderland. They were kept scoreless in the other 3 games.
With the exception of the Palace game they have never scored more than 1 goal in a game.
Exposing Fulham's deficiencies
Keeping in mind some of the defensive mistakes that Fulham have made, here are some examples from Liverpool's games against teams that have defensive records that are worse than Fulham. In the examples against Palace it can be seen the kind of positions that Suarez can take up at times in wide left areas and cause their defence problems by stretching the back line.
Example 1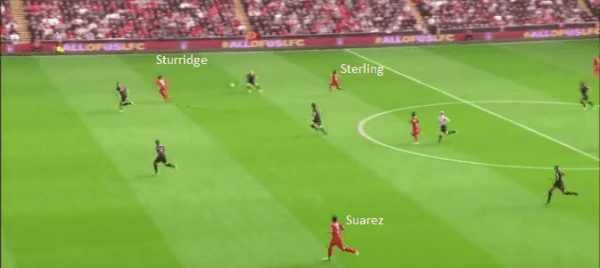 Example 2
The example below shows how some swift passing and intelligent movement can quickly open one of the weaker defences in the league. If there is not enough pressure on the ball by Fulham with gaps between the center halves and the full backs then Liverpool have the players that can exploit this and create chances if Fulham don't tighten up from recent games.
Understanding the malaise
Fulham were my outside tip to be relegated this season. In the pre-season of 2011/12, Fulham's investment was limited – something that Mark Hughes alluded to when he resigned citing 'ambition issues'. That summer they lost Danny Murphy as they only offered him 1 season and he wanted 2. They failed to persuade Henderson to join on loan whilst Charlie Adam went to Stoke instead and Huddlestone decided to stay at Spurs. In the end, they signed the Greek veteran Karagounis as an emergency filler in September to add numbers in midfield that they sorely lacked.
In the January window of 2013, they largely relied on 6 month loan deals to supplement the squad which have now departed. In their last 10 games of last season, Fulham lost 9 of them. As such, this Summer was one in which investment was required. It was felt among the fanbase that for a club that has received funds from TV deals in the past decade, reached the Europa League Final in 2010 and sold players like Dembele, Zamora and Dempsey for good money that the club's financial blueprint was not one that should be relying on free transfers and loan deals on a consistent basis to piece together a squad. Continuing on this trajectory when it comes to squad building is likely to end badly, hence my tip to see them struggle this season.
Attacking Threat
Fulham have scored 10 goals in 10 games and they have only failed to score in 3 games – though those 3 games were away from home when they weren't playing Sunderland or Palace. Of those 10 goals, 5 of them were from set pieces with the likes of Hangeland (if fit), Amorbieta, Berbatov, Ruiz, Senderos and Kasami all being 6'1 and above. The graphic below shows the chances they have created in away games which is staggeringly low at just 15. Even Palace have created as many as 34 which raises questions about the kind of threats we will face with an average of just 4.4 shots per game when away from home. It would be curious to know just how bad those stats would stack up if their 4-1 game against Palace was removed when Holloway resigned afterwards.
Conclusion
The Fulham team have been far from settled this season with the amount of rotation and with Riether's ban, there will be more changes with Aaron Hughes likely to fill in at right back. This may help tighten the back line as the 33 year old centre half is unlikely to be attcking like Riether.
Given the threat of Liverpool's strikers, the problems Fulham have had shielding a poor defence and the need to get a positive result – it will be interesting to see if Martin Jol looks to supplement his midfield duo of Parker & Sidwell with someone like Karagounis coming in to provide a bit more robustness and sacrifice someone like Ruiz.
However, if Martin Jol does not change things and the attitude of certain attacking players does not change nor the concentration at the back then it could be a case of Liverpool dominating the game with little blow back from Fulham. If the reds get time to pick a pass and are presented with space then it would be realistic to expect a win. I just wonder how long Jol can continue with the current set up given the results & performances he has had without looking to shake things up.
Only 5 teams in the league have not yet had a 0-0 draw this season with Fulham and Liverpool being two of those teams. If the stats are there to be broken, you can back the scoreless draw at a whopping 16/1.