Marco Lopes ponders the Arsenal aftermath – and suggests that while there are lessons to learn, there's plenty still to play for.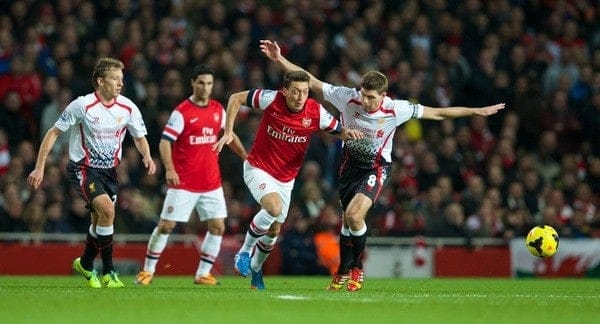 Ah, human nature. Who can blame Liverpool fans a bit of confidence, hope and optimism?  Yet, in the space of 7 days, the throwbacks to dramatic Yossi Benayoun game-winners and heroic displays on Old Trafford's turf have come crashing down to earth.  Predictions of a win at the Emirates which were layered off the hopes created from the resounding win over the Baggies have rudely wandered off like luck deserting hopeful gamblers in a casino.  Many of us were hopeful; some were realistic, and some are downright shocked that Arsenal were that much better than Liverpool on Saturday night.
And so come the inevitable anecdotes of reflection, unwelcome but impossible to ignore. Reality check time. Overconfidence challenged.  We've been brought down to earth, as they say.  Kind of like that moment in the mirror when you don't just stare at the reflection – you consider it and decide something needs to change.
Except, I don't think it's all that bad.  Liverpool have been in far worse places, and like all things in its recent history, context is needed to bring common sense and courage to conversations where decisions are rash and conclusions too swift.  Now, I'm not going to try and paint the nauseatingly positive picture.  That would be both ignorant and inaccurate. However, Liverpool are still handling things pretty decently, and while the room for improvement is significant, the reading of the table still shows Liverpool in striking distance of its original and TRUE target of 4th.  Therefore, I ask the question – is the Arsenal defeat a setback?
The reality check
Let's examine Arsenal for a second.  Since 1st February of 2013, they've won 19 of their 24 league games. They went through their first summer in ages where they didn't acrimoniously sell a key player (the last few being Song, Fabregas, Nasri and RVP).  They ended last season strong.  The squad is settled, and even though they lack cover in defence, defensive midfield and up front, they have genuine quality where it counts for the style they play.  They (albeit opportunistically) signed arguably the world's best #10 who wasn't fully utilized at Real Madrid.  They, like Liverpool, also made a key veteran signing on a free transfer (Flamini).  They're the only other side in the top 6 besides Liverpool who didn't change their manager, helping continuity.  And they're a richer club, with far less required to do to their squad.  They're not trying to claw their way back to the top 4.
And more to the point – unlike Liverpool – they've genuinely played well this season.  Clicked.  In most games.  Yes, not all their games went well.  They ground out the points against Palace, for example.  But Liverpool have ground out results far too often than I'd like this season already.
Park the 4-1 win against West Brom, and all its misplaced euphoria.  Did some of us seriously expect a top show from Liverpool away to league leaders like this?
For me, the use of "3-5-2" was flawed.  Against West Brom, using the system, Liverpool attacked well, and pushed up the pitch far more.  More control, more confidence.  Logically, 3 centre backs plus a roaming solo defensive midfielder should give you as a team the licence to push forward, press high, dominate the ball.  
The system was used with an inverted triangle in midfield as opposed to previous matches where Gerrard lined up closer to Lucas.  Yacob and Mulumbu didn't get a hold on that game because Henderson and Gerrard were exactly where they were supposed to be most of the time – pressing them in their own half.
As illustrated, Lucas was clearly nowhere near as effective defensively against Arsenal compared to West Brom, and he had far more work to do in the latter fixture.  I'm not trying to single him since others in the midfield were poor against Arsenal as well, but it's clear the Liverpool midfield didn't work too well.
Against Arsenal, Liverpool were woefully deep, and while that may be symptomatic of Rodgers wanting to avoid being caught on the break, it made the midfield impossibly ineffective, allowing Arsenal to flood Liverpool's half with all their great passers.  
It's easy to make Arsenal look good when you allow their deepest lying midfielder (Arteta) to spend so much time in your half and play so many passes there, let alone the other players.  Sturridge and Suarez weren't ineffective because they played poorly – they were often the only players taking on the entire Arsenal backline.
The fact that Martin Skrtel was once again complimented by many for a good game is an indictment on Liverpool.  This team's doing far too much defending considering they're using a system that supposedly strengthens the defence by adding a 3rd defender to the shape.
But these problems are not new.  There are some brave fans out there who've spotted these issues, especially in central midfield right from the start of the season since Stoke entered Anfield.  The injuries to two players – Coutinho and Glen Johnson – did provoke a versatile response tactically from Rodgers, but it also exposed some crucial flaws.  Even with both fit, Liverpool haven't had too many great performances from any of their players in fullback or attacking midfield positions.
Top 4 hopes
Right – reality check over.  So why have hope?  Well, I heard it best described in several editions of the excellent The Anfield Wrap podcasts.  Liverpool haven't been the best team between both boxes, but their position in the table suggests they've certainly been pretty good IN both boxes.  To be in the top 4 after a quarter of the season, with one good performance in 10, having had injury problems, and a squad thinner on depth and talent than other rivals is quite encouraging.
As for the Arsenal game, a superior team they may be, but they don't get extra points for beating Liverpool, nor do Liverpool lose points for losing to them.  They are THE form team, they played at HOME, and were clearly keen to avoid 3 home defeats on the bounce.  So contextually, Arsenal had far more hunger, more motivation.  They had far more reason to prove it to themselves as opposed to the visitors, who were merely keen to "test" their good start against a clear title-contender.
There's also the perception that it matters to beat the big teams.  And granted, while bragging rights are nice over condescending cups of coffee at work, they mean squat in a league table.  Liverpool have lost one game, which last season gave them 1 point, so hardly a major setback.  And they're still well ahead of the points tally they accumulated 12 months ago.
The Top 4 is still well and truly in Liverpool's reach.  The matches against the other contenders may seem to matter, but consider this.  In that dramatic title chase in 2008-09, the Mancs lost to Liverpool twice.  They took 5 points off teams 2nd-4th, Liverpool took 14.  They took 11 points off teams in 5th-7th, Liverpool took 12.  The important difference?  The rest of the league.  Liverpool took 60 points off teams 7th-20th; the Mancs got 74 against the teams you'd expect them to beat.  THAT won them the league.  I'll bet they'd willingly lose 4-1 at Old Trafford every season if they kept taking 74 points off the bottom 14 sides.
To support this, consider my last piece about the suggested strategy to get to the Top 4. I'd rather Liverpool lose all the games against the likely Top 3 – Chelsea, Man City, Arsenal – if it meant they got the bulk of the other points against the rest of the league.  And as it is, if Liverpool maintain the current ratio of wins and points that they have for the season (6 wins and 2 draws every 10 games), they'd win 22-23 games and accumulate 76 points, which could just be enough for Champions League football.
True, other sides could achieve that too, so if you're looking for key games against the big rivals, the only team that concerns me is Spurs.  Liverpool already have 3 points on Moyes; I'd say the trip to White Hart Lane needs a heroic draw followed by a decisive win in the return fixture at Anfield…somehow.
The man / team in the mirror
With that hope in mind, while so much of the season remains ahead and the opportunity still remains ripe, Liverpool would do well to have that "man in the mirror" moment.  It isn't sustainable to play as they have and expect to finish in top 4.   Liverpool have been doing far too much defending and grinding out results with sub-par performances.  As the fixture list ramps up, so must the quality of the football and the ability to dominate and control games.
Source: www.whoscored.com
It's clear the football from most of their other rivals has merely lacked defensive solidity and clinical strikes – so without stating the obvious too much, it really is simply Mignolet, Sturridge and Suarez that ultimately define why Liverpool have got the points they have thus far.
The key here is Rodgers, and the odd lack of application of his desired principles in the current season.  The high pressing and the focus on possession and recycling and domination of the ball in opposition areas seem like distant memories to last season and even the counter attacking variant of Rodgers' preferred style that we saw employed in the second half of last season seems to be a distant memory.
The team needs to stop sitting so deep, inviting pressure from weak opponents, let alone strong ones.  The lessons learned from West Brom need to be considered more acutely.  Pressing in the attacking 3rd stifles most teams – they resort to long balls which Liverpool's big backline can easily recover, or they lose possession close enough to their own goal that causes panic, loss of concentration and shuffling of positions that creates spaces for attackers to exploit.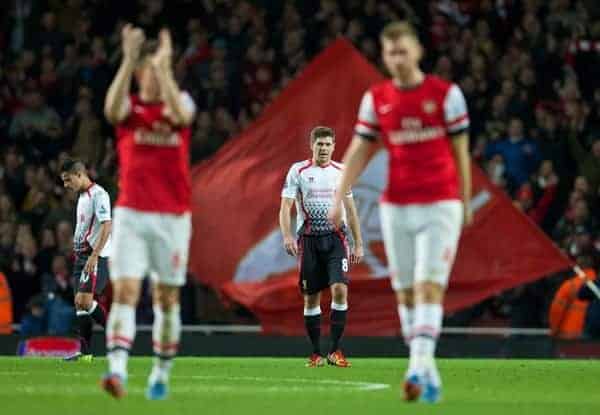 Liverpool's improvement also desperately requires  a change in strategy with respect to Steven Gerrard.  The captain's played an absurd amount of football already this season for club and country.  The mobility he used to have to get around the park isn't there, and was easily characterized by Arteta's afternoon strolls past Gerrard on the Emirates turf.  The brave will say drop Gerrard; the realistic will suggest he needs to be rested.  
I suspect Joe Allen or Luis Alberto also have pressing energy, ball retention and the technical abilities to offer.  Many of us have complimented Henderson's work rate and energy in the middle, knowing full well he's compensating for Gerrard's aging legs.  Why should Liverpool only have one player doing that work?
Liverpool also hopefully have commenced their planning of winter transfer targets.  Realistically, it was always going to be a pivotal window in the hunt for Champions League football.  Liverpool need a monster in defensive midfield, someone to dominate attacking players while still having the right technical skills to offer competition or alternatives to Lucas. 
Coutinho's ability is without question, but his form this season has left some apprehensive, and perhaps it would be pertinent for the club to look at another top class #10 to give the 21 year old a mentor or at least offer proper cover.  The other key issues definitely lie in both fullback positions – Johnson's quality is not replicated in any manner by Cissokho, Enrique or any other players at the club, and the players in these positions are crucial for Rodgers' desired football to work.
If Liverpool can learn the lessons above at least – and implement the changes reflected at them in the mirror that the season has held up to their faces – then the Top 4 dream isn't a dream; it's an objective that the club can and should achieve.
Keep the faith.