Safe standing campaigner Jon Darch explains how The Thatcher government's standing ban was not supported on Merseyside and dispels some of the myths surrounding standing and seating at sports events.
Note – This article is one in a series looking at the subject of safe standing, please find all articles here.
WRITING the day after publication of the Taylor Report in the Liverpool Echo, sports editor Ian Hargraves had no doubts about the 'social cleansing' intentions of the soon-to-be Baron Waddington and his Tory colleagues:
"If and when Lord Taylor's report is fully implemented, it will mark one of the greatest social changes to hit this country since World War Two. Instead of being the traditional sport of the masses… British soccer will effectively be infiltrated by yuppies, the so-called gin and tonic brigade, who can afford what are likely to be greatly increased prices for admission."
The same day, Harry Chase, chairman of the Liverpool City Council's Hillsborough Disaster working party expressed the group's reservations about all-seater stadia. "They can be just as dangerous as terraces if they do not have adequate turnstiles and exits," he said.
Everton club officials were also quoted as regretting the loss of standing areas, but, as the Echo put it, they and Liverpool FC, "like every other club, are powerless to prevent it."
The Thatcher government had got its way. Bit by bit, from 1990 to 1994, the standing ban was enforced.
For as long as possible, The Kop continued to stand. For five more seasons after Hillsborough. Defiantly they sang: "You'll never seat The Kop!" But the day it would happen grew ever closer.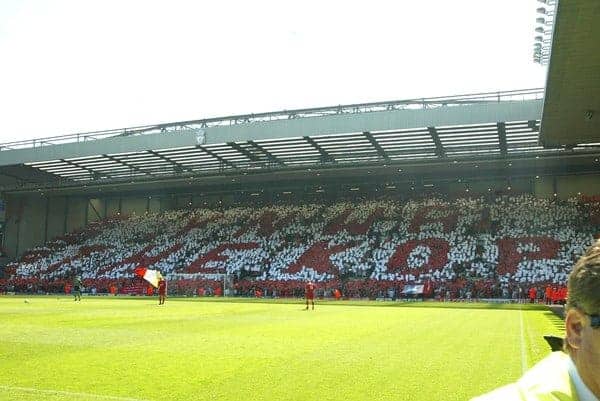 Radio City icon Johnny Kennedy made his views on that prospect clear in an interview for Stephen F. Kelly's book 'The Kop: Liverpool's Twelfth Man: "When they talk about seating the Kop they really shouldn't be talking about seating the Kop, they should be talking about destroying the Kop. They obviously don't use that kind of emotive language, but that's what they are doing. Once they put seats into the Kop there will be no Kop. The Kop at Anfield will cease to exist. The Kop and standing are synonymous."
In the Liverpool music scene, too, there was opposition to the standing ban. Merseyside band Apollo 440, who went on to record the club's official FA Cup Final song in 2006, added 'Apollo 440 say "Don't seat the Kop"' to the cover notes of their 1993 EP 'Rumble'.
"I think putting seats there is wrong" – Kevin Keegan
Players, former players and former manager were also opposed to the ban on standing. "I think putting seats there is wrong," said Kevin Keegan, talking to the Daily Express about the closure of The Kop in 1994.
Talking about the seats being put in, Kenny Dalglish said to the Echo:
"Maybe they could have done that and allowed them to stand at the same place… I think it takes away a little bit from the supporter, the fact that the choice is taken away whether they can sit or stand at the game."
And writing in the Echo two days before the last match with standing at Anfield, Liverpool centre-forward Nigel Clough, who had been on the pitch at Hillsborough as a Nottingham Forest player, said: "I still believe people should have the choice of wanting to stand or sit. By bringing in all-seater stadia – not just at Liverpool – you're taking away that choice."
But taken away it was. The Kop stood for the last time on 1st May 1994. Standing had been banned. Not because it was unsafe. Thousands still stand safely at sporting events on Merseyside today, not least at the Grand National and at rugby league games in St Helens, where a new stadium with almost 50% standing was built in 2012. No, it had been banned because the Tory government of the time saw standing football fans as hooligans.
However, Liverpool supporters know that to be untrue. Despite seats having been installed, many still chose to stand.
In 2007, Liverpool FC itself came as close as it could under current legislation to endorsing standing at Anfield. The club allocated block 306 to fans aligned to the 'Reclaim The Kop' ethos of creating a loud 'singing section' (a term widely interpreted by fans everywhere as 'unofficial standing section').
This worked well and the next year it was extended by two more blocks. Chief executive Rick Parry told the Echo: "We think the new block has been a success … It hasn't always been easy because there are rules and regulations which we have to follow but we are very much in favour of initiatives which help bring back atmosphere… I think it has had a positive effect."
Explaining the thinking behind the idea, one of the instigators, John Mackin, explained:
"Going all-seater also meant that fans are not getting into the ground until the last 20 or 30 minutes before kick off. The long hours that we used to spend standing and waiting for kick off used to be filled by having a laugh, inventing new songs, practising the old ones – there was a real sense of comradeship and belonging. What we've tried to do … is to get some of those people … back together again and encourage those younger ones who want to be a part of it to step up to the plate … it's for those who want to generate the atmosphere … It's for supporters, not spectators."
"I am not against standing" – Sheila Coleman
The comradeship and sense of belonging referred to by Mackin is something that long-standing Hillsborough Justice Campaign spokeswoman Sheila Coleman also misses, as she said in an account of her days as a young girl on The Kop written in 2012: "I miss the Kop in as much as it was a part of my childhood. I miss the collective nature it encouraged. I often wonder if it helped form my socialist views," she wrote.
"Personally, I am not against standing. It was not standing that killed people at Hillsborough. It was a prevailing culture that saw fans treated like animals; corralled to the stadium, herded into pens – even the language is animal terminology."
Today that culture is thankfully on the wane.
However some in the police, like the assistant chief constable in South Yorkshire, a man who has been in the force for 37 years, do still maintain: "If you go back to standing areas, I think it is likely it will attract the unruly element" (Guardian, Dec. 2012).
It is the same prejudiced view that was held in 1989: that fans who like to stand are hooligans and, by extension, that the Liverpool fans, indeed the 96 themselves, were in part to blame for Hillsborough. It is a now thoroughly discredited view, for which even David Cameron felt obliged to apologise in Parliament, recognising "the injustice of the denigration of the deceased", which had suggested "that they were somehow at fault for their own deaths" (Hansard, Oct. 2012).
Yet the ban on standing, based on this discredited, prejudiced notion that standing fans are hooligans, is still with us. Still a denigration of the 96.
Standing fans are not hooligans. They are simply supporters who prefer to be more than mere spectators. They want to be a part of the drama. Football without standing is like Greek tragedy without the chorus. For many standing is part of the very essence of football. "Sitting is not the same," said Sheila Coleman in her article. Adding, in a reference to the thousands of fans who now stand behind shin-high seat-backs in all-seater grounds: "Is this any safer?"
Indeed, on big European nights the entire Kop stands, as do large numbers of Liverpool fans at away games. A fact picked up on by Tony Evans, a Liverpool supporter and football editor of The Times, who was also at Hillsborough, in a video filmed this summer at Anfield for BT Sport:
"People still stand at football matches, which is dangerous. Effectively the seat backs become trip hazards to people standing behind them.

"One of the fundamental myths of Hillsborough is that standing killed people. It didn't. Bad policing killed people and a stadium that didn't have a safety certificate."
Explaining the concept of safe standing at rail seats with an integrated waist-high rail along every row, Tony Evans concludes "while people stand at football matches, and they always will, we need to do the safest thing. And the safest thing is safe standing."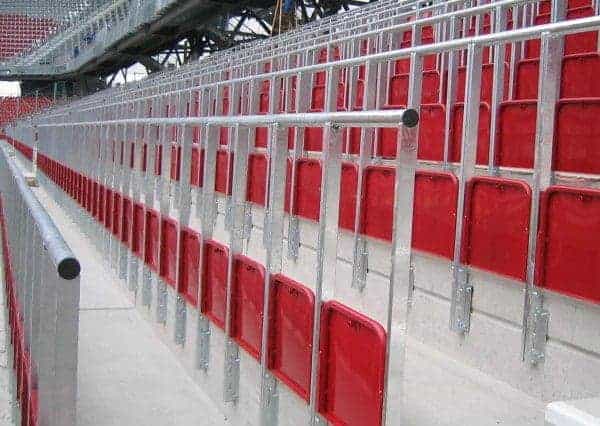 "We need to do the safest thing. And the safest thing is safe standing"
What better way to honour the memories of the 96 than to ensure that all fans who like to stand at football, as they did, are seen as law-abiding supporters not potential hooligans and are provided with the safest form of accommodation possible? Designated safe standing areas fitted with rail seats.