Neil Collins reflects on Liverpool's rampant victory at Tottenham on Sunday and says there's lots of reasons to be optimistic over the busy Christmas period.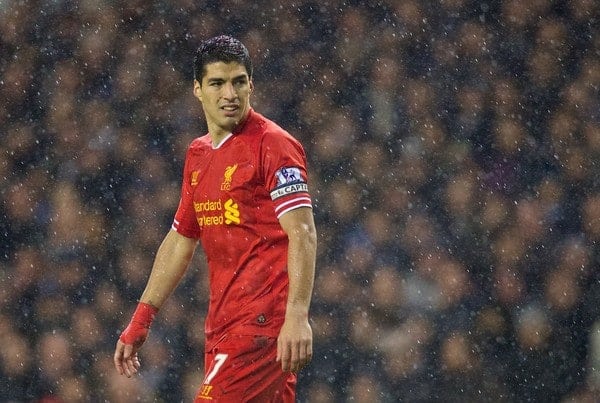 Suárez as Skipper
Rodgers' decision to hand Suárez the captaincy was a masterstroke.
Škrtel or Lucas may have been a more obvious choice from a tactical and positional perspective, whilst Johnson was given the skipper's armband for the final half-hour against West Ham. Yet, the Uruguayan was perfect for the role because he galvanises the team without needing to be vocal and lets his majestic play do the talking.
Suárez simply makes those around him perform better. On current form he's the best in the world, and even in injury time he was haring around in search of his hat-trick.
Both his goals were calmness personified and he assisted with the other three. Our No.7 just looks like scoring every time he gets the ball, and incredibly he's now scored two more league goals than Tottenham have managed all season. And that's giving them a five-game head-start too.
If Spurs spent £26m on 28-year-old Soldado, how much is Suárez worth? That £40m+£1 bid from Arsenal in July was laughable back then, but it's hysterical now.
Ruthless Reds
When Liverpool click into gear and win games, they usually thrash teams under Rodgers. Unlike recent years, where Liverpool have struggled to kill off sides or even find the elusive goal at all; Rodgers' Reds are absolutely ruthless when in form. The Hull horror-show is now a distant memory as the Red Men have won three on the bounce; scoring 14 and conceding two.
Furthermore,  a Liverpool side lacking Sturridge and Gerrard converted half of their 10 chances on target, whilst still creating 11 further opportunities. It's not unrealistic to suggest we could've won by seven or eight when you consider Suárez missed two one-on-ones, plus Sakho and Coutinho hit the woodwork; with the latter also slipping when clean through.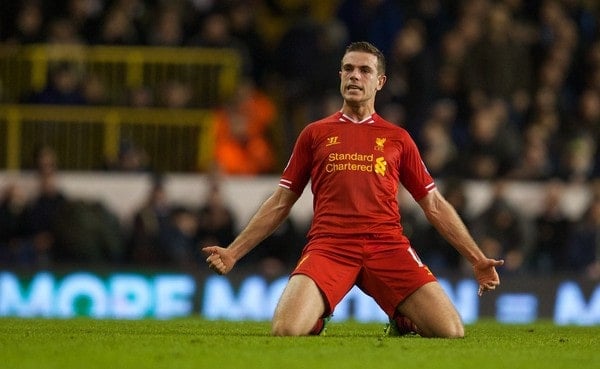 Heroic Henderson Bossed the Midfield
Henderson produced an unbelievable performance that surely has to silence the doubters as he covered ever blade of grass over 90 minutes. His persistence and quick-thinking unsettled Dawson to set up Suárez's first; and he did well to control a bouncing ball for his goal, which could easily have been ballooned into the stands.
The 23-year-old had a big hand in Liverpool's opening three goals, and with Allen and Lucas in more withdrawn roles he's shown he can thrive in the hole behind Suárez.
Henderson was the heartbeat of Liverpool's performance; continually setting the tempo and dominating Paulinho, Sandro and Dembélé with ease. Many Kopites believe that Rodgers still hasn't got the balance right in his engine room and that the centre of the park is the weakest part of his side.
Yet, it was a Liverpool midfield quintet with an average age of 22 that was key in winning the clash. Not only did they complete 166 passes, but Henderson's intricate passing with Allen and Lucas saw them all boast at least 90% accuracy rates.
Fantastic Flanagan
Ever since Rodgers threw in Flanagan at the deep end at Goodison a few weeks back, he's been superb. Admittedly I was worried he would be exploited by Lennon's pace and Walker's strength. In those respects, a fully fit Enrique would still be a better option.
Yet, you can't underestimate the passion of having a local lad in the team for the fans to urge on. King Kenny's Cheshire Cat-like reaction to Flano's goal summed up how all Kopites were feeling – a combination of delight and laughter that such a stunning goal came from the unlikeliest of sources.
Flanagan linked brilliantly with Coutinho and always offered himself as on outlet down the left. His defending was equally impressive, and he seems less impetuous in the challenge now; portraying an experience beyond his 20 years.
Lastly, his pass accuracy was almost 90%, and he completely outshone both Kyle Walker and Glen Johnson in front of Hodgson.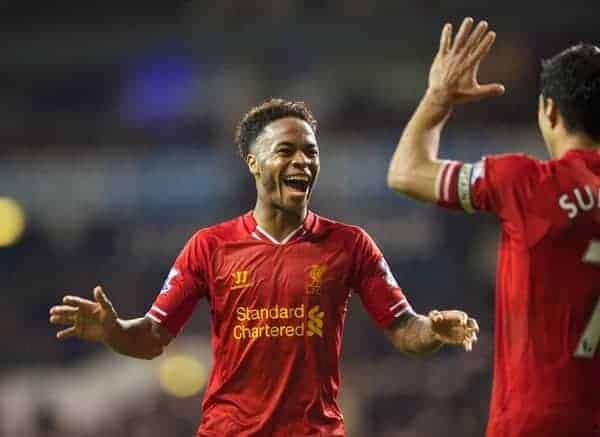 Sterling and Allen Stepped Up to the Plate
Much like Henderson, Sterling and Allen have been on the receiving of vitriol for lacklustre displays. Yet, both were exceptional.
Sterling caused absolute havoc throughout the first half bombing forward on the counter and cutting inside to free up space on the overlap. Villas-Boas even hooked Naughton at half-time for his complete failure in dealing with the 19-year-old.
He continually skinned defenders and pressurised opponents, whilst getting himself in dangerous areas despite a demoralising series of misses against West Ham. His goal demonstrated a much improved composure in a one-on-one situation too. Compare that to his 'Bambi on Ice' scuff in a similar position at Goodison last season.
Talking of misses at Everton, Allen certainly hasn't let his head drop since that glaring miss a few weeks ago. The Welshman was imperious; endlessly pressing and neatly distributing to a teammate.
Likewise, Lucas replicated the kind of form he hasn't shown since before his knee injury; constantly harrying the opposition into mistakes and expertly shielding the back four. And after a slow start to the season, Coutinho is back to his magical best.