With Luis Suarez's contract secured, manager Brendan Rodgers is likely to follow him soon in extending his deal at Anfield. Tom McMahon explains why such a move is justified.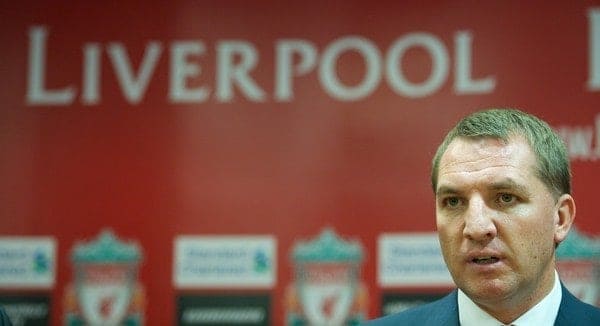 On the 1st of June 2012, Brendan Rodgers was unveiled  at Liverpool manager on a three-year contract.  Following the departure of Kenny Dalglish, Rodgers certainly had big boots to fill – with a large section of the fan base still irked by the nature of King Kenny's dismissal.
Rodgers is now half-way through his initial 3 year contract, so it seems fitting to reflect on his tenure so far and to evaluate whether he deserves a contract extension.
Rodgers, in my opinion, most definitely does.
The club have been shrewd in its recent dealings, tying down the likes of Daniel Agger, Steven Gerrard, Raheem Sterling and Luis Suarez on long-term contracts throughout Rodgers' reign as Liverpool manager. It is now time for the club to impress once more by tying down another one of it's key assets – Brendan Rodgers himself.
Here's 5 factors which have impressed during Rodgers tenure so far, and why he has earned an extension beyond another year and a half:
Implementing 'Death By Football'
"When you've got the ball 65, 70 percent of the time it's a football death for the other team. We're not at that stage yet, but that's what we'll get to, it's death by football".
Rodgers Speaking to ThisIsAnfield – September 7th 2012
One of Rodgers' initial promises since his arrival was to control the possession of the ball, making it difficult for the opposition to gain a foothold on the game. This has lead one of Brendan's most renowned sound bites – 'death by football'.

With the likes of Norwich City, Fulham, West Brom, Swansea, West Ham and Sunderland on the receiving end of some thrashings at Anfield, Rodgers has brought this footballing metaphor to life. Under Dalglish, Hodgson and even Benitez at times, Liverpool struggled to break down the 'cannon-fodder' at Anfield. Teams would regularly set-up to be difficult to score against, hoping to nick a point or three on the counter attack or via a set-piece.
This is no longer the case; Rodgers has turned Liverpool into so-called "flat-track bullies" at home.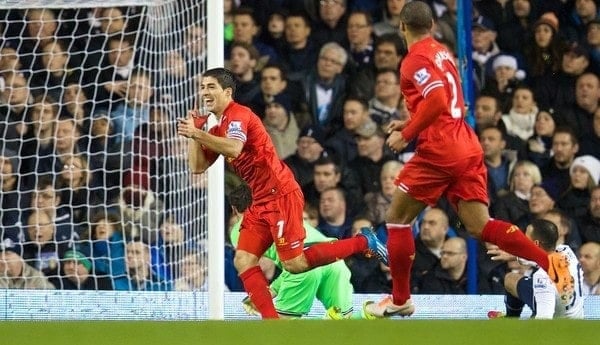 This season, Liverpool have put to the sword all the teams they 'should' have at Anfield (a dreadful Southampton performance being the only exception).  These victories provide the backbone to a top 4 points total – something both club and fans desperately desire. If Rodgers prolongs Liverpool's promising home form this season – with wins against the other top 4 rivals key- Champions League football next season seems likely. Something the club hasn't been able to boast since the 2008/2009 season.
The 'death by football' mantra also alludes to the style as well as the substance of Rodgers' vision. Liverpool have kept the majority of possession in all their home games this season, passing with confidence and flair while scoring 25 goals in just 9 home games this season.
In short, Liverpool have been a marvel to watch at Anfield since Rodgers put pen to paper in his 3 year contract.
Demonstrating Ideology AND Pragmatism
'I was also a little sceptical about the style which he wanted the team to play: centre-backs splitting, both full-backs pushing high  up and the keeper comes out to operate like a sweeper — just as Barcelona do Liverpool have always played good, intelligent football but this was taking it to another level. I felt it was risky. Three games into the season, we faced Arsenal at Anfield and they took full advantage,  beating us 2-0. With that style, I didn't see how we would ever grind out a result. But to Brendan's credit, he and the team have evolved over the last year while remaining true to his principles.'
Jamie Carragher on Rodgers' start to his Liverpool career, Daily Mail. 
As Carragher alludes to, it hasn't all  been plain sailing throughout Rodgers' tenure.  Liverpool initially struggled adapting to Rodgers' tiki-taka' framework – taking just 2 points in the first 5 games of the 2012/13 season.  The new £10.5 million acquisition of Fabio Borini was struggling to adapt to the league, the split-centre back system had leaked an average of 2 goals per game and there was a general lack of penetration and cohesion throughout the team.
Rodgers decided to put the framework which propelled Barcelona to great success to one side, in order to pursue better results.
The centre backs dropped a yard deeper, purchases such as Borini and Sahin were benched for more direct players such as Henderson and Sterling and the team in general were given licence to become direct when needed – as evident from Jose Enrique's long-field pass to Luis Suarez's wonder-goal against Newcastle United.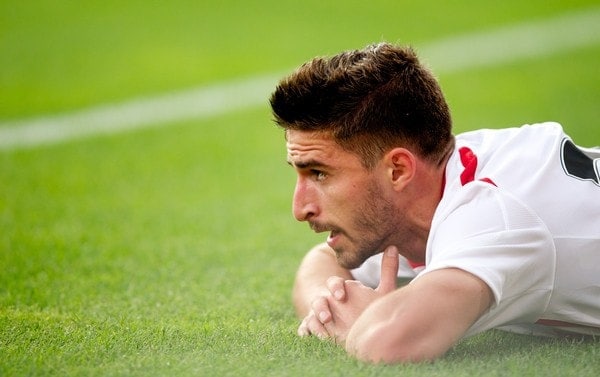 For Rodgers to put aside his hallmark ideology- during a period of pressure and poor results – is a rare gift in management.
Andre Villas-Boas, a fan favourite to replace Dalglish, has already been sacked as Spurs manager due to his stubbornness to persist with a Barcelona-esque system. The system did not suit the players at his disposal (Michael Dawson attempting to play a high-line during Liverpool's 5-0 rout over Spurs is testament to this) and this lead to prolonged periods of poor results.
The pragmatic nature Rodgers has shown throughout his tenure so far shows that there are more strings to Brendan's bow than mere buzzwords and chalkboard tactics. More impressively, the principles of possession and visually pleasing football remain intact despite the tweaks to the tactical set-up. This multidimensional nature of Rodgers' management will serve Liverpool well going into the future.
Successfully Nurturing The Youth Players
"The start of last season was great for me. To get that many opportunities to play at such a high level for such a great football club, I was really grateful to Brendan for that.

"I didn't think so at the time, but the break I had probably did me good. You want to play as many games as you can but mentally as well as physically I probably needed a rest.
Sterling praising Rodgers on his career so far, Liverpool Echo.

One of the initial factors I was personally excited about during Rodgers' arrival was his proven track record of youth development. The Ulsterman had worked for Reading's youth team as well as under Jose Mourinho with Chelsea's promising youth squad.
Surely enough, Raheem Sterling and Suso were swiftly thrown into the first-team squad.
The pair have now shown themselves to be superb talents going forward. Raheem Sterling has impressed throughout both seasons of Rodgers reign, with his recent goals at home to Norwich and Cardiff and domination in high calibre games at Tottenham and Man City recently. The England international is clearly maturing and looking like a fantastic prospect for club and country.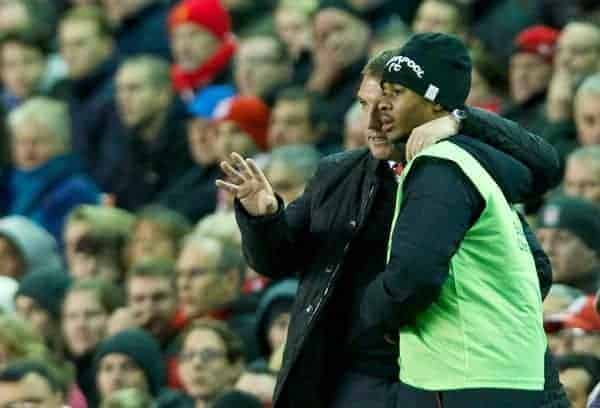 Suso too has impressed, with the Spaniard becoming a key player while on loan to Almeria – scoring 2 goals and assisting 6 in just 15 appearances. The decision to loan Suso has greatly improved his development and will be a strong asset going into next season.
It's not just the most promising of youth players which Rodgers has managed to wave his wand over.
Jordan Henderson had a torrid debut season at Liverpool under Kenny Dalglish, Philippe Coutinho was struggling to impose himself at Internazionale and Daniel Sturridge couldn't even get ahead of a misfiring Fernando Torres at Chelsea.
The trio are now all sacrosanct to Liverpool's first team – all performing to exceptional standards which many believed  was beyond their capabilities.
Rodgers' ability to polish these 'rough diamonds' is a key factor in the club's Champions League form this season – deserving a large amount of credit for it.
Showing Bravery Over Difficult Circumstances And Decisions

— Mignolet's best saves of the season
Since his arrival, there's no doubt that Rodgers has had a host of difficult circumstances thrown at him.
Rodgers has not been afraid to tackle these issues and not bowed to pressure from some star players. Andy Carroll was immediately shipped off upon Brendan's arrival, a difficult decision given that the striker was finding form at the end of the 2011/12 season. The judgment to no longer persist with Carroll has arguably provided the platform for Luis Suarez to flourish as a main striker.
Suarez soon repaid Rodgers by gnawing on Branislav Ivanovic's arm in a moment of madness and then asking for a transfer to Arsenal during the following summer. Rodgers decided to fine Suarez for biting Ivanovic and then made him train alone during the summer for his lack of effort in preseason preparation.
Rodgers then utlised his man-management skills by convincing the Luis Suarez to stay.Suarez returned to training with his renowned vigour and has since looked to challenge the likes of Cristiano Ronaldo and Lionel Messi as the best striker on the planet this season.
Rodgers has also been brave in looking beyond the reputation of key-players.
Pepe Reina looked a shadow of his former-self under Benitez, and was soon sent on loan to Napoli during the summer of 2013, in place for the impressive Simon Mignolet.  According to Squawka, Mignolet has made an average claim success of 97%, and makes near 2 and a half saves per game. His performances in goal have stood out – bar his howler against Man City– and looks to have been a great decision from Brendan on reflection.
Daniel Agger is another who has failed to impress as much as previous seasons. Agger has struggled to be aggressive and assert himself in central defence and was beaten on many set-pieces during the 2012/13 season.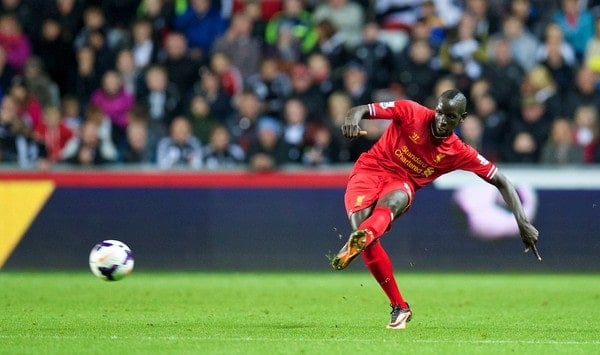 Rodgers has since gambled with the signing of Mamadou Sakho for £15 million – arguably when there were more urgent areas of the team to invest in.
However, this gamble looks to have paid off. Sakho looks to have the potential to become one of the league's best centre backs , with a series of strong performances. Another difficult decision from Rodgers seems to have benefited the teams form this season.
A Class Demeanour To Represent The Club
"The decision-making during the game yesterday was poor, and I have to speak on behalf of the supporters at this club.

"If you look at my record since I have been a manager, I have never had any indiscretions against my name. I don't play games.

"I fight my corner but I always have respect."
Rodgers on his recent critisisms post-Man City, ESPN

Lastly, Rodgers always conducts himself with dignity, both throughout his off-the-field interviews and during the dugout at matches.
Rodgers will never mud sling at the opposing manager or – Man City permitting – criticise the referees and officials.  A huge contrast to the likes of Arsene Wenger.
As Brendan's post-match interview showed, there are times when he will defend the squad from outside sources. This makes his criticisms much more potent and avoids the 'boy who cried wolf' syndrome some managers face in their interviews.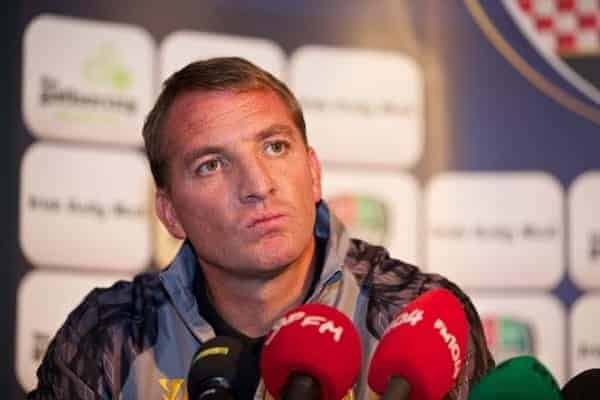 Rodgers possesses the critical balance between good nature and assertiveness.
Brendan rarely gets too irate on the touchline either, preferring to calmly take notes on the team's performance rather than swear blindly to the fourth official and to players on the pitch. Despite his element of  emotional distance, it doesn't stop him roaring into celebration when Liverpool score. This was sometimes lacking under Benitez and nice to see from a fan's perspective.
While a personality and way of conduct isn't the most vital tool of football management, it helps cements Rodgers' stance as Liverpool's manager. The renowned 'Liverpool Way' is a mantra Rodgers aligns himself with, both in personality and in ideology.
There's something about Brendan Rodgers that just 'fits' with Liverpool football club.
I hope the board decide to give him a lucrative bumper contract as soon as possible. Rodgers is the right man to propel the club back to the top positions in the table, and looks to be delivering the promise of silverware and Champions League football  that both club and fan base crave.
Here's to the next season and a half and beyond, Brendan.
Follow Tom on Twitter: @TomMc_Sports