Brendan Rodgers addressed a room full of journalists on Thursday ahead of Liverpool's Premier League clash with Cardiff City at Anfield this Saturday.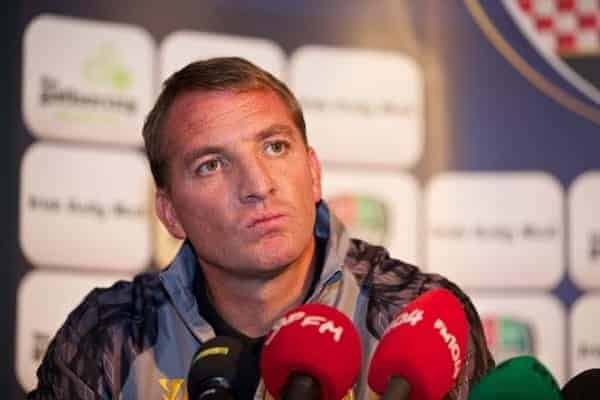 Victory for Liverpool would move them top of the Premier League, with Arsenal playing Chelsea on Monday night at the Emirates Stadium.
It is the first time the sides have met at Anfield since 2007, when Rafa Benitez's Liverpool beat Dave Jones' Cardiff 2-1 in the League Cup.
Rodgers addressed the media, with quotes cited by the club's official website, to discuss the players he has available, his positivity at being Liverpool manager, and gave an injury on Steven Gerrard.
On the importance of squad togetherness and his "happy bench":
The squad we have at the moment is still relatively small, we have got a few players out," the manager told reporters at Melwood on Thursday.

But I'll always look from within, like I have done whenever we have had injuries, when young Jon Flanagan came into the team or Raheem Sterling came into the team.

Of course, we would want to reinforce the group, but it has to be players that are clearly better than what we have that can come in and help the group.

[In terms of] players going out, we don't have to move anyone out. If players aren't in the team, then they need to fight to get back in the team. That's the beauty of the squad.

You saw the spirit in our team as well at the weekend. If you looked at our bench when we were scoring the goals and when we were winning, it was a happy bench.

I've always said to the players that aren't playing that it's their responsibility to support the players that are playing. If you're out of the team, of course it's difficult and I always acknowledge and recognise that by supporting them.

But the players that are out of the team, it's their job to support the players that are playing, because it's difficult for them. They all work together; I select the team.

There's very much a togetherness here, and that's one of the key facets of the season so far.
On having the support of Liverpool's owners:
When I look at managers and decisions that have been made, it makes me really appreciate the decision I made to come here with the owners," he continued.
They have been so supportive of me in my time here, but ultimately had a strategy and a vision in terms of how they wanted to work. They have brought someone in and trusted them to give them that time to implement it.
We still have a way to go in order to be where I would want us to be, but I think it's clear that we're making progress – and you have to give the owners huge credit for that. Never once have I ever felt under any pressure.
Even in the most difficult moments – the first five or six months here, when the transition was really taking place in terms of our identity and we didn't have a lot of coaching time with the players on the field – they were very strong and committed in terms of the choice they made.
Hopefully as much as for anyone – the supporters and the players – over the longer term they will get their rewards for that, because they have shown that, strategically, they know where they want the club to go and they are prepared to give it time to evolve.
On Steven Gerrard's recovery from a hamstring injury:
Steven is coming along very well, he is outside working and running. For the other players, it is as it was – there are no fresh injuries.
Liverpool are likely to keep the same starting line-up that demolished Tottenham 5-0 last Sunday when they face the Bluebirds this weekend.
Liverpool vs Cardiff City gets underway at 12.45pm and is live on BT Sport 1 and BT Sport 1 HD.