This is the final part of my look at the Liverpool academy. Thanks to all those that took time to read it and those that left a comment. I understand not everyone will agree with my views. But like the boot room of old. Discussion is always good.

Liverpool FC Youth Academy: Groundhog Day (Part 2)


Liverpool FC Youth Academy: Groundhog Day (Part 1)

Is the U21 league holding back players?
As it stands the step up from the U21s to the first team is too big. The NextGen was a very good competition, and while UEFA have introduced their own U19 Champions League, the problem is that it's only for clubs that qualify for the Champions League. This is not only excluding Liverpool but also other top academies in England and Europe.
While I feel the U21 system has its merits I feel it would be better served if the established Primer League clubs played each other more often. I would like to see Liverpool play Manchester United and City, Chelsea, Arsenal, Spurs, Everton, Villa etc at least 2 times a season if not 3 or 4. I would also like a strong European U21 competition.
I would like to see the U18 league developed in a similar manner again with a European competition. It's clear that the games against the bigger teams matter more and are played at a higher intensity.
We can't let a situation like last year develop again where Liverpool didn't have any game against Everton at U21 level and no games with Manchester United and Everton at U18 level.
Are we using the loan system correctly?
It's clear the loan system is not working for Liverpool. When Barcelona loaned Gerard Deulofeu this season, clubs queued up. Barcelona could have sent him to a club that was playing in Europe but they wanted to send him to a club where he would play. They set up an arrangement with Everton that the more he played the less Everton would have to pay. Liverpool needs to adopt a similar approach in order to ensure there players get game time.
What do we need to do to help improve our Academy and developing youth players in general?
When Rafa Benitez suggested having B Teams in the lower divisions it was laughed at. However it's clear from Spain that players develop better playing with their colleagues in a competitive environment.
I feel a link could be set up between the top Premier League clubs and a club in League One or League Two. Liverpool could have a link with Tranmere Rovers or Accrington Stanley. Liverpool would provide free coaches to the clubs. The club would not have to pay wages but would have to play a certain number of Liverpool players per game. If a player wasn't working they could choose another from the academy.
If Liverpool decides to let a player go, the affiliate would be given first option on signing them. If the affiliate developed the player and then decided to sell the players then all transfer fees should be split 50/50. Also there could be rewards to the club for example if someone like Jordan Lussey spent a season on loan at Tranmere and played 30 games or more and the club decides to sell him to Wigan for £3 million then Tranmere would get 15%.
However if Lussey made it at Liverpool after 10 first team games Tranmere would get £50,000 and after 50 games they would get £200,000, if the player makes 5 International appearances they get another £250,000, they would get another £250,000 after 5 Champions League, so the clubs would be paid for there part in helping developing the player.
If Tranmere promoted to the Championship then the link is stopped and a new one formed with another club. If this proved to be a success we should look at setting up a similar arrangement with a European team.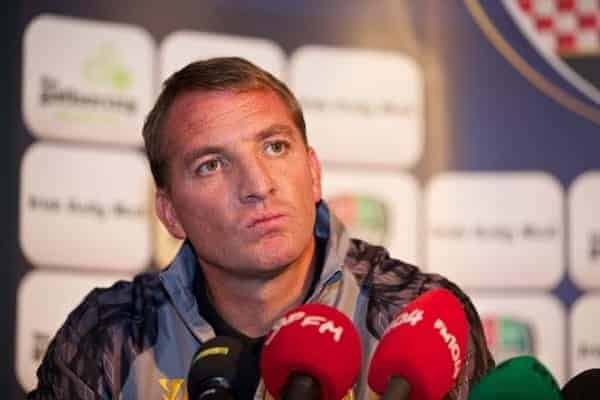 Should the first team manager have control of the academy?
I think there needs to be a separation between the first team and the academy as every time we employ a new manager they will revamp the academy for their own short term needs.
I think the first team manger should have a say on certain things but the clubs philosophies would not be changed. I would hope that we wouldn't ever employ someone whose football ideology was as different to Liverpool's as this could set the academy back years if they had control of the academy also.
Are we on the right track or do we need a new blue print?
I feel we are on the right track but if we aspire to having one of the best academies in Europe we still have a bit to go. Firstly we need to become the best academy in the North West and then in England. For years we had a world class academy infrastructure that was not producing top flight players.
It's clear we need to recruit the best players locally. Recent evidence would also support the idea of recruiting the best talents from domestic academies more than international ones. Maybe a quota supporting 3 to 1 bias toward domestic recruitment so we get players like Raheem Sterling, Jordan Ibe and Jerome Sinclair and supplement that with an exceptional non-domestic talent like Suso.
It is clear we need to improve more technically. I feel more hours of specific coaching will help this. The Clubs, the FA and the Premier League need to get together and devise a programme that works with junior clubs and school teams so kids are technically proficient at a younger age.
If we could get academy players to a very high level of technical ability then you could use the loan system when they are 19 or 20. They should be sent to the affiliate club where they would play in matches that matter in front of crowds. The following year they could be sent to a European affiliate.
I think the U18 and U21 leagues need uniformity and the kids need to play as many highly competitive games as possible, there needs to more emphasis on European competition for both the U18 and U21s. The big clubs should get together to ensure this happens.
I feel we should have a role for ex-players whether they played for our first team or our academy. It's great to see the like of Robbie Fowler, Rob Jones and Steve McManaman back at the club but it's also brilliant to have someone like Richie Partridge at the club.
I firmly believe we are on the right roads but we still have a long way to go to get to the levels of the likes of Barcelona and Sporting Lisbon where we produce world class players on a regular basis.