Aaron Cutler has some scathing criticism for Howard Webb following Liverpool's defeat at Stamford Bridge.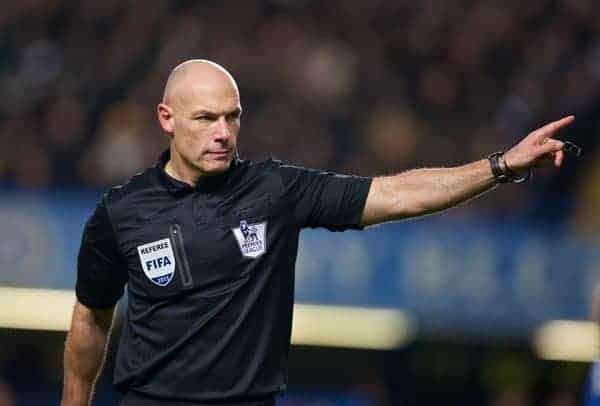 Not for the first time, a spirited Liverpool display was undermined by one Howard Melton Webb.
Yes, the self-styled 'best ref in the country' denied The Reds an unlikely point at Stamford Bridge following a catalogue of mishaps. So bad were his errors in judgement, so glaring his blatant incompetence it bordered on the comical – only the joke was on us.
He may not have shown it – for fear of further reprimands – but inwardly Brendan Rodgers must have fumed.
Consecutive away performances have been undone by poor officialdom falling short of Sunday League standard. City may have been bad luck but Chelsea was simply bad refereeing. A crime sheet stretching back the best part of a decade has left Kopites questioning Webb's integrity.
Is it sheer ineptitude, a lack of bottle or a personal vendetta against Liverpool Football Club? Cynics will label us conspirators with a chip on our shoulders but let's review just some of Howard's horrors:
West Ham (A) April 26, 2006:
In a dress rehearsal for the following month's FA Cup Final Liverpool and West Ham played-out a largely uneventful fixture at Upton Park. A Djibril Cisse double had given the visitors a 2-1 lead when, with just two minutes remaining, Howard Webb became card happy.
A somewhat innocuous tussle between Hayden Mullins and Luis Garcia resulted in both being dismissed and dealt unnecessary suspensions for the showpiece event in Cardiff.
The Spaniard won possession in midfield, only to be upended by a Mullins arm lock. Fighting to break free, Garcia spun round and caught his opponent in the back. Nothing sinister, merely a breakaway motion having been grabbed for almost ten seconds. Both fell to floor in pantomime fashion – the entire episode cringe-worthy.
Rather than award Liverpool a rightful free-kick and instruct both players to man-up Webb craved attention and headlines. He sent off both players to the dismay of teammates, fans and managers alike. Both clubs joined forces in a bid to remove or delay the bans but our beloved FA stood firm.
And so Webb cost two professionals a cup final appearance, all due to his inability to manage a childish fracas.
Man United vs. Tottenham (Old Trafford) April 25, 2009:
This encounter did not actually feature Liverpool but it impinged on the club and ultimately the destination of a Premier League title. Would-be champions Manchester United were wobbling badly, suffering from the aftershocks of a 4-1 home defeat to Rafa Benitez's reds. That setback had been followed by defeat to Fulham and a nail-biting win at home to Villa. So when Spurs stormed into a 2-0 lead at Old Trafford the alarm bells were ringing, particularly with Liverpool recording five victories on the bounce.
The gap was narrowing and Howard simply had to intervene. Twelve minutes into the second half he seized his chance. Michael Carrick darted into the box only to be met by the onrushing Heurelho Gomes, who clearly took ball before player. To the exasperation of everyone watching across the country, Webb pointed for a penalty – enraging Tottenham.
Gifted a route back into a game they had all but lost, Ronaldo finished Webb's assist and turned the title race on its head.
Shell-shocked, Harry Redknapp's side capitulated, shipping another four goals to lose 5-2. The score line flattered the hosts, who looked dead and buried until a helping hand from the man in black.
Webb later apologised for his calamitous decision but his intervention had had the desired effect. United went on to win the league.
Arsenal (A) February 10, 2010:
Liverpool travelled to The Emirates playing catch-up on their title rivals following a dismal first half of the season. Morale boosting victories over Spurs and Everton had at least set-up a tilt for the top four until Howard Webb OBE thought better of it. Abou Diaby gave the Gunners a second half lead but Liverpool continued to press and were worth a point. They should have earned just that in the final seconds of added time.
Steven Gerrard lined-up a 25 yard free-kick, bracing himself for another Roy of the Rovers moment. His subsequent strike was goal bound until Cesc Fabregas raised both arms and blocked the shot – inside the area. A more blatant penalty you will never see.
As Liverpool raged Webb shrugged off their appeals and blew the final whistle. Did the timing of the incident cause him to bottle a big decision?
Andre Mariner was brave enough to award an even later penalty our way (102 minutes) at The Emirates a year later. As it was Liverpool lost the game and Webb, typically, was never held to account.
Gerrard himself condemned the former police constable in his post-match interview. "The referee told the Liverpool wall in the first half that if anyone raises their arms above their waist he was going to give a penalty" he said. "So for some crazy reason he didn't give it. He told me after the game he hadn't seen it."
Man United (A) March 21, 2010:
Just over a month later Webb was entangled in yet further controversy involving Liverpool. The reds, by now harbouring only faint hopes of Champions League qualification, took the lead at the home of their great rivals courtesy of a Fernando Torres header. They were pegged back just seven minutes later when Webb awarded his favourite team a questionable penalty.
Javier Mascherano fouled Antonio Valenica, of that there is no doubt. The Argentine grappled away with the United winger over the course of ten yards but gave up the fight BEFORE he reached the area. That failed to discourage Valencia who launched himself like an Olympic long-jumper, landing comfortably inside the box.
Rather than consult his linesman Webb pointed straight for a penalty – the only surprise being he merely booked Mascherano. Predictably, Alex Ferguson claimed he got the decision spot on, while Rafa Benitez protested in vain. Now on level terms, United were able to press home the advantage of twelve men and wrap-up a 2-1 victory.
Man United (A) January 9, 2011:
A return to Old Trafford in Kenny Dalglish's first game back at the helm. The King had not sampled competitive football in twelve long years and Howard Webb wasted no time in introducing himself and his bias. Less than sixty seconds were on the clock when he articulated his favourite Old Trafford gesture, pointing for a penalty at The East Stand.
On this occasion Daniel Agger was the framed party, his ever so slight contact with Dimitar Berbatov no way strong enough to knock the Bulgarian to the turf. Webb though needed no encouragement, setting-up the opportunity for Ryan Giggs to drill home from twelve yards.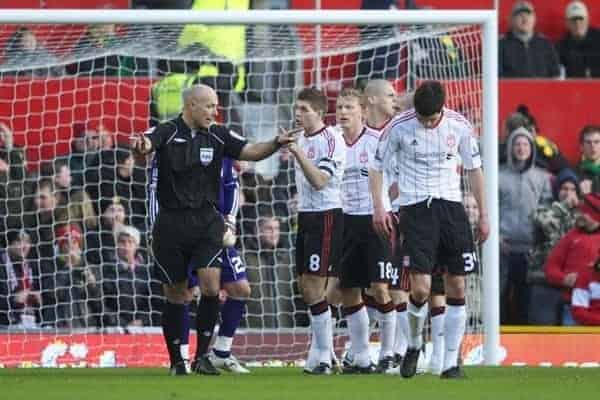 Rotherham's answer to Grant Mitchell was not done yet, training his sights on the once critical Gerrard. Just before half time the England captain lunged into a tackle with Michael Carrick. Despite taking off the reds midfielder was in no way over the top, simply mistiming his block tackle slightly. A yellow would have sufficed. Of course Webb, despite having his back turned to the initial incident, leapt at the chance to dismiss our talisman.
Never one for consistency, Howard failed to even book Rafael for a strikingly similar incident with Raul Meireles seconds before.
A bewildered Dalglish said afterwards "The penalty is a joke. I've seen the replay and unless the rules have changed it is no penalty. The other one I cannot see as a red card either. In the dressing room before the game someone said to me the game's not changed much. I said 'I thought it was a non-contact sport.' Maybe I was right"
Tottenham (H) May 15, 2011:
This game had little significance but Howard Webb still took it upon himself to blight an end of season dead rubber. Rafael Van Der Vaart gave Spurs a first half lead with a smart finish at The Kop End. The Dutchman celebrated his effort by running straight to the famous grandstand and goading the home support. It may have been harsh but inciting crowd trouble surely warrants a booking, by the letter of the law anyway. Webb let it pass – he would, wouldn't he?
In the second half he recreated one of his own finest moments, awarding a penalty AGAINST Liverpool for a coming-together OUTSIDE the box. This time Jon Flanagan was adjudged to have felled Steven Pienaar. In actual fact they challenged shoulder to shoulder and both fell to the ground. Though initial contact came outside of the area, the South African bundled into the box and gave Webb the perfect excuse. Modric converted from the spot and Spurs had their first league win at Anfield in 18 years.
Chelsea (A) December 29, 2013:
Finally to yesterday's car crash of a performance. Fresh from perceived injustice at The Etihad Liverpool travelled to Stamford Bridge expecting one of the toughest games of their season. One look at who would oversee the fixture could only have added to such trepidation. It took Webb just two minutes to make his first rickett – failing to even book Samuel Eto'o for a potentially leg-breaking challenge on Jordan Henderson. Raking his studs down the Liverpool midfielder's shin, the Cameroonian escaped any punishment, setting a trend for the afternoon. In the second half Webb truly outdid himself.
Firstly he waved away penalty appeals when John Terry clambered atop of Luis Suarez from a Liverpool set-piece. As if to rub to salt in the wounds he then rejected further protests having watched, without obstruction, Eto'o sieve Suarez to the ground in an off the ball incident.
Incompetence personified he had the nerve to point to the pair and smirk. To cap-off a match-winning display he then allowed Oscar to stay on the field having jumped two footed into a tackle with Lucas. Somehow you think the outcome may have been different if roles were reversed.
So there you have it. Webb's crime-sheet. An edited version of a long list of bad calls involving Liverpool. Opposition fans may ridicule us for playing the victim but this man's decision making has cost us time and again.
He is The FA's go-to guy, as he was Alex Ferguson's. He will continue to be awarded the biggest Premier League clashes where his stern gaze, muscular frame and sheer arrogance will kid commentators and suits alike into believing he is Pierluigi Collina MK II. That could not be further from the truth.
He may not be bed-buddies with United's top brass but he certainly has an axe to grind where Liverpool are concerned.
The club need to raise the Webb issue with the Football Association, if only to stop him tarnishing decisive games. One bad call can cost sides titles, Champions League's spots or top flight survival. Webb makes more of those calls than most.
Lastly, it remains one of the modern games great mystery's that such a repeat-offender can be held in such high esteem. Webb may look the part but it is time he was exposed as a criminally poor referee.