Jon Flanagan's performance in the 5-0 demolition of Spurs on Sunday has seen supporters jokingly refer to him as the Scouse Roberto Carlos – but, being a right-footed player at left-back the comparison should more be with Philip Lahm.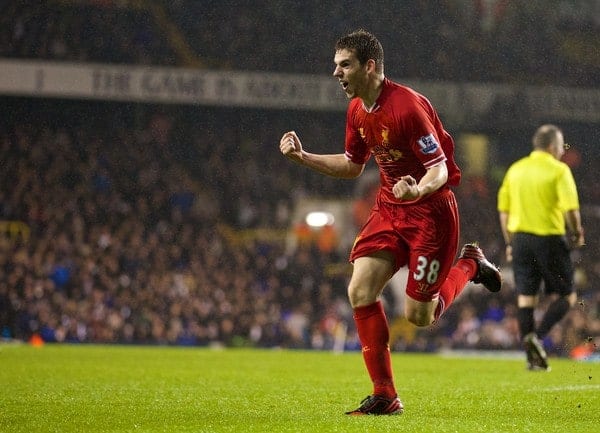 The man who has been involved in "Flanno" returning to the first-team, Rob Jones, believes the 20 year-old local lad could solve the problematic position for years to come.
"Grasping opportunity is what professional football is all about" Jones told 5Times.co. "The way he is playing, Brendan will have a tough call when Jose Enrique is fit, and who knows – Jon Flanagan could be Liverpool's first-choice left back for the next few seasons."
Jones knows what it's like for a right-back to transition to the left side, having done so himself during his time at Liverpool:
"People presume it must be a fairly easy transition as a full back to play on the right and the left but it's not, it can be like doing things in reverse and as a right-footer you prefer to tackle with your right foot so the things you do naturally need a little bit of thought.
"I'm just really impressed by his improving maturity, his first touch is brilliant, his passing is great and his defending has been superb."
Jones recently returned to being involved at the club, after being asked to come in and help with the under 18s and 21s players – working with the defenders to provide advice to them.
"I am really enjoying being back at the club, I was made up to get the call from Brendan" Jones said.
"Coaching isn't our remit, more talking to players and helping out where needed. Steve McManaman helps with the team and the midfield, Robbie [Fowler] with the strikers and I think the youngsters have enjoyed having us there."