Liverpool fans have taken to social media to express their display at the Reds' performance against Hull City on Sunday afternoon which saw them slip to a 3-1 defeat at the KC Stadium.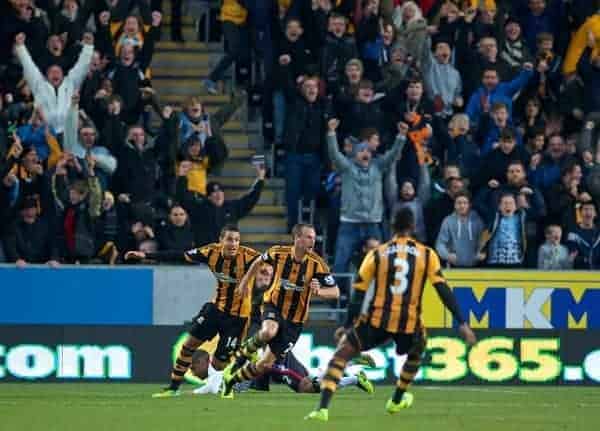 The Reds never seemed to find any attacking creativity as they stumbled against Steve Bruce's men.
Many fans took to blaming Brendan Rodgers, whilst some realised the club are still very much in a re-building stage and good early season form has spoilt many.
The result means Liverpool slip to fourth in the Premier League table, following victories for both Chelsea and Manchester City later on Sunday afternoon.


https://twitter.com/thisisanfield/status/407209075710365696

Here are just a selection of tweets from Liverpool fans following yesterday's defeat:

Still can't get over the LFC loss vs Hull. You NEED to pull off points against sides like these – often the points that cost a CL place."

— MR liverpoo (@liverpool_de) December 2, 2013
The display LFC showed against Hull is unacceptable and just a disgrace

— sylwek (@Sylwek_17) December 2, 2013
#lfc Brendan Rodgers just disrespected Hull City by fielding the weakest squad and paid heavily for it.! Flanagan Henderson Moses are subs

— OCindex (@OCindex) December 2, 2013
Rodgers has been off the mark with selection two weeks running, but the tirade of criticism when I logged on was completely unfounded.

— Si (@TalkingAnfield) December 2, 2013
Rodgers complained about depth, look at Hull's team. We just didn't play, we were practically giving the ball to them.

— LFC Fans Corner (@LFCFansCorner) December 2, 2013
Rodgers receiving a bit of stick tonight. Will be interesting to see how he responds on Wednesday

— corner taken quickly (@ThoseScouseLads) December 1, 2013
Love it when we concede 6 goals in two games. Rodgers doesn't have a clue who is best centre halfs are

— corner taken quickly (@ThoseScouseLads) December 1, 2013
Ive been a huge defender of Rodgers but whats concerned me all season is the total abandonment of the football we learnt all last year…

— Dan Shepherd (@TheCarteI) December 1, 2013

https://twitter.com/Kopology/status/407242007141052416

Did Fergie have a point when he said we're eight players short? #strenganddepth

— Ritchie (@JohnRitchie84) December 1, 2013
I'll get shouted at for this – but either #LFC buy another RCB or Sakho gets trained into the position alongside Agger.

— ML (@FootyML) December 1, 2013
Dreadful performance. No sense of urgency to our play & couldn't string 2 passes together. Very costly defeat, Hull wanted it more.

— Neil Collins (@NeilCollins86) December 1, 2013

https://twitter.com/DaveHendrickTLW/status/407259819154735104

Positives: Gerrard's freekick was nice. Negatives: Everything else.

— Tom McMahon (@tomjpmac) December 1, 2013