Kopology dissects Liverpool's fantastic performance to sink Tottenham on Sunday and poses the whispered question about Steven Gerrard.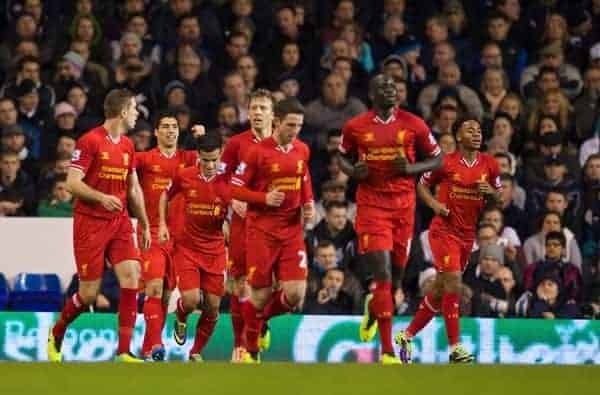 Liverpool and Tottenham were two clubs in similar predicaments last summer. Having missed out on Champions League football despite the best efforts of their star players, Luis Suarez and Gareth Bale, both clubs faced a fight to hold on to their star assets as the vultures circled.
While Spurs gambled under the acclaimed economic guidance of Daniel Levy, selling Bale to Real Madrid for a record fee and reinvesting the cash in several new players, Liverpool decided to stick, despite Suarez' best efforts to force their hand.
Now, approaching the half-way point of the season, Rodgers' and FSG's determination to hang on to their star player despite plenty of reasons to cash in looks like a masterstroke, while André Villas-Boas has taken the fall for a bust hand.
How different yesterday's game might have been had Spurs retained the services of Bale – who has made a stellar start to his career in Spain – or if Liverpool had let Suarez have his way.
While the Uruguayan took his goal tally for the season to seventeen in just eleven games, Spurs looked devoid of any goal threat, or a player of their own capable of producing something out of nothing.
Yet this was not one of those days when an otherwise stuttering Liverpool side had to rely on their resident magician to pull a joker from the pack.
Instead, all five of Liverpool's goals were crafted collectively, the fourth being truly Barca-esque. The build up involved 7 players, who between them took 18 touches and played 10 passes before Suarez finished the move with a delightful chip over Lloris – or in Suarez terms, an average finish.

#LFC fourth goal today (Suarez 2nd):

18 touches
10 Passes
7 players involved

Team goal

— AnfieldIndex (@AnfieldIndex) December 15, 2013
In the pre-match press conference, Rodgers had made a point of commenting on his players' "humbleness" in response to the disappointing Hull defeat, but afterwards, it was his team's on-pitch "arrogance"
he praised
, "I thought our arrogance with the ball was very good. Lots of angles, lots of moving, interchanging position and we looked a real threat whilst retaining that solidity and defensive shape."
It's this combination of humility and swagger that is starting to shape Brendan Rodgers' Liverpool team.
He wants his players to be grounded, thoughtful and committed in their approach off the pitch, so that when the whistle blows, they have the confidence to express themselves and play with the poise and bluster befitting a team that know they have done their homework.
Despite the excellent results, Liverpool fans have at times been left disappointed by the side's style of play this season.
The much talked about control of possession and high pressing that Reds have come to expect from a Rodgers side has often failed to materialise, but that all changed at White Heart Lane.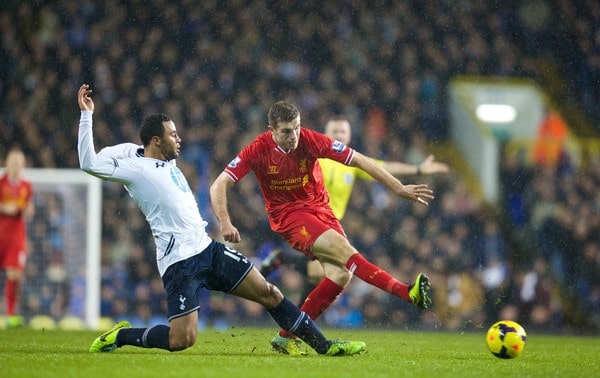 The three black sheep of Lucas, Allen and Henderson formed an oscillating 1-2 triangle in midfield with Lucas dropping back between the centre backs, Henderson bursting forward to join Suarez, and Joe Allen binding the play; knitting defence and attack by filling any gaps in-between.
With Liverpool's captain conspicuously absent, the impact he has on Rodgers preferred modus operandi was laid bare.
Gerrard's lack of mobility means he has the opposite effect to Allen, splitting the emulsion of defence midfield and attack through his inability to change gears and keep up with play.
Instead of the cohesive unit we saw yesterday, for much of the season so far the midfield has appeared as a disjointed series of fragments lacking synchronicity.
In Gerrard's absence, those fragments combined to give us the dynamic engine room that has been missing.

@sisteers @Kopology Lucas too. I called today's midfield "the three black sheep" because each has faced haters among the support & overcome

— Michael von Herff (@vonHerff) December 15, 2013
"You look at our midfield three today. You know the energy, the quality, the pressing", remarked Rodgers after the match.
It was a match in which Spurs' Goliath trio of Sandro, Paulinho and Dembele were expected by many to overrun and overpower Liverpool's Davids: Lucas, Allen and Henderson.
Instead, all three of Tottenham's colossal midfielders were brushed aside; Sandro via injury after half an hour, Dembele put out of his misery through substitution with an hour gone and Paulino by way of red card just minutes later, and by which time Jordan Henderson had shown himself to be a giant amongst men.
Liverpool's midfield swarmed forward repeatedly, creating overload after overload through the middle and drowning Spurs' defence in a sea of red.
The interchanging movement of Allen, Henderson, Coutinho, Sterling and Suarez leaving Tottenham's defence in a perpetual state of dizzy sea sickness.
Raheem Sterling again showed his under-appreciated ability to hold off defenders and wriggle away from them.
Claims that he offers little end-product are as premature as they are wrong-headed. While the form of a high-tempo, shoot-on-sight player like Andros Townsend is temporary and fleeting, the classy elegance of Raheem Sterling should not be in question.
Of course he makes mistakes, and has plenty of room for improvement, but this is a 19-year-old lad arguably showing more promise than Cristiano Ronaldo at the same age.
At times Sterling uses the pitter-patter of his quick feet to shift the ball out from under him without moving from the spot, while at others he leans into defenders, sometimes when running at full pelt, tilting at a 45 degree angle like a superbike racer going round a bend.
It's this balance and agility that characterised the team Rodgers sent out against Spurs.
Allen, Sterling, Coutinho, Suarez and to some extent Lucas all have low centres of gravity and are quick off the mark, allowing them to move and shift before opponents can respond.
Still yet to reach 'full Coutinho' this season, Liverpool's Brazilian playmaker dropped back and cut in as he always does to crowd the middle of the park, ever willing to take possession no matter how tight the space, drawing players towards him to create gaps for others elsewhere.
That the most sparkling of all Liverpool's young gems is still to properly shine this season is cause for further optimism.
John Flanagan, the forgotten man just weeks ago, continued his prolonged cameo in the first team, scoring his first goal for the club. Few strikes in Red have been celebrated with such shared, unbridled joy.
While Rodgers is clearly a man who knows what he wants, his penchant for leaving the door open to players determined to prove they have what it takes is helping to foster a strong team spirit.
His players know that if they work hard enough, they will get a chance, and can look to a growing list including Henderson, Skrtel, Enrique and now Flanagan for inspiration.
One player who might draw motivation from that is Luis Alberto. Resigned to the fringes of the first team so far, the Spaniard took a brief opportunity to show he can blend seamlessly with this expansive, fluid approach, claiming the assist for Liverpool's fourth and Suarez's second goal.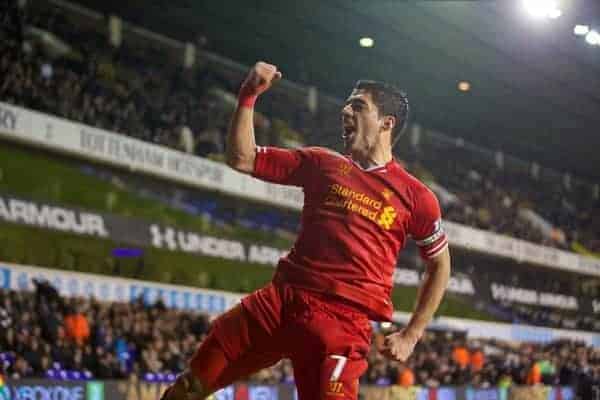 Starting ahead of Daniel Agger, Mamadou Sakho was a rock at the heart of Liverpool's defence. His ability to stick a long leg out to avert danger was key to keeping a rare clean sheet, while his ease on the ball and accuracy in passing means he fits the Rodgers brand of football well.
Slowly but surely, Rodgers is confounding his critics who say his team's can't beat top teams,won't score enough goals, need a Plan B, or whatever the latest excuse not to get on board might be.
His side are now the only one of the top four sides to beat another away from home, and go into the games against Chelsea and Man City knowing they can get results.
Should they keep scoring at their current rate of 2.4375 a game, they will finish the season with an incredible tally of 92 (92.625) goals, despite being denied the sublime genius of Luis Suarez for the first five games through suspension.
With a young squad boasting talents like Henderson, Allen, Coutinho, Sterling, and Sakho – all of whom are 23 or under – as well as prospects like Ilori, Wisdom, Alberto, Ibe and Suso, Liverpool look like a club moving quickly in the right direction.
"It was probably the most complete performance since I've been here," said Rodgers after a game many Liverpool fans thought would be an uphill struggle without the player who carried the club for so many years.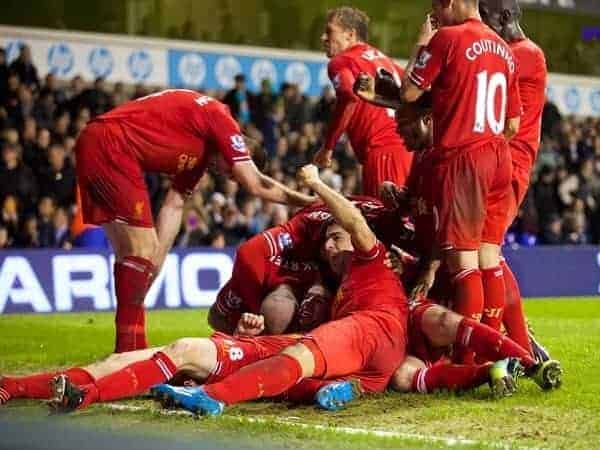 Increasingly, it looks as if Gerrard's team-mates carry him. Having arrived at a formula that appears to work better than any other he has concocted so far, Rodgers must decide if it is worth sacrificing a formidable blend of players in favour of Gerrard's stature and set-pieces.
Those positives come attached to the limitations you would expect of any footballer three years the wrong side of thirty. As Gerrard's talent wilts, Rodgers team is only just starting to blossom.
The question now is whether he has the political capital and courage needed to prune the dying leaves.