Liverpool face a tough test of their ambitions with the trip to White Hart Lane this weekend – having lost the last 5 meetings there. Rory Fitzgerald provides his thorough analysis of Spurs' season so far under Andre Villas-Boas.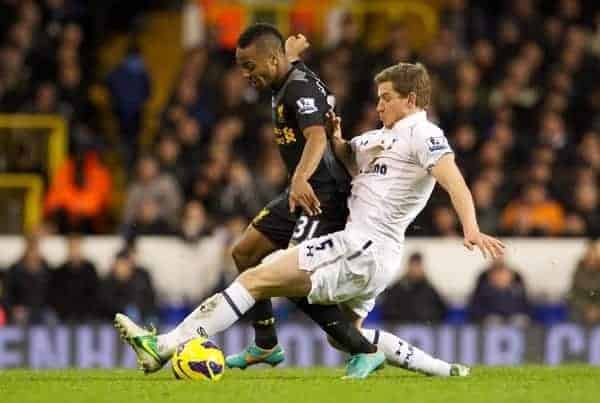 Tottenham Set-up
Spurs begun the season playing a system that looked like 4-1-2-3, but have more recently changed to 4-2-3-1. Though, with the positions that their wingers can take up, it could be a 4-2-1-3 depending on how bullish the manager is.
The key change has been the shift towards two holding midfielders against Man United, after the heavy defeat at Man City, which was carried into the Fulham game.
Here is an example of their shape at Man City with Paulinho generally being more advanced than Sandro, and Holtby being even further forward ahead of Lamela (11)!

With United then up in the following game, Spurs switched to a 4-2-3-1.
The trio in midfield has worked well recently with Sandro playing with his Brazilian compatriot Paulinho and adding the creative ability that Dembele brings with his ability to drift past a man. Each of the trio has played the holding role this season and each are very adept at stepping forward.
As such, the movement in midfield can be quite fluid with no-one assigned a rigid role for the 90mins. Sandro might be considered the more defensive of the trio yet with Spurs playing high up the park, being the deeper of the midfielders can still see him in advanced positions e.g. his goal vs United.

Vertical passing
Villas-Boas looks to get his teams playing quick, attacking football by moving the ball swiftly forward to their ball carriers. However, the charge against his Spurs team this season has been that it has been too slow to get the ball forward.
The stats may say that Spurs have taken the most shots at goal this season and the 3rd most shots on target but they have only scored 15 goals which is the lowest from the teams in the top 10. One of the reasons is the quality of chance being created for Soldado who only has 1 goal from open play in the league, his strike against Villa in October.
"I am a realist and I know that on the pitch I am not happy with everything. I am not combining with my team-mates how I would like but I know I am very close… It is a shame I did not score [against United] because there was some great play between Paulinho and I in the build-up. But it is important that we are creating the chances. Paulinho and I were combining well… we have demonstrated that we are a dangerous combination."

— Soldado
Soldado has not been helped by the manager's use of inverted wingers in the earlier part of the season. With Townsend driving in off the right and Sigurdsson coming in off the left, space was being compressed in central areas for the likes of Eriksen or Holtby thus drawing defences tighter and limiting the space for Soldado. As a player that likes to finish moves off with stealthy finishes, getting the ball into the box fast before defences re-group is something that would benefit Soldado somewhat more.
Inverted Wingers
"Top teams nowadays don't look to vertical penetration from their midfielders …..[they] use the movement of the wingers as the main source to create chances. So, you, as a coach, have to know exactly what kind of players you have and analyse the squad to decide how you want to organise your team offensively"

— Villa Boas (2011)
For much of this season Villa Boas has switched his wingers to allow them to come inside on their stronger foot. Sigurdsson, Lennon, Chadli and Lamela are all right footed but have been deployed on the left, whilst Andros Townsend has been coming in off the right on to his left foot – though note that Townsend has a strong right foot which allows him to go on the outside also to get crosses in to the box.
Below is an example against Everton when he deployed Lennon on the left and Townsend on the right.

However, the coach came in for a fair amount of criticism over this tactic. One of the charges against Spurs for much of this season has been their inability to move the ball quickly up the pitch. One of the factors in this has been the use of inverted wingers.
By encouraging the wide men to come inside, it has sometimes resulted in play becoming congested in the centre and also limits the space for Soldado to operate in. However, Lennon has played the last 4 games on the right of midfield in his natural position providing Spurs with alot of width given the attacking runs of Kyle Walker. I expect Lennon to start again on the right with Nacer Chadli getting the nod on the left.
Turning Point?
Spurs got a lucky 1-0 win at home to Hull via a late dodgy penalty and followed that up by failing to score in the next 3 games, with a 0-0 draw at Everton, 0-1 defeat at home to Newcastle and, more significantly, the 6-0 humiliation at Man City.
Here are some examples of aggressive play during that game at City which showed their attacking mindset.

Below shows their willingness to press despite the danger behind even when playing at The Etihad. It's something reminiscent of how Southampton pressed us in recent games and against which we did not cope too well.

It has also been widely discussed about the aggressive line that Spurs play at the back as part of their ambition to win the ball back as high up the pitch as possible. The best asset in exploiting a high line is pace.
Unfortunately for Liverpool, that is something we are now lacking in attack with Sturridge's injury. This may encourage Spurs to actively deploy this tactic this weekend.

Since then, Villa Boas has had a more settled midfield with Sandro getting more time since his injury, Lennon on the right and Paulinho more advanced. In each of the games since the Etihad, Spurs have scored 2 goals in each game. However, problems still exist as both Sunderland and Fulham took the lead before eventually losing.
Threat from distance
In 2 recent previews I highlighted Newcastle's willingness to shoot from distance and Hull's Jake Livermore willing to take a shot on sight, from which we ultimately conceded the opening goal on both occasions.
Spurs this season have taken the most shots from outside the box. Whilst Paulinho hasn't scored from distance, he has taken the 3rd most shots from outside the area this season in the league whilst Townsend (if he does start) has attempted the most shots per game for Spurs. With Dembele and Sandro also capable of hitting a fierce drive, its something again to be wary of.

Expectations this weekend
I think we could see Spurs look to set up similar to the way they played against United two weeks ago with Sandro and Dembele playing deeper than Paulinho, with Soldado coming back in and Lennon on the right with Chadli on the left.
Below is an example of the shift from the City game as they played a bit more conservatively. Also, Soldado's tendency to operate from the left in this game may be a tactic to open up spaces if Lennon holds his position high on the right.

Whilst it is easier to be aggressive against the lesser teams in the Premier League, Spurs have demonstrated a willingness to try dominate the stronger teams in the league by being bullish both on-and-off the ball.
Again, Lennon is holding a high line in this screenshot along with Chadli which makes it look like a 3 man front line. Perhaps Villa Boas is more confident pushing his wide men further forward if he has Sandro and Dembele being more disciplined.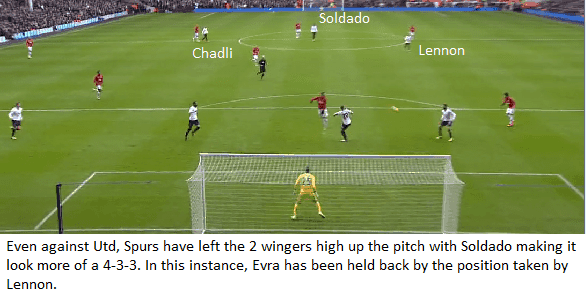 Conclusion
Spurs have been aggressive in their mindset against the 2 Manchester clubs and there is no reason to believe that will change at home to a Liverpool that has conceded on average almost 2 goals a game away from home and will be missing key players.
The main areas of concern are;
Midfield: The combined power, technical ability, work-rate and skill of their midfield trio (Dembele, Sandro & Paulinho) is my biggest concern as our midfield has been an issue in certain games this season. Lucas vs Paulinho could be a key battle.
Left Back: We have never quite solved the left back position and Spurs have a lot of pace down their right with either Townsend or Lennon being backed up by Kyle Walker.
Lack of Pace: With not a lot of pace in our attack, their defence could be more willing to push up when they are attacking which helps them win the ball back when their attacks break down.
This could see play compressed more in our half than theirs, a problem we haven't coped with well against Southampton when a similar tactic was employed. Note that Spurs & Chelsea have played the most football in the opposition's final 3rd this season with Spurs' ambition when out of possession being a factor.



The longer the game goes along at 0-0, the better the chances of Liverpool nicking it. A point would be a solid result for the reds and if Spurs start to over commit, it may provide more space for the reds to counter attack into.
Liverpool have lost their last 5 games at White Hart Lane, four of them were 2-1. In the absence of Sturridge and Gerrard, and Spurs starting to find some goals, this will be a key test for the manager and the team.
Rory
@RoryFitz9
References: Squawka.com, whoscored.com