Jack Lusby looks at the progress of Raheem Sterling's career at Liverpool, urging fans and media to remember that he is only 19-year-sold.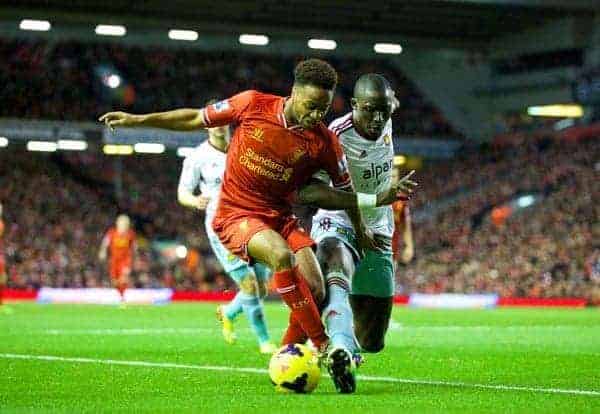 Since his debut in the league against Wigan in 2012, Liverpool's Raheem Sterling has endured a rapid, and often rocky, rise to becoming a regular feature in the club's first team squad.
His early promise let to widespread appeals to tie the winger down to a long-term contract, however when this was accomplished his form subsequently dropped hugely.
This drop in form understandably led to Sterling, having to settle for a place on the bench at best.
It was mooted that a loan move was forthcoming, however injury to Daniel Sturridge seems to have put paid to that.
With the mercurial striker facing over 6 weeks out Rodgers has been forced to shuffle his pack, a position which has benefited Sterling hugely.
A starting role in the following three games – the loss at Hull, and the wins against Norwich and West Ham at Anfield – has sparked a re-emergence of the Sterling of old, with his link-up player with Luis Suarez and his willingness to run at defenders one of the most encouraging prospects from these games.
However, a quick search of his name on Twitter following the convincing 4-1 win against West Ham on Saturday unearths a deluge of criticism. Whilst the common line was marginally positive, a focus on missed chances stands out.
Admittedly, finishing is an aspect of Sterling's game to be worked on, but the heavy pressure to succeed and consistently provide the finished product is too much to ask of a young midfielder who is barely 19 years old.
This is cause for an appraisal in the role of the media and those most critical of Liverpool supporters in the development of a young talent.
Perhaps the most damaging element in a young player's development is drawing comparisons to other players. With Sterling, these are often made with another academy graduate: Jordon Ibe.
At exactly one year younger than Sterling, Ibe is enjoying a similar career trajectory to the Jamaican-born winger.
Making his Premier League debut on the final day of the 2012/13 season against QPR, Ibe impressed hugely with his energetic display, even providing the assist for Phillipe Coutinho's winner.
This has led to widespread hyperbole, with the exclusion of Ibe from the match-day squads of this season often bemoaned.
Comparisons made between Ibe and Sterling are seemingly largely in the favour of Ibe, who is considered a more promising talent not least due to his advanced physical development.
However, it has to be noted that Raheem Sterling at 19 has already made over 50 appearances for the Liverpool first team, and his contribution to the team is massively more important at this time.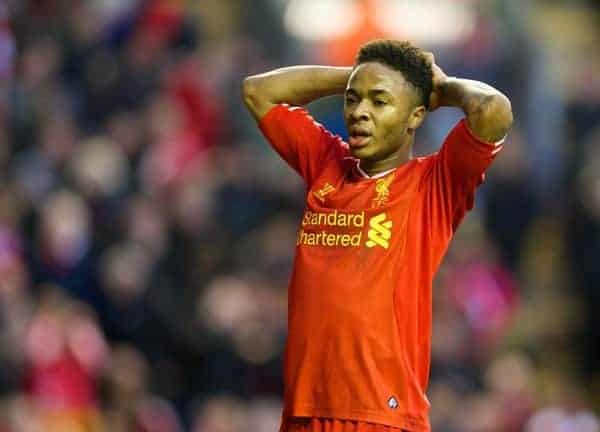 This is a factor that can be considered when making a comparison which often sees Sterling in a more favourable light.
At the away loss to Hull, Sterling was given a starting role with Victor Moses on the other flank. Both were criticised following a flaccid display, however it is telling that Sterling has retained his starting role at the expense of the Nigerian.
Moses' performances throughout the season so far have been lethargic and lacking conviction and, seemingly, motivation: all qualities that could not be applied to Sterling.
The winger's improved performances and confidence in the games against Norwich and West Ham are proof of the benefits of this positive comparison.
Examples at other Premier League clubs are proof that the right approach from both the media and supporters can positively affect a young player's development.
One prime example is Manchester United's Adnan Januzaj. Despite his growing importance to a midfield lacking miserably in creativity and energy, and increasing focus in the media, the teenager seems to remain playing without the pressure with which has often been so apparent on the shoulders of Sterling.
The fact that another of United's precocious talents barely reaches media attention let alone headlines is testament to the benefits of an apprehensive approach.
Jesse Lingard, having been loaned to Birmingham City at the beginning of the season, is flourishing distanced from scrutiny. Despite a season hampered with injury, Lingard has managed an impressive 6 goals from 9 league games: a healthy return for a young talent in any league.
To compare a player of similar qualities, Norwich's Nathan Redmond – like Sterling, only 19 – is enjoying a quiet development at his new club. Having been snapped up for a relatively low fee from Birmingham over the summer, Redmond has contributed substantially within Chris Hughton's match-day squads to little fanfare.
All three of these players are examples of young players developing without the pressure of constant scrutiny.
Therefore, considering that Sterling is seemingly flourishing after time away from the media's attention, it can be concluded that a more sensitive approach to his development is beneficial.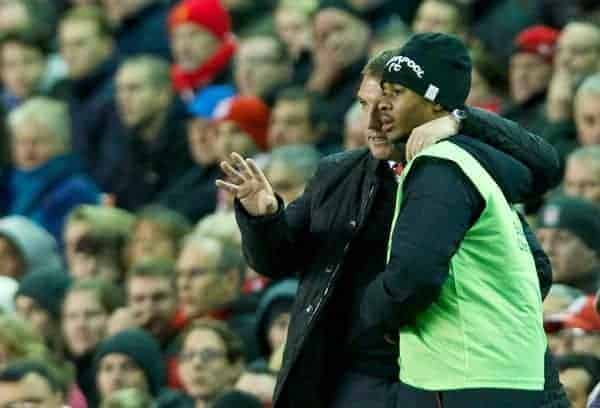 Rodgers was quoted in the Independent recently as saying:
"The spell out of the team doesn't do him any harm. He's learning from very good players here and he knows that when he goes into the side, the confidence of the manager and his teammates is there to go and perform."
Looking at comparisons both damaging and supporting Sterling's role in the squad and examples of well-looked-after players of a similar ilk at other clubs, this shows that under the careful stewardship of Brendan Rodgers it will be advantageous to remain cautious in evaluating the 19-year-old's role in Liverpool's first team squad.
Release a young player from the constraints of constant evaluation and negative criticism and he will flourish.