Brendan Rodgers addressed a room of journalists at his press conference at Melwood on Monday afternoon, ahead of Tuesday's Merseyside derby clash with Everton.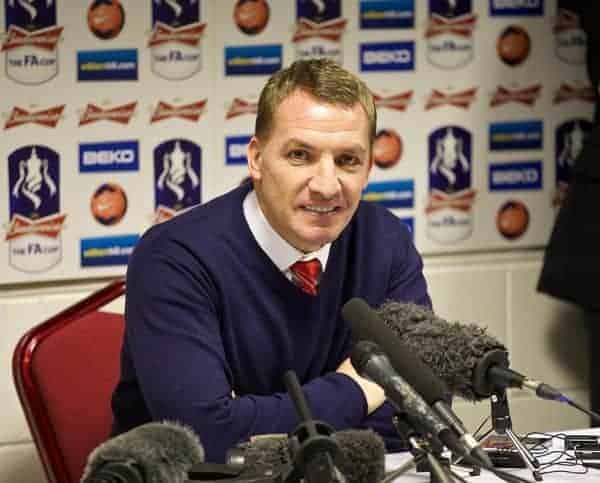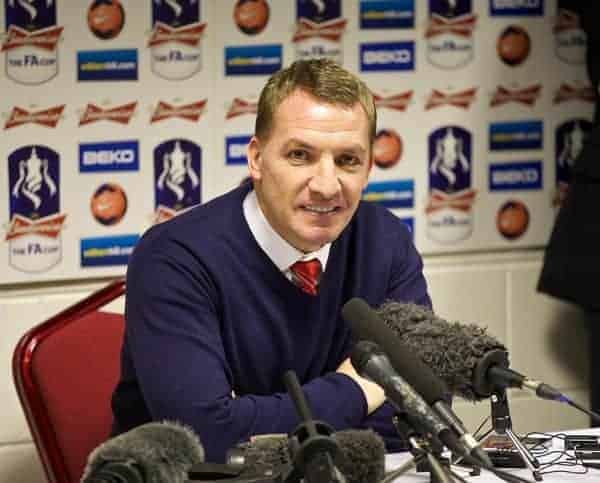 It's one of the closest Merseyside derbies for decades with both sides exceeding expectations this season.
Liverpool go into the game at Anfield in fourth place, but just one point ahead of the Blues.
On current injury problems…
Still 24 hours to assess one or two of the players, pretty much same as weekend. Unfortunately we've been hit with a bad run of injuries.

We're a team that's up there on merit, we're unfortunate to have been hit by injuries.

If no one comes in, that'll galvanise us even more. We've got a group who can really be up there.
On buying players in the January transfer window…
There's certainly nothing imminent. We need to bring in players who can really affect our starting eleven.

It's a very difficult market to find a player and do a deal. We won't stop until the very end and hopefully we can do that.

I wouldn't bring in a player here in January unless he was a really oustanding player who can help you (on loan).

I'd rather give a young player an opportunity (than loan somebody in).

If there's nothing available, there's not much we can do about it.
On missing on out signing Mohamed Salah…
The club felt they'd done everything they could to do a deal.
On Tuesday's clash at home to Everton…
We arrive into the game with real good confidence. Two teams who want to put their stamp on the game.

We can go four points clear with victory (over Everton). It's a game Everton will look to come here and win.

Both squads have picked up a lot of injuries, which is unfortunate.

The two teams enter the game with confidence and belief in the way they play. Important we have tactical discipline.

We always look to win at home, no matter whether that's Everton or whoever we face.

It's about getting consistency and there'll be a few bumps along the way for the rest of the season. Need to focus on performance. We're always confident we can get the result.

The nature of this game sometimes the tactical element goes out the window. The atmosphere can dictate that.
On Joe Allen's fitness…
He's still got a bit of time to decide that. It's a case of assessing Joe on whether or not this game will push him too much.

What we don't want to do is risk another injury. We have to think not only for tomorrow night.
On Mamadou Sakho's injury…
Sakho is not available, won't be for another two to three weeks.
He's got the belief now that he belongs in the squad. His enthusiasm is brilliant, he's a clever defender.
On this season's ambitions…
They key for us is qualification for the Champions League, that was the aim at the start of the season.
Liverpool vs Everton gets underway at 8pm on Tuesday, 28th January 2014 and it's live on BT Sport 1 in the UK.