Brendan Rodgers addressed a room of journalists at Melwood on Friday afternoon to give his thoughts ahead of this Sunday's meeting between Stoke City and Liverpool at the Britannia Stadium.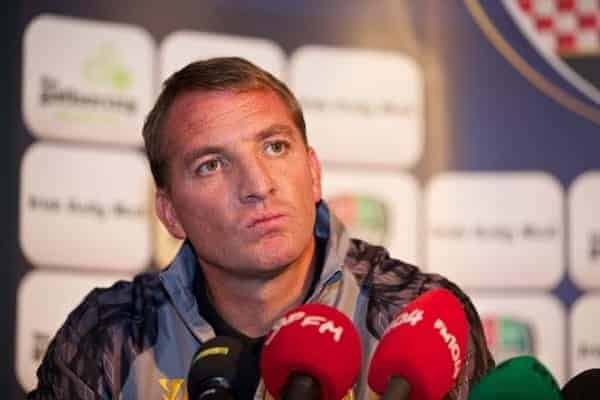 The Reds go visit the Potters hoping to build on their good start to 2014, having beaten Hull City in the Premier League on New Year's Day, and Oldham Athletic in the FA Cup last Sunday.
On Luis Suarez winning player of the month…
Congratulations to him. He's maturing, he's 27 years of age later this month. That, and probably his own mindset, he wants to be here, this is best league in Europe.

Part of his growing process as a player and a person. We adore his talent and his personality and his desire to be successful.
On the £8,000 FA fine for comments about referee Lee Mason…
I accept punishment, my feeling hasn't changed.

I'm not one who is the "enemy" of the officials. I was disappointed after the game and the outcome, considering my history.

All I was ever doing was speaking honestly, in no way was I questioning the integrity of the referee.I was just talking about the logic.

The only reason I challenged it is because I don't want anything to get in the way of what we're doing here.
On being in the top four, midway through January…
It was certainly our aim to be challenging at this point in and around where we are.

We're reasonably satisfied with where we are at. Our performance level in the main has been excellent and our confidence and belief is high.

We're really looking forward [to the second half of the season] and continuing our progress".
On squad injuries…
Daniel [Agger] will probably be three to four weeks. He's been unfortunate.

Thankfully we've got players starting to come back. Steven is back, Daniel Sturridge has been training this week and lucky very well.

Sakho trained today and looks fine to be in the squad for the weekend.

Jon Flanagan still has a wee bit of time to go and Jose Enrique is still out for a bit.
On beating Stoke on the opening day of the season and team spirit…
You work hard all pre-season to get that result on the first day.

At 1-0 the game's always in the balance. You've seen the reaction from the penalty save from Simon [Mignolet], it was probably the start of the team spirit and togetherness. And that's something that's stuck with us and is growing all the time.

I sense that as each day goes by we're becoming more of a team. Real team-ship amongst us. Hopefully we'll keep developing that.
On an away day at the Britannia Stadium…
It's a difficult place to go. We weren't very good there last season, our performance level didn't merit a result.

It's a tough place to go, their record this season shows that — one defeat.

They've had some excellent results and performances. We respect them, they're very resolute and committed. Difficult place to get result.

For us, we go with real strong intentions to get a result.
On Sturridge being fit in time to face Stoke…
We'll see over the next 24 hours.
On the rise and rise of Raheem Sterling
He's been outstanding, played really well in some big games and been very, very prominent.

You see what he can give to the team when he's really focused. He's in a good moment now, he's happy, really focussed on his football.

He's probably one of the strongest players I've ever seen, pound for pound he's as strong as anybody.

You marry that strength & his quality and focus, then you get a young player who has just turned 19 who is going to be an outstanding prospect.

I've been really pleased for him because he's a good kid. He's taken a wee bit of stick from me since I've come in, but its always been in the best interests of him and the club. He's a good boy and great to see him consistently producing.

I'm sure the England people are looking at that. He's obviously one of the outstanding talents at Under-21 level Theo Walcott's injury certainly opens up a door for Raheem. Hopefully he can continue his form.

Raheem's only concentration at the moment is on Liverpool.
On speculation regarding disappointment with Victor Moses' loan spell…
I was surprised to see that report. I have regular dialogue with Chelsea. I saw Eddie Newton before the game.

We speak regularly on Victor's development. Victor's talent hasn't gone away, he's very happy here.

Of course, he wants to play more, but he's learning, like he has at Chelsea, the demands of being at a big club.

I'm delighted to have him here and im sure over the course of his time here he'll show the talent that he is.
Stoke vs Liverpool gets underway at 4.10pm on Sunday, 12th January 2014. It's live on Sky Sports in the UK.