We got the views of a selection of the contributors to This Is Anfield on who they would most like to see arrive at Anfield this January – realistic suggestions only.
Yann M'Vila
With a clear lack of options in the defensive midfield positions outside of Lucas Leiva, my pick would have to be Yann M'Vila. The French international is currently plying his trade at Russian Premier League side Rubin Kazan – and despite initially being touted as one of Europe's top young prospects – has somewhat gone off the radar in recent transfer windows.

Although M'Vila only moved to Rubin Kazan a year ago for £9.6 million, the 23 year old may be growing restless seeing the Russian outfit flounder in 11th place of the SOGAZ Russian Football Championship. In contrast, Liverpool are currently challenging for a Champions League position in the Barclay's Premier League – a far more prestigious and renowned sitting than his current environment. His well-publicised friendship with Liverpool centre-back Mamadou Sakho, with M'Vila recently attending the Merseyside derby to see his compatriot in action against Everton, may further cement his desire to join the club.
M'Vila carries a strong physical presence and has an exceptional understanding of the defensive aspect of the game, whilst possessing an impressive work-rate which would suit Rodgers' 'off-ball' mantra perfectly. M'Vila has displayed strong leadership skills by captaining many of his French international age-group's and could therefore be an invaluable member of the dressing-room. However, M'Vila has received criticism for his occasional lack of discipline. Ex-manager Guy Lacombe has coined M'Vila as a 'loose cannon' and the Frenchman is currently serving a ban from the French national team for attending an unauthorised 'night-out' while on U21 duty. But still, Rodgers has been known to polish a few rough-diamonds, right?
M'Vila is only 23 years old and would fit the stereotypical 'new committee' purchase. His acquisition would provide strong competition for Lucas and would add power, physicality and 'steel' (to paraphrase Rodgers) to an otherwise lightweight midfield.
— Tom McMahon
There are a few positions on the pitch for Liverpool that are in desperate need of strengthening this month. With Jose Enrique a long term absentee, Jon Flanagan alongside him in the physio room and Aly Cissokho continuing to play his way out of any possible permanent move to the club, the left back slot urgently needs addressing.
For this reason, my dream signing this January transfer window would be Alberto Moreno of Sevilla and Spain. No stranger to a patient possession based style of football, the athletic modern full-back would no doubt fit in a treat at Anfield and would provide us with a genuinely top class left back that could be around for many a year.
Technically gifted, comfortable on the ball and intelligent, Moreno is a typical modern-day defender and one that is tailor made for Brendan Rodgers' football philosophy. His desire and ability to contribute to attacking play alongside his strong defensive capabilities in 1 v 1 situations make him the ideal candidate to become Liverpool's long awaited solution to a much troubled area of the team.
— Ben Twelves
Javier Mascherano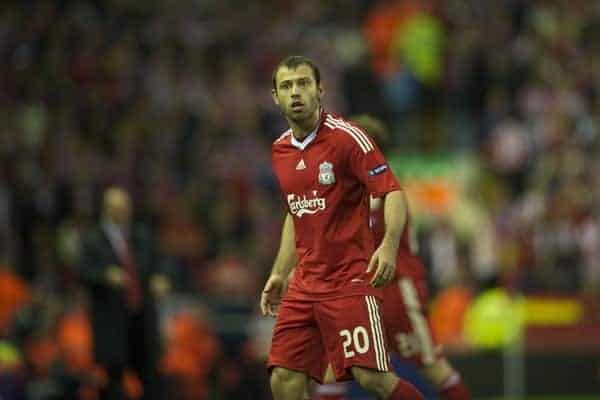 It is hard to look further than the summer favourite of Javier Mascherano – a player who can be combative and physical in the midfield whilst mobile and intelligent with the bonus of being an able deputy at centre half when required. The openness in our midfield would be significantly improved by the presence of the 29 year old Argentinian. Sadly, I am not sure that FSG would sanction the type of fee that he would command at his age so my money would go on..
Pedro
Pedro would provide an upweight in quality to our attack – no team in the top half of the table (with the exception of Everton perhaps) have a great defence – league places this year will be decided on goals scored and in tough games to come Pedro – (he's scored 11 in 16 appearances for Barca) this term and would be a brilliant partner to Suarez or Sturridge or to provide relief to Sterling or Coutinho. He would really amp up our attacking options.
Come on Mr Henry make it happen.
— John Milburn
Martin Montoya
With the January transfer window off to a slow start, Liverpool find themselves in a precarious position with regards to injuries.
Worryingly, despite the glaring issues in midfield our fullbacks are either injured or seriously out of form.
To play the way Rodgers wants, an attacking fullback is crucial; fail to provide support then, as we seen against Southampton, the attacks can break down and we can be flooded by the opposition.
This is why I believe Martin Montoya would be an ideal signing.
http://www.youtube.com/watch?v=UyThTfaibVY
For me, Montoya would solve two problems. Given the worrying form of Glen Johnson we could play move Johnson to left back, a position which in the past has saw him flourish.
Secondly we'd have a player on the cusp of becoming very special indeed to cover in his favoured right back position. With Liverpool on the brink of having a very special season, Liverpool shouldn't hesitate to go for Montoya if the option is available.
— John Ritchie
Xabi Alonso
For romantic and rational reasons I would love to see Alonso return to Anfield this January.
Firstly, he clearly loves the club and the supporters love him. He left to join Real Madrid in 2009 under acrimonious circumstances thanks to a frosty relationship with then manager Rafael Benitez and many Kopites would love to see him return to Anfield to right those wrongs and add to the Champions League and FA Cup winners' medals he earned during his first spell on Merseyside.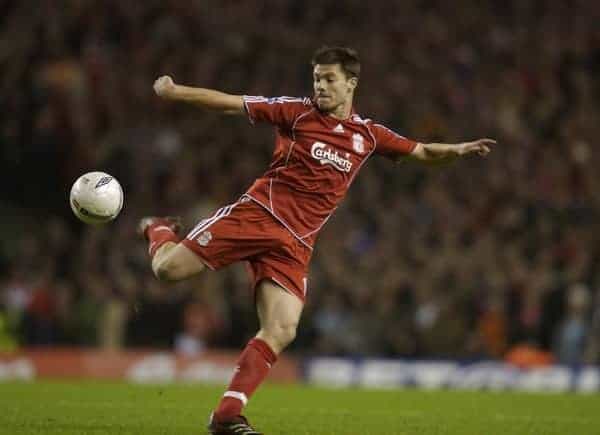 In addition, re-signing Alonso makes sense. As one of the greatest passers of a football in the world, he would fit perfectly into Brendan Rodgers' playing philosophy. Moreover, he would provide much needed cover in the centre of midfield, where Liverpool currently only have four options despite regularly playing with three in the middle of the park.
With his contract running down at the Bernabeu, Alonso could be the least expensive and most effective way to bolster our midfield in the January transfer window.
— Oliver Smith
I too would go for Alonso, Liverpool's masterful former playmaker. At 32, he still has plenty left in the tank, particularly given his role does not require a huge amount of running.
He would a add an extra level of quality to Liverpool's midfield, and for all of Lucas' plus points, Alonso has so much more to his game than the Brazilian. He is also very underrated in terms of his defensive work.
Paul Scholes, as much as it pains me to say it, showed that he could still dictate the pace of a game into his late 30s, and there's absolutely no reason why Alonso couldn't do the same.
Admittedly there may be question marks over whether he and Steven Gerrard could both play in the same side these days, but with the dynamism and youth of Jordan Henderson alongside them I believe they could.
Contract talks for the Spanish legend remain up in the air at Real Madrid, and Brendan Rodgers should make a bold attempt to bring him back to Anfield. It may be relatively unlikely but it's not impossible. Alonso genuinely loves the club, and one last hurrah in a Reds shirt would be the perfect way for him to entire an absolutely fantastic career.
— Henry Jackson
Of those listed above, who would you most like to see sign for Liverpool? Let us know in the comments below and vote in the poll.
[poll id="168″]