Neil Poole explains why last night's game has provided a glorious respite from the growing post Villa concerns…and why it means we will never be supported by royalty.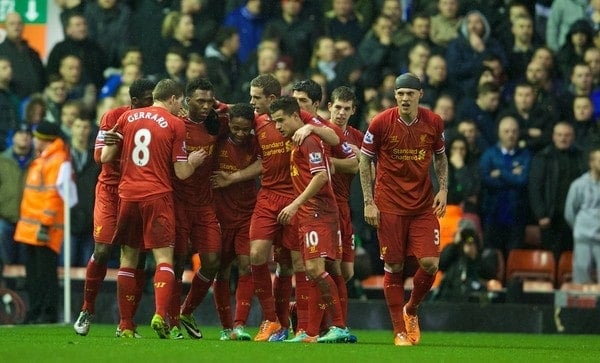 I can't lie. I went to last night's match against Everton very much still hung over and irked from our last Premier League home game against Aston Villa. Looking at some of the nervous faces around Anfield before the game I don't think I was the only one who feared we may suffer our first home defeat against Everton since 1999.
I was so gutted about that Villa game I couldn't even bring myself to write about it until something else occurred to add a bit of genuine cheer.
So here we are. Liverpool 4, Everton 0. Insert smiley face!
It wasn't just the disappointment of that previous performance that knocked me for six; it was worryingly symbolic of my worst nightmare: Turning into Aston Villa. A defeat last night might have turned me into a screaming 7 year old child, suffering very vivid and real night terrors, "No, no, not mid table for ever! Nooo!"
Spare a thought for Villa. I'm serious.  When your team is strategically chosen by the advisors of the future King of England, Prince William, and hater of the poor, David Cameron, as the best option for their pretend support you know you're in a bad, bad place.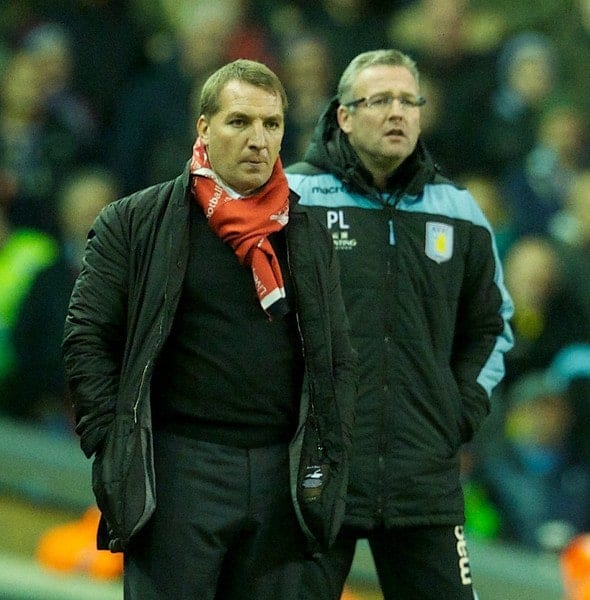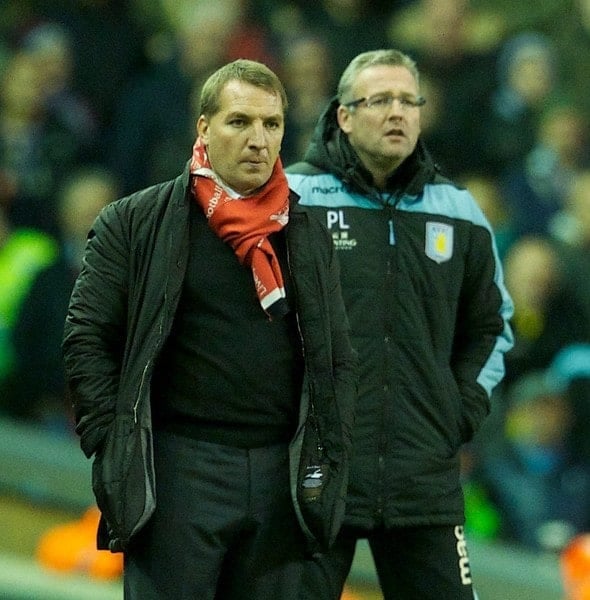 It means the perennial mediocrity of the mid-table, Midlands club is so deep rooted in the nation's psyche that when the British establishment want to demonstrate that they're in touch with the oiks,  Aston Villa is the most benign, non-divisive club they can think to forcibly handcuff themselves to. No one really hates Villa because they don't really do anything.
That might not sound so bad but there's only so long you can maintain your position in the fast flowing river of the Premiership by simply treading water.  At some point you need to make a concerted effort to swim forward or you'll begin to get dragged down sooner or later.
Villa
A quick glance at Villa's recent history shows how increasingly a team needs an injection of something, anything to maintain its momentum.
Between 1995 and 2005 Villa only finished out of the top 10 on one occasion, the majority of the time finishing between 6th and 8th.  A bottom half slump in the 2006 and 2007 seasons were they finished 16th and 11th respectively was arrested in 2008. From here followed 3 seasons in 6th on the back of new ownership, an injection of cash and new management. They then went on the wane finsihing 9th in 2011. Having finished the last two seasons 16th and 15th  the good feelings have dried up.
An established and traditional club that plod along in the mid table echelons of the league. They carve out an existence but are neither seriously threatened by the drop or threaten to win anything. The purpose of the club's existence is lost on anyone who doesn't have the club's colours running through their veins. Imagine if that was us. Even the sight of the Queen in our 3rd kit wouldn't raise a smile.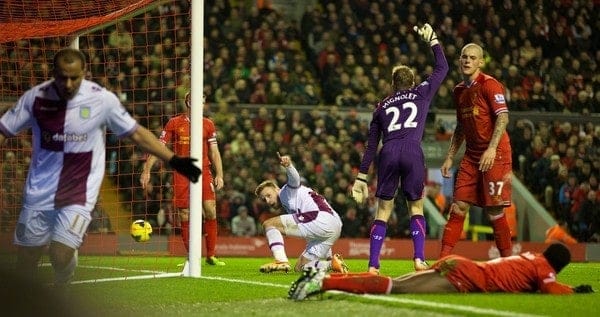 And that's why the poor Villa performance hurt so much and why there was concern in the air last night. There was a fear the season's momentum may run out of steam. If the wheels of our Red train were beginning to wobble after the Villa game, continuing on the same track with another poor performance last night would have convinced some that the wheels were ready to fall off.
Happily, our splendid victory means the 'Villa Knee-Jerk Express' has now been delayed and instead the 'Carried Away Bullet Train' has raced into Irrational Town station. I'm a football supporter. And just like Bobby Brown that's my prerogative.
I'll leave the tactical analysis of last night's game to my esteemed LFC writing peers who are much better placed than me with all that stuff.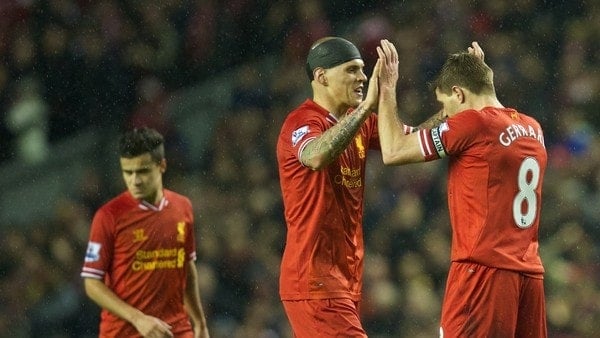 Here though, in no particular order, are some of the standout little gems that brought joy.
– Outstanding and well timed performances from both Gerrard and Coutinho. The former looked more at home in his new role, the latter flourished in the central position he feels most at home, behind the striker. Both were poetry in motion as the song goes and their performances will be as difficult to forget today as the 'Tra la las' still going round the heads of those at the game.
– The fact that the biggest moan I can find is that we let the professionalism slip a bit when letting Sturridge take the penalty instead of regular penalty taker, Gerrard. You could smell blood last night and we should have gone for the kill. Oh well just the four goals then.
– Gerrard's goal celebration and mad eyes.
– Toure's ball for Sturridge's second; Sturridge's lob; Sturridge's understated celebrations.
– Carnival atmosphere. A YNWA that didn't require accompaniment from the PA, Garcia song, Gary Mac song, the subversion of the 'Fat Spanish Waiter' chant our blue brothers regularly aimed at Benitez to Martinez as a 'thin' Spanish waiter.
– Luis Alberto's first two moves after coming on – a cheeky dummy followed immediately by an inch perfect cross field pass with the outside of his right foot.
– A first half were we hunted in packs with at least two players on a blue shirt every time they had the ball. This pressing thing really does work when we actually do it
– Suarez running in a straight line from our own half with the ball and scoring just because he can.
– Clean sheet.
Just as you begin to worry that Liverpool are getting dragged into mediocrity they do something to delight you. They do something special. The accumulative effect of all the above elevates this team. At the moment we never seem to stay dormant for long. We have downs, but an up follows quickly behind.
We're far too exciting and dangerous for the British establishment. As long as we keep delivering performances on and off the field like last night, there's no need to worry that we'll ever be mediocre. The Queen of England will never support Liverpool Football Club.
Four cheers to that!