With no signings made in January at the beginning of the day, follow all the excitement of transfer deadline day on This Is Anfield throughout Friday, 31st January 2014.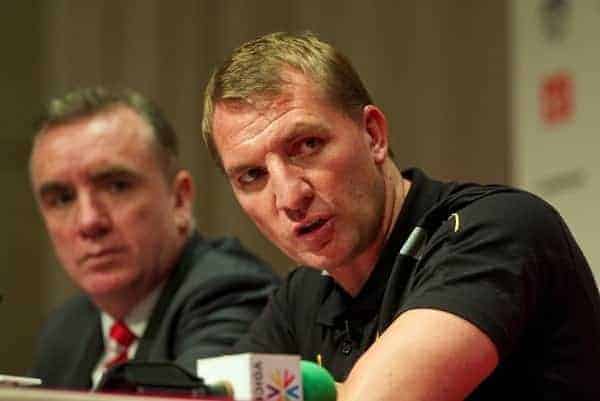 This blog is now closed, like the transfer window.
Liverpool have failed in their attempt to sign Yevhen Konoplyanka.
23:20
BBC Sports' Ben Smith says he has confirmation that the deal is OFF.

Ian Ayre is an easy target. Collapse of this particular deal was not his fault. He was dealing with an impossible owner

— Ben Smith (@BenSmithBBC) January 31, 2014
23:10
Oh dear, Sky Sports are citing reports in Ukraine (to be confirmed) that the deal is OFF.
23:00
The deadline is upon us, the window is closed. But did Liverpool manage to get Konoplyanka?

Sky Sports' Vinny Connor reporting from Melwood says we're still waiting for confirmation – medical was passed.
22:55
If you missed it earlier, Michael Ngoo has been loaned to Walsall and Ryan McLaughlin's loan to Barnsley was extended to the end of the season, despite injury.

By the way, Chelsea now have 30 players out on loan after signing and loaning back Kurt Zouma today.
22:50
Tick tock, tick tock… will we get confirmation either way before 11pm? Or will it go past the deadline?
22:40
Former LFC defender Jack Hobbs has joined Nottingham Forest from Hull on a permanent deal, he had been on loan at the Midlands side.
22:35
Fulham have signed Everton defender Jonny Heitinga. The Cottagers have also signed Spurs midfielder Lewis Holtby (on loan) and Greek forward Konstantinos Mitroglou – who was linked with a move to Liverpool recently.
22:25
While we're all waiting, have a read of what Brendan Rodgers had to say at his pre-West Brom press conference earlier today.
22:00
Late night alert – Sky Sports report deal may not be confirmed until 1am due to FIFA having a backlog of transfers.
22:00
Elsewhere tonight, WorldSoccerTalk report that Liverpool will play Olymiakos in Chicago and Man City in North Carolina this summer.
22:00
One hour to go. Will we get the deal done? Here's hoping. All reports continue to suggest medical is passed, personal terms agreed, just the payment structure to be finalised.

Plenty saying a deal's been done for Konoplyanka but no agreement has been lodged with the Premier League. One hour to go………

— Tony Barrett (@TonyBarretTimes) January 31, 2014
Don't forget to tune in to The Redmen TV for the final few hours, watch it live here while they raise money for charity.
21:22
This suspense certainly gets people interested, currently over 3,000 fans across our website and forums. We're over 350,000 pages viewed today so far.
21:20
All reports now suggest the medical is done, but the deal is not complete. Liverpool have less than 2 hours to agree it.
21:14

Meanwhile, Tom Ince has joined Crystal Palace on loan, meaning LFC don't get the 35% sell on fee they have.
21:11
#LFC senior source says Konoplyanka "Not confirmed"

— Sam Matterface (@sammatterface) January 31, 2014
21:10
Ben Smith of BBC Sport says Konoplyanka has passed his medical but deal noe yet done.
21:06
Anyone getting some Dempsey style deja-vu?
21:00
David Maddock at The Mirror says the deal IS NOT done – yet, he says "the Dnipro owner is firmly digging his heels in". He says:

"It is now purely down to the fact that the Dnipro owner still doesn't want to sell, even though it makes financial sense for the club to do so, given the player is on a free in 18 months."
20:52
Dimitar Berbatov's move to Monaco is reportedly complete.
20:42
We should find out VERY soon if Konoplyanka is done….
20:02
Ukrainian journalist reckons it's a done deal…

BREAKING (sorry, soccer but important for Ukraine): Liverpool FC and Dnipro agreed transfer or Eugene Konoplyanka. Official soon

— Oleksandr Proshuta (@alex_proshuta) January 31, 2014
19:50
Strong suggestions that the deal is DONE. We should find out within the hour.
19:44
Here we go…. twitter says it's a done deal (numerous reports on there….)

Deal supposedly announced at 11pm SA time/9pm UK time with #Konoplyanka arriving on Monday to Liverpool. #LFC

— LFCZA (@LFCZA) January 31, 2014
19:10
Re-live this deadline day from two years ago here – when Torres left, but Carroll and Suarez arrived.
18:51
The latest on Konopylanka – reports in Ukraine suggest the player has PASSED his medical, but problems remain over the fee.

Liverpool and Dnipro appear unable to agree a payment structure at present. This could be a late one…
17:53
BBC's Ben Smith scuppers reports of an additional medical at Liverpool:

Liverpool putting all their efforts into signing Yevhen Konoplyanka. No other deals in the offing. No other talks/medicals planned.

— Ben Smith (@BenSmithBBC) January 31, 2014
17:53
Looks like Arsneal's move for Kim Kallstrom has been completed.
17:50
This is an interesting rumour / report; Liverpool medical team in place for a 6pm medical at Melwood, but not for Konoplyanka?

By the way those asking about medical at Melwood weren't referring to Konoplyanka…they took it as another possible target

— Vinny O'Connor (@VinnOConnor) January 31, 2014
17:47
BBC's Ian Dennis reports that the move for Konoplyanka will go "to the wire". Could be a late night here!
15:58
We're still going until the deadline of 23:00 GMT, whether Liverpool sign someone or not. So far today:

Liverpool continue fee negotiations with Dnipro over signing Yevhen Konoplyanka.
Brendan Rodgers coy on chances of signing Konoplyanka
Ryan McLaughlin has extended his loan stay at Barnsley
Liverpool Under-21's Michael Ngoo has joined Walsall on loan
15:27
[poll id="172″]
15:11

Stoke City have made an offer for former Liverpool youngster Tom Ince. Reds get 35% of fee if completed.
15:05
Brendan Rodgers was coy over any potential signing of Yevhen Konoplyanka in his press conference at Melwood this afternoon.

Sky Sports believe the deal will go down the wire, so stay tuned with us throughout the evening for more updates.
15:00

The lads from The Redmen TV and The Bib Theorists are live on air for a deadline day special. Watch the live stream here.
14:48

Rumours circulating that Liverpool will look to make their loan deal for Victor Moses permanent with Chelsea TODAY. Literally out of the blue.
14:41
Rumour going round that Liverpool made a loan bid for Manchester City defender Micah Richards, but Brendan Rodgers has denied the story:

Brendan Rodgers says it's not true that Liverpool have tried to sign Micah Richards on loan.

— Tony Barrett (@TonyBarretTimes) January 31, 2014
14:30

Read all of Brendan Rodgers' quotes from his press conference here.
14:16
Brendan Rodgers at his press conference at Melwood:

"There's no update on Yevhen Konoplyanka. There's an interest in the player, but we'll see how it evolves. It's a little complicated.

"The staff over in Ukraine have done really well to put us in the position we're in, but time is against us. We'll see what happens.

"We're still building and growing the group so we'll need a number of players, but January is a difficult market to do that in.

"New players can come in and freshen up the group, but I'm happy with the players I've got if we don't bring anyone in."
13:58
So far today then:
Liverpool continue fee negotiations with Dnipro over signing Yevhen Konoplyanka.
Ryan McLaughlin has extended his loan stay at Barnsley
Liverpool Under-21's Michael Ngoo has joined Walsall on loan

Watch this space.
13:46

Former Liverpool defender Jamie Carragher speaking to Sky Sports: "Konoplyanka is essential after missing out on a number of players — whether he's vital the team right now remains to be seen.

"The fans will be frustrated if Liverpool miss out on another player, but Brendan Rodgers is doing a great job with the players he's got."
13:37

Brendan Rodgers will begin his pre-West Brom press conference at Melwood in just over 20 minutes. We'll bring you what he says — but don't expect too many clues on transfer stories.
13:31
Liverpool are negotiating a 5-and-a-half year deal with Konoplyanka and his father/agent. (Sky Sports)
13:07 DONE DEAL

Liverpool Under-21s striker Michael Ngoo has joined Walsall on loan.
13:00
We've got 10 hours left to go before the transfer window closes.
12:42
Not Liverpool related, but we liked this transfer deadline day joke all the same:

Knock, knock. Who's there?? Peter Odemwingie.

— Neil Collins (@NeilCollins86) January 31, 2014
12:27
Clock is ticking and whether Liverpool sign Konoplyanka could be late, late news today. "Talks ongoing between the two clubs but no breakthrough yet," say Sky Sports.
12:21
Negotiations still going over signing Konoplyanka, with no other players being touted about. Brendan Rodgers will address the media at 2pm and we'll bring you what he says. Stay tuned.
11:59
Right, cancel that airport taxi. Konoplyanka's not packed his suitcase just yet. "There are no plans to fly Konoplyanka back to UK. If #LFC do this deal for him, it will all be done out in Ukraine," says Ben Smith of the BBC.
11:47
Meanwhile the BBC's Ben Smith also says (on Yevhen Konoplyanka to Liverpool):

#LFC running out of time. Still no news on Konoplyanka. Talks continue #DeadlineDay

— Ben Smith (@BenSmithBBC) January 31, 2014

Not looking great right now.
11:42
James Pearce of the Liverpool Echo says:

Still no breakthrough in negotiations. Clock is ticking…

— James Pearce (@JamesPearceEcho) January 31, 2014
11:38
It's all gone a bit quiet on the Liverpool front. As far as we're aware, negotiations continue in Ukraine over the fee and payment schedule for Yevhen Konoplyanka.

Earlier this morning, Liverpool youngster Ryan McLaughlin extended his loan spell at Barnsley until the end of the season.
11:14
David Maddock of the Mirror is now reporting that Konoplyanka is due to fly to England shortly, however, the "sources" he quotes are most likely what we brought you earlier — see 10:27. Catch up!
11:01

Sportbox.ru (Russia) say Liverpool could still be in for Rubin Kazan defensive midfielder Yann M'Vila today.
10:48 DONE DEAL

Ryan McLaughlin has extended his loan spell at Barnsley until the end of the season.
10:38
Konoplyanka to Liverpool deal as clear cut as thought? Here's The Times' Jonathan Northcroft:

Sky lads look frostbitten outside Melwood. They could have long wait. Konoplyanka to Liverpool "looking 50-50" it's being said

— Jonathan Northcroft (@JNorthcroft) January 31, 2014
10:37
[poll id="171″]
Unsure how reliable this is, but this English-language Ukrainian football account claims Konoplyanka is due in England today. Other reports we've heard is medical would be conducted in Ukraine.

Just got the Info (not confirmed) that Konoplyanka will fly in 2 hours to England in order to complete his deal with LFC

— FNN Ukraine (@FNN_Ukraine) January 31, 2014
10:23
Liverpool's move for Yevhen Konoplyanka will be worth around £15 million, with only the payment schedule set to be agreed between the clubs. Player himself is keen on the move. (Sky Sports)
10:08

Great piece by Henry Jackson here on Liverpool's epic transfer deadline day on 31st January 2011.
10:00
James Pearce of the Liverpool Echo says personal negotiations won't be a problem with Konoplyanka. Just the fee to be agreed with FC Dnipro Dnipropetrovsk then.
09:55
If you're just joining us, all signs that Liverpool will sign Yevhen Konoplyaka are positive, with negotiations continuing. His medical would take place in Ukraine, it would seem.

No other substantial Liverpool transfer rumours knocking about.
09:35
Elsewhere, Arsene Wenger has ruled out Arsenal signing Schalke's Julian Draxler today, whilst he also confirmed Aasron Ramsey is out injured for six weeks (missing both the league and FA Cup games against Liverpool).
09:31
Coming up from 3pm from our friends at The RedmenTV…

It's ALL kicking off at 3pm today…. #FuckJimWhite #RMTBTLive pic.twitter.com/CSVjauu9sL

— The Redmen TV (@TheRedmenTV) January 31, 2014
09:27
It's all going on down at Crystal Palace. Wayne Hennessey, Joe Ledley, Scott Dann and Tom Ince could all be Palace players by the close of play!
09:26
Will there be any departures from Liverpool today? Get in touch in the comments below, or on Twitter @thisisanfield.
09:17
Former Liverpool defender Jack Hobbs looks set to leave Hull City after manager Steve Bruce revealed the club had accepted three offers for the 25-year-old.
09:14
Feel free to use the comments system below this liveblog to discuss the day's events with other Liverpool fans. Alternatively, head to our forums here.
09:00
Rumour circulating that Liverpool will conduct their medical of Konoplyanka in Ukraine today, owing to the time sensative nature of this deal. Makes perfect sense too.
08:54
This may or may not be Konoplyanka's agent:

The English club is doing everything possible to get the deal done.

— James Lippett (@JamLipp78) January 31, 2014
08:47
Only one club is in for Konoplyanka now. And it's #LFC. Talks of others trying to get him are untrue. It's all in Ian Ayre's hands now…

— Artur Petrosyan (@arturpetrosyan) January 31, 2014
08:44
talkSPORT say Konoplyanka has agreed to join Liverpool, but the Reds are yet to agree a fee with Dnipro.
08:40
Former Liverpool winger Tom Ince's proposed loan move from Blackpool to Crystal Palace has not yet been completed, according to BBC Sport. The Reds have been linked with re-signing the 22-year-old.
08:36
[poll id="170″]
08:32
Last night Liverpool rejected a move from Valencia to take forward Iago Aspas on loan for the rest of the season.
08:27
We've got a good piece from Henry Jackson on the incredible transfer deadline day of January 2011 coming up on the site later this morning. Watch out for that.
08:19
This was from The Times' Tony Barrett last night, on Liverpool's pursuit of Konoplyanka:

Liverpool still in talks with Dnipro for Konoplyanka but no breakthrough yet. Looks set to go down to the wire.

— Tony Barrett (@TonyBarretTimes) January 30, 2014
08:16
Elsewhere, Arsenal have been linked with Juventus' Mirko Vucinic, Tottenham's Lewis Holtby could join Fulham on loan, Dimitar Berbatov could leave Craven Cottage, and Manchester City could be after Porto defender Eliaquim Mangala. Sparta Prague goalkeeper Jindrich Stanek could join Everton.
08:10
So here's where we stand at the start of play today: Liverpool are yet to sign anyone. However, they are hopeful of completing a £16 million deal for Ukrainian international winger Yevhen Konoplyaka. Learn more about him here.
08.00
Good morning! Welcome to our transfer deadline day liveblog. We're with you right up to and beyond midnight's deadline. Expect a lot of twists and turns along the way!