Steven Gerrard was used as Liverpool's holding midfielder in the 5-3 victory at Stoke on Sunday, with Lucas Leiva in a more advanced role than usual. It was a tactical move that has led to much debate.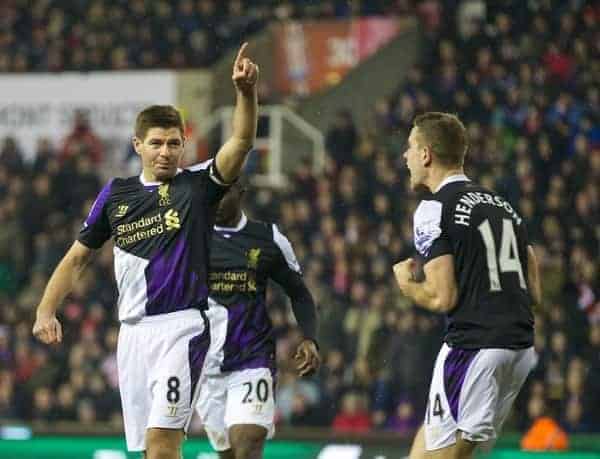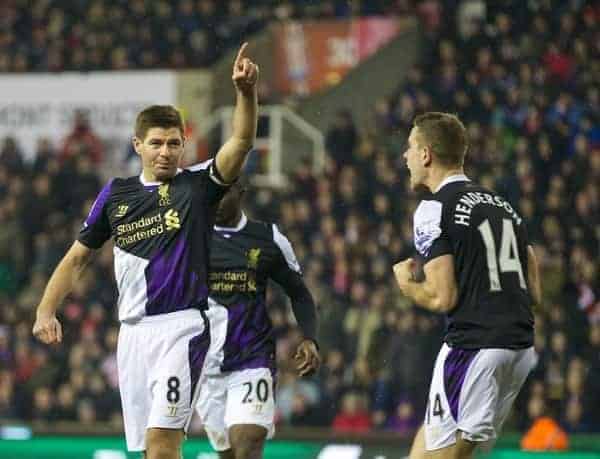 The inspirational captain was making his 650th appearance for the club and scored from the spot for the crucial third goal.
After the match, Gerrard explained that the 'new' role is where Brendan Rodgers has told him he will be used more often in the future.
"The manager's told me, moving forward I'll play this role a lot more," Gerrard explained. "It's going to take a little bit of getting used to, but I've played it many times for England and a few times for Liverpool in the early days so I'll be comfortable in there once I get a few games in."
Rodgers himself explained post-match to BBC Sport:
"He has got the personality to play in that controlling role.

"He gives us great variety in his passing. We saw today he picked it up from deep and stretched the game with his vision and quality."

"He's someone who fits the profile of that role; he does it a bit more with England.

"I have spoken to him a lot about it and it was just about timing. We saw today that he played really well. Steven showed great leadership as well."
At 33 years old, Gerrard is unlikely to be a long-term solution in the role for Liverpool and The Reds have been linked with Yann M'Villa, the French holding midfielder, this January.
However, also due to Gerrard's age, he is no longer able to play a more attacking role, particularly if Liverpool are to implement their high-energy pressing game in midfield. It's certainly a conundrum for the manager.
We asked supporters on twitter for their thoughts on Gerrard as a holding midfielder. Here's the best responses.
@thisisanfield no. His passing is inconsistent and although he made good tackles, we need someone to read better and commit to holding.

— Ryan McTernan (@RyanMcTrippy) January 13, 2014
@thisisanfield Stevie should be moved up away from defensive duties. He's a liability otherwise.

— Ryan McTernan (@RyanMcTrippy) January 13, 2014
@thisisanfield u can't rely on him defending… All the open space left.. Badly need another DMC..

— SHurley (@thedonshurley) January 13, 2014
@thisisanfield Ste played well yesterday. Long term, I think we'd have to see how it goes.

— calliniho (@worksopdanic) January 13, 2014
@thisisanfield No doesn't read the game well enough from a deep midf position and doubly, its apparent he's not mobile enough anymore either

— PABS (@TheManWhoCanDo) January 13, 2014
@thisisanfield Effective against weaker teams, but vs the Top teams we'll get over run.

— PRESS.PASS.SCORE (@AGameOfWit) January 13, 2014
@thisisanfield Lucas can break play up well but has no vision for a pass and Gerrard is the opposite. Neither perfect for the role.

— Martin O'Neill (@MartinOneill82) January 13, 2014
@thisisanfield as long as he doesn't play with Lucas in the same side it could be fine. Needs to play simpler rather than Hollywood passes

— Neil Hannam (@neil_hannam) January 13, 2014
@thisisanfield depending on the game. Would like to see him opening up sides parking the bus at Anfield, but not working against Stoke away

— RM (@RedMersey) January 13, 2014
@thisisanfield I hate to say it but we looked much better with Allen, Lucas & Henderson.

— Gareth (@MckeownGareth) January 13, 2014
What do you think of Gerrard as a holding midfielder? Let us know in the comments below.