Marco Lopes updates his previous piece on the strategy for Champions League qualification… and concludes that Liverpool are in an excellent position to nail their objective.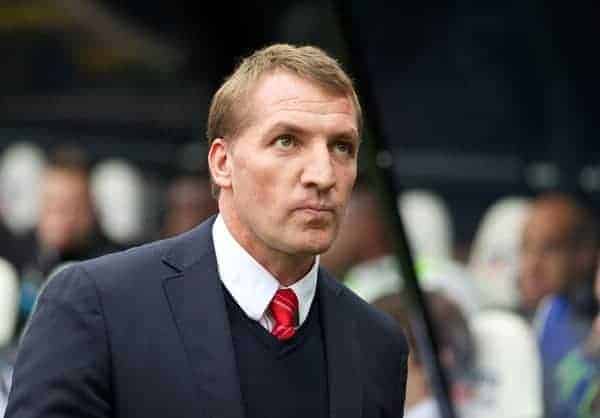 I'll let the facts speak. Liverpool have 11 points more and 5 wins more than they did after 20 games last season.  They're in 4th place.  On target.  Even more incredibly, they TOPPED the table at Christmas.  They're a mere 6 points behind 1st.
Liverpool have done us proud, so far.  The question is – can they finish it off?
A Brief Reminder on Champions League Qualification Theory
Most of you will say qualification for the Champions League is pretty simple. Make sure you're the team with the 4th points come season end, regardless of how you get them.
In my last piece on this subject, I mentioned 3 broad "routes" to earning a top 4 spot.  A quick reminder:
The "6 pointers" – keep up with the teams likely to challenge alongside you for 4th place. Make sure you beat them when you play them, so that ultimately, you are the team taking the points off them, forcing them beneath you in the table.
Win 21 games – in the EPL era, only once has a team won 21 games or more and NOT qualified for the Champions League.
Beat the "rest" – Consider that beneath the current top 7, there are 13 teams that are all mostly inferior, in squad quality and depth.  These teams represent 78 very obtainable points.  Given that the average points tally of a 4th place is typically 70 points in the last 8 seasons, these matches represent the largest pool of where the majority of those points can be most easily obtained.
The Top 4 Contenders – Liverpool, Everton, Spurs and Man United
First, a disclaimer – I'm making the assumption that Arsenal, Man City and Chelsea are all very realistic title contenders and thus are certain to finish in the top 4.  Let's assume no major shifts in the table, especially those other 3 teams beneath Liverpool in 4th.
An intriguing stat – in the last 5 seasons, the team that finished 4th at season end was no further than 5 points below the team in 4th place after their first 20 games of the season. Considering Liverpool are in 4th place, it's an encouraging thought already.
Liverpool have gathered 39 points thus far in their league campaign, 5 points ahead of Man United in 7th.  In understanding where they could end up, we need to look at 2 things – where they've gathered those points compared to their direct rivals, and ultimately, where the 2nd half of the season's schedule implicates future points.
The "6-Pointer" table
This is by far the most encouraging set of results of any picked up by Liverpool thus far.  Given that this particular EPL season has been so competitive, it's fantastic that Liverpool have already dealt some damage themselves to their direct rivals for 4th:

There are 3 critical observations here:
Man United have a lot to do to recover any direct advantage on head to head results, especially since they claimed 1 point from 6 against Spurs;
Liverpool are in a very good position to remain ahead of this pack, given that they host both Spurs and Everton in remaining fixtures;
Could Everton be (arguably) the most dangerous of the direct rivals? Read on…
The set of results will prove crucial by the end of this article.  If you don't think it's important, consider that points taken off the club finishing in 5th proved decisive for Spurs in 2011/12 and 2009/10 (in 2009/10, Spurs crucially took all 6 points off Man City in 5th and drew twice with Villa in 6th).  To a lesser extent, this also applied to Arsenal in 2008/09 and 2006/07, as well as Liverpool in 2007/08.
Winning the "Easy" Points is Key to the Top 4 Race
The "6-Pointer" table is predictably only the tip of the proverbial Champions League marathon iceberg.  There's no direct prizes for beating teams around you unless you're matching their points return against the weaker sides, sitting beneath 7th.  And Liverpool are enjoying a slight lead against their direct rivals in this respect:

On the surface, Liverpool look mostly in a good position.  However, the picture becomes slightly more complicated when looking at home and away form:
Understandably, not all the sides have played the same number of matches home and away, so to create some sort of equal measure of performance, pay attention to the "PPG (points per game)" metric.
Immediately a risk and an opportunity emerge for Liverpool. "Fortress Anfield" is not a myth. Their ability to maximize points and goals is proving critical in the Top 4 race.
Conversely, their away form is currently a source of concern against the weaker sides, since Liverpool currently have the worse PPG in amongst their rivals. The other 3 are unbeaten on their travels, with Spurs in possession of a perfect record.  That's not to say that will continue, but that's certainly a consideration with how the schedule shapes up for Liverpool and the difficulty of the away fixtures they may face.
Planning the Points – Liverpool's Key Fixtures in the 2nd Half of the Season
To understand the above picture a bit more clearly, we need to take a very good look at the points that these 4 rivals have been earning at home and away.  Let's start with the home matches:
Let's start on the right hand side box.  Intriguingly, Liverpool's points return against most of the sides you'd expect in the relegation battle has been perfect, with 18 points from 18 possible that have been played.  While their rivals haven't enjoyed as much success, each of them still has 12 points to play for at home from bottom sides in the second half of the season.  This works for and against Liverpool, since most of the relegation battlers are likely to play a bit more expansively to grab points, but therefore making themselves more vulnerable to losing in their visits to Spurs, Everton and Man United.
In contrast, Everton have been excellent against the tougher, midtable sides. Liverpool haven't hosted all of them, but the visits of Swansea and Newcastle in particular could be massively important to keep pace with Everton, who you'd expect to beat Swansea and Villa at home.
A big issue of course, is the possibility that Spurs and Man United  in particular correct their poor home form, given that their points return at home against the bottom sides is well below that of Liverpool and Everton.  If that happens, then the race to keep ahead of them intensifies.
Away from home, it's the visits by most of the Top 4 rivals to Newcastle, Southampton and Stoke that could have massive bearings on the rest of the season.  Liverpool's record at the Britannia isn't the best (they've lost their last 3 league visits), so they'll need to do something different.
Probably the most significant scheduling aspect for Liverpool is that 6 fixtures against the weaker sides, most fighting relegation, remain unplayed. In the same way that Liverpool have claimed 18 points at home, capturing as many of the remaining 18 points could prove massively important given that Everton, Spurs and Man United play more of these teams at home.
Big Match Temperament?
Often, we're seen the stat and comment that Rodgers still hasn't achieved many good results against teams in the top half of the table.  There's an intriguing situation when one looks at the Top 4 rivals vs. the likely title challenging sides:

Liverpool's placement with 3 defeats here needs to be seen in context – they are the only team that didn't face Arsenal, Man City or Chelsea at home.
The team to potentially watch here is Everton, who were unlucky to draw to Arsenal and were deserved victors against Chelsea.  They host Arsenal and Man City, and Martinez seems to be far more astute at being able to get points where none should be logically expected.  It thus stands to reason that Liverpool's hosting of the 3 title challengers will be of as much importance to the future of the title (including an outside chance for Liverpool to challenge), and Liverpool's Top 4 ambitions.
The other interesting observation is the influence of Chelsea and Man City in the Top 4 race. Both will be significant, since Everton, Spurs and Man United are all yet to play at the Bridge, while Man City travel to all 4 Top 4 contenders.
Finishing the Top 4 Race
Looking at all these stats, the story of Champions League qualification has some clear lessons for Liverpool to consider in the Top 4 race.  Man United are finally showing what they truly are – an aging squad, with predominantly average players, missing the manager already who was probably worth an extra 10-20 points a season on his own.
I don't expect Man United to produce this expected dramatic recovery of points – there are likely more defeats to come away to Everton, and at home to Liverpool.  They have difficult trips to Chelsea, Arsenal, Newcastle and Southampton. Unless they sign a myriad of world class talent, or coax Alex out of retirement – they'll finish 6th or 7th.
The sacking of AVB at Spurs is to some extent bizarre, and only Sherwood's solid start in league football currently seems to justify the decision.  They appear a team at this point that Liverpool can match, or exceed.  Their fixtures are favourable, so Liverpool need to keep pace with them and ensure a draw or win in the return fixture at Anfield.
Believe it or not, the main competitors for Top 4 thus end up being those right on Liverpool's doorstep in both points and geography – Everton.
It makes the Merseyside derby later this month look like it could be a Merseyside derby of old – a proper 6 pointer that, assuming other results are relatively equal… could ultimately decide who finishes in the Top 4.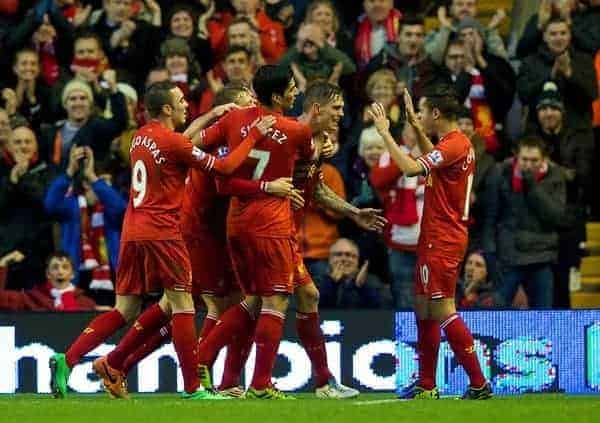 A Final Thought
Liverpool are 9 wins away from 21 wins, usually enough for Top 4 qualification.  They have 10 wins from 14 games against teams below the top 6.  A team finishing in the top 4 in the last 8 seasons averages 17 wins against teams below the top 6.  Liverpool have only managed an average of 13 wins against those sides in the last 4 seasons.
The current group is merely 7 wins away from that number and they've already matched the number of wins achieved against these "lower" teams in Dalglish's spell in 2011/12.
With Sturridge and Enrique returning from injury, a team with emerging performers like Raheem Sterling and Jordan Henderson, the world class form of Luis Suarez, the encouraging thought that Coutinho is still 2 gears away from his proper level of football, and the promise of more reinforcements in January… would you really bet against them reaching 21 wins?  Hopefully more?
Top 4 beckons, Liverpool.  You know it does.  Seize it.