The 21-year-old is a fantastic talent, and a potential future Reds superstar, but Henry Jackson (@OnFootballTweet) believes the Brazilian has been disappointing of late.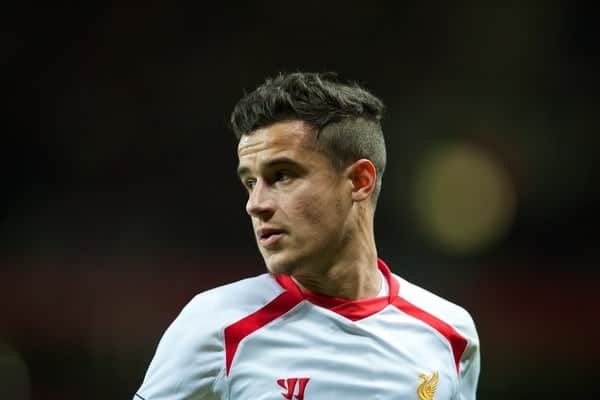 First things first, before I receive a tirade of abuse, this is not saying Philippe Coutinho is not a marvellous footballer. Since arriving at Anfield a year ago he has produced some moments of magic, particularly with his fantastic vision. He has the potential to become one of the best players in the Premier League.
My point is that, in the last month or so, he has been one of Liverpool's weaker players, especially given his talent. Whether it be in the outstanding away win at Tottenham or the frustrating defeat to Chelsea, he has been disappointing by his standards.
His final ball has not been clinical enough, his shooting has left a lot to be desired and even his fitness levels have looked below par in some of the more gruelling matches. While the likes of Luis Suarez, Jordan Henderson and Raheem Sterling have been superb, it has often been Coutinho to blame for losing the ball or choosing the wrong option in vital areas.
The hugely gifted Brazilian has also only found the back of the net twice this season, which for a player of his ability is not good enough. One was virtually impossible to miss, against Everton, while the other, the opener away to Manchester City, was also pretty straightforward in all honesty.
He has had 59 attempts on goal this season, which highlights the fact that his finishing can be very erratic. Too often he has done the hard work but then failed to convert with the goal at his mercy – when he places a shot, it's weak or wide, when he goes for power it often ends up blazing over.
As mentioned above, this is not an attack on Coutinho- he is one of the best players at the club in my opinion- it is just saying that his normally high standard has definitely dropped in recent games.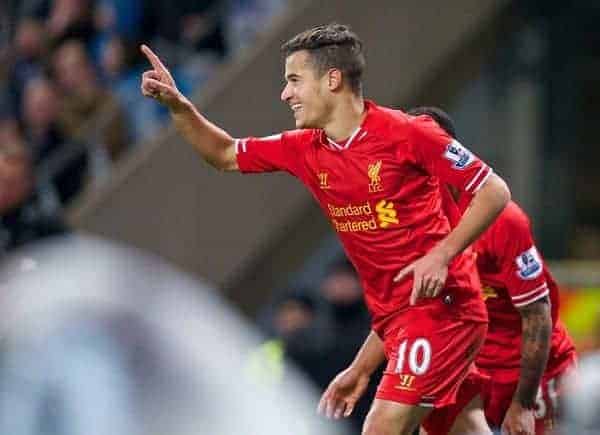 This current dip may well be down to the shoulder injury that kept him out for a large chunk of the early part of the season. He has never quite looked 100 per cent since his return in early November, give or take the odd moment of individual brilliance; the dribbling run against Hull, for example.
It is, of course, important to stress that Coutinho is still very young and raw. He is far from the finished article, and will only get better and better in the coming years.
He is, however, one of the most important players in Liverpool's squad. When he is at his best he has the ability to run the show, and his link-up play with Suarez and Daniel Sturridge has often been a joy to watch. At the moment though, he is not reaching those heights.
The next three or four months are absolutely critical in Liverpool's quest for Champions League football next season, and Brendan Rodgers and everyone associated with the club need Philippe Coutinho back to his brilliant best as soon as possible.