Liverpool's FA Cup fifth Round clash away to Arsenal has been scheduled for Sunday, February 16th, it was confirmed on Wednesday.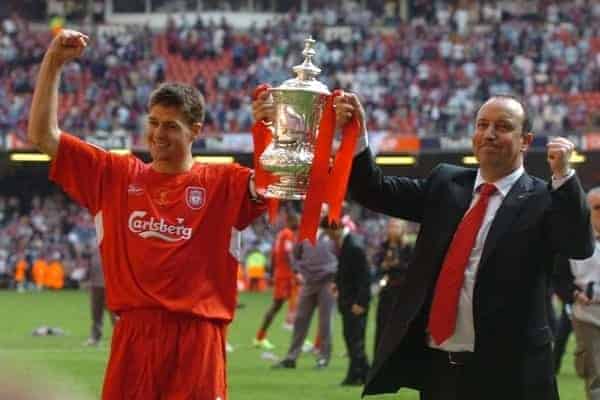 Arsenal vs Liverpool; Sunday, 16 February 2014; 16:00 Kick-off; FA Cup 5th Round; Emirates Stadium.
The two sides were drawn against each other in the competition in Sunday's draw after the Gunners had defeat Coventry City, and Liverpool had beaten Bournemouth in the fourth round over the weekend.
The last time the sides met in the FA Cup was back in a third round clash at Anfield in 2007. The Gunners ran out 3-1 winners thanks to a brace from Tomáš Rosický, and one from Thierry Henry. Dirk Kuyt got Liverpool's only goal that day.
The exciting tie, which comes just a week after Arsenal visit Liverpool in the Premier League, will be broadcast live on BT Sport, and so has a 4pm kick-off time on that Sunday.
Arsene Wenger's side have a difficult run of fixtures at the time, playing Liverpool twice, Manchester United and Bayern Munich twice in the space of a couple of weeks.
After Sunday's draw, Brendan Rodgers revealed he was relishing the tie, concluding that you have to beat the best sides to win the FA Cup as one stage or another.
"If you're going to get to a final, you're going to have to beat one or two good sides along the way," he told the club's official website. "Arsenal are obviously a good side.
"They'll have focus on other games as well around that period. For us, we've got a few important games to take on before that.
"But we'll arrive there in the belief that we can win. That's something that, when the time comes, our focus will be to get into the next round."
The full FA Cup fifth round draw is as follows:
Manchester City vs Chelsea
Sheffield United/Fulham vs Nottingham Forest/Preston
Arsenal vs Liverpool
Sheffield Wednesday vs Charlton Athletic
Brighton v Hull
Everton vs Swansea City
Cardiff City v Wigan
Sunderland vs Southampton