We hail the return of Daniel Sturridge to Liverpool's attack, and pinpoint Philippe Coutinho as the player to make way for the England striker.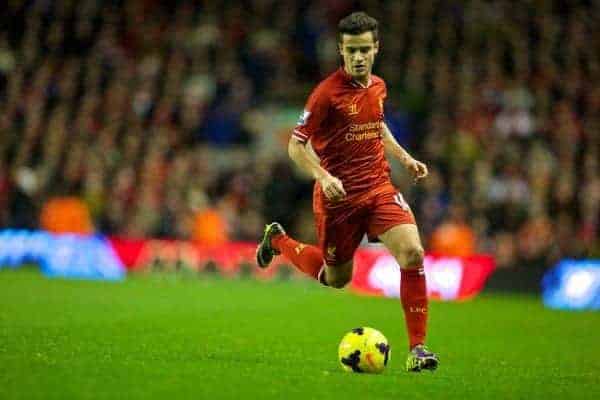 Daniel Sturridge and Luis Suarez picked up where they left off to combine for Liverpool's fourth and fifth goals against Stoke City on Sunday.
The Reds' 'SaS' partnership have now put away 32 league goals between them this season. That's the sort of form that could win Championships.
However, Sturridge's injury in late November, which kept him out of Liverpool's festive fixture programme, actually allowed both Suarez and Raheem Sterling to excel.
December saw a burst of goals from Suarez, netting 10 within the calendar month, whilst Sterling's rise in form has been well documented.
Sterling is now an attacking threat and a player bursting with confidence, having found a good relationship with Suarez and with that, his own game.
Steven Gerrard this week even urged England boss Roy Hodgson to consider replacing the injured Theo Walcott with 19-year-old Sterling.
The man left over from Liverpool's attacking system is Philippe Coutinho, who may well have to be the man moved aside to make way for Sturridge's full-time return.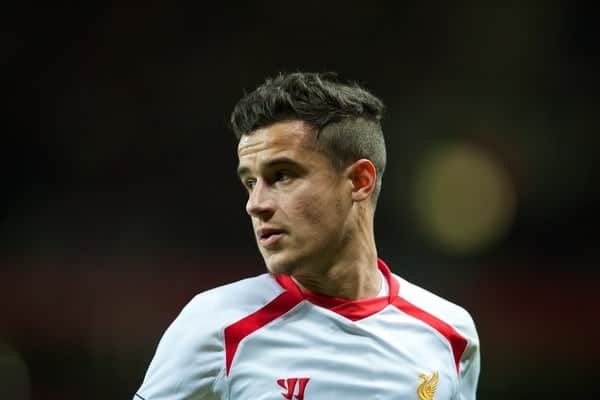 Coutinho, still only 21, has been carrying a heavy weight of pressure and expectations on his shoulders this season, having started all but one of Liverpool's last 12 games.
If Liverpool are to make an assault on the title — or at least on the top four — they need goals, and Coutinho has struggled to deliver those.
According to Squawka, the Brazilian has failed to convert 95% of his shots this season, consistently dragging them wide or seemingly lacking the instinct to know where the goal is, and blazing his shot well over the mark.
Whilst Coutinho contributes in creating chances (28 this season), this statistic is skewed by the quality of the chances created.
With Sturridge and Suarez linking up so well to provide each other with goals after Coutinho's removal from the game at Stoke, it seems like a no brainer that the former Inter Milan man should step aside.
That's not to say Coutinho's chance has gone at Liverpool either — having such a brilliant talent as competition for Sterling can only be a good thing.
If the January transfer window sees the arrival of another attacking player — Mohamed Salah, for example — then Brendan Rodgers is well and truly building a squad capable of challenging on several fronts next season.
In the form that they're in, a front three of Sturridge, Suarez and Sterling — the 'SaSaS' as it were — is pretty frightening for any Premier League defence.
It could even be what carries Liverpool to glories this season.
Further reading:


Liverpool Need More From Philippe Coutinho by Henry Jackson


The Rise Of Liverpool's Raheem Sterling by Oliver Smith


Raheem Sterling And Liverpool's Role In His Development by Jack Lusby
Should Philippe Coutinho be the player to make way for the return of Daniel Sturridge? Let us know your thoughts in the comments below, or on Twitter @thisisanfield.[table id=14 /]