Liverpool host Paul Lambert's struggling Aston Villa side at Anfield on Saturday, hoping to avenge the 3-1 defeat the Midlands side inflicted last season. Rory Fitzgerald takes a closer look at Lambert's side.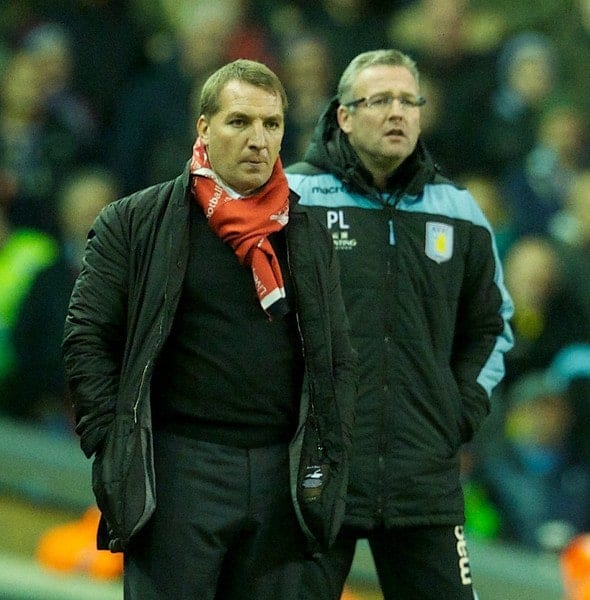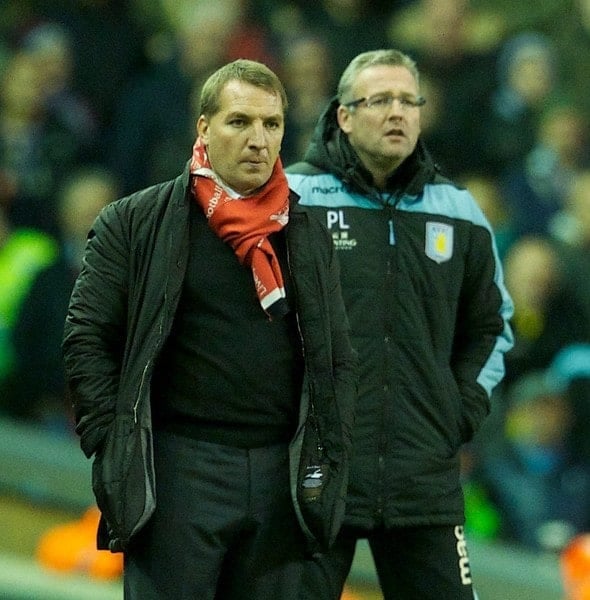 Aston Villa's Set Up
"The lads know 3-5-2. They played it last year. The good thing is we can change different ways of playing and different personnel. It all depends on who we're playing against and what players are fit, but you give them the systems and they adapt. I wouldn't say 4-3-3 is set in stone."
Unlike most teams in the Premier League, Aston Villa don't have a "default" formation. Paul Lambert's side started off with the 4-3-3 formation that they ended last season with but moved to a 3-5-2 system for certain games, including the two 3-2 victories against Man City and Southampton, and started this way against Arsenal on Monday night.
Lately though, the shape has been more 4-4-2 and Villa reverted to this shape against Arsenal when Baker went off injured. However, it's only in the last 3 games that Lambert could pair Benteke and Agbonlahor together in this formation due to the Belgian missing 3 games through injury and Agbonlahor serving a 1 game ban. The graphic below shows the average pitch position of the team in the two games prior to the Arsenal match in this 4-4-2 shape.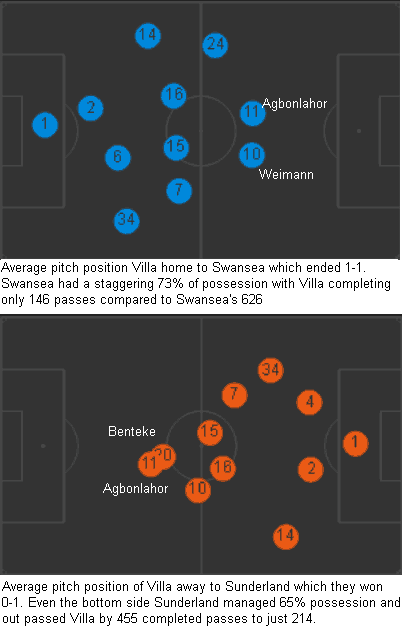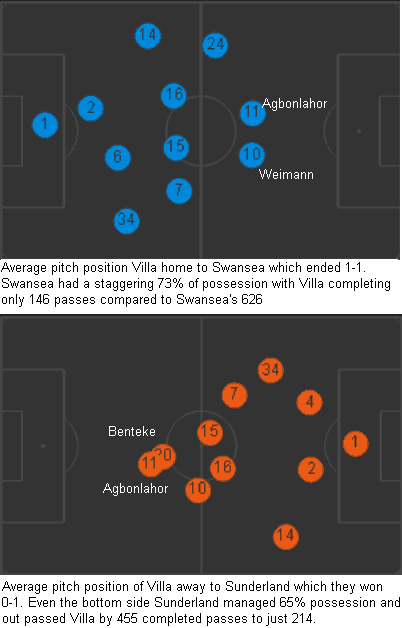 Style of Play
"….there's more to us than just counter-attacking. We can play. Give us time and then we'll certainly play"
Irrespective of what Lambert says, Villa are a counter-attacking team for two very simple reasons.
Whilst they have not been prolific this season, the strength of the team is in attack with the pace of Agbonlahor and physicality of Benteke including his ability in the air.
The other reason is that their central midfield is not used as a conduit to build attacks and seems more designed at utilising their energy levels to chase down the opposition and protecting the back line rather than retaining the ball and building phases of play. As seen for Arsenal's second goal, they lost possession after a few short passes which cost them dear when pressurised.
Their style is borne out in the following statistics, i.e. Villa's inability to keep the ball in order to build attacks and their tenacity in defending when out of possession;
Possession: 3rd worst with an average of 39.8%
Pass completion: 2nd worst at just 71.3%
Discipline: Most yellow cards in away games with 26
Fouls: Committed 2nd most fouls in away games with an average of 14 per game
Aerial focus : Benteke has won the 2nd highest amount of aerial battles in away matches despite Villa attempting the fewest amount of crosses per game i.e. headers are generally not in goalscoring areas.
In the two games below, Villa allowed the opposition to dictate the games by dropping deep to become compact, yet at the same time leaving the two attackers up the pitch as out-balls. These kind of regressive tactics and Championship level mentality are significant reasons why Lambert is facing pressure from the home crowd.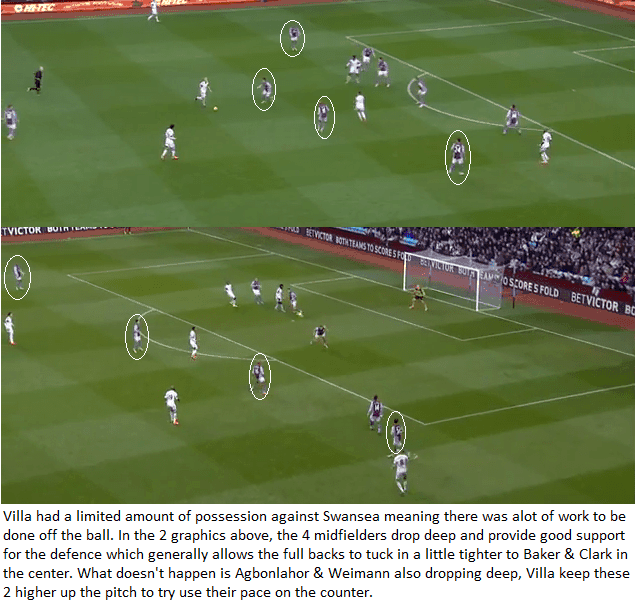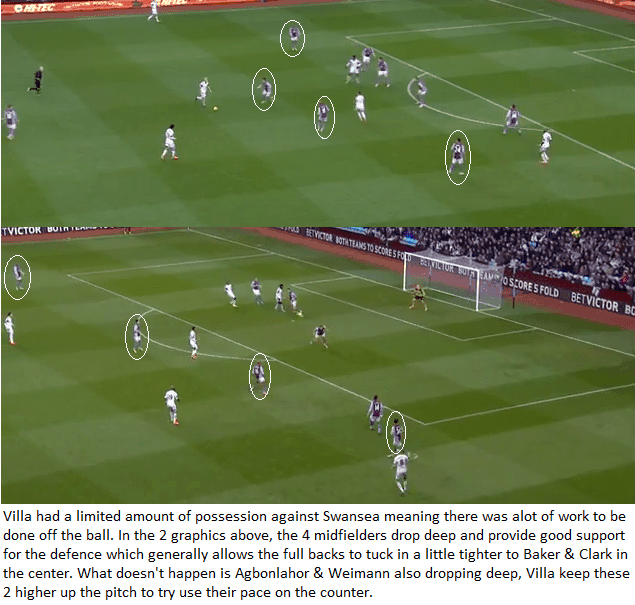 Below are 2 similar examples in the recent away victory at Sunderland.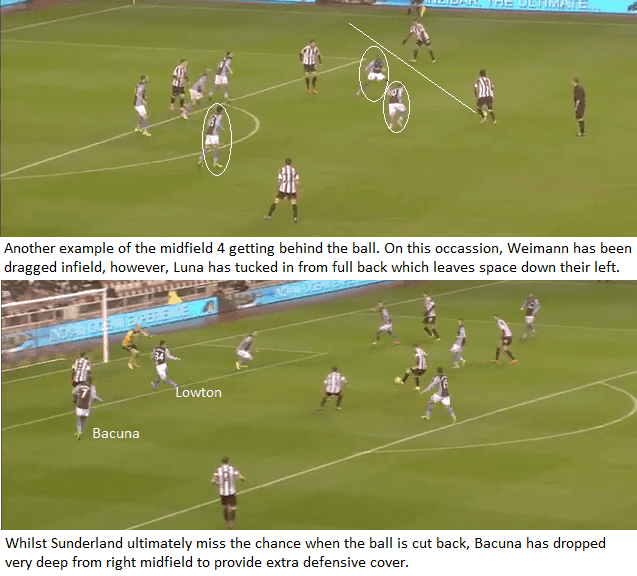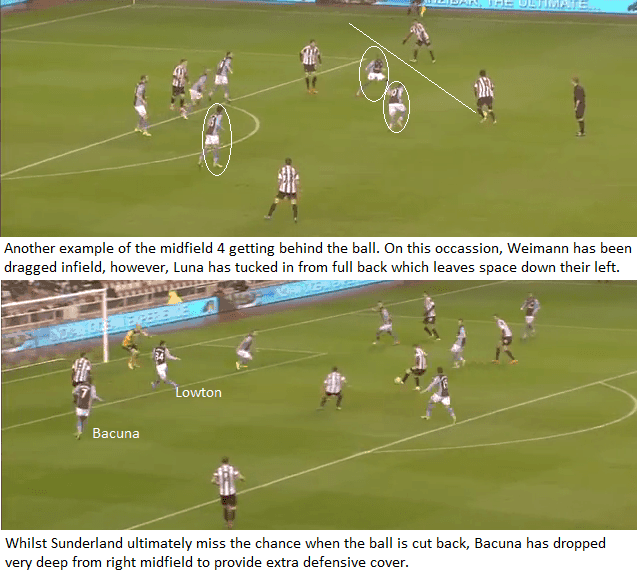 Back to Front
Villa have tended to sit deep and try to be compact and when in possession they are not interested in building play, rather hitting their pacey strikers quickly. As such, they'll concede a lot of possession and territory.
However, its been working for them with the 2nd best defensive record on the road with just 11 conceded in 10 games. Also, before last weekend's games, Villa had the sixth best away record in the league managing to pick up 15 points from 10 games. Whilst the stats below look somewhat uncomplimentary, it has worked for Villa.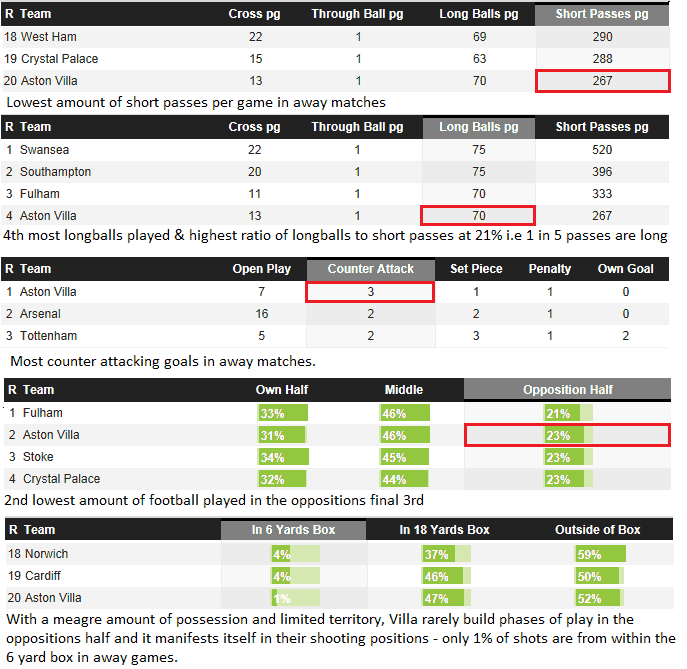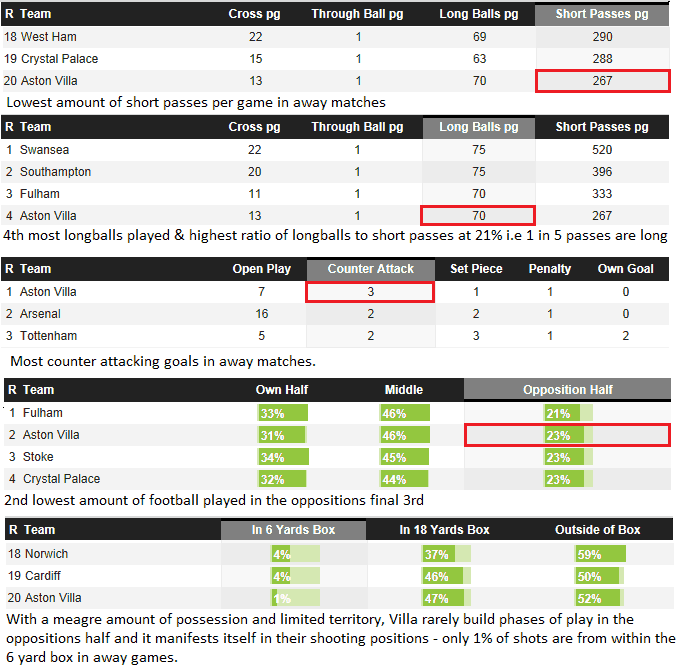 Below is a look at their recent away game at Sunderland. First off, the pass map shows that of Brad Guzan, the player that has easily played the most long balls in the league this season at 436. Not once did the keeper look to distribute the ball to his defenders or his full backs.
The team seem focused on "percentage football" and see what they can win from hitting Benteke and looking to play from there.
Their main pass combinations are also interesting. Firstly, Sunderland outpassed them. Secondly, their main combination was Guzan to Benteke and from there its Benteke and Agbonlahor; back-to-front ASAP and play from there. With their stronger players at that end of the pitch, its somewhat understandable though they could do with a lot more quality in midfield to give them a better platform in games which may help conserve energy for the final third of matches when they have suffered.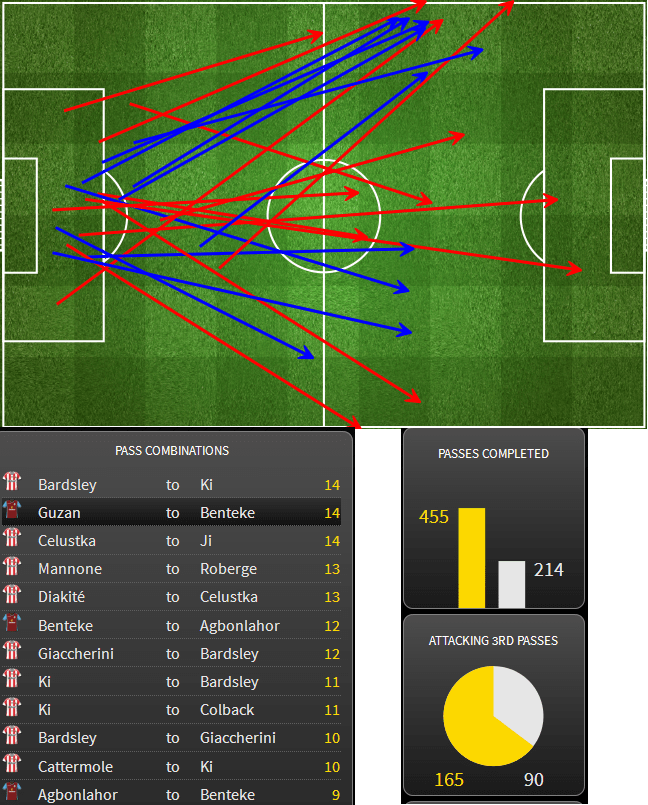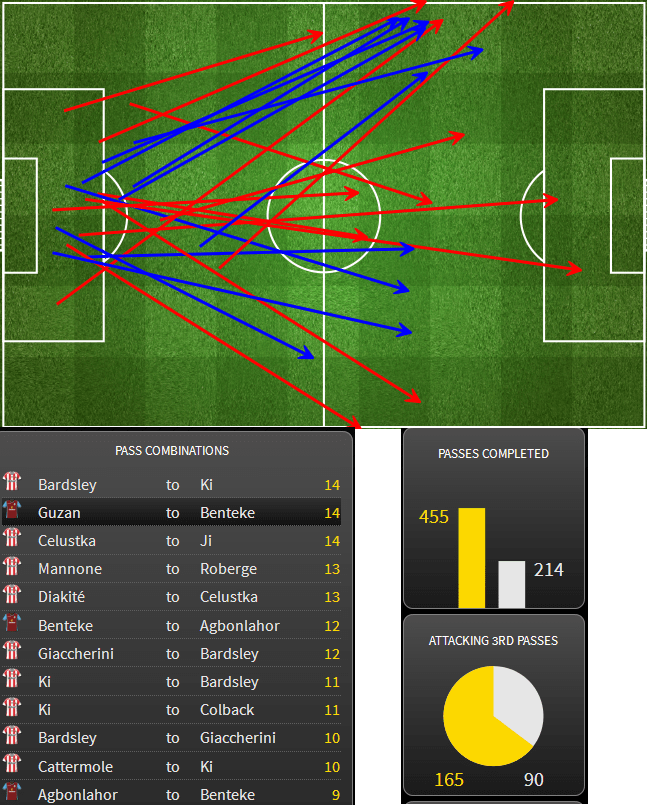 Villa's change in mentality/tactics vs Arsenal
In the first half, Villa were prepared to frustrate Arsenal at the expense of taking the game to their opponents. When they did get on the ball, they continued their somewhat primative football of looking for the percentages in Arsenal's half by going direct to the front men. Below is an example of whereby the team could easily have played the ball into their midfielders who have space to take the team forward. However, Luna's first thought is to play the ball to his strikers who are out-numbered and have no support from midfield.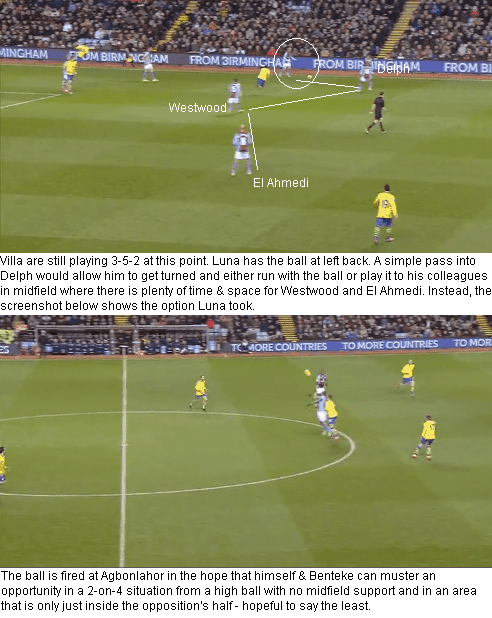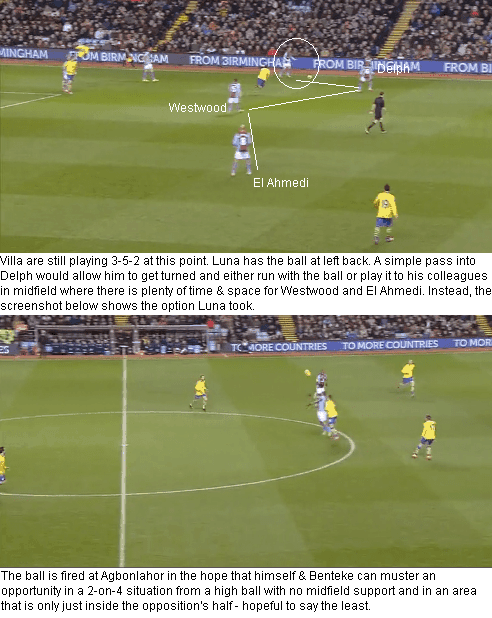 What they did try to do and what they did against Spurs aswell earlier this season, was to remain compact by asking the defenders to come a bit higher against the single striker that are not blessed with speed (Soldado and Giroud in each game) but get the strikers to fall back towards the half way line. Below is an example against Arsenal from Monday night. With Arsenal looking to play in more central areas, Lambert went with 3 central defenders and 3 central midfielders thus leaving any space in wider areas.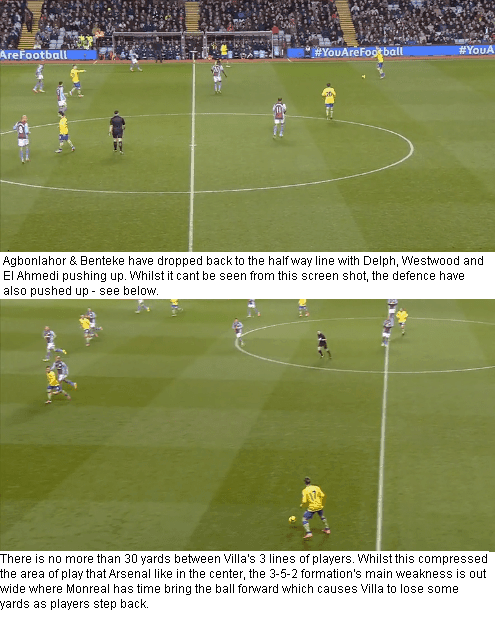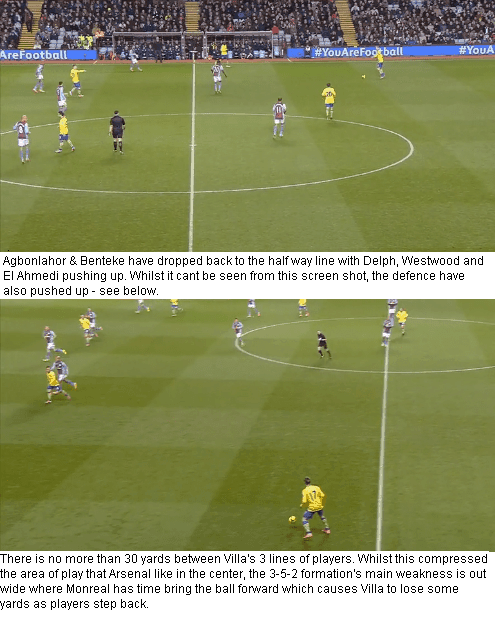 The seconnd half saw a different Aston Villa emerge. After going 2-0 at home and playing a rather passive game by allowing Arsenal to approach the half way line without any pressure, the manager clearly asked for a shift in mentality. It cannot be easy for fans at Villa Park to suffer that kind of football without venting their frustration at times and Lambert seemed to be acutely aware of this.
From the restart, Villa were more aggressive in where they engaged Arsenal on the pitch with the following results. In the first half Arsenal completed 92% of their 424 passes but in the 2nd half that dropped to a completion rate of 81% from just 209 attempted passes. Below is an example of the shift in Villa approach when out of possession.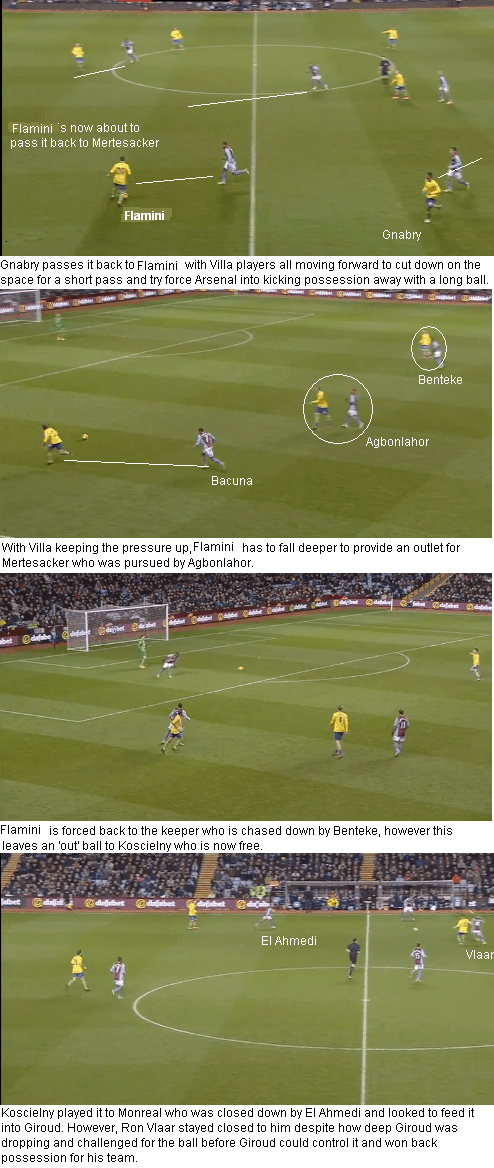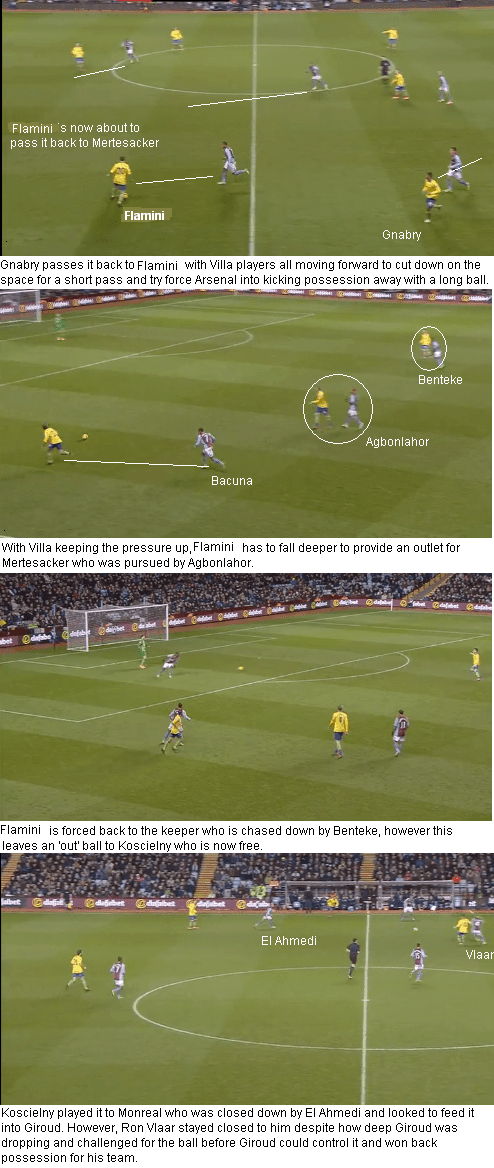 Conclusion
If Villa have enough defenders fit, I expect a 5-3-2 type formation. If not, I think it will be 4-4-2. Either way, we are likely to see Agbonlahor and Benteke as a pair in their attack and I think that is Lambert's focus with energy & organisation being the buzz words for the players behind them.
As seen with their stats – possession & pass completion is likely to be poor but with the most yellow cards picked up and 2nd most fouls committed in away games, the team dig in to make it really difficult for opponents and it has paid off with 15 points and only 11 conceded in away games which are excellent numbers for a young and inexperienced team that have so little of the ball.
Confidence is a big thing for this young Villa side, if they can keep Liverpool scoreless their belief will grow and they won't have the added pressure to satisfy their home support. Villa have yet to concede more than 2 goals in an away game whilst Liverpool have scored more than 2 goals in 6 of the 10 games at Anfield so far this season.
Aston Villa's general approach is somewhat basic. The midfield is young and industrious but somewhat limited when in possession. As such, Villa frequently by-pass the central areas and look to get the ball to their strikers swiftly with the midfield then encouraged to move up behind in support.
However, by playing a longer-ball game, it generally breaks down into a 50:50 for the first ball and possibly even a 50:50 for the player looking for the flick-on which is a 25% chance getting control of the ball in the final 3rd before the support arrives. As such, with poor service, Benteke is only averaging 2.6 shots per game and has scored 1 in his last 12 whilst Agbonlahor averages 1.6 shots per game and has 3 goals in 17 games.
Also, as pointed out above, they are managing to create chances of which only 1% are in the most dangerous area (6 yard box), the lowest in the league when away from home.
That said, Villa's approach has yielded a sizeable number of points on the road picking up 15 points from 10 away games and having the 2nd best away defensive record. What will be more interesting from this game will be the mentality of the Villa players – I think the 2nd half performance against Arsenal was a reaction to being at home in front of their own fans.
I don't expect that approach to be taken at Anfield and would not expect a lot of pressure on the ball in our half, rather, we may find them engaging with our midfield just inside their half so that their back line does not leave a great deal of space for Suarez and possibly Sturridge to exploit. It may also be difficult for them to employ the tactics that they did at home to Spurs and Arsenal as Liverpool will possibly play with 2 strikers, and both of those are alot quicker, quite mobile and more skilful than either Soldado or Giroud.
On Saturday, it will be interesting to see if Liverpool can stamp their mark on the game in the first half like they normally have done at Anfield this season. Liverpool have scored 56% of their goals at home by the 40th minute but as seen below, Villa are a resolute team, generally keeping things tighter until the last 30 minutes.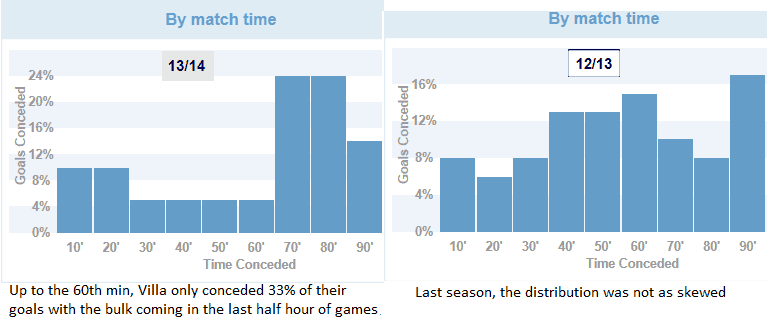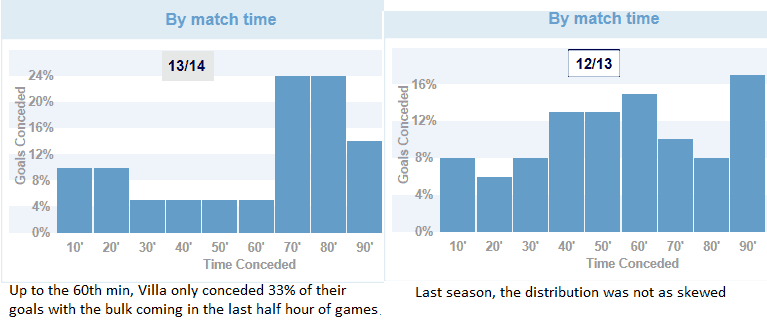 Prediction
With Villa coming off the back of a spirited second half display against Arsenal and having a decent record away from home, things could be tight in the first half. However, Liverpool should have too much quality on the day. Even if they have to wait to get the breakthrough, Villa's stamina levels are likely to suffer the longer they are made to run about given their inability to hold on to the ball for any length of time.
As such, with Liverpool priced as low as 1/4 and Suarez first goalscorer only 9/5, the value bet might be 3/1 for draw HT / Liverpool FT if Villa look to sit in and remain stubborn.
Rory Fitzgerald
Follow me @RoryFitz9
References: WhoScored, Squawka, Premier League