Aaron Cutler takes a look back on the many players to occupy Liverpool's perennial problem position of left-back.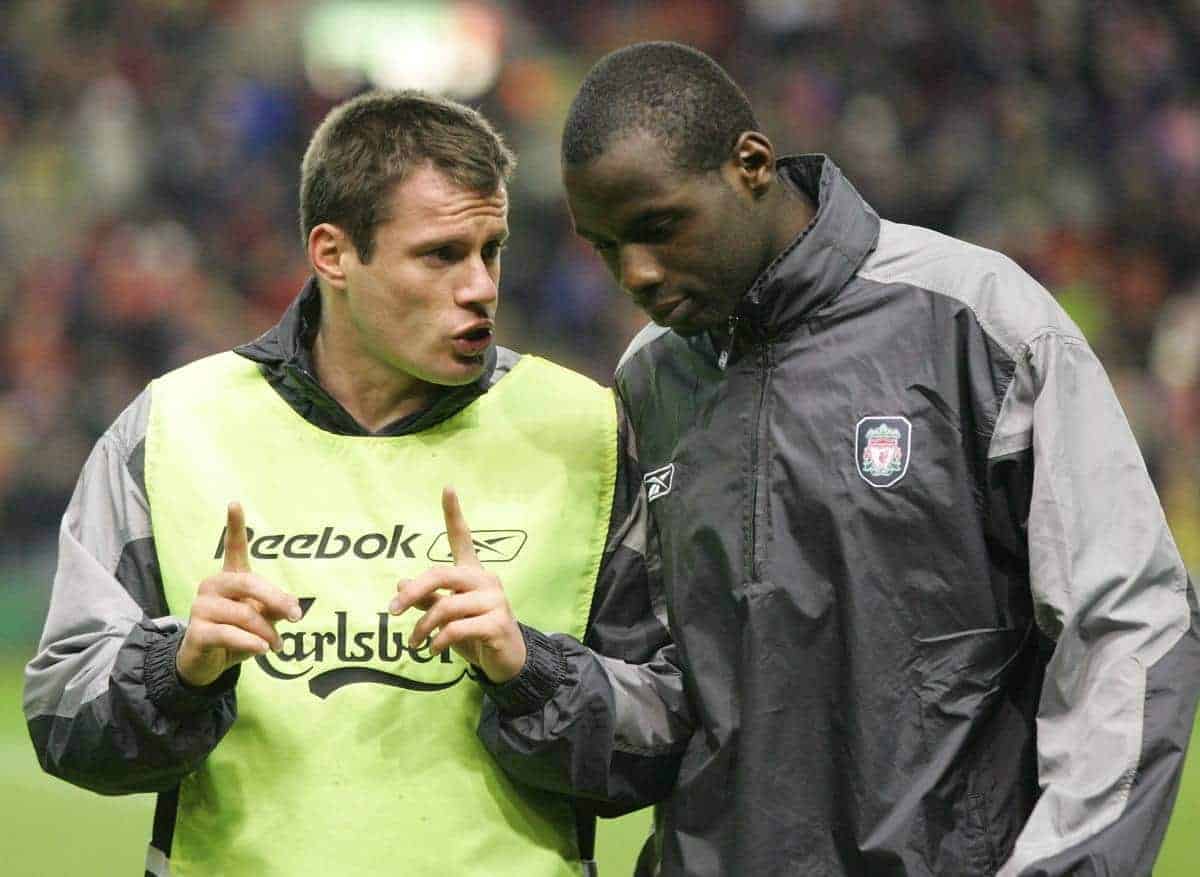 Shortly before his retirement last May, Jamie Carragher was asked to name the best eleven players he played alongside at Liverpool FC. A career spanning 17 years and encompassing 11 trophies featured a fair few teammates (166 to be exact).
Indeed Carra saw it all, from the majesty of Steven Gerrard to the hilarity of Gabriel Paletta. Running through his 1 to 11 the Liverpool legend reeled off some familiar names; Suarez, Fowler, Hyypia and Alonso were all present but one position stumped him.
When pressed on who should take a left back berth in this prestigious if wholly relative dream team Carragher paused. "Hand on heart I'd say that was the one position in my time at the club where I don't think we've ever had a top player." He was right.
From 1997 onwards Liverpool have never boasted a top class left sided full-back, certainly not one who has featured on a regular basis. You could argue the last great occupant of that role starred in our last Championship winning side, the late Gary Ablett figured until 1992.
Successive managers have thrown money at solving the problem position only to be short-changed. Gerard Houllier signed no less than five left-backs during his six year reign, while Rafa Benitez acquired four would-be solutions. Neither found the long-term answer.
Current boss Brendan Rodgers inherited the enigma and has also set-about finding a quick fix. Sadly, for all his endeavour, Aly Cissokho is a hefty step back rather than forward, succeeding only in heightening fans appreciation of Jose Enrique.
Reinforcements will again be identified this summer as Liverpool strive to solve a mystery as perplexing as Peter Crouch landing Abby Clancy. In the meantime I take a look back at the many pretenders to Ablett's crown.
Julian Dicks (1993-94 / Appearances: 28 Goals: 1)
On the surface Julian Dicks was the complete antithesis of a Liverpool player. Renowned for his outright brutality his true calling was surely as a third Mitchell brother, not a reds full-back. Alas in a peculiar turn of events Graeme Souness brought him to Anfield with a view to 'toughening up' our backline.
A legendary player Souey proved a shoddy manager and Dicks was one of a host of misguided signings. The writing was on the wall almost immediately, miscontrolling terribly to allow Tony Cottee to pounce in a derby day defeat. Some debut.
To his credit Dicks curbed his loutish instincts and steered clear of suspension, even scoring the final reds goal in-front of the standing Kop in 1992. He was a West Ham boy however and never good enough for a team chasing titles. Roy Evans spotted this from the outset and sharply sent him back down south upon succeeding the sacked Souness.
Stig Inge Bjornebye (1992-00 / Appearances: 184 Goals: 4)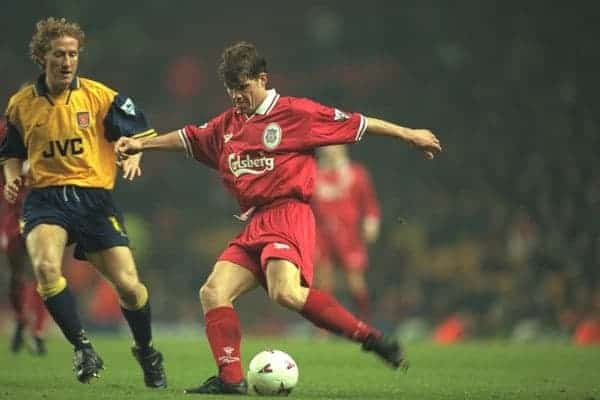 A burly Norwegian Stig Inge held down the left-back position for most of the mid 90s. Signed by Graeme Souness he initially struggled with the rigours of Premier League football but hit form by the time Roy Evans succeeded the Scot. Far and away the best asset of Bjornebye's game was his crossing ability. A sweet left foot, he offered countless deliveries to a waiting Robbie Fowler – the most famous of which probably being a late, late assist in the second of two 4-3 epics with Newcastle.
Very much a Steady Eddie he served Liverpool well throughout the Evans era without ever stealing too many headlines. He scored the first of four senior goals away to Middlesbrough on the opening day of the 1996-97 season but never convinced Houllier of his capabilities. The Frenchman loaned him back to his native Norway in 1999 before selling him to Blackburn the following summer.
Steve Staunton (1986-91 & 1998-00 / Appearances: 148 Goals: 7)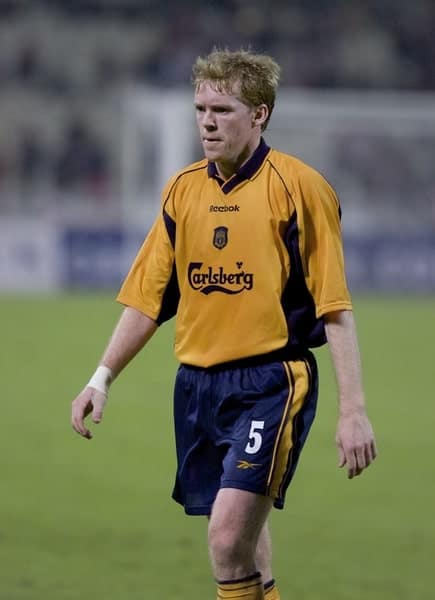 The first of five left-backs signed by Houllier (in tandem with Evans), Steve Staunton returned to Liverpool in 1998. His first spell on Merseyside produced both a league and cup triumph but his second coming proved inauspicious.
A regular during his first season back at the club his game time was limited thereafter. Most fans remember him now for a brief appearance in goal, reverting between the sticks after Sander Westerveld was dismissed in a Merseyside Derby. Despite making one fine save late on he was unable to prevent the reds slipping to a 1-0 defeat, their last against The Toffees on home soil. A reliable full-back Stan was held in high regard by many supporters but his Liverpool career rather ebbed away and he was sold to Aston Villa during the Treble season.
Djimi Traore (1999-06 / Appearances: 141 Goals: 1)

What can you say about Djimi Traore? A cult figure, a Champions League winner, a Malian International and without doubt one of the worst defenders to ever play for Liverpool FC.
A complete liability his kamikaze style actually endeared him to Kopites who simply accepted his failings after years of dismay. Houllier actually fought-off competition from AC Milan and Lazio for the lanky centre-half turned full-back, comparing him to Marcel Desailly in the process. Then again, this was the man who claimed Fowler's infamous celebration was merely a re-enactment of someone eating grass.
Traore was shocking. Nervy in possession he had a terrible tendency of jumping into rash challenges and giving away free-kicks and/or penalties. His darkest hour came away to Burnley in the FA Cup third round where he miraculously showboated his way to an own goal, eliminating Liverpool in the process.
He went someway to redeeming himself in Rafa Benitez's first season in charge. He played a key role in the 2005 Champions League run, contributing to steely shut-outs at the Stadio Delle Alpi and Stamford Bridge. He then started the final in Istanbul, appearing like a Deer in the Headlights for 45 minutes. To his eternal credit he composed himself and contributed to a fairytale comeback. He has gone down in Liverpool folklore and is fondly remembered for boasting a certain medal Michael Owen does not.
Christian Ziege (2000-01 / Appearances: 32 Goals: 2)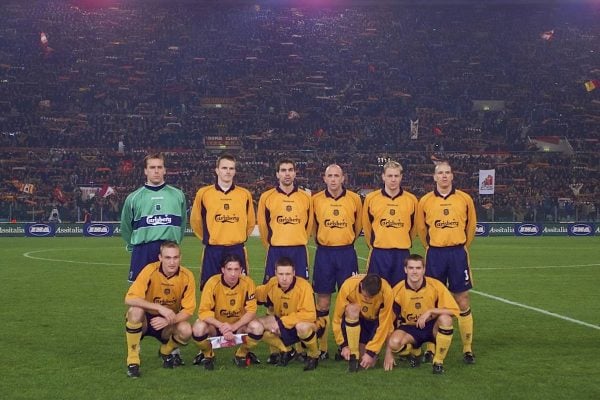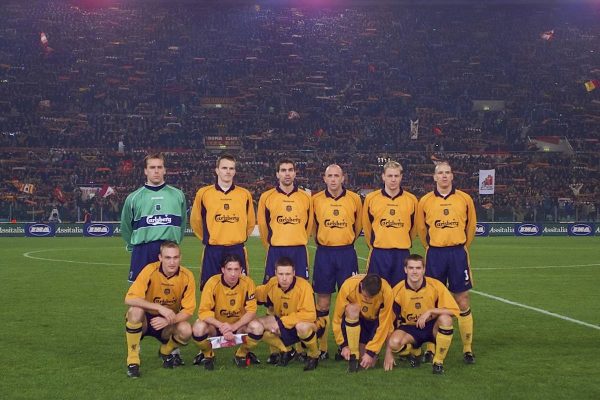 German international Ziege was heralded as the very first 'missing piece' in Houllier's Liverpool jigsaw. A fine left back he starred for Middlesbrough during the 1999-00 campaign, scoring six goals and earning a move to Merseyside.
The transfer itself was the cause of great controversy, with the reds eventually fined £20,000 for an illegal approach. An experienced international Ziege's Anfieled career never truly took-off. He struggled to displace the versatile Jamie Carragher, who more often than not seized the left-back role under the Frenchman.
Ziege made just 16 league appearances during his year with the club, before joining Spurs in 2001. Technically gifted with a fine set-piece delivery he should have enjoyed a far longer and more memorable spell in the North West.
Gregory Vignal (2000-05 / Appearances: 20)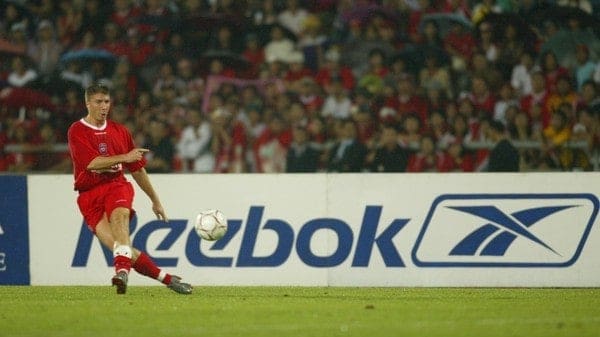 Gregory Vignal was another one of those French protégé's lured to Liverpool by Houllier. In time reds fans began to realise any true potential emanating from France naturally gravitated towards Arsenal and Arsene Wenger, not L4.
Vignal's Anfield career was forgettable to say the least. He looked OK in possession and capable enough defensively but injuries and competition for places meant he only made 20 first team appearances before embarking on a journeyman's career, flitting between England and his homeland.
John Arne Riise (2001-08 / Appearances: 348 Goals: 31)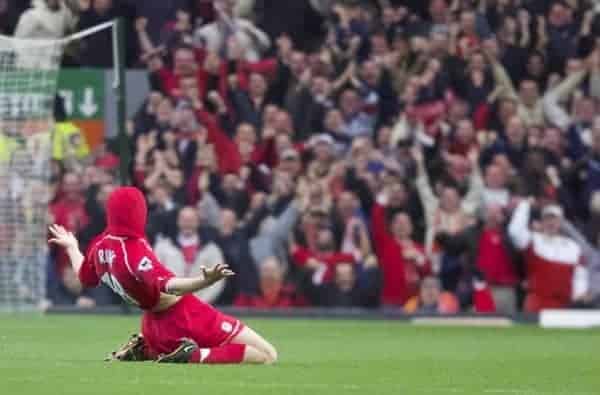 John Arne Riise, or Ginge as he was affectionately dubbed by teammates, may be the one exception to this article. During a seven year spell with Liverpool the Norwegian scaled a great many highs and is fondly remembered by supporters to this day.
Signed from Monaco in the wake of the Treble campaign, Riise immediately set-about displaying his vast potential. A first reds goal came in the Super Cup victory over Bayern Munich before a terrific solo run and finish lit-up the Merseyside Derby at Goodison.
Perhaps his best moment in Liverpool red came against Manchester United in October 2001. Lining up a 25 yard free-kick at the Anfield Road End he thundered a shot past the hapless Fabien Bartez with such ferocity it's a wonder the goal withstood its impact. That moment spawned his very own chant, to the tune of Hey Baby by DJ Otzi.
Riise was an ever present as Houllier's side charged to their highest Premier League finish and regained form once Rafa Benitez took charge in 2004. He was instrumental on the road to Istanbul, scoring a decisive free-kick against Bayer Leverkusen in the Quarter Final and crossing for Gerrard to lead the historic fight back at the Ataturk.
What perhaps stopped the Scandinavian from graduating to a true great was his tendency to switch off defensively. He was often caught out of position and also prone to careless balls across the face of his own goal. A terrible final year at Anfield was immortalised in the shape of a horrific own goal at home to Chelsea in another Champions League Semi Final. That error cost the reds an away goal and ultimately passage into a third showpiece in four years.
Despite that calamity Riise will forever be remembered for his great goals, none more significant than a 2007 winner at the Nou Camp following a week's controversy with Wales answer to Rory McIlroy. Currently sporting an Elvis-like pompadour down in West London Riise is probably our best left-back in 15 years.
Fabio Aurelio (2006-12 / Appearances: 134 Goals: 4)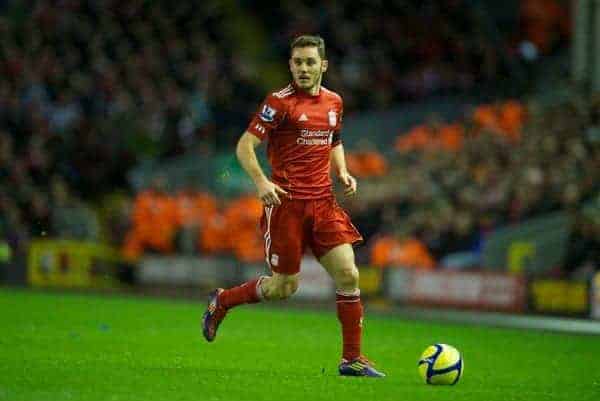 Fabio Aurelio. Now there was a player. Good on the ball, a fine crosser and the exponent of some glorious free-kicks – none more picturesque than his Old Trafford beaut. His downfall? Injuries, lots and lots of injuries. Over the course of a six year stint at Anfield the Brazilian made just 134 appearances. Indeed he made Jamie Redknapp look like the bionic man.
Keeping Aurelio fit proved an impossible task which was a travesty given his obvious talents. Signed from Valencia he initially struggled with the physicality of the Premier League but came into his own during the title tilt of 2008/09. A cultured player that campaign should have been his launch pad, instead it proved his sole purple patch. In many ways he would signal an ideal fit for Rodgers progressive approach but Dr Zaf would certainly be overworked. What could have been.
Emiliano Insua (2007-11 / Appearances: 62 Goals: 1)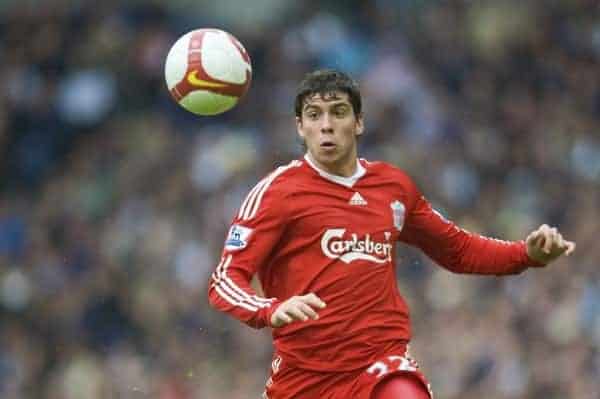 Many supporters feel Emiliano Insua was written-off far too soon. Signed from Boca Juniors in 2007 he showed glimpses of real promise, particularly when eased into the fray initially. His downfall came in 2009/10, where injury to Fabio Aurelio thrust him into the first team picture on a regular basis.
No longer afforded the benefit of the doubt he was expected to perform week-in-week-out and the pressure told. At just 20 he was found wanting and soon criticised. His best moment in a Liverpool shirt came at the Emirates Stadium in October 2009, smashing home a wonder strike from fully 30 yards. He left Liverpool for Sporting Lisbon (after an initial loan at Galatasaray) and subsequently earned a move to Atletico Madrid last summer.
Andrea Dossena (2008-10 / Appearances: 31 Goals: 2)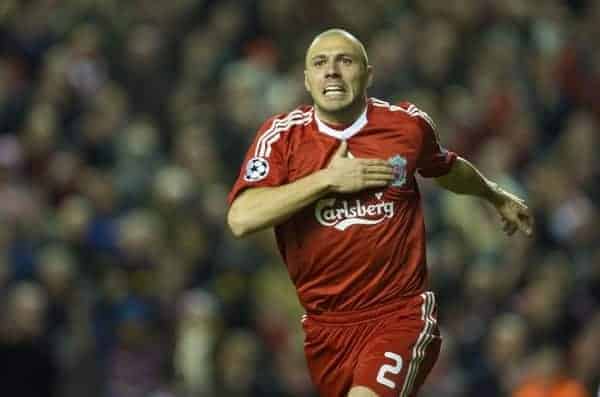 Say what you want about Andrea Dossena (and many have) but he will live long in the memory for two goals in a week – the first an outrageous lob over Edwin Van Der Saar at Old Trafford, the second a powerful drive past Iker Casillas at Anfield. United and Madrid, both slain by the Italian porkster.
Signed from Udinese Dossena, we were told, possessed a fine cross and the physical attributes needed to prosper in English football. Sadly he proved a terrible waste of £7 million. Off the pace he was defensively suspect and distinctly average. He also lacked speed, often seen trudging down the wing in a manner akin to Shane McGowan following a night on the tiles.
He was duly offloaded after one full season but to the surprise of many returned to these shores last summer. Now trying to spearhead Sunderland's survival push he claims to have benefitted from his Anfield nightmare. At least someone did.
Paul Konchesky (2010-11 / Appearances: 18)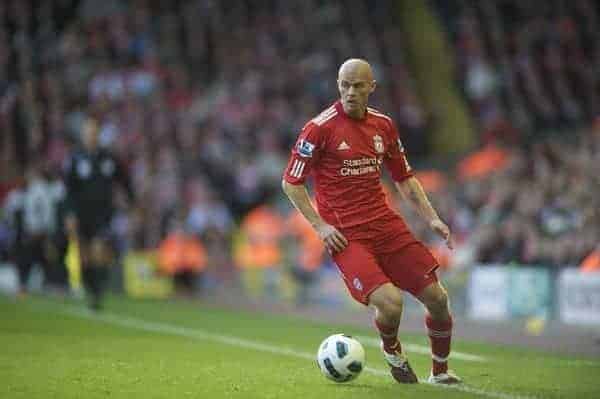 Viewed by many as the personification of Roy Hodgson's ill-fated reign Paul Konchesky endured a torrid six months at Anfield. He served the incoming manager well at Fulham and was widely regarded as a decent Premier League full-back. Nevertheless he reeked of mid-table, as did the entirety of Hodgson's dreadful tenure.
Quickly singled out as a scapegoat Konchesky's fate was actually sealed by his own mother, who launched a foul mouthed tirade against The Kop. At least she had the decency to refer to her son by his full name:
'To all you Liverpool scouse scum out there, never mind the cockney ****, take a real look at your team. Stop living off the past, the team are ***. If anyone made a mistake it's the cockney ****, who never should have left Fulham.'
Jose Enrique (2011 – / Appearances: 82 Goals: 2)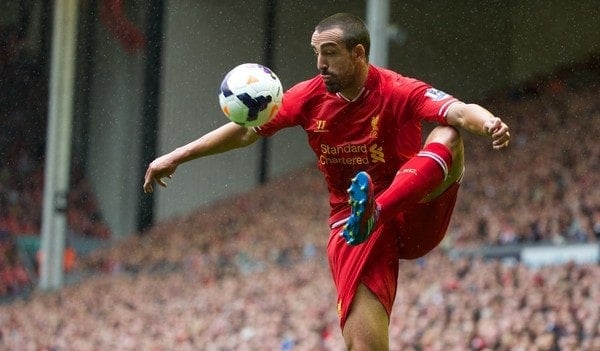 The current incumbent of Liverpool's left-back berth is Jose Enrique. Signed from Newcastle for £6 million he is certainly one of the better candidates in this list. Indeed his initial impact on the side was extremely positive, culminating in several man of the match displays under Kenny Dalglish's stewardship.
To everyone's collective shock he then nosedived around Christmas 2011 and has never quite reached those same heights again.
Enrique is a good player but perhaps guilty of believing he's a great one. Though good on the ball he sees it as a personal crusade to beat the entirety of the opposition before popping off a simple pass. Nevertheless he is built like a Spanish matador, his strength bailing him out of countless tight spots, occasionally of his own making.
Far better going forward Brendan Rodgers actually deployed him at left-wing for a stage last season. In truth that tactic was as much a condemnation of Stewart Downing's failings as it was an appreciation of Enrique's strengths.
A rule unto himself Enrique is a decent left-back if some way short of a top class one. He has been missed since October and will be welcomed back into the mix when fit.
Aly Cissokho (2013 – / Appearances: 17)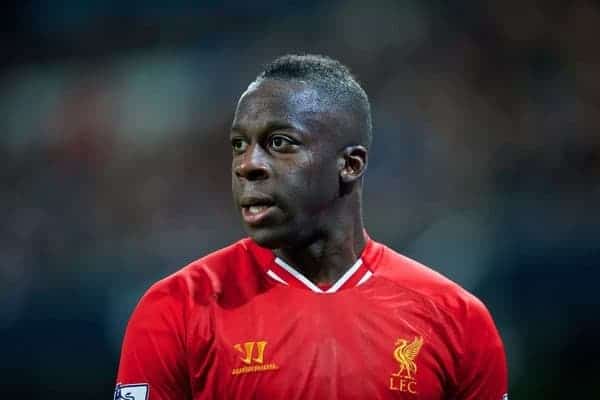 Finally we have the curious case of Aly Cissokho. Somewhere, somehow in this colourful career the Frenchman was subject to a €15 bid from AC Milan. A head scratcher if ever there was one.
This episode occurred in 2009 when the marauding full-back was at the peak of his Porto powers. A failed medical meant he instead headed to Lyon for a three year spell before uprooting to Valencia in 2012. He quickly fell down the Mestalla pecking order and wound-up at Liverpool on loan last summer.
The harsh reality is there is a greater likelihood of Colin Pascoe adorning a pair of tracksuit bottoms than Rodgers making the Cissokho deal permanent.
Much like Kolo Toure he has the heart of a lion but a crazy calamitous side never too far from rearing its head. When galloping down the wing he never looks in control of his body. Indeed running appears a completely alien motion as he struggles to find his wayward stride. That crossing ability also leaves a lot to be desired.
OK as a second or third choice full-back he falls short of the level required.
And so the search goes on. A twenty two year headache afflicting seven different managers. It's worth remembering certain names have been left off this list, those asked to give it a go despite plying their trade in other positions. Think Jon Flanagan, Martin Kelly, Glen Johnson, Daniel Agger, Alvaro Arbeloa, Carra himself…
Oh for a Leighton Baines, a Luke Shaw, an Ashley Cole. We can say with great certainty that another punt will be taken on a new left back this summer. Whether the transfer committee, in consultation with Rodgers and Ian Ayre, deliver a long-term solution is doubtful. Indeed more likely is this list expanding as Liverpool's problem position continues to confound.
Aaron Cutler