Nobody can predict the next 90 minutes for Liverpool in their rollercoaster matches, let alone the next 11 games, writes Adam Griffies (@whatahitsonlfc) – but dare we dream?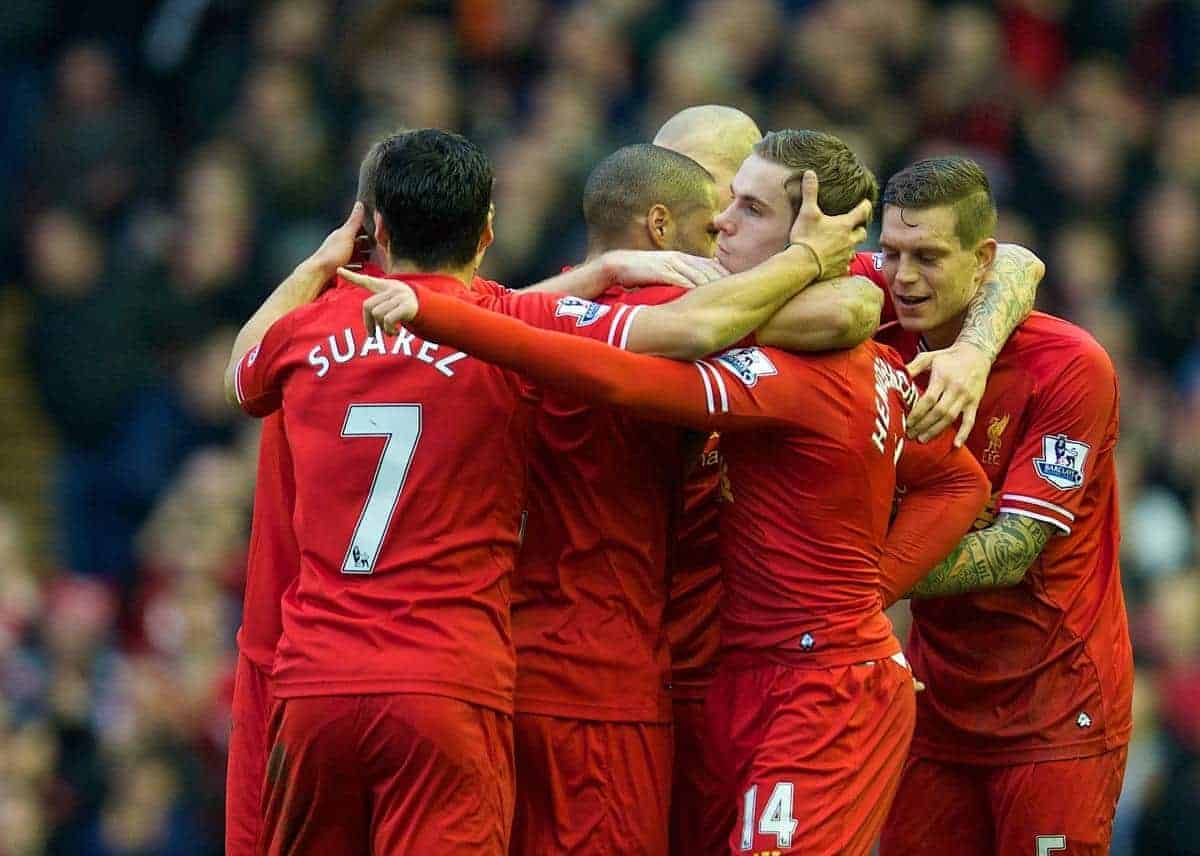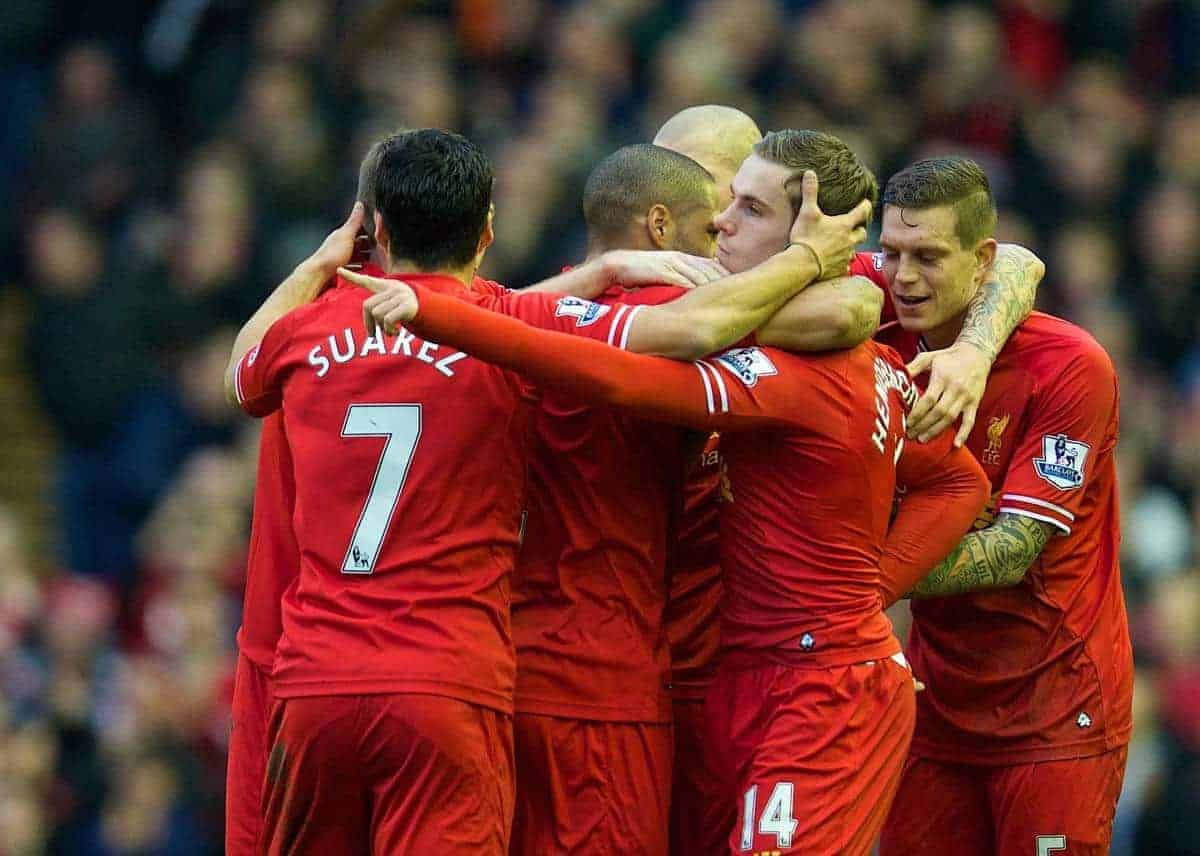 Sunday afternoon's helter-skelter 4-3 win over Swansea saw Liverpool reach 56 points after 27 games; our highest points tally at this stage of a season since the Premier League era began in 1992.
The Reds lie a narrow, tormenting four points behind top-of-the-table Chelsea, and have scored 70 goals this campaign, second only to Real Madrid (71) in Europe's top five leagues.
Incredibly, we also boast the Premier League's top two goal scorers, something which is largely unprecedented.
"Character"
Despite all this positivity suggesting serene progress, not everything has been straightforward of late. Our battling qualities and winning mentality have helped us limp to victory in our last two league matches, against Swansea and Fulham.

Weirdly, in some ways, these wins fill me with greater confidence and satisfaction than the rampant, swatting aside of the likes of Tottenham and Arsenal did. You'll notice I didn't mention Everton. No. That was ridiculously satisfying.
Something has changed and clicked within our squad. Had we lost a two-goal lead at Anfield or indeed been trailing at Craven Cottage after 71 minutes a year or two ago, you may as well have written those games off. But things are different now; our spirit is growing.
The significance of Sunday's tight win was not lost on Brendan Rodgers. "We know we can score goals and if we're not having one of our better days we have the character and resilience to keep fighting," the Northern Irishman said. "It was a very important three points for us – it keeps our run going and keeps the momentum."
Two-goal Jordan Henderson was also complimentary of his teammates' endeavour. "Everyone is delighted with the final result. Three points were much needed – there was a lot of pressure going into the game, with all of the other teams winning. We knew that we needed to win the game. So we're over the moon with the three points," the maturing midfielder remarked.
"We made some mistakes and we didn't play as well as we can, but we showed a lot of character. When they got level twice, we showed a lot of character to keep going, stay positive and find the winner. We managed to do that."
Character and resilience are the keywords there. Our players and staff seem to possess these traits in abundance, emphasised by the fact that we have only lost consecutive Premier League games once this season: our inconveniently scheduled away trips to the Etihad Stadium and Stamford Bridge on 26 and 28 December. Typically, we have bounced back since those defeats, winning six of our eight games, and drawing the other two.

Henderson himself is overflowing with a buoyant personality which seems to run through the heart of our squad. Brendan Rodgers has engineered a togetherness within the group which we have not seen for too long. There seems to be a story behind every player.
Even Iago Aspas, who has made a sorry 11 appearances in all competitions this season, without a league start since September last year, mustered the spirit and energy to unstick himself from the bench and celebrate Steven Gerrard's last minute winning penalty against Fulham like a crazed idiot. Well in Iago lad.
Deja vu
Dare I say it, proceedings feel reminiscent of that magical roller-coaster ride that Rafa mercilessly took us on in 2008/09. Topsy-turvy, goal fest wins seemed an all-too-often occurrence, as we scraped past the likes of Manchester City, Wigan and Portsmouth, each with 3-2 score lines.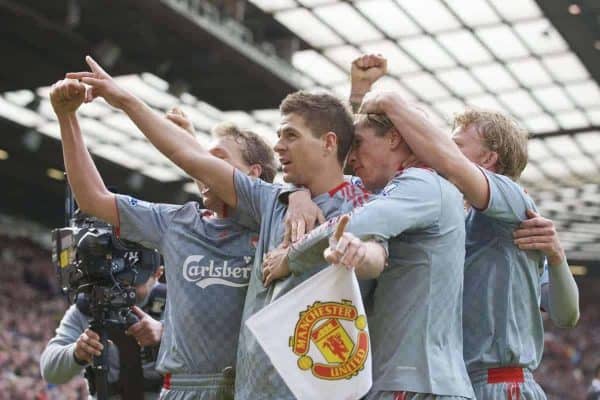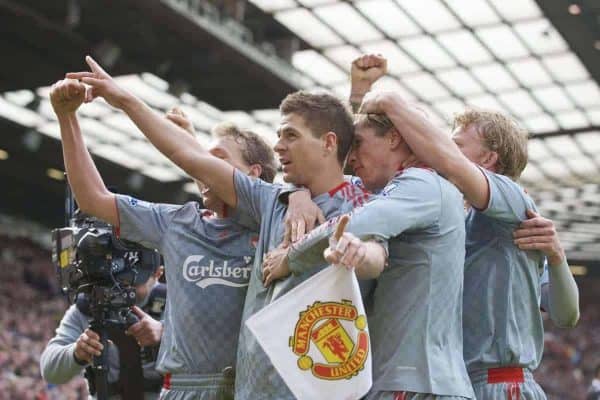 There was of course also that mauling of the Mancs in the March of that campaign. Curiously, almost exactly five years on, we are due to travel to Old Trafford next month at the identical stage of the season as back then. With us in free-scoring mood, it couldn't happen again, could it?
We finished that season in second place on 86 points, our highest Premier League points total and a tally that would surely see us crowned champions this May. Without a lone dominant force at the head of the league this year, and with our rivals occupied by other competitions, dare we dream?
Well, why the hell not?
Nobody can foresee the next 90 minutes for this Liverpool team, never mind the remaining 11 games. Even the clairvoyants are running scared.
One thing is for sure, it's going to be fun.
Hold tight.