PJ Vaughan continues his three-part look at the English youth system and how difficult it is for a young player to make the grade at the top clubs. Part one of this interesting account can be found here.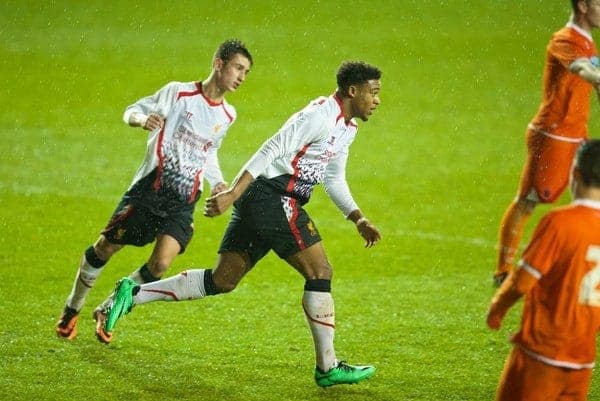 In part one of "Making the grade" I looked at some of the obstacles preventing young player from making the step up to the first team. In part 2, I will look at how stockpiling players and excessive loans are becoming huge obstacles for young players and I try and come up with some solutions.
Stockpiling Players and Excessive Loans
The stockpiling of first team and youth players has the potential to become a huge obstacle for young players. Clubs that have a stockpile of players, usually have large numbers loaned out. This policy has existed in Italy for a long time however it's relatively new problem in England.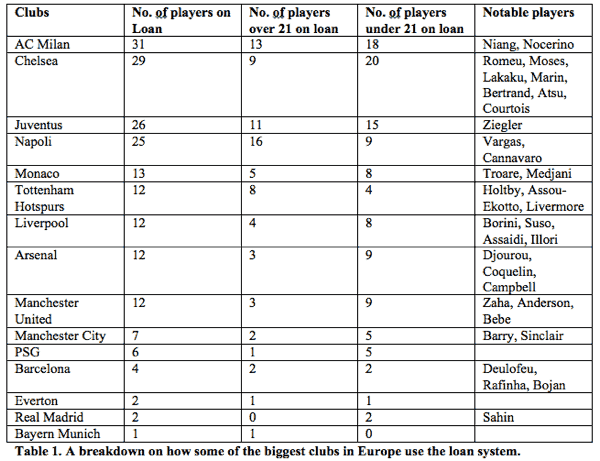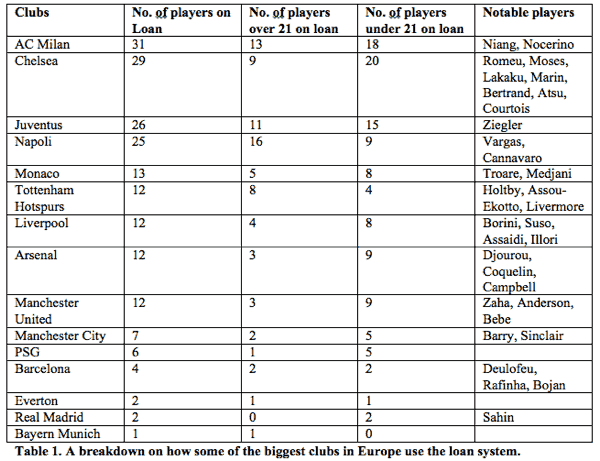 The biggest culprits in the Premier League are Chelsea. Chelsea has nine senior players on loan. Chelsea also has twenty U21 players on loan. If you count all the current players from the U18's to the first team (including loans) Chelsea has ninety four players on their books of which 60 are U18-U21 squad players.
A young player at Chelsea is competing with:
1. The current first team (25 players).
2. The first team players that are on loan (9 Players)
3. The U21 players that are on loan (20 Players)
4. The younger players at the club (40 players)
It's almost impossible for a young player to get noticed at Chelsea. The fear is that other English Premier League Clubs will copy Chelsea's stockpiling and loaning policy unless rules are put in place.
Regulating Squad Sizes
I think squad sized should have defined limits from the U16's to the first team. A large proportion of each team should be made up of graduates either recruited locally or players the club develops.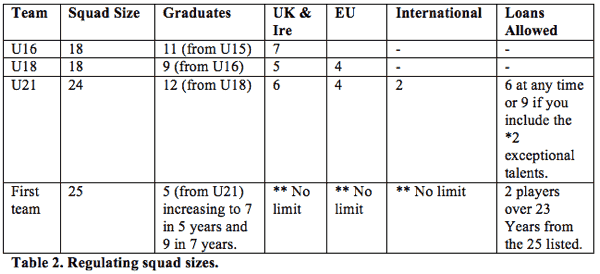 * the 2 exceptional talents can be from the either the U21 squad or the first team squad.
** the remaining 20 first team players for the first team can come from UK & Ire, EU or International so you can have 20 EU players if you wish.
With regard to European Employment Laws, UEFA, The FA and The Premier League would need to prove that this is necessary in order to protect the indigenous game.
Solutions to Excessive Loans
I believe there also needs to be a limit put on the number of loans. Clubs should only be allowed to loan two players that are over the age of 23 and only allowed to loan players under the age of 23 to their affiliate clubs (I will discuss this in greater detail in Part 3).
There could have an exception to this rule where they are allowed to loan 2 exceptional talents under the age of 23 (i.e. Suso) to clubs in a top division such as Serie A or the Primera Liga but not to their domestic rivals or clubs competing in European Competitions.
Of course clubs will try to bend these rules. UEFA must be more proactive in this area. Rules must be put in place in regard to:
1. Limiting the number of buy backs allowed,
2. Outlawing third party ownerships for all European Clubs both domestically and internationally,
3. Outlawing clubs purchasing the first option on players,
4. Preventing clubs buying international players and loaning them to clubs in EU countries in order to get a work permit.
Any clubs seen to be evading these rules would be docked domestic points or suspended from European competitions or both.
Conclusion
Under what I'm proposing there would be a maximum of 67 players registered at a club from U18 to the first team at all Premier League Clubs. Loans would be more regulated and squad sizes would include players on loan. The numbers could probably be tweaked slightly for clubs in Europe competition.
Squads that end up stretched with injuries will have to have very good U21 players capable of making the step up, so their will be a strong emphasis on coaching and youth development.
In the final part of "Making the Grade" I will look at the solutions to the B teams problem, restructuring the U18 and U21 competitions and changes that could be made with regard to first team benches.