A welcome return to form for Philippe Coutinho has put the little magicians' name back on the lips of Liverpool fans everywhere. Ben Twelves discusses the Brazilians' recent impressive performances in his new role.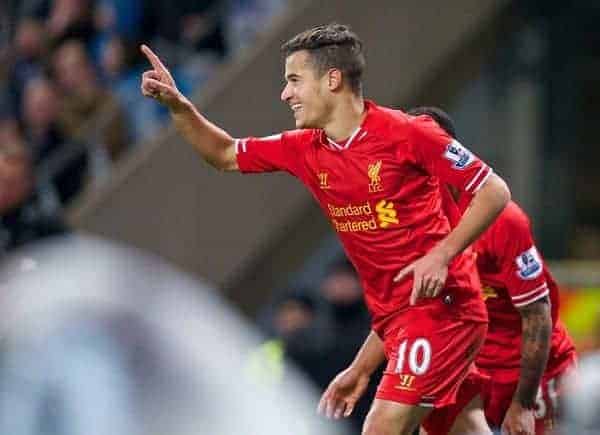 A second consecutive exceptional footballing display at Anfield saw Arsenal this time on the receiving end of a complete demolition job in a game that will be looked back on for years to come. It was arguably Liverpool's best league performance of the Premier League years and was one that boasted another master class display from the Brazilian magician that is Philippe Coutinho.
When signed from Inter Milan for an absolute bargain sum of £8million, Coutinho arrived on Merseyside known for being a "technician" in the words of Brendan Rodgers and a typically gifted number 10 player. Most games of his Liverpool career to date have seen him deployed either in an advanced position on the left or as the traditional number 10 behind one of Daniel Sturridge or Luis Suarez, in a position high up the pitch where his intricacy and cuteness in and around the box can break water-tight defences.
The move to the middle
In the last four games in all competitions however, Rodgers has slotted Coutinho into a different role in the team – a slightly deeper and more central position in a midfield three alongside Jordan Henderson, but in front of Steven Gerrard in his deep-lying "controller" position. The change of role for Coutinho has seen him rejuvenated after a far less influential period than we've come to expect, but his new function has tied in dreamily with the minor adjustments Rodgers has made to the team.
The more compact and counter-attacking style that has been utilised since the first half horror show against Aston Villa has worked perfectly, with Coutinho adopting a central midfield position. The smart system allows us to patiently sit until we get the opportunity to hound the opposition, win the ball back and spring into life with a devastating attacking force.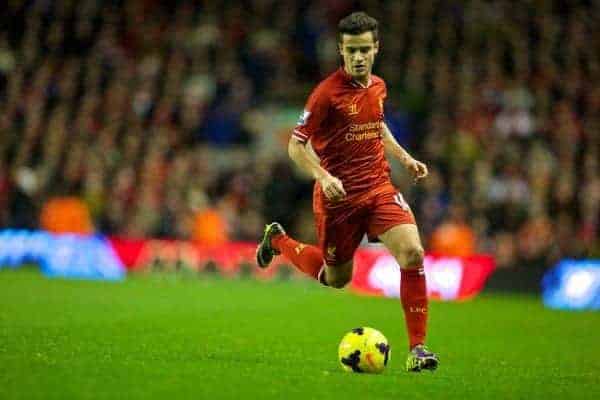 The new role
In this system and role, the Brazilian is able to dictate play from a deeper position where he can collect the ball off the back four under less pressure and turn to play-make immediately. Opposition may be relieved that Coutinho is at arm's length, but his radar-like vision and ability to execute penetrative forward passes, means that he can break defences from anywhere, as perfectly demonstrated with his Kaka-to-Crespo-esque through ball for Sturridge's goal on Saturday.
Having the 21-year-old in this position further strengthens Liverpool's counter-attack system. His natural instinct is to go forward, whether that's with a pass or by carrying the ball. His dynamism complimented by Henderson's athleticism means we swamp and terrorise our opponents through the numbers we commit forward and the ability we have to carve them open at will.
Defensively, his comfort and composure in possession means that he can relieve pressure on the team. Always willing to take the ball in tight areas, he can change the play with an incisive pass allowing us to progress forward or setting off on a jinking run, skinning three players and slotting yet another pin-point through ball for the counter-attack, just like in the second half to Henderson on Saturday.
It was very much love at first sight with Coutinho for his technical wizardry, but his move to the middle of the park has uncovered a side to his game that was previously hidden. While always one to press high and suffocate the opposition as Rodgers desires, Coutinho has now added a real tenacity in his off the ball work which sees him battle and scrap to regain possession.
It isn't what we associate with Coutinho or necessarily what we want to see from him – he's not in the side to unsettle opposition or kick lumps out of midfield opponents – but he deserves credit for adding to his game and taking on the responsibility, not shying away.
A permanent position?
What will be interesting to see is whether this will become a permanent position for Coutinho, in amongst the midfield three. Whether it is indeed a long-term move or just a temporary measure, we have learnt that it's certainly an option.
It comes as no surprise that since he has moved infield, the last three league matches have seen Liverpool score 10 goals, with Coutinho claiming assists in two of those fixtures against Everton and Arsenal, where he set up goals for Daniel Sturridge, who couldn't praise the little genius quickly enough.
Seeing the way the change of position has revived the 21-year-old from what had been a fairly quiet season so far, and the level of performance he is producing at the moment, the magician should be kept exactly where he is in Rodgers' side.
One thing that we do know for certain about Philippe Coutinho is that wherever he plays in the team he's a joy to watch and when he's in this kind of form, there's very little anyone can do but admire his magic.