With speculation mounting this season regarding the future of Daniel Agger at Liverpool, Jack Lusby (@LusbyLatest) considers whether the Dane still has a future at the club.

Speaking at a press conference prior to last weekend's FA Cup Fifth Round loss away to Arsenal, Brendan Rodgers reserved some choice words Liverpool vice-captain Daniel Agger, as per Sky Sports:
"Everyone talks about ball-playing centre-halves but you have to be able to defend and be able to cope with that first. Obviously if you have the qualities then we want you to play because it is important how we build our game and there is no doubt Daniel Agger is an outstanding footballer."
This somewhat damning posit for the Danish centre-back serves as a personal challenge in forcing his way back into the long-term thoughts of the Liverpool manager.
Whilst playing the ball out from the back is an undeniable facet of the Northern-Irishman's tactical remit, this still requires defensive stability.
Agger's return following a calf problem to complete the full 90 minutes at the Emirates underlines an alarming regularity for the heavily-inked defender: injury.
A classy ball-player by trade, injury problems have blighted the Dane's Liverpool career in recent years – seemingly being made of glass.
With the emerging behemoth Mamadou Sakho nearing a return to full fitness, according to IBTimes, Agger will once again face a fight for his place in Rodgers' preferred XI.
To salvage his Liverpool career, Agger must perform the near impossible and turn glass into defensive steel.
Can It Be Done?
Agger's long-standing defensive partner, Martin Skrtel, is indisputable proof of redemption under Rodgers' gaze.
In a recent report by the Liverpool Echo, the Liverpool manager opined:
"He's a player who has maybe been deemed a big, aggressive defender…[Now] he is defending with real intelligence and real composure."
Skrtel's rise from Anfield outcast to defensive mainstay represents a justified redemption through adaptation.
The Dane undoubtedly possesses the intelligence and composure, what Rodgers now wants is a renewed sense of aggression.
The Slovak is proof that it can be done, and the future for Agger at Liverpool seems to be either sink or swim.
Facing the Drop
One of Liverpool's most scintillating offensive performances of the season also signalled one of the worst defensive displays for the season: November's 3-3 Merseyside derby.
Opting for the experienced partnership of Skrtel and Agger, Rodgers saw his men torn apart time and again by the guile of Ross Barkley, and the sheer power of Romelu Lukaku.
Most notably, as per Squawka, Agger's trademark ball-playing prowess may well have played a part in this: the Dane found a teammate with a meagre 70 percent of passes attempted.
Agger was unceremoniously dropped for Kolo Toure for the next game, a 3-1 loss away to Hull City, with the Liverpool Echo reporting Rodgers' testimony:
"I just felt we've struggled at times against big physical opponents and Toure has obviously coped well with that type of player… The first attribute [of defending] isn't about the ball. It is to defend. When you can defend, you then look to build the game from there."
This has sparked a veritable sea-change for the Brøndby man, as data from Squawka shows: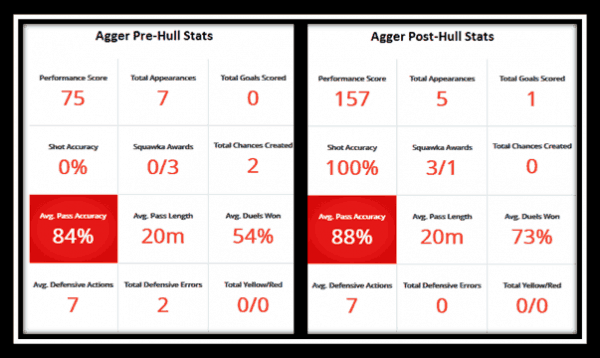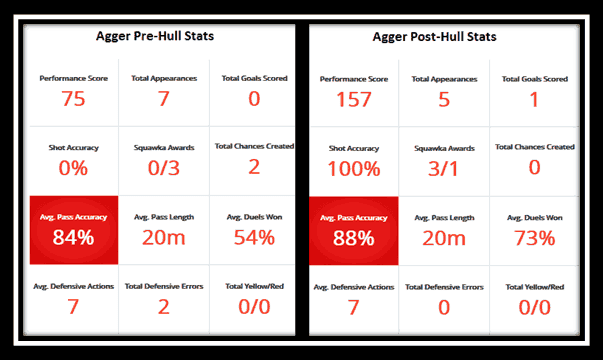 Prior to being dropped for the Hull game, Agger won on average only 54 percent of duels attempted and made a total of two defensive errors leading to an attempt on goal.
In his five appearances since – limited due to injury – Agger has responded with an average of 73 percent duels won, and has also seemingly cut defensive errors from his game.
This suggests that perhaps Agger has taken Rodgers' words on.
Adding Defensive Action
Continuing statistical analysis, and comparing Agger with Sakho and Skrtel this season, reveals an alarming deficiency in his game.
According to Squawka, Agger contributes an average of seven defensive actions per game.

Skrtel, at an average 15 defensive actions per game, contributes more than twice as much defensively as Agger. Elsewhere, Sakho averages at 11 defensive actions per game.
This alludes to the aggression that Agger's overall game is missing.
It would be regressive to suggest that to 'get stuck in' is the most important part of the modern defensive game – not every centre-back can be John Terry – but, naturally, it is in its essence.
As Rodgers says, "you have to be able to defend", and this is something that Agger will need to work on.
Problematic Factors
Other factors, perhaps out of his control, stand in the way of Agger's development and route back into the Liverpool first team.
Injury-proneness is an issue that can be portayed dismally with the downturn in fortunes of Nemanja Vidic at Manchester United.
Once a trusted defensive stalwart, fitness issues have dampened the progress of the Serb and his contract is set to expire this summer, as per BBC Sport.
Elsewhere, the imperious form of Sakho puts the future of the Reds' vice-captain under threat.
Sakho is the epitomy of a Rodgers centre-back: adept at breaking up play with aggression and urgency, physically imposing, and comfortable with the ball at his feet.
The Frenchman boasts, again courtesy of Squawka, an average passing accuracy of 92 percent and a tackle success rate of 69 percent.
The Verdict
It is clear that Agger has defensive issues within his game that need to be forged, but he is far from a bad option for Liverpool and Rodgers.
An upturn in performance, statistical at the very least, since being dropped for the loss at Hull, suggests a glimmer of hope for Agger.
Unfortunately factors above do weigh heavily against the centre-back, the BBC Sport reported £18m spent on Sakho over the summer suggesting that he is far from a mere squad player.
Nonetheless: continue to absorb Rodgers' immeasurable wisdom, and Agger may follow Skrtel back into Anfield's upper echelons.
Does Agger have a long-term future at Liverpool, or are his days numbered? Let us know in the comments below.