Mark Pearson dissects the work Brendan Rodgers and his team have done in terms of growing players' mental strength and not fearing opponents that stand in their way.
"Fear is the friend of exceptional people" – Geoff Thompson: Martial Arts writer, teacher, and instructor
"The only thing we have to fear is fear itself" – Franklin D. Roosevelt
"He who has overcome his fears will truly be free" – Aristotle
Define
What is fear? Well, if you gaze upon the word in a dictionary you will be provided with a definition by those linguistic boffins at Oxford who say fear is "An unpleasant emotion caused by the threat of danger, pain, or harm: A feeling of anxiety concerning the outcome of something or the safety of someone."
On the surface that doesn't seem like it could be of advantage to anybody, does it?
On several occasions this season Brendan Rodgers has spoken of how, when first entering Anfield he was surprised to discover that many players at Liverpool found it difficult to play at the famous old stadium.
It was suggested that the weight of expectation was making our players tense, fearful even, of performing in front of our own fans and the on looking legends of bygone eras.
A "heavy lies the crown" type situation. It is difficult to disagree with Brendan given the fact the team had delivered our worst home record in the league under Kenny the season prior to his arrival.
A team besieged by fear of failure perhaps, or to use the dictionary definition a team "anxious concerning the outcome" of a game.
Adrenaline
Going hand in hand with fear is the feeling of adrenaline. Let's go back to the Oxford boffins and see what they have to say with respects to this phenomenon "A hormone secreted by the adrenal glands that increases rates of blood circulation, breathing, and carbohydrate metabolism and prepares muscles for exertion."
We have all at some point in life felt the effects of adrenaline, whether it's an upcoming meeting with the boss at work, an argument with your spouse or at an upcoming visit to Old Trafford for a Liverpool player, we've all experienced it at some point.
We've all struggled to deal with it too. Adrenaline can make you feel drained instead of vibrant, weak instead of strong, fearful instead of prepared.
Essentially it can have the exact opposite effect to what the body has designed its purpose for. However, as I have mentioned in the quotes at the beginning of this piece from people who understand and have mastered the art of controlling fear and adrenaline it should be an aid to success not a barrier.
After Liverpool battled back to win 5-3 at Stoke and to rescue a point with a 2-2 draw at home to Aston Villa Brendan once more talked about fear, and how he and his coaching staff were relentlessly working on this mental aspect with the players;
"This season has been very important because we've been able to do a lot of work on the training field and a lot more work behind the scenes on that mental fitness. I think you've seen the benefits of that in the confidence and belief of the players, especially if we're ever down in games or in difficult moments. We've definitely improved in that aspect.

"Stoke was a great example. It was a game we were in control of and then lost control of, in terms of the score at half-time. The challenge then was for the players to show those characteristics we've talked about – and they responded magnificently. Over the course of the time I've been here, there's been a constant evolution of the team.

"We're looking to implement and put in principles in terms of our footballing principles, but running alongside that are the personality traits and characteristics we want to put into the team."
Results
This season has seen Liverpool cast aside many unwanted hoodoos that have been hanging around. Long awaited wins at Tottenham, Stoke, Southampton and Manchester Utd all away, and finally a win against Arsenal at home have all been attained with some composure.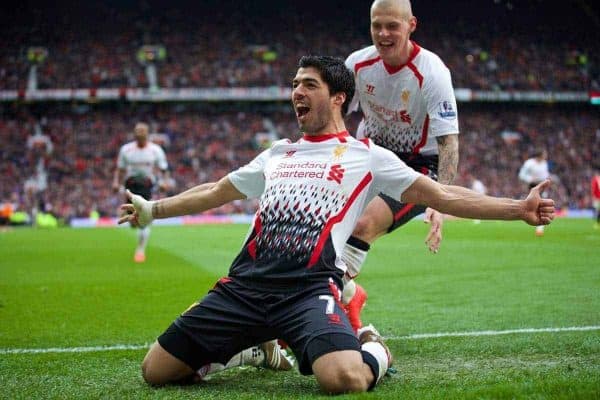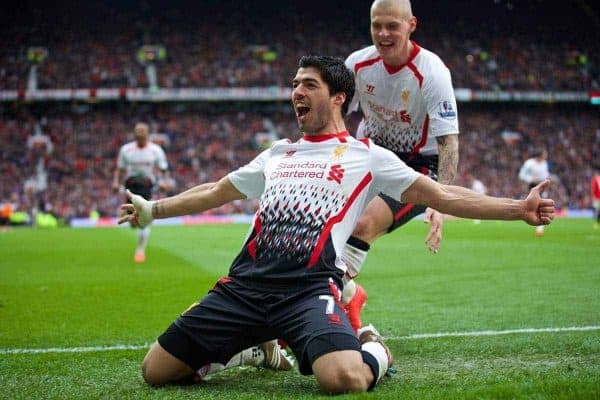 This isn't coincidence. This isn't simply that Luis Suarez is often playing football like some kind of Demi God. It's not simply because Suarez and Daniel Sturridge are in such a rich vein of goal scoring form.
No, this is evidence that Brendan and the entire coaching team at Melwood realise the importance of harnessing and unleashing those feelings of fear and adrenaline.
By using that expectation that we place upon a player when he pulls on the red jersey of Liverpool Football Club and thriving not folding underneath the weight of it.
With 9 games left to unfold this season and after a magnificent display at Old Trafford the fear factor of failure will only intensify for the Liverpool players.
With the growing expectation from fans to keep this form continuing with a comparable performance in South Wales against Cardiff this weekend, the pressure will escalate.
The knowledge Brendan and his coaching staff are tutoring to turn that fear, which has seemingly weighed so heavy for so long, shall be tested to the maximum during this run in.
The test for everybody now will be can they emulate the enlightenment of Aristotle and Roosevelt with respects to conquering and using fear to an advantage?
If the League Title returns after a 24 year absence then we can truly answer yes, and Brendan Rodgers will become legend.