Brendan Rodgers is remaining cautious, but confident about Liverpool's chances of winning the Premier League this season after seeing his side thrash Manchester United 3-0 on Sunday.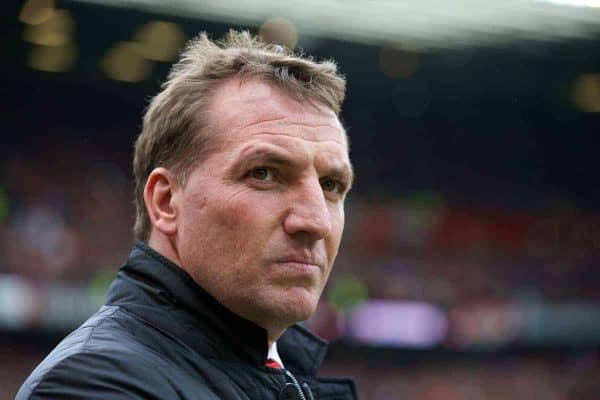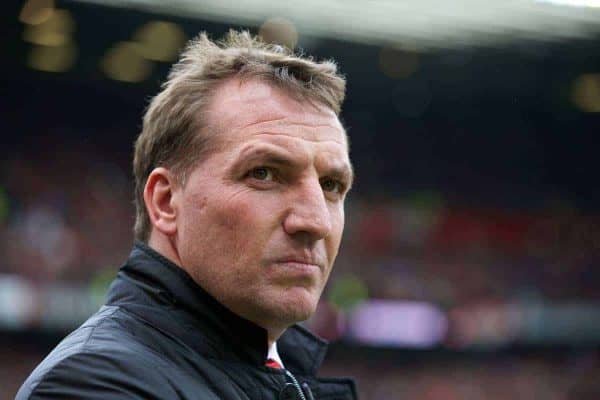 In one of the most convincing performances from an away side at Old Trafford in recent years, goals from Steven Gerrard (2) and Luis Suarez sunk David Moyes' men.
The Reds were comfortably in control of the game from start to finish and the three points moves them back up to second in the league table.
With nine games to go, Liverpool are just four points off leaders Chelsea, with a game in hand.
When asked after the game on Sunday about Liverpool's credentials to beat the likes of Chelsea, Manchester City and Arsenal to the title, Rodgers told the club's official website, "I'm just focusing on our own team. We've got nine games left – we might win all nine and still lose it. We will just focus on our next game, that's Cardiff. I'm only focusing on our next game and looking to get three points.
"All the teams will drop points; we may well drop points, we may not. I can only look at our next game, I've done that since I've walked in the door. I'm not going to change now.
"We get better with the methods and obviously that gives us confidence and belief. We try to remain dignified in our work and just get on with coaching the players to be better. We're up there on merit, so of course we have an opportunity.
"We have a mentality that has been developing over the course of the 18 months I've been here. We expect to win home and away. The belief is in the players now and you see that in their game."
The Northern Irishman put Liverpool's success down to the whole club accepting a new ethos which resonates through to the players.
As he has spoken about before, Rodgers believes the belief and confidence in the club has stemmed down from the top of the hierarchy.
He added, "I'm very fortunate I've got outstanding owners. The owners have never buckled from when they offered me the job.
"They've given me freedom to work, which I needed, in order to implement the ideas and do what I wanted to do transfer-wise. As a football club, we're restoring that solidity as a group, both on and off the field.
"It's my job to take that pressure away from them. All I ever ask of them is to do their best and you can see how hard they work.
"The quality of our training, the intensity of the training – there won't be many teams working harder than us on a day-to-day basis on the training field to improve and develop players.
"They can go as a unit in a structured way, which allows them to then go and flourish. I've always coached and worked with players, and with this group here what I am saying to them is, 'You've got the ability, allow me to release your talent on the field'. And that's what they're doing."
Liverpool now travel to Cardiff City for their next league clash next Saturday, 22nd March, before back-to-back home games against Sunderland and Tottenham before the end of the month.