Liverpool return to Premier League action on Sunday as they travel to Old Trafford to take on Manchester United. Ben Twelves discusses how Brendan Rodgers could shape his team for the grudge match.

It will be 15 days since Liverpool picked up that excellent win away at Southampton by the time they face Manchester United at Old Trafford on Sunday, meaning the game is likely to present Brendan Rodgers with an almost fully fit and well rested squad ahead of the clash, which will see Liverpool go in genuinely confident about being able to achieve a positive result for the first time in a long while.
The fact that this is the case is down to a combination of well documented reasons which include the way that David Moyes has gone onto perform since moving to Manchester – exactly how many Liverpool fans that saw through him years ago expected – and along with our own improvement under Rodgers, that so far has been nothing short of outstanding.
Rodgers' side arrive at Old Trafford in excellent league form, sat second in the table and with seven wins from the last nine including four straight victories. Liverpool are now the top scorers in the division with 73 goals and there is still a huge ten games left to play.
Old Trafford Approach
Something that has been displayed throughout this season is the flexibility of the system Rodgers uses and the varying ways that Liverpool can set-up tactically, while still maintaining the style of performance the manager demands.
This creates an interesting question for the manager ahead of Sundays match in terms of how to go about getting the coveted three points. Do Liverpool go to Old Trafford and sit patiently waiting to pounce on the opportunity to hand out a brutal humiliation like against Everton and Arsenal, or is a more possession based and controlled display required against our inferior opposition from down the M62?
The style that Rodgers decides to go with will ultimately mean that team selection will be affected, but only slightly. Questions on the starting eleven include whether Raheem Sterling should return to the starting line-up after his impressive performance off the bench at Southampton last time out? Will Joe Allen make way, if so, or could Philippe Coutinho be amongst the substitutes? With Mamadou Sakho edging ever closer to full fitness, should he feature in the Liverpool back line?
All are questions for Rodgers who will have some big calls to make.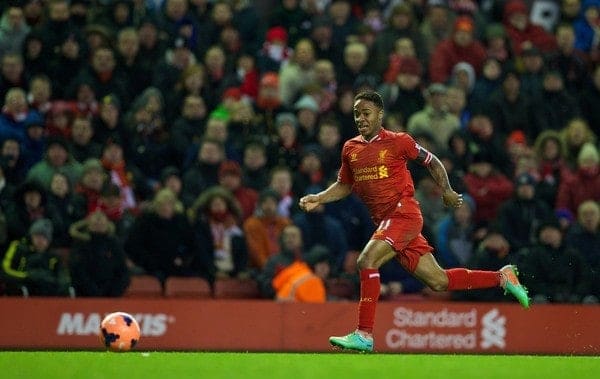 Patience and Punishment
The wins over Everton and Arsenal saw Liverpool's devastating attacking force dish out a ruthless punishment on both occasions, but the two matches also saw a slightly more conservative and patience approach when defending.
Liverpool still hunted down and pressed the opposition in certain areas of the pitch, but bodies behind the ball on occasions meant certain players like Coutinho enjoyed possession in deeper areas of the pitch, where he was then able to use his vision and passing ability to cut open the respective back lines.
These games also saw the attacking trio of Luis Suarez, Daniel Sturridge and Sterling cause havoc on the counter-attack, with their pace, technique and skill gifting Liverpool maximum points on both occasions as they ran riot. With United's back four being extremely suspect, to say the least, having the 'SSS' going at them is likely to end favourably which is why Rodgers may choose this approach.
Defensively, the Liverpool boss has shown faith with Martin Skrtel who, it would seem, is a nailed on starter and logically speaking, Daniel Agger would be the man to partner the Slovakian at centre back with Sakho missing out due to potential doubts over match fitness having been out since December.
If playing this way, Liverpool could look likes this:

Dominate and Destroy
When thinking about performances of this kind that we've seen this campaign, Tottenham away is the first that springs to mind. The performance that day was a complete demolition job from a team that bossed the game in and out of possession. Southampton away two weeks ago saw Liverpool control the game in periods, particularly in the second half and both of these occasions featured Joe Allen in the team.
It could be that retaining the ball, tiring a workman-like United side and playing round them with purpose, direction and style just like that afternoon at White Hart Lane, is the best way for Liverpool to play and Allen's inclusion would be vital in keeping control of the match.
The Welshman showed perfectly at home to Swansea that he's the man to do it. When the game was very much still in the balance, Rodgers brought on Allen, who proceeded to knit play together nicely and win the ball back on numerous occasions in important areas of the pitch. Against Southampton, he took the ball in tight areas, which in turn freed up space for others who he then found with a pass.
If Joe does start, it could see Sterling start on the bench for the second game running, but what an option to have to bring on he would be, as he showed at Southampton.
If Rodgers chooses to opt for this approach, Liverpool may look something like this:

With ten games left of the season for Liverpool, now is the time to keep focussed on achieving what they had originally set out to do – qualify for the Champions League. Another three points at Old Trafford on Sunday would go some way to cementing that as we sit with a game in hand on our closest top four chasing rivals, Spurs, and for the ambitious amongst you, would keep us firmly in the title race with nine games to go.