Steven Gerrard says Liverpool cannot afford to get carried away in their push for the Premier League title.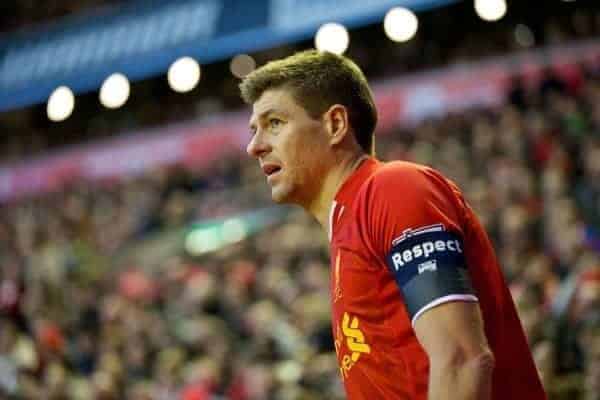 The Reds can go top of the table for the first time since Christmas with a draw or victory over Tottenham at Anfield on Sunday afternoon.
Chelsea's defeat at Crystal Palace and Manchester City's draw at Arsenal on Saturday means the league title is now in Liverpool's hands, with City and Chelsea to come to Anfield in April.
But whilst Gerrard is admitting Liverpool are firmly in this year's title race, he says experience has told him to take one game at a time, as potential champions can't afford any slip-ups.
"The message has to be that we have won nothing yet," Gerrard is quoted on the Mirror's website as saying.
"We are involved in the title race now, there's no getting away from that, but, from experience, I know that you can never afford to get carried away.
"We are expecting a tough match against Spurs, but we are in one of those situations at the moment where we have to win every game. We have got to have a cup final mentality from now until the end of the season. There are seven games to go and we have to try and win them all."
It's Liverpool's first chance of winning the title since Rafa Benitez lead the club to second in the 2008/09 Premier League season after an exciting race with Manchester United.
The title is the only trophy Gerrard is yet to win in his career, but the 33-year-old is remaining level-headed about it all.
He added, "I try not to think too much about what's at stake.
"Don't get me wrong, winning the title flashes in and out of my mind from time to time. But I am experienced and I know this is a ruthless league.
"One bad performance or one bad error could lead to a draw or defeat — so that's why we have to all stay focused and just think of the next game."
Liverpool v Tottenham gets underway at 4pm and it's live on Sky Sports in the UK.
Follow This Is Anfield on Twitter @thisisanfield for updates and photos from Anfield throughout the day.