With the latest speculation linking Adam Lallana with a move to Liverpool, Jack Lusby looks at how the midfielder would fit in at the club and suggests this would be the right move for Brendan Rodgers.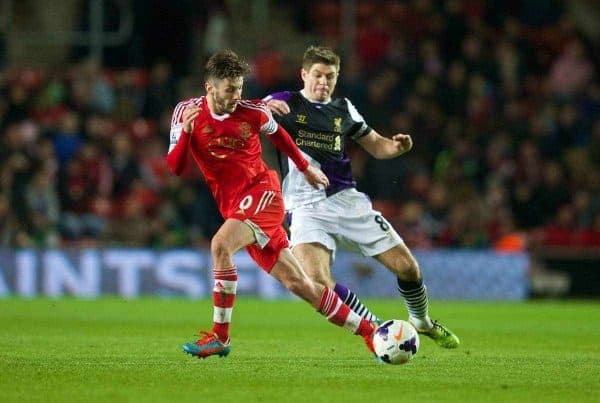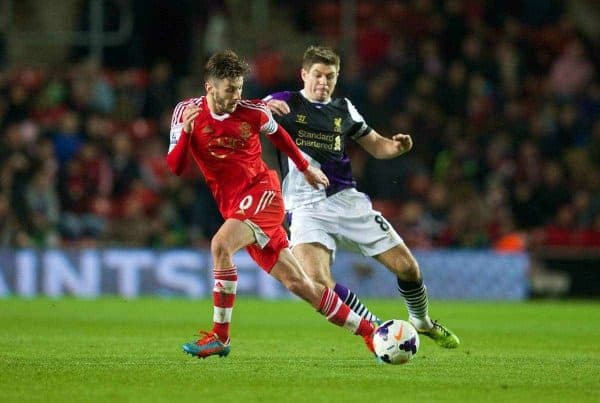 This week, the Southampton and England midfielder has again been linked with a move to Liverpool this summer; most recently this was reported in the The Telegraph, among others.
The Telegraph suggest that "Liverpool are expected to invest in up to five new players as the club prepare for Champions League football next season" – one of those being 25-year-old Lallana, who could play "in the hole behind Luis Suárez and Daniel Sturridge."
After another impressive season in the Premier League – capped off by inclusion in the PFA Team of the Season last week – Lallana's stock has risen rapidly, and fees for the midfielder have been touted as ranging from £15 million to a less-palatable £25 million.
If Brendan Rodgers can sign the versatile midfield option for a fee nearing the lower end of that scale, Lallana would be a welcome ready-made option within the Liverpool manager's dynamic midfield as they look to compete of further fronts next season.
Strengths
Lallana's strengths invariably lie in his attacking game, and the primary attributes that can define his game are his dribbling skills, and his playmaking ability.
Adept with the ball at his feet – both feet – and particularly on the move, Lallana is able to glide past opposition defenders. According to Squawka the 25-year-old has attempted 69 take ons this season with a success rate of 56 percent, drawing 74 fouls in the process.
For comparison, Coutinho has made 58 take ons (57% success rate) and Sterling has 83 take ons (62% success rate), so Lallana is comparable to both.
Elsewhere, as Southampton's principal playmaker, Lallana is often looked for to provide for his teammates. This season Lallana has created 65 chances, one more than Liverpool's Phillipe Coutinho; in front of goal the Englishman is no slouch either, as he has weighed in with nine Premier League goals this campaign.
Rather deceptively, however, Lallana is also largely effective as a defensive player, and this will likely appeal to Rodgers as he likes his midfielders to contribute with high-energy pressing play. This season Lallana has made 37 interceptions, more than each of Liverpool's offensive midfielders – Jordan Henderson, Raheem Sterling, Phillipe Coutinho and Joe Allen.
Weaknesses
Overall, Lallana is an admirably well-rounded player, and as such it is difficult to find many faults to his game, but as with every player there are flaws to his game.
Firstly, whilst Lallana is an exceptional dribbler of the ball, his concentration and decision making can often be criticised and, as per WhoScored.com, he has been dispossessed an average of 2.4 times per game; compared to Coutinho (1.4), Sterling (1.9) and Allen (1.1) this is somewhat alarming.
Furthermore, despite being such an adept creator, Lallana has only clocked six assists in the league so far this season, and more would be expected if he were to be included in Rodgers' fluid attacking line-up.
However, in general, Lallana is a rare player who has little in terms of recognisable weaknesses.
Style of Play
To summarise the style of play that Lallana would bring to Rodgers' Liverpool side, the 25-year-old is an exciting attacking option that is comfortable further up the field as well as deeper in a more traditional playmaker role.
His ability and confidence with the ball at his feet and in running at opposing players is akin to Liverpool's direct attacking options such as Coutinho and Sterling; and as mentioned, he is also comfortable operating in a more defensive manner, and his willingness to do so with endear to Rodgers.
Furthermore, Lallana has a sense of discipline to his game – which has seen him lead by example as Southampton captain – and rarely makes errors in judgment when it comes to ball-playing; he is comfortable in a patient, short-passing system.
How He'd Fit in at Liverpool
On top of these strengths, Lallana can be considered a widely versatile option. Again, as per WhoScored, the midfielder has operated in many areas for Mauricio Pochettino this season – 12 times on the right and left wing respectively, and 10 times operating as 'in the hole' as a No.10.
This will lend itself hugely to Rodgers' free-flowing attacking system, meaning that Lallana would be able to fit in within the midfield diamond and 4-3-3 systems utilised this season.
Along with Sterling, Coutinho, Henderson, Allen and a returning Suso, Lallana would provide another attacking option for Rodgers as he no doubt will look to rotate his squad for the additional competitive fronts that Liverpool will be vying for.
It appears that, so long as Liverpool buy at the right price, Adam Lallana is tailor-made to Brendan Rodgers' system at Liverpool; a player who can slot in and perform immediately.
Do you agree that Adam Lallana would be the perfect fit for Rodgers at Liverpool? Or are there better options out there? Let us know in the comments below.