Matt Marchese reminds us of the incredible journey we've all been on with Liverpool this season to be within three games from the league title.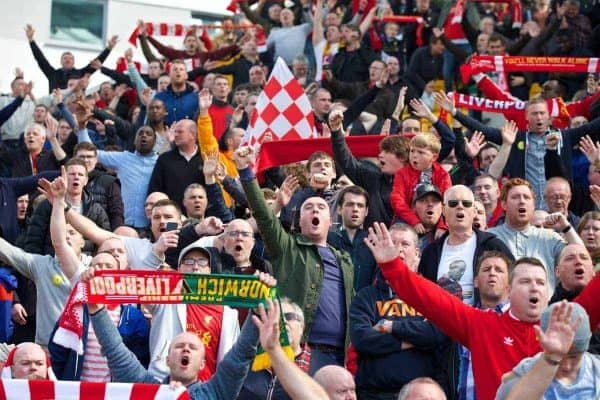 Take a deep breath, soak it all in.
One hand on the league title, one inching closer and closer.
No one expected the Reds to be anywhere a league championship, but here they stand.
Where It All Began
No Luis Suarez to start the campaign, still serving his suspension from the previous season. Much doubt surrounding his possible departure to Real Madrid. And many questions abound about Brendan Rodgers ability to manage this club and keep things in check without arguably his top player.
Daniel Sturridge stepped in admirably in Suarez's absence, notching the only goal against Stoke in a 1-0 victory and beginning the streak of four straight goals for the club in league play and 5 of the club's first 8 goals on the season.
A draw at Swansea and a home loss to Southampton after three straight victories put all the doubters to the forefront, as again, most wondered how the team could possibly see any sort of success with the current pieces in place.
Enter Suarez 
Luis wasted no time in showing once again why he is one of the world's top strikers, tallying two goals in his season debut in a 3-1 win over Sunderland. Suarez would tally 6 goals in first three matches, including a hat-trick in a 4-1 smashing of West Brom.
The Suarez smile was back and as the doubts of his future at Liverpool cooled, it was evident that he meant business and could really push this team over the hump and get them back into a Champions League position.
A Bump In The Road
After the home loss to Southampton, things seemed to settle down and the Reds were playing above and beyond their potential thanks to, of course, the stellar play from Suarez and Sturridge, Captain Steven Gerrard and the emergence of midfielder Jordan Henderson.
But a meeting at Arsenal made Liverpool bashers bask in their glory that this team "couldn't compete" with the apparent upper echelon teams in the Premier League (which Arsenal surely has proven that aren't as good as some may think).

The 2-0 loss at The Emirates Stadium showed a Liverpool team that seemed disinterested, and it showed in their performance. After two frustrating games (a draw at Everton and a poor performance at Hull which ended in a 3-1 loss), the haters were out again. But we all know that this in fact, just as the sub-heading states, was just a bump in the road.
A Flurry of Goals
Liverpool has made a reputation of scoring goals at a remarkable rate, and this was no more evident than in the stretch of four games following that terrible loss to Hull City. The Reds would tally 16 goals in that stretch, including an astonishing 10 from Luis Suarez and all done without Daniel Sturridge. During this time, we started to see the emergence of Raheem Sterling as an up and coming star, and Jon Flanagan as a surprisingly strong addition to a back end that needed some fortifying. Young talent coming to the forefront, finally a breath of fresh air!
A Tough Week 
Whoever made the schedule must be somewhat sadistic. How could you possibly have anyone drawn against Manchester City and Chelsea, away, in the same week! Regardless of that fact, it would prove to be a real tell-tale sign of what the Reds could be.
Emotions were running high in the first of the two matches, with Liverpool traveling to the Etihad for a meeting with what most onlookers thought was the best team in the Premiership.
Liverpool struck early with a Coutinho marker, only to be scored on twice before the half and had a goal called back for offside (which wasn't offside I might add!). The 2-1 loss was still a moral victory for the club. The result was achieved without the likes of Gerrard, Sturridge and Daniel Agger.
The club was then faced with the unenviable task of heading to Stamford Bridge just days later for a matchup with Chelsea. No Gerrard, Sturrdige or Victor Moses (on loan from Chelsea) meant that the squad's depth would be tested yet again.
An early marker from Martin Skrtel showed that the Reds would not back down from a challenge. But the effort would just not be enough for the tough Chelsea side. Needless to say, these two games proved to be the turning point in the season.
The Improbable Run
Since the beginning of the New Year, Liverpool has been far and away the best and most consistent club in the league. A record of 14-2-0, 52 goals scored, 21 conceded and 44 points since January 1st has vaulted them into top spot in the Premier League, with closest team (Chelsea) grabbing 35 points.
During that time, we have seen balanced scoring with Gerrard, Sterling and Coutinho pitching in, in addition to the superstar form of both Sturridge and Suarez. The team concedes more goals than most would like, but when you score at a clip of 3.25 goals per game since the new year, who cares!
My Season Awards To This Point
Best Defender: Some may criticise the choice, but my vote goes to Martin Skrtel. He has had his ups and downs, but has been the most consistent defender for the club throughout the whole season (only discounting Flanagan because of his lack of games).
His 7 goals puts him on the top tier for markers by a defender, and at times has been unstoppable with a back end that surely needs a steadying influence at times. Is he perfect? No, but neither is this club's defence.
Best Young Player: Raheem Sterling surely gets my vote here despite spending a good chunk of the season on the bench or coming on as a sub. He is electrifying when he gets the ball and draws a lot of attention for defenders.

He is emerging as one of the best young players in the world and one that Liverpool should certainly lock up to a long term deal. Flanagan is a very close second as he has surprised many with his tenacious play, bulldog mentality and steadying presence at the back.
Most Valuable Player: Most would give it to Suarez, and for obvious reasons. But for me, it's Captain Stevie. He scores big goals, he plays with his heart on his sleeve and he is the rallying point for this club this season.
He desperately wants a Premier League title before he retires and players around him want to win it for him. He has taken on more of a defensive role because the club needs him to, and he obliged.
He could have taken the selfish role and wanting more goals, but he didn't. There is no better captain than Steve Gerrard, no ifs, ands or buts. Oh Captain, my Captain!
Almost There
Here we stand, three games remaining and the first ever Premier League title within grasp; you can almost taste it.
A win over Chelsea would clearly do wonders and almost solidify the League championship, and how much sweeter would it be to put a dagger into the title hopes for Chelsea at Anfield? Almost too good to be true.