Martin Skrtel has rejuvenated his Liverpool career from a year ago, when he was dropped for a soon-to-be-retiring Jamie Carragher; now he's the key figure in defence as The Reds make an unexpected surge for the title.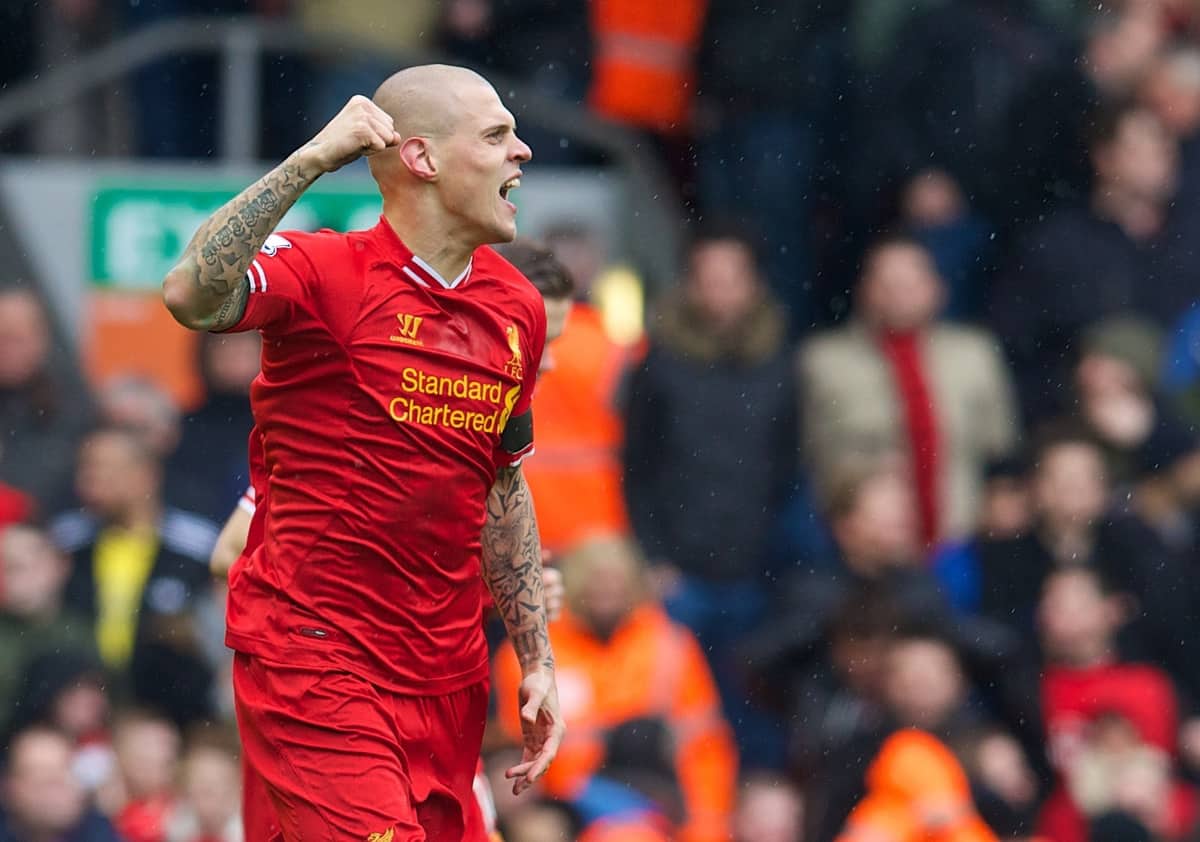 In a season that has been nothing short of madness, Liverpool have made possible what many fans thought was far from it last summer. From being satisfied with a serious challenge for fourth place; through being convinced that anything higher than fourth would be surplus to expectations; to dreaming (believing, even) that a 19th league title is within reach, it's been an absolutely insane, yet thoroughly entertaining campaign.
Brendan Rodgers and Co. have provided us fans with the kind of joy we haven't experienced in years by pulverising rival teams such as United, Arsenal and Everton. A pleasant surprise this season though, has been the attitude of the players. It's unreal the number of times the team has gone on to clinch 3 points from unfavourable positions.
Rodgers has earned plaudits for a lot many things which he obviously deserves; however, not many fans credit him for instilling a winning mentality in the players – something they have lacked for years; it's what makes true champions and guess what, Liverpool are top of the league with five games to go!
This season, Liverpool's strike partnership of Daniel Sturridge and Luis Suarez, aided by the brilliance of Philippe Coutinho and Raheem Sterling have combined to score a total of 49 goals, which is greater than the goals scored by 13 clubs in the league. It also accounts for more than half of the total goals scored by Liverpool this season, which stands at a whopping 90. Having said this, the defensive frailties of this Liverpool side have once again surfaced.
Defensive Fragilities
It's unusual that Liverpool – league leaders and potential champions – have managed to achieve this position despite our blatantly obvious fragility in defence. It only amplifies the formidability of our attack.
The fact that our defence has ranged from poor to average for large parts of the season has often gone unnoticed in several football discussions that I have participated in with non-Liverpool fans. Most of them tend to primarily lay emphasis on Liverpool's deadliness up front – be it Suarez, Sturridge's ability to kill chances, Sterling's ridiculous pace and intelligence, Coutinho's sublime skill or even Henderson's tireless running. It's been that kind of season though, where the lethality of our frontline eclipses pretty much everything that's gone wrong at the back.
Skrtel
Liverpool's centre-back partnership has consistently featured Martin Skrtel, alongside one of Daniel Agger, Mamadou Sakho or Kolo Toure. Sakho and Agger have both been injured for large parts of the season. Agger's most recent return from injury was welcome to say the least after Toure's indifferent form. Sakho has only recently returned to full fitness, and whatever time he spent on the pitch prior to the injury, he's impressed most fans.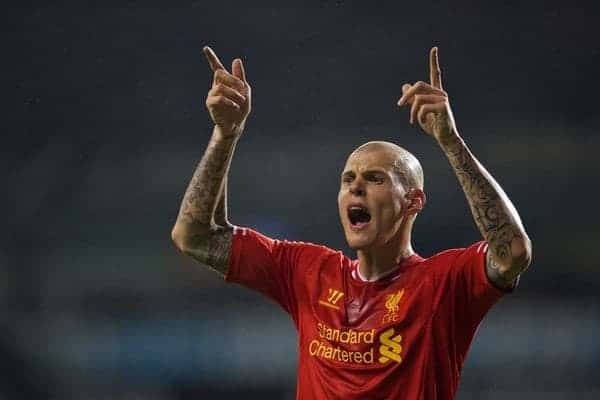 Finally, coming to Skrtel – to say he divides opinion would be a criminal understatement. It's also safe to say that he falls under the scanner of a large section of Liverpool fans with every involvement, or lack thereof, in the game.
Between a) no player except Henderson having featured more times this season for Liverpool than Skrtel, and b) the fact that Liverpool's entire defence has often been poor/inconsistent; the Slovakian makes for a convenient scapegoat.
Unfortunately for him, a poor run games in the beginning of the season coupled with his abysmal performances towards the end of last season had most fans expecting him to be sold last summer. The failure on the part of his critics to notice his gradual progression was astounding. His consistent display of aerial prowess and strength, of which there multiple instances in a single game, were rubbished on the grounds that the opposition attack was 'weak', yet even a remote lapse in concentration with insignificant consequences was scrutinised for hours (and at times, even days) at length. Blame was also regularly apportioned to him alone for some of the goals Liverpool conceded, and sometimes rightly so. Yes, he could have done better on some occasions, but there were other times when the entire defensive unit was to blame.
Myths
The argument that Skrtel is a liability because he tugs at opposition players' shirts is laughable. Skrtel is, by nature, a traditional centre back. When Rafael Benitez signed him, he compared him to Jamie Carragher. He's a robust and a no-nonsense kind of player. He goes flying into duels with a sole purpose: to win the ball. He hasn't got the elegance of someone like Agger or the ability to read the game like Carragher; but he more than makes up for what he lacks in with his (controlled) aggression.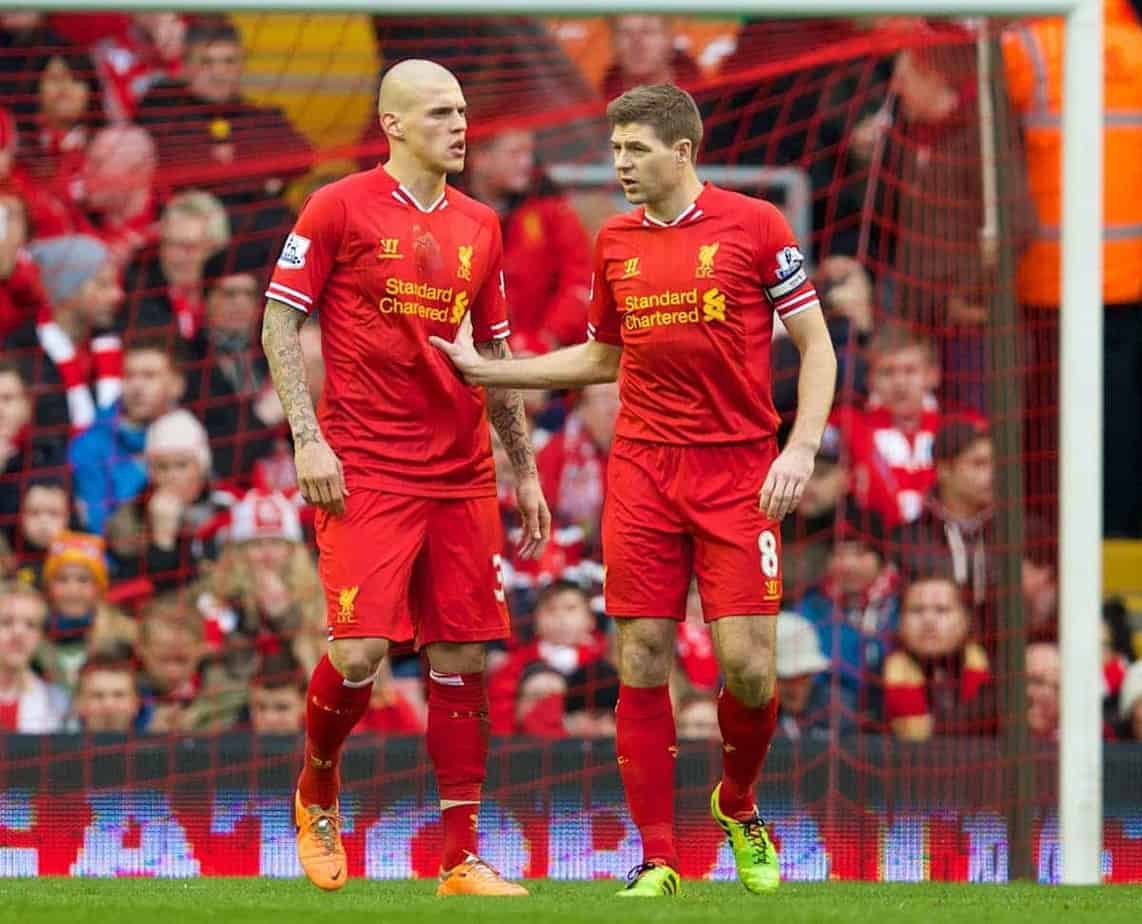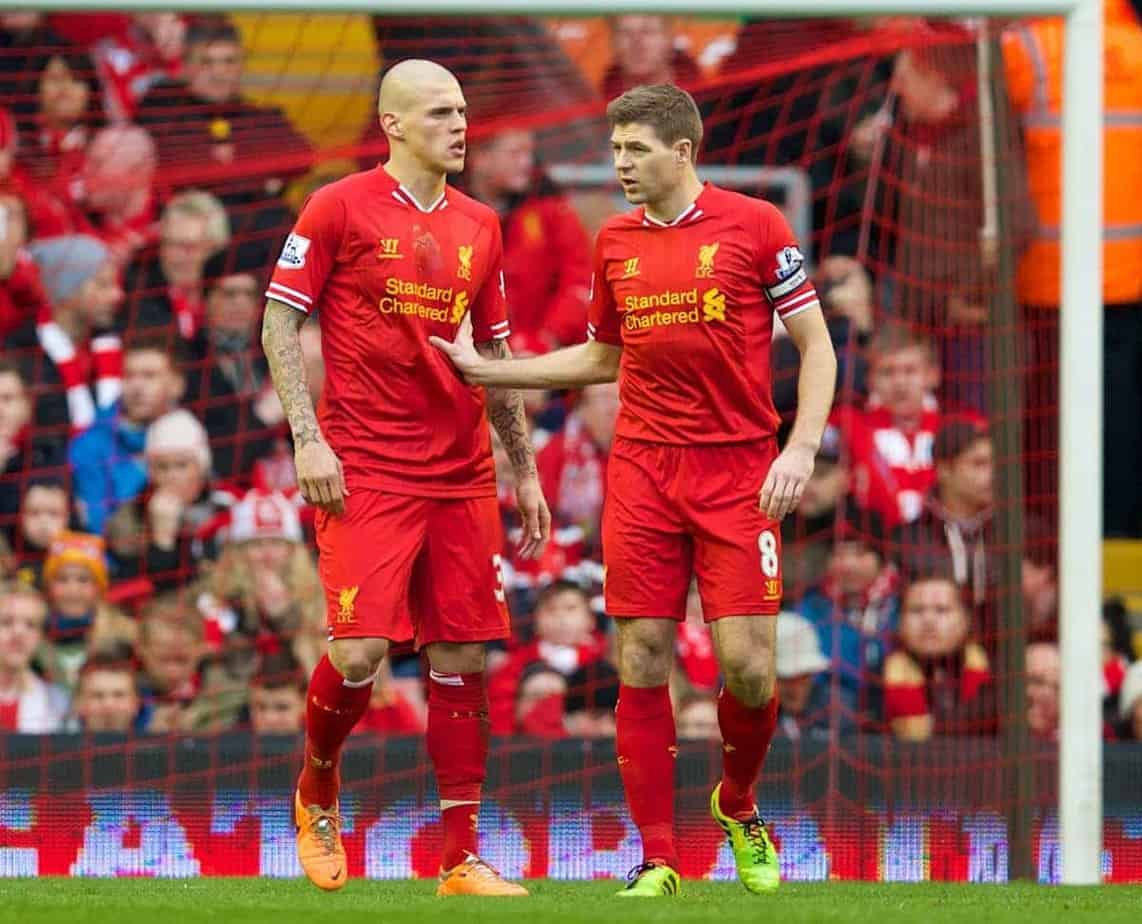 His habit of tugging at or wrestling with opposition players in the box instead of going for the ball invited heavy criticism. However, it should be noted that the only time he got punished for this was in the Swansea game when he conceded a penalty, which Bony converted. Liverpool won the game 4-3 and he has never grappled since. Besides, which defender hasn't wrestled with opposition players in the box. Also, Terry has ripped far more opposition shirts than Skrtel has.
Then there's his alleged timidity against imposing opposition, which in my opinion is only partially corroborated. To be honest, players like Benteke, Lukaku and so on are significantly more powerful than most defenders, and are expected to overpower them comfortably.
Notwithstanding the above statement, in the Merseyside derby at Goodison Park a couple of months ago, Skrtel had comfortably outmuscled Lukaku in the opening 21 minutes of the game, at the end of which the latter was taken off with an injury.
The game against West Ham on Sunday was another steely performance by Skrtel. He was unyielding against the likes of Carroll, Nolan, Demel and Diame. His solidity against the Hammers can be illustrated by the following stats: he won 4 aerial duels out of 9, out of which 2 were against Carroll – their biggest threat. Skrtel's showing at the weekend was aptly described as 'heroic' by many media outlets, and accurately summed up by Paul Brennan (@BrenzieAZ) in his tweet:
https://twitter.com/BrenzieAZ/status/452878626003124224
Another myth doing its rounds is that Skrtel is 'an accident waiting to happen', with his lack of composure of the ball. For me, Skrtel is a player that's looked increasingly confident as the season has gone on.
Under Rodgers, the 29-year-old seems like he's gradually transforming into a more technical, ball-playing defender as opposed to the combative, hard-tackling defender he was in the Rafa era. He's developing a football brain at just the right time, with which he'll be able to successfully combine his warrior-like attributes with a calm and composed mind, kind of similar to Sterling's pace combining with his thinking (which has led him to be a real menace to opposition defences).
Skrtel has hardly made any crucial errors when in possession and has got an average pass completion rate of 91% this season, which is commendable. It's also a joy to watch him go marauding into the opposition half in a fashion similar to what his partner Daniel Agger was known to do.
Consistent

Between January and April, Skrtel has grown. He's grown to become one of the most consistent players in the side, and our best defender by a mile. His performances since the defeat at Manchester City have been pivotal to where Liverpool stand in the table currently. Especially in the past 9 games that Liverpool have won on the trot, our entire defensive unit has upped its performance. The defence finally seems to be supplementing our ruthless attackers with its growing stability and consistency; Skrtel cannot be isolated from it.
We have got to remind ourselves that he had almost left Liverpool to go back to Russia in the summer. No one really took the effort to persuade him to reconsider his decision. It was his own determined choice to stay on and fight for his place in the squad. It seemed unlikely that he'd achieve what he set out to, given the deadline day arrivals of Sakho and Tiago Ilori, but he did. And for that, I respect him as much as I respect any other player.
As regards Skrtel's future, I'm not too bothered by it just yet. Although I do believe he will be retained as a backup to the first team, after the club bring in a better and a younger and more complete defender for the first team.
Arjun Krishnan
@Kroosify