American Red Pete Gackenbach tells the story of how Liverpool vs. Chelsea encounters have often coincided with personal events as he travelled around the world. From Africa to China and back to the USA, Pete recalls the games and stories that have marked his Liverpool love affair.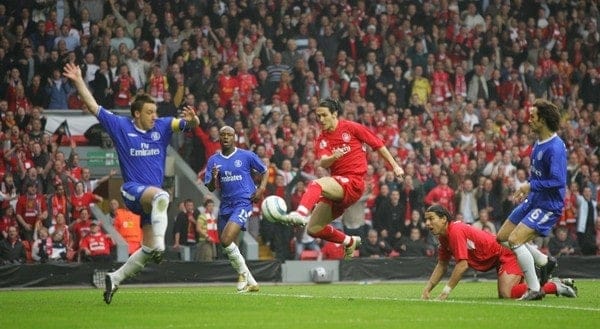 I probably should have been a Chelsea fan.
Thankfully fate and Steven Gerrard intervened, and as a clueless sports-crazed American traveling across Africa working with Premier League-crazed students, aid workers and government officials I managed to fall in love with Liverpool and the beautiful game.
I suppose it's fitting considering my unusual courtship with the Liverbird that playing Chelsea means more to me than more traditional natural rivals. Don't get me wrong, few things are sweeter than witnessing United flounder during Liverpool's majestic ascension.
As for Merseyside, growing up on the east coast (USA) near several historic port cities created a strong initial connection to the spirit and culture of Liverpool which has only grown with repeated visits to the city. Attending the Derby at Goodison this season was a dream come true even though disgruntled Toffees surrounding me forced me to stifle my ecstatic reaction to Studge's late equalizer.
Rivalries aside, there has always been something special to me about Chelsea matches. Somehow many key events in my life have corresponded with memorable games against the Blues, marking the passage of time and growth not just in my Liverpool fandom, but also in my life.
London, 2009
The first time I saw Liverpool play was against Chelsea at the Bridge in 2009. A buddy of mine living in London graciously dropped quite a few pounds for me to sit in the very top row of the East Stand to see the reds play. I got to the ground early, pushed my way up close as the bus to see Stevie and El Niño as they entered the stadium. I felt the sting of rowdy fans singing out "Have You Ever Seen Gerrard win the League?" as I took it all in.
How I long for the chance gleefully to sing that song next season in East London and Manchester with the privilege to respond with a resounding "YES!".
Unsure of what to expect sitting in enemy territory, I picked up a leftover Champions League Chelsea/Liverpool scarf on the way in and kept my Liverpool jersey sheathed beneath my jacket unsure what was expected of foreign away supporters sitting in home supporters' territory. My childlike exuberance wasn't diminished by the view from so high up or the scoreless uninspiring first half. I just took it all in.
I was brought back to reality by a boring Anelka strike that put us down a goal and I sank further in my seat as Malouda finished us off in stoppage time 2-0. Crushed, I joined up with my non-fan friend who couldn't empathise with my broken spirit. Checking my fantasy line-up brought some momentary respite from my suffering realizing that I hadn't taken out Ancelotti and so I earned points for Chelsea's win. That temporary relief was followed by disgust for profiting from and causing Liverpool's loss. That was the last day I ever played fantasy football.
Ghana, 2010
I've been to many countries and other than my own; they all pretty much worship football, but maybe none more so than Ghana. I've been to West Africa a dozen times or more and native sons Drogba and Michael Essien beckon fervent Chelsea support in the region. Despite his theatrics on the pitch, Drogba has played an admirable role in building hospitals and keeping peace. While he could probably be president of the Ivory Coast, Michael Essien is nearly a deity in Ghana.
Football permeates Ghanaian culture unlike anywhere else I've been; Fernando Torres' image carved into wooden fishing vessels, faded beer adverts with team pictures crowd the walls of make-shift bars, heaps of knock off kits mark a boundary of joyfully chaotic local markets, streets are lined with deteriorating homemade chalk boards upon which entrepreneurs scrawl the day's match schedule and patrons pay a few cents to crowd big car ports or church tents to watch Premier League matches on satellite television. Chelsea fans often get special treatment such as their own private room with a bigger television to enhance their fellowship. Few things are as sweet as politely pointing and laughing at dejected Chelsea fans filing out of their privileged room to mingle with the other supporters following a loss.
Luis Suarez's arrival at Anfield after handing Ghana a heartbreaking loss in Africa's World Cup certainly didn't endear undecided Ghanaian fans to Liverpool. When working with a cluster of inspiring low cost rural private schools, I often stayed at the Crown Liberty Hotel an hour or so outside of Accra. Aside from a brief cameo I earned in a low-budget Ghollywood film after striking up conversation with cast members over handfuls of fufu and goat lye soup, the hotel is noteworthy because the owner also owns Liberty Professionals FC. For those not up on their Ghana Premier League trivia, this club produced legends such as Michael Essien, Asamoah Gyan and Sulley Muntari among others. You'd think they would have a slightly nicer pool or fitness center with that sort of financing.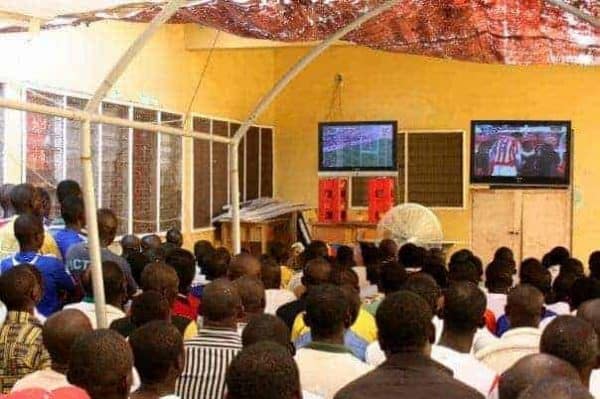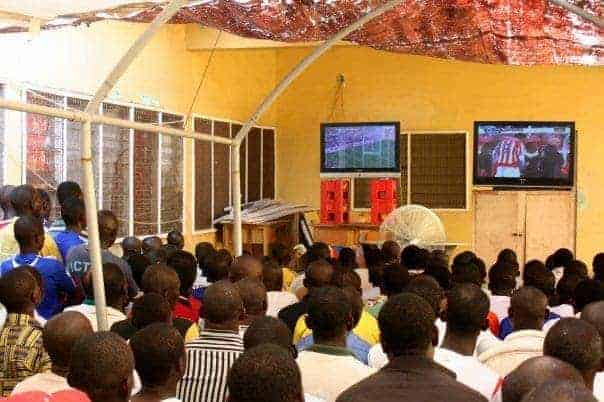 Brazil, 2011
I spent a lonely Valentine's Day there in 2011 a few days before flying to São Paolo, Brazil to be the best man in my brother's wedding. Liverpool happened to be playing Chelsea during my stay and I watched the match with the owner and a sea of mostly Chelsea fans. As I was practicing the best man's speech in my busted Portuguese, Portuguese bad boy Raul Meireles gave Liverpool a shock lead and victory earning me gloating rights and free beer much to the chagrin of surrounding Chelsea fans. I never actually gave the wedding speech because the ceremony started three hours late and I drank way too many caipirinhas after my DSLR was stolen during the wedding as the Samba troop loudly practiced to Lady Gaga's "Bad Romance" in the adjoining club.
America, 2011
My life changed tremendously between February and November match ups with Chelsea as my father received a terminal cancer diagnosis. Liverpool faced Chelsea in a rare nationally televised match, but I had a hard time finding a place to watch the match as a friend and fellow red graciously gave us two tickets to see my dad's beloved NFL Baltimore Ravens play for the first time ever.
American football parking lot tailgate parties are a rich and unique cultural experience full of various grilled meats, lots of alcohol, loud music, games and pregame television watching. Had I asked someone in the purple sea of fans gathered hours before the game to change to the Liverpool Chelsea match, they would have laughed heartily at my "joke" or punched me.
I was forced to follow the results on my phone entering the stadium joyously shortly after Glen Johnson had the final say after a rare Daniel Sturridge Chelsea goal had canceled out Maxi's opender. Our team won the game in a blowout and despite a train ride home which triggered a vicious kidney stone attack that sent him to the hospital, my dad was childlike in his joy and told everyone about how I took him to his first football game. That we were able to do that together meant the world to me and that Liverpool also beat Chelsea at Stamford Bridge made the day all the more special even though I didn't get to watch the match until the next day. The Ravens went on a run that I desperately hoped would end with a championship for my dad.
Tragically, their season ended in typical Liverpool fashion, heartbreak in the semifinals which would have sent us The Ravens the Super Bowl. They won the Super Bowl the following year in an epic run similar to Liverpool's current campaign, but my father passed away a week after that heartbreak loss in the semifinals.
China, 2012
In April 2012, I moved to China to travel the country teaching English to a hilarious 4-year old little emperor, heir to a billion dollar traditional medicine pharmaceutical empire. We spent about two months living in the suburbs of Beijing and my refuge was an Irish pub with the only Guinness tap in Beijing and just about every Premier League match on TV. This Anglophone football oasis was providentially located within walking distance of my high rise apartment in a traditional working class neighborhood. I opted for the impoverished living option renouncing my rights to live in their palatial mansion in order to maintain my freedom to stay out all night and watch football while drinking overpriced Guinness and terrible Chinese beer with the mostly German expats working for the local Mercedes Benz office.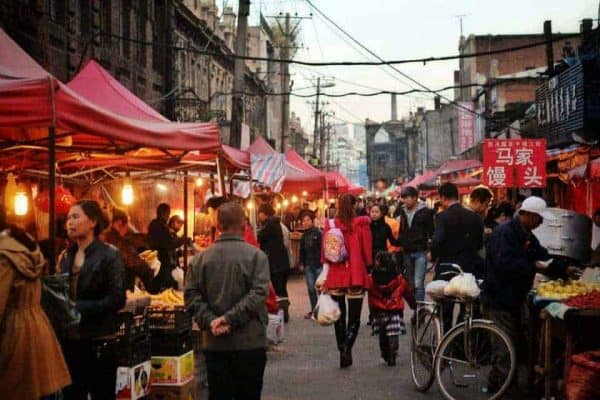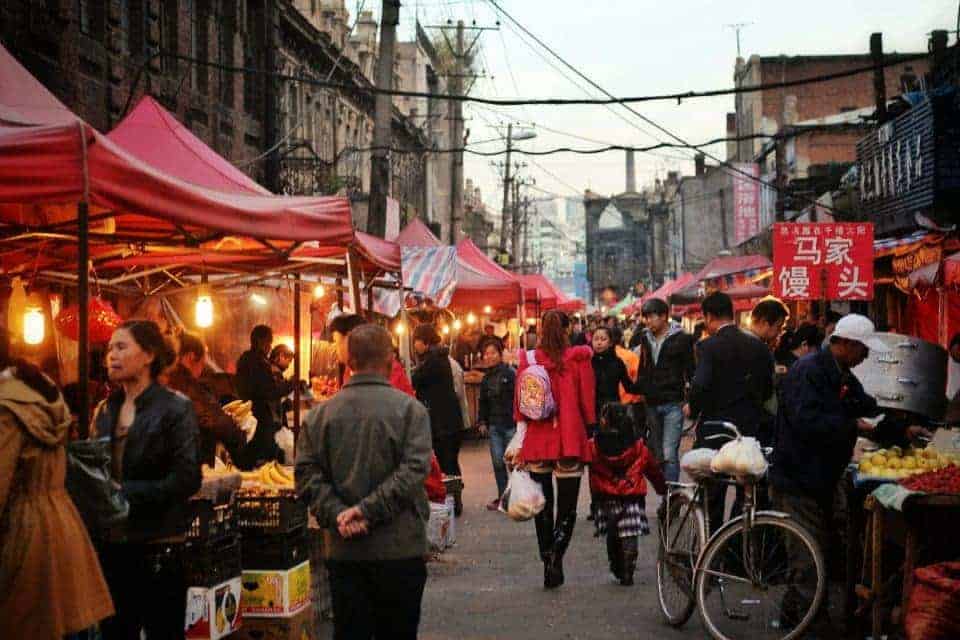 I have a great fondness for the 2012 FA Cup Final loss to Chelsea even though it encapsulated the failed return to coaching for King Kenny and the disaster that was Andy Carroll. The match didn't kick off until after 1 a.m. but many of my German friends were there to watch with me.
I'm sure that match against the blues was just the under-card to some later Bundesliga match and they generously provided some consoling Carlsberg drafts after the comeback never fully materialised. Unfortunately I would be commiserating with them a few weeks later, cursing missed Bayern Munich penalties that inexplicably handed Chelsea that elusive long coveted Champions League trophy. How Munich lost that game to that Chelsea team in Munich still blows my mind.
While my Liverpool memory of that wonderful pub will always be Andy Carroll's header that didn't quite tie things up with Chelsea, at least I can take some joy in remembering waking up at 3:30 a.m. to head to the pub and watch Manchester City rip that title out of Fergie's hands with those miraculous stoppage time goals against QPR.
America, 2014
This Sunday I'll be watching the Chelsea match at a wonderful Liverpool pub in Baltimore, Maryland, USA with some old friends that became rabid Liverpool fans over the year. While my life is not quite as interesting as it has been for recent memorable Chelsea matches, maybe that's the ideal time for a Liverpool versus Chelsea match to be the major life event. A win Sunday would all but trigger the first Liverpool title of my fandom, culminating much of my global journey with the mighty reds over the past decade. Chelsea wins are always sweeter to me and I hope that Sunday is the most special one since the Road to Istanbul.