Dan Holland reports on an emotional afternoon at Anfield which reminds us all of the loss and fight that the families of the 96 have faced since that fateful day in South Yorkshire 25 years ago.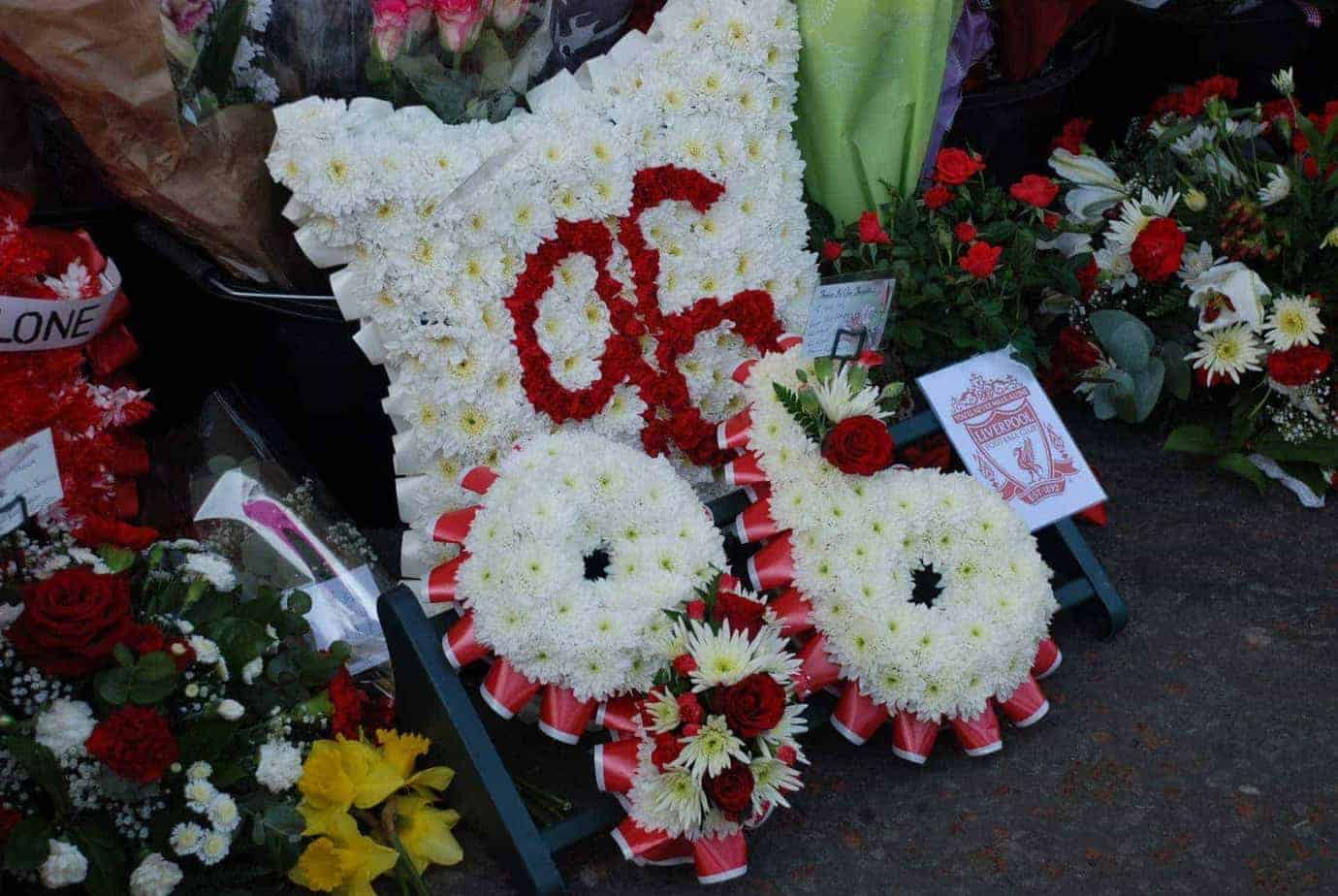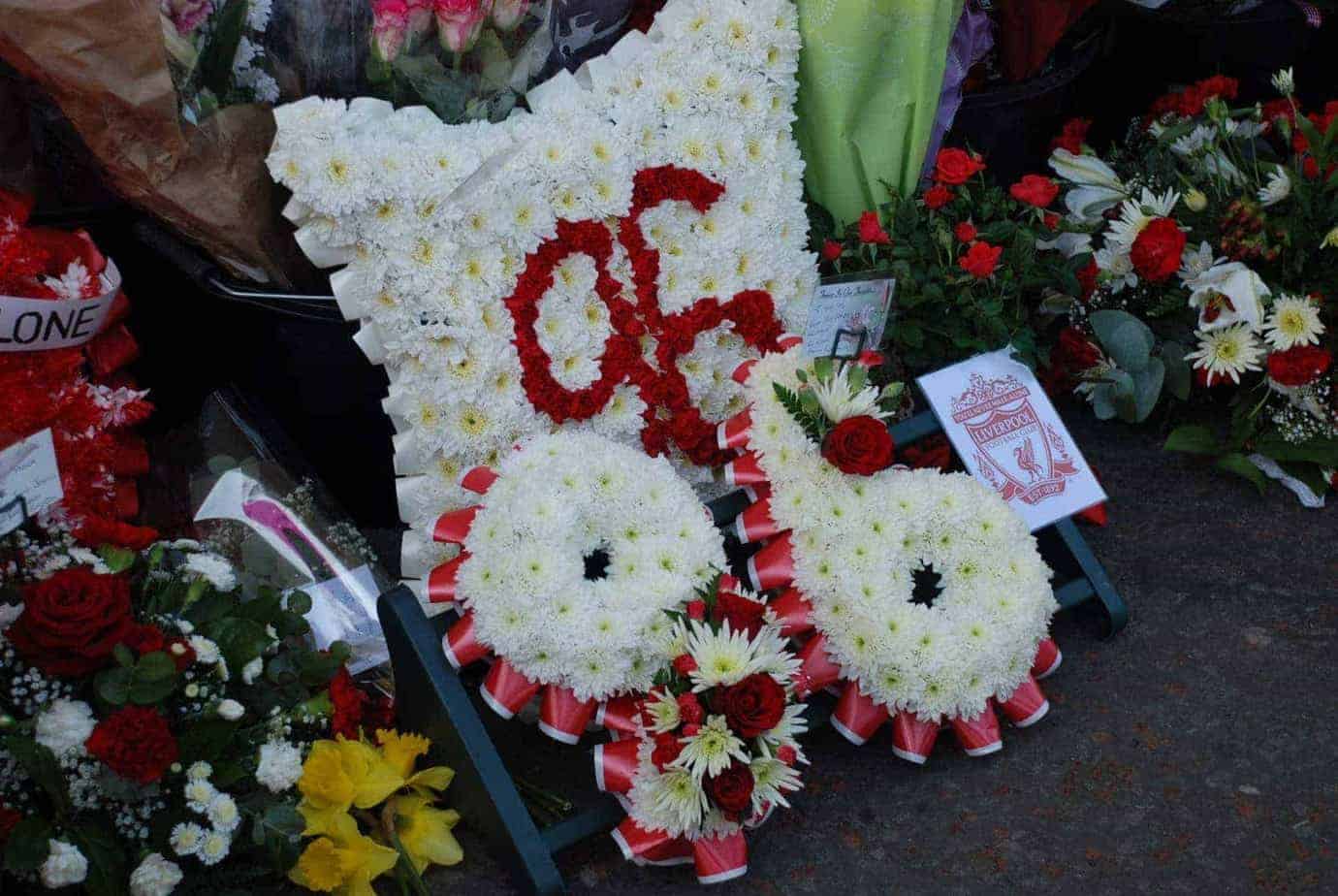 Even as a 9 year old boy watching Grandstand on the 15th April 1989 I can vividly remember that terrible afternoon as the true scale of the tragedy became apparent. I remember the truly harrowing pictures that adorned the papers the following day and in particular Trevor Hicks' daughters in that middle pen. I remember the footage of the Spion Kop and Anfield pitch being literally covered in floral tributes, I remember seeing Kenny Dalglish and Bruce Grobelaar at countless funerals, not forgetting the other players at the time who all went to numerous funerals across the City.
Until today though I have not had the opportunity to show my support, yes I've bought, badges, wrist bands, books and scarves. I've downloaded singles that have got to Christmas Number 1, I've chanted supportive songs at the match but I have never been to a memorial service and this is something that needed putting right. I took my seat inside Anfield with an estimated 25,000 other people who were all there to pay respect to 96 football fans, like you and me, who attended an FA Cup Semi Final and never returned home.
It is with some trepidation that I write this, I can talk football all day every day but really hope I do the memorial service justice.
As I walked down Anfield Road towards the memorial, I could already detect an air of sorrow around the ground, there was a silence around the everlasting flame and the list of 96 lost souls. There was a sea of floral tributes, the Shankly gates were covered with flags and scarves from many different clubs who are all united now in the fight for justice.
The turnstiles were due to open at 1pm but actually opened shortly after half past 12 as queues were already forming outside every stand. As fans of Liverpool, Everton, Hull City, Aston Villa, Manchester City, Glasgow Rangers, Celtic and no doubt other clubs but they were the only shirts I saw filtered into their seats I sat and looked over the order of service. Reading every one of those 96 names and thinking I had friends who were at that game and it could easily have been their name written in front of me. These names were all peoples Sons, Daughters, Husbands, Brothers, Cousins and friends, who have been sadly missed in the last 25 years.
As the start of the service drew closer some more well-known mourners entered the Kop, first to receive a standing ovation was Margaret Aspinall, the Chairperson of the Hillsborough Family Support Group (HFSG). Margaret lost her son that day and replaced Phil Hammond as chair when he became seriously ill. Thankfully Phil pulled through and managed to attend.
Another recognisable face was actress Sue Johnston who has long been a supporter of the HFSG and recently paid a powerful and moving tribute to Anne Williams at the Sports Personality of the Year event. Anne sadly lost her fight with Cancer last year but not before she saw the initial verdicts quashed, a victory she was instrumental in. Representatives of Liverpool Football Club then filled the seats including Liverpool Ladies, the youth teams, ex-players and finally the current squad.
The last people to take their seats were undoubtedly todays VIP's, the families, as what seemed like an endless stream of people walked along the bottom of the Kop it become even more apparent how many people were directly affected by this terrible tragedy. One family member in particular brought a lump to my throat; a young man of a similar age to me held above his head a photo frame and wore a t-shirt saying "he's my brother"! Two other family members proudly carried a red and blue banner which poignantly read "two teams one massive family."
The service began with a welcome from Reverand Kelvin Bolton, quickly followed by the Cup Final Hymn Abide With Me. This is a hymn close to my heart as it was played at my Grandmas funeral and it also well known within the football family but I doubt it is has been sung with more passion since the 1989 FA Cup Final as it was today.
Then came the long list of names of those who died whilst supporting their team. Reverend's David Smith and Kelvin Bolton and Father Stephen Maloney read the names out loud with an occasional pause allowing the choir to sing "In life in death O Lord Abide with Me". Once every name had been recounted the Reverand Kelvin Bolton asked us to join in him in a minutes silence at precisely 3.06pm, the time the Semi Final was abandoned, this was of course impeccably observed underneath the Merseyside sunshine, images of that flashed into my mind as I'm sure it did everyone there some more painfully than others.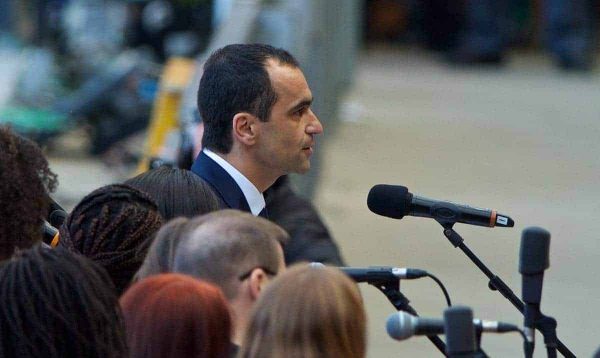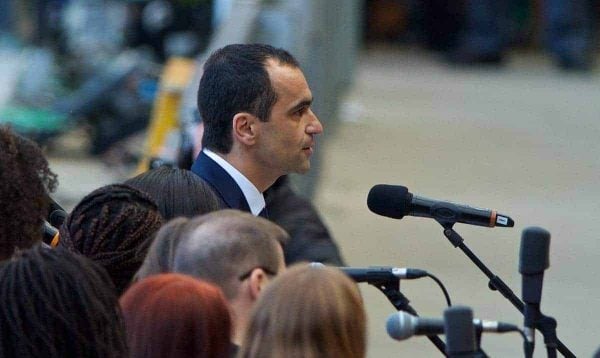 The manager of Everton Football Club, Roberto Martinez, was the first to give a reading and was given a very warm welcome. He read St John Chapter 14 verses 1-3 but what he said afterwards left a far greater impression. He recounted being a 15 year old boy sat at home with his family when the horror began to unfold. It is a game that he and his family love as did the 96 victims and for the tragedy to happen watching a game you love "is not fair and it is not right" and what followed the disaster was also "not fair and not right". Whilst it wasn't right he wanted to echo the words of his chairman, Bill Kenwright, "they took on the wrong city". He also called the HFSG a remarkable group of people and assured them "Everton are with you".
Another hymn followed Roberto Martinez before Brendan Rodgers was invited to speak and duly read Psalm 23. After the reading from the bible Brendan gave his own thoughts, he started by thanking Roberto Martinez before going on to say how proud he is to manage Liverpool Football Club and that every day when he arrives for work he cannot fail to be inspired. He passes the Shankly statue, he sees the European Cups, he see's images of St John, Toshack, Keegan, Yeats, Dalglish and his words "the list is endless", but it is none of these that give him the biggest inspiration, that honour is given to the Hillsborough Memorial. He also reserved special praise for Kenny Dalglish, "a man who seeks no credit or claim" but whose help has been critical and this help is a far bigger achievement than "any goal or trophy win". He said he felt humbled at being asked to speak at such a prevalent time and that he felt inadequate in the presence of all the families.
The members of the clergy gave further readings before introducing Lee Roy James to sing the Hillsborough Anthem. He has sung this anthem for 25 years now but this would be the final time. He told us all that as a songwriter some songs are easy to write as the words just flow and this in fact was the song he wrote in shortest space of time as the outpouring of emotion made it easy for him. For those of you who haven't heard the anthem please find time to track it down online and have a really close listen, the words are truly inspiring.
Further religious readings were made and the Love and Joy Gospel choir sang There is a Balm in Gilead. Then came the time to welcome back Andy Burnham, 5 years ago the MP was given a very hard time by the congregation and was shouted down by passionate chants of "Justice for the 96", it was this reception that inspired him to take the fight to the government. Recognition of this was visible as a banner thanking him was held aloft. Mr Burnham however refused to accept the credit "5 years ago things changed and it is not because of me, it is because of you. After that day I knew you were right and they were wrong [the establishment]."
He then told us he had asked for advice on what to say today and told us his Mum had said to wish the team good luck in their attempt to win the league and indeed how fitting it would be if they were to win this year of all years. Even from my seat I could see a wide smile form on Brendan Rodgers face. Andy Burnham was also quick to praise Kenny Dalglish and the loyalty and leadership the man has shown from the minute the game against Nottingham Forest was abandoned. Mr Burnham signed off my simply saying "Justice for the 96", this prompted the chant to be rung out from all corners of the ground.
Given what huge impact Andy Burnham has had on the Justice campaign it was incredible to hear what Trevor Hicks (President of the HFSG) had to say next. He was away on Honeymoon when the arrangements were made for the memorial service 5 years ago and when he returned to see an MP's name on the list of speakers he was far from happy and told Margaret Aspinall "this is on your head", if Trevor had got his way he would have stopped him from attending and we may not have got to where we are today.
Margaret Aspinall then spoke of the stress involved in their fight and urged the players to use the stress positively like they have and help inspire them to a successful conclusion to the season. She also wanted to pass on everyone's thoughts to the clubs owner on a day that is also the anniversary of the Boston bombings.
All that was then left to do was to sing the clubs Anthem, but this was no ordinary rendition. Yes Gerry Marsden sang with us but that still wasn't what made it special. I have sung this song hundreds of times, mostly on matchdays and whilst the hairs on the back of my neck still stand on end it doesn't feel like it did today. I lost my Grandpa four years ago, who was also a Liverpool fan, we played You'll Never Walk Alone at his funeral, I was inconsolable that day as he was more than just a Grandfather to me. I also cried singing this song on the last occasion I attended Anfield with him as I knew it would be the last time as he had become very frail during his battle with Cancer. Even with these personal memories of the song it doesn't move me to tears, on Saturday an emotionally charged atmosphere against Manchester City, there were no tears. Yet today as around 25,000 people sang our world famous anthem I couldn't hold back the tears testament to the emotion created by all of those who spoke, sang or merely attended.
My respect for all the families is huge, my love for my football club continues to grow (no other team on the planet would do what this club has done for those affected), my admiration for the people of Liverpool and their refusal to give up the fight is vast. The continued support that Everton give to us is beyond admirable and the permanent memorial that will later this year be in place at Goodison Park is testament to this.
Let's hope next year we can celebrate and that Justice has finally been done. RIP to the 96, gone but never forgotten.