There's a new fanzine available for this Sunday's match; 'We Are Liverpool' features writing from a host of well known Liverpool supporters. We get the lowdown from the editor, Neil Poole.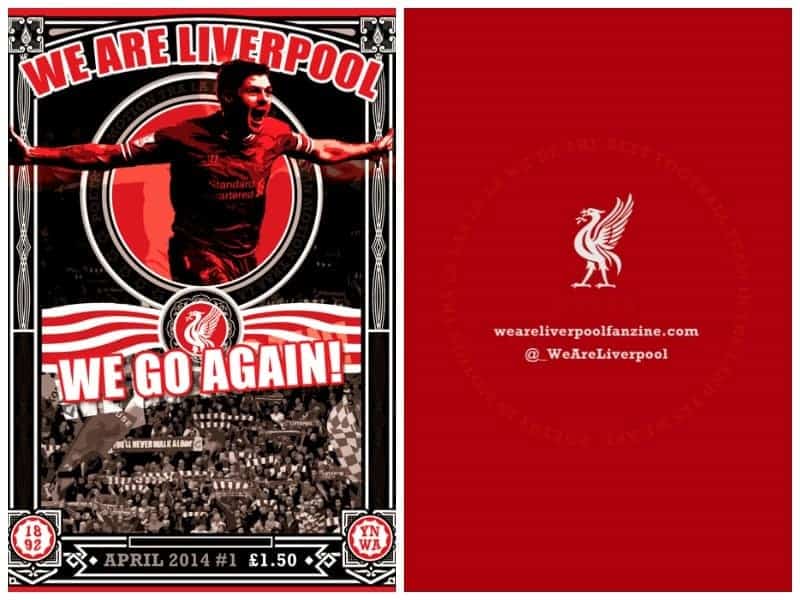 Q. First off, tell us a bit about yourself…
A. I think all my true Scouser credentials are in place, which seems to be a pre-requisite for starting a fanzine. I'm from Stoneycroft. No one ever knows where this is, but I can confirm that it is the geographical heart of Liverpool – I've checked on a map. I moved to Huyton a while back to be closer to Steven Gerrard but apparently he moved years ago. Nobody told me. I can't afford to follow him to Formby so I'm stuck now.
I now have a season ticket but for a long time I spent most of my time scraping for tickets from my father in law, my mates and literally hour upon hour trying to get through on the LFC phone line. So in the words of Jamie Carragher I know, "I'm a very lucky boy." I spawned some kids just so I could dress them up in Liverpool kits. They're very lucky as well.
Q. In your time following The Reds, how does this season rank?
A. My very first game was Liverpool 2 Oxford 0, which was the first game of the 1987/1988 season. This was the year we signed John Bardnes, Peter Beardsely, John Aldridge and Ray Houghton and went 29 games unbeaten equalling the record held by Leeds at the time. For me, that season was a bit like the Knight in the Canterbury Tales (I do this a lot); it was an almost perfect standard at the beginning against which everything that comes after is ultimately judged. Partly because of the quality of that team and partly because of that feeling of excitement and astonishment when you start going to the match as a kid, not much has ever come close, with the exception of Istanbul.
But I can genuinely say that if we go on to win the league this season this will rank as the best ever. The football has been amazing to watch. The recent games against Manchester City and Spurs have reminded us how good the atmosphere can be at Anfield. We just need to win number 19 so that season can go down in Liverpool's folklore. I believe it will.
Q. Tell us a bit about this new fanzine then. What made you want to start 'We Are Liverpool'?
A. DIY! I've had a bit of a catastrophe in the house which has spawned a mini mid-life crisis. While most people go out and buy a flash car or have an affair, I'm quite a sad individual and decide to sit up late at night in my bills, eating crisp butties putting a fanzine together. I just figured I love Liverpool, I can string a few sentences together myself, I know of some really good writers out there so let's try something I might be quite decent at which doesn't involve a drill.
Q. And what can people expect from the fanzine?
A. Lots of great writing from die hard Liverpool fans, from within the city limits to as far away as Malyasia and South Africa. There's lots of variety, from the humorous stuff that people associate with fanzines to really carefully considered and insightful articles. I'm made up with the writers I've been able to get on board. I went out and head hunted them as such because I want to ensure the quality of the content was a really high standard and that we had lots of different types of point of view and types of articles. We even have The Secret Evertonian in there!
Going forward I welcome submissions from anyone. They can email [email protected] for details. If it's good enough I'll put it in. I only started blogging myself 10 months ago, so it's important to that I give the same opportunities and good will to others that I've been afforded.
Q. There's already a fair few fanzines on LFC and the print world is generally viewed as a dying industry, so what made you want to break the trend?
Dying industry? What! Ahh shit! Now you tell me.
If this was Dragons Den this would be the bit where Theo rips up the fanzine to show what damage his kids could do to it. I'd be standing there with a look on my face that screams 'Oh yeah, never thought of that.'
No, in truth I know the sales of fanzines are rapidly on the decline. I've just chosen to ignore it!
So if you ordered issue 1 it's somewhere amongst that lot. Posting tomorrow! Liverpool, Finland, USA, OZ, Romania… pic.twitter.com/oj2bKCg55J

— We Are Liverpool Fnz (@_WeAreLiverpool) April 24, 2014
Maybe it's this season but I'm currently feeling the Spirit of Istanbul and everything seems possible. I'm a romantic; it seems a shame to let one of the few remaining traditions of football die without putting up a fight. 'We Are Liverpool' won't save fanzines. But it feels like Liverpool Football Club is at the start of a new era. My idealistic hope is that that 'We Are Liverpool' can be part of and document this. That's why the title is very much to do with what is happening right now. Hopefully people who have never even seen a fanzine before can get in this from the very beginning and feel part of it too. I'm not pissed. I know it sounds like I am.
In Brendan speak though, the first aim is to be part of the conversation.
Q. You're lucky that Liverpool are doing well; would you have started this fanzine four years ago?
A. I've only been writing about LFC myself for about 10 months, so in that sense no. However, if I was to transplant my personal circumstances to four years ago, then I would say yes. However, I think it would be very different and would have a different feel to it. It would probably be much more militant, cutting and cynical due to the circumstances. And while there is a bit of that harder scouse edge to the fanzine the current mood is one of great optimism and hope. Interestingly this 'scouse edge' seems to be innate in all of the writers regardless of where they're from. If that's what the writers want to write about then I'm not going to stop them. It's their voices in there. The only editing I really do is spelling, grammar and the removal of libellous comments. I also replace the odd comma with a semi-colon to make them look cleverer! There's no filler in there. Everything is in there on merit.
Q. Where / how can people get hold of 'We Are Liverpool'? Will it be available online?
A. It will be on sale outside the ground at the Chelsea and Newcastle games. I'll be at one corner of the Kop; my mate, Browny, will be at the other corner.
You can also order online via www.weareliverpoolfanzine.com
There's no online version at the moment but there should be next season. I just need to work out how to do it first!
But yeah, it would be great for everyone to pile and be part of something from the very start.