As Liverpool reach the final three games of the season, needing seven points to win the title, Steven Harris reflects on just how we got here.

Three matches to go. That's two hundred and seventy minutes of time left on the pitch, give or take a few added minutes for injuries, incidents, goals, and people writhing around on the grass when actually unhurt.
Three matches in which the destiny of the Premier League title currently resides in the hands of Liverpool Football Club.
It's like a miracle.
At the start of the season I think most of us would have admitted that top four would be a big achievement.
Tottenham had spent the Gareth Bale money on a spread of seemingly talented players. Arsenal had broken their record transfer fee for a player of undoubted talent. Chelsea had the king of mind games back in charge. Manchester City had spent wisely and perhaps had a more calming man at the helm. Everton would start to play football under Roberto Martinez and perhaps be another challenger for Champions League qualifying. Manchester United might have changed managers but the squad he inherited had won the title at a canter the previous season.
What a glorious experience this season has been, top and bottom. So close to the 11th May and yet nothing is decided. Nobody is certainly relegated, one of three teams can still actually lift the trophy.
But Liverpool, five points clear of second placed Chelsea and nine ahead of Manchester City who, as of Sunday evening, lie in third with two games in hand, are in pole position.
Eleven wins on the spin, unbeaten in the league in 2014 thus far, goals, goals, goals: this is a side Bill Shankly, Bob Paisley or Joe Fagan or Kenny Dalglish would have been proud to manage.
Automatic Champion's League qualification has already been achieved following the defeat of Norwich. Not an easy game but champions down the years grind out results against relegation battlers or fellow title chasers as well as blow people away with dazzling, unstoppable football, don't they?
Champions League was the target at the beginning of the season and it seemed a remote possibility given Liverpool had finished seventh last year.
Then there was a summer transfer window in which all the talk became about 'marquee signings'. Liverpool didn't make one.
They sent out a few players on loan, brought in a few players on loan and bought Mamadou Sakho. In January we did no business at all.
Pretty much all the other top teams did buy marquee players – oh, and Manchester United bought Marouane Fellaini before Chelsea decided to offload the silky but hardly box-to-box skills of Juan Mata in January.
Does this mean marquee signings are overrated, that the team as a team is more important? I believe so. I also believe the vision of the manager and his ability to instill that vision into the squad is paramount.
Throughout the reign of Rafa Benitez I always had doubts. He's a hero, of course, bringing us that fifth European Champion's crown and getting up the nose of Ferguson time and again, but he was not a man manager.
He was a tactician but his plans could seem very rigid and often relied on putting square pegs in round holes. His substitutions were frequently like-for-like rather than to change the shape of a team and thus the thrust of their attack or stability of the defence.
I bored my friends endlessly with how he needed to work with and around his players more often and pointed to the successes we had in the 2008/09 season when it often seemed as though the team themselves ignored his training ground instructions and just played football.
In Brendan Rodgers Liverpool actually have a manager with vision, with tactical skills who, according to Steven Gerrard who has been there, done it and worn almost every t-shirt the game can offer, is the best man-manager he has ever known.
Rodgers had a 180-page dossier to present to the FSG board when he was interviewed for the job. He had a dream of killing other teams with football.
The Reds often do kill the opposition with scintillating attacking football which has former stars of the past drooling with delight from the stands.
But Rodgers is anything but rigid. He develops players, he alters his thinking and his system at times to accommodate their strengths. It's not all tiki-taka, short passes and tap the ball into the next.
The innovation of relocating Steven Gerrard to the quarter-back role in front of the defence has proven a masterstroke for several reasons.
It surely allows Gerrard more years in the side, it shores up a sometimes vulnerable defence and it means that one of the masters of the long, mid and short range pass has more time than ever to pick out the right ball to the right player at the right time.
Gerrard and Rodgers will tell you themselves that they've won nothing yet. Chelsea are up next at Anfield and the trip to Crystal Palace is going to be no stroll in the park given the way Tony Pulis has bolstered and ushered them away from relegation danger since his arrival.
Slip-ups happen, as both Manchester City and Chelsea have discovered in the past week against Sunderland. While some of the Monday papers might be claiming Liverpool already have one hand on the trophy, if this season has proven anything it is that we cannot take anything for granted. Nobody can. Man United expected a fairly seamless handover from Alex Ferguson to David Moyes.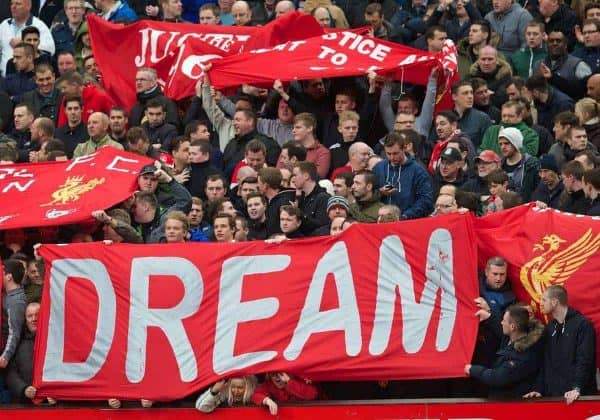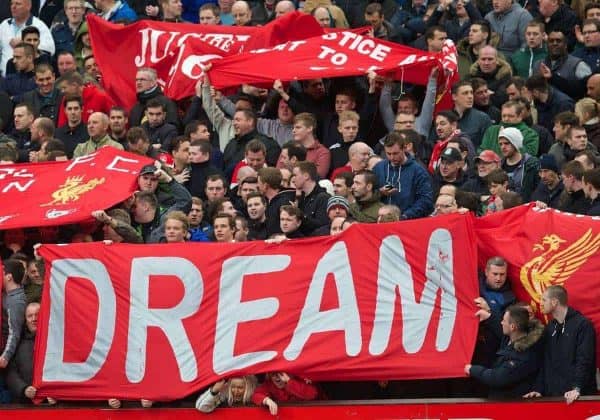 That went well, didn't it? Spurs were highly expectant of a title challenge themselves before discovering that they'd bought a load of jigsaw pieces from different boxes with only Christian Eriksen (a former Liverpool target, sadly) proving to be worth the money so far.
Chelsea would love to spoil Liverpool's party but I suspect Mourinho might personally wish to win the Champion's League with the blues, seeing as he never achieved it in his first spell yet they've been to two finals in between his departure and return.
Man City seem to have fallen away, possibly due to the Sergio Agüero injury but are still deadly and are not mathematically out of the race.
Arsenal led the table for quite a while and will also argue that injuries to key players hampered their title bid although many of us, even Gooners, now suspect that Arsene Wenger's once-revolutionary style has been surpassed by the modern game.
And Everton play some beautiful football under Martinez but they can have a tendency to crumble now and then – for some reason the numbers 4 and 0 spring to mind.
Three matches to go. Nothing decided but the feeling in my gut that this is Liverpool's year refuses to go away.
As a man who grew up thinking the good times would never end, who almost took the victory parade at the end of the season for granted, I know I would shed buckets of tears if I get to see Steven Gerrard lift that big, sexy trophy come May 11th, just as I did when he hoisted Old Big Ears aloft in Istanbul.
No-one in the current game would deserve it more than the Liverpool skipper. Well, no-one aside from the manager and the rest of the squad who would also have been instrumental if it happens.