The Reds are four wins away from arguably the finest achievement in the club's history, and they have carried on their imperious form without Luis Suarez and Daniel Sturridge firing in recent weeks, writes Henry Jackson (@OnFootballTweet).

If Liverpool do go on to win the 2013/14 Premier League title, in years to come the two players who will, deservedly, be remembered most for their performances are Luis Suarez and Daniel Sturridge.
The strike duo have been sensational, both as a pair and as individuals, scoring 49 league goals between them and striking fear into every side they have faced along the way. Without them, the Reds' title charge would be non-existent.
Suarez should walk every end-of-season award going, while Sturridge is an absolute shoo-in to be nominated.
Despite their undoubted brilliance, over the last month or so both the Uruguayan and the Englishman's form have dipped by their incredibly high standards. The goals have dried up a little- Suarez has just one goal in four, Sturridge two in seven- while their general influence on games has not always been quite as noticeable as it was.
It's importance to stress that this is not a criticism; both men are deserving of a slight slump after such a magnificent spell of form. Sturridge, in particular, has struggled most, and although Suarez is still playing better than most players in the league, he hasn't been at the 'world's best player' level he was at a few months back.
Many rival fans have labelled Brendan Rodgers' side as a 'one-man' or two-man' team throughout the campaign, believing Liverpool would be nothing without their two most prized assets.
Although this may have been the case earlier on in the season, that notion is being well and truly proved wrong at the moment.
Since the unforgettable 6-3 win away to Cardiff on 22nd March, in which Suarez scored a hat-trick and Sturridge also found the net, it has often been others who have stepped up to the plate at vital times instead.
In the nervy 2-1 win over Sunderland at Anfield, it was Steven Gerrard- utterly brilliant since January- who crucially gave the Reds the lead just before half-time with a trademark free-kick.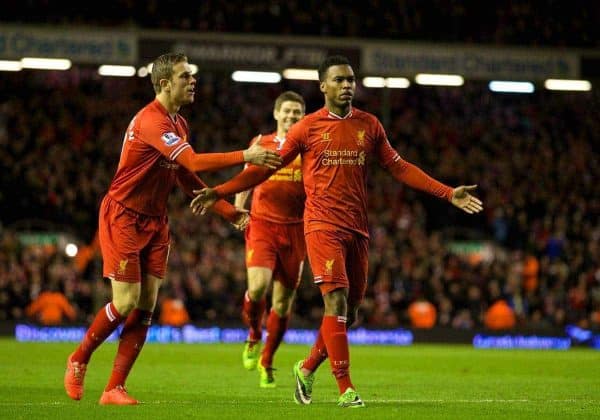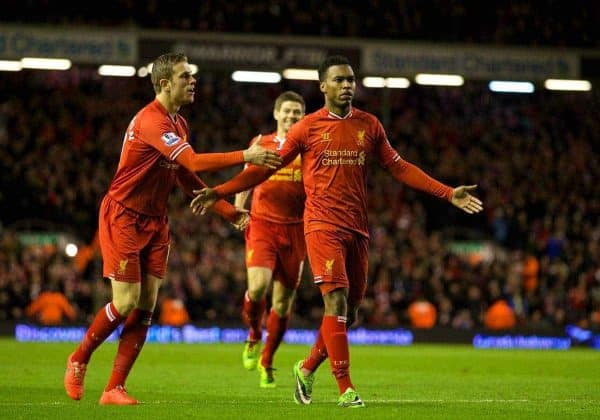 Although Sturridge added the second with a deflected effort, both he and Suarez were quiet throughout. As mentioned above, this is not to say they were poor by any means. They were just not at their best; lacking the zest of past displays.
The 4-0 home win over Tottenham was a supreme team performance, and while the talented duo played their part- Suarez produced a wonderful finish to score Liverpool's second- there were more impressive displays from Jordan Henderson, Philippe Coutinho and Raheem Sterling.
The 2-1 win at West Ham was arguably the Reds' grittiest performance of the season, and the likes of Martin Skrtel and Mamadou Sakho produced huge performances against a side known for their physical dominance. Gerrard's two penalties again outlined his influence and importance.
Although Suarez won the first penalty in that game with a typical piece of individual class, both he and Sturridge's touch and ruthlessness were not quite at their wonderful best.
Sunday's epic 3-2 victory over Manchester City was one of Liverpool's most important in Premier League history, but while much of the pre-game hype was, understandably, about how Manuel Pellegrini's side would cope with Suarez and Strurrudge, it was Sterling and Coutinho who stole the show without question.
The two youngsters, 19 and 21 respectively, were absolutely outstanding all afternoon, playing with pace, creativity, work-rate and confidence that belied their tender years. Skrtel and Gerrard were fantastic too, as were unsung heroes like Simon Mignolet, Jon Flanagan and Henderson.
Suarez's pass to set up Sterling for the opening goal was superb, but apart from that he appeared more interested in winning fouls and winding up the City players all afternoon.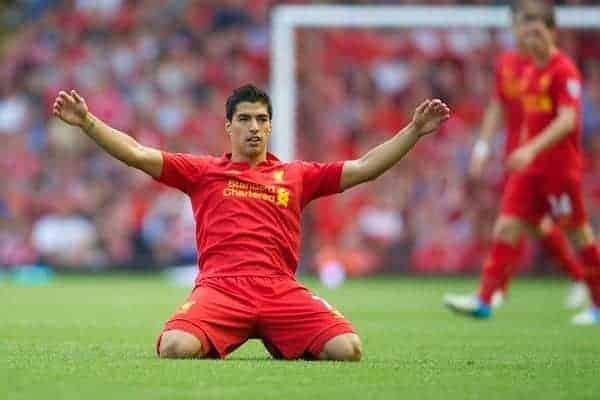 Such is the 27-year-old's unique talent that he always looked a threat, but at times he risked getting sent-off and ruining his side's hard work.
Sturridge, meanwhile, was very quiet. He looked lacking in confidence at times- something he's never normally short on- and missed a golden opportunity in the first-half in front of the Kop.
He was replaced by Joe Allen after the break, and news of a hamstring injury to the 24-year-old may well excuse his slightly disappointing performances of late.
There was always going to be a point during this title run-in when Liverpool had to cope without Luis Suarez's genius and Daniel Sturridge's pace and finishing in full flow.
Fortunately for everyone associated with the club, the rest of the side have made sure their teammates slight slump has not destroyed their Premier League dreams.