Following another impressive performance for the Reds in Sunday's 3-2 victory away to Norwich City, Jack Lusby questions whether Joe Allen can really be considered a "bargain" by Brendan Rodgers.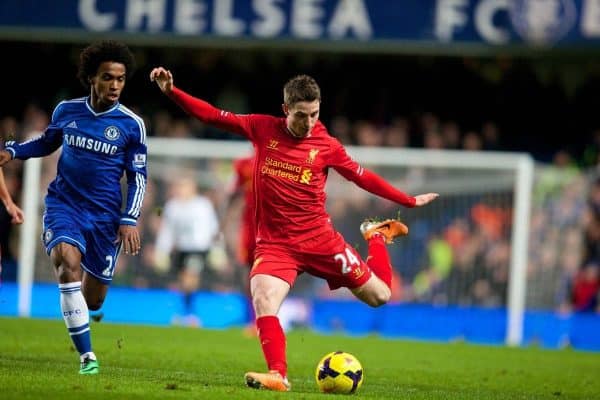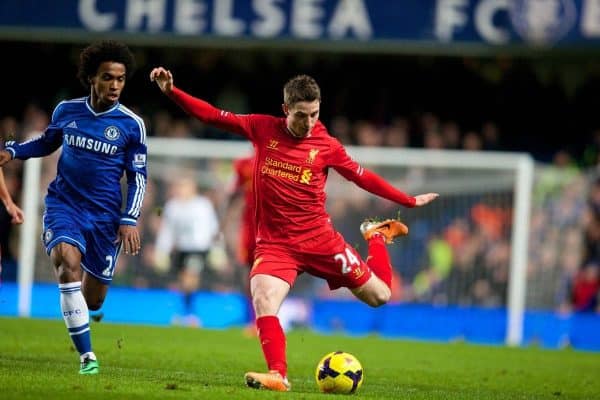 With Brendan Rodgers facing a selection poser prior to the Norwich City victory on Sunday, the Northern Irishman remained hyper-enthusiastic about his options; Jordan Henderson sat out the first game of his three-match suspension, whilst Daniel Sturridge nursed a hamstring injury, and Rodgers was left with two key players to replace.
Opting for a midfield diamond, including Joe Allen and Lucas Leiva, Rodgers looked to stamp his side's confidence and pressing ability on proceedings from the start, and – at least initially – this paid dividends, with Allen proving the key component within this formation.
Prior to the game, the Liverpool Echo detailed Rodgers' thoughts on Allen, his ability to compensate for the loss of Henderson, and his future with the club, calling him a "bargain".
With the 24-year-old joining for a fee of around £15 million back in 2012, can Allen follow in Henderson's footsteps and continue to justify his transfer fee?
Henderson's Replacement
Derided following his signing under Kenny Dalglish in 2011, Henderson has grown into his role at Liverpool and this suspension represents the first game that the 23-year-old has missed this season; Henderson is arguably the most important player within Rodgers' midfield, perhaps bar Steven Gerrard.
Against Norwich, Liverpool missed Henderson – no doubt – and his ability to harry and snap at opponents tirelessly whilst remaining composed in possession; however, Allen seemed to fit into this role effortlessly, and suggests that he can continue this contribution into the future.
As Rodgers attests, this is necessary for a competitive squad:
"The nature of our squad is that whenever we've had players out, others have come in and delivered. We try not to rely on any one player. It's vital you have players who can come in and do a fantastic job. We're fortunate to have both Lucas Leiva and Joe Allen."
Allen is both adept on the ball and effective without, and will surely prove to be an able replacement for Henderson in weeks to come.
Impressive in Norfolk
On Sunday, the Reds walked into a nest of vipers at Carrow Road, with Neil Adams' charges determined to salvage their season and stave off relegation.
Throughout proceedings, the Canaries launched attack after attack on the Liverpool box, and centre-backs Martin Skrtel and Mamadou Sakho had to be at their best to quell the yellow and green charge; as per Squawka, Skrtel made a phenomenal 17 clearances.
However, what was perhaps most important in stemming the tide at Carrow Road was Allen's persistence in the midfield – his presence in the midfield diamond often limited Norwich to long balls into the box, as opposed to a more measured build-up play from midfield.
Again, as per Squawka, Allen won 75 percent of his defensive duels on Sunday; this includes a 73 percent tackle success rate, with the Welshman winning 8 challenges.
Allen was also behind only the deployed-regista Gerrard when it comes to defensive actions from the midfield; in particular, the 24-year-old made a pair of crucial blocks in the box on one occasion, and his determination epitomised Liverpool's current unbreakable will to win.
Adaptation
This performance is indicative of the adaptation of Joe Allen's game this season, as he has developed to fit within Rodgers' demanding style of play.
Upon his signing, Allen was unfortunately daubed the 'Welsh Xavi', and this nickname has plagued the midfielder since he joined the club; the Welshman was seen as a somewhat superfluous, Carrick-type, who would act as a passenger within the game, relying on his ability to recycle possession.
However, Allen has now adapted his role to fit within Rodgers' tactical remit of high-tempo, pressing play, and cameo roles against Manchester City and Swansea City proved how vital this is on important occasions.
As evidenced above, Allen is, statistically, the best midfielder within Rodgers' squad in terms of defensive play, and the Carmarthen native is now a truly dependable option when it comes to important games where the midfield battle is key.
At Lucas' Expense
As Rodgers detailed in the Echo, Brazilian international Lucas is another option availableto compensate for the absence of Henderson in the midfield. But, compared to Allen, the midfielder had a poor game against Norwich.
The 27-year-old was ineffective, as he continues to struggle was somewhat of an identity crisis following Gerrard's shifting in the defensive midfield now; now deployed in a more advanced midfield role, it is becoming apparent that Lucas is unable to fulfil that role.
Therefore, when Henderson does return from his suspension – and as Liverpool look to build on their successful season next term – it is much more likely that Allen will continue to impress in the midfield when called upon.
Key for the Future?
At this juncture, Henderson's suspension represents a true opportunity for Allen to prove his "bargain" status and, on Sunday's showing, the Welshman has the ability to do so.
Unfortunately for him, upon Henderson's return, Allen will likely be relegated back to the subs' bench as Rodgers will look to settle back into his favoured three man midfield.
However, with his persistent performance against Norwich City on Sunday as proof – with a phenomenal defensive record and a true grit within Liverpool's title cause – the Welshman has every opportunity to stake a claim as a key player for the Reds' future, and will surely be considered a bargain in years to come.
Do you agree that Allen will be considered a bargain for Liverpool in the future? Let us know in the comments below.