Liverpool head to London to face Sam Allardyce's West Ham on Sunday afternoon (4pm), looking to make it nine Premier League wins in a row. Rory Fitzgerald provides his in-depth analysis of the opposition.

West Ham's style under Sam Allardyce is an uncomplicated brand of football. While some managers strive to see their team dominate possession in the belief that it will give their team the upper hand in games, Allardyce has a more pragmatic outlook and prefers to see his team get the ball into the danger areas of the pitch as often as possible and, at times, as quickly as possible – often at the expense of possession.
As such, his teams can be accused of lacking a certain finesse, with Chris Hughton recently describing their approach as "…very direct and very physical". Below is a excerpt from an interview given by James Jones (runs the website West Ham World) to Matt Law of the The Telegraph.
"We all knew what we were getting with Allardyce, but there was some hope that the style of football might evolve over time. It hasn't. The team line-up is often the same and the tactics rarely change."
General Set-up
West Ham generally play one striker upfront (Carroll) who is supported by runners from midfield (Nolan & Taylor) with width being provided lately from the left (Downing) whilst Noble is the player that gets on the ball most for the team.
In the recent run of games, Matt Taylor has moved infield to partner Noble which has moved their utility player, and powerful runner, Mohammed Diame out wider. Below is a look at the average position of West Ham in their recent match against Man Utd. Whilst Downing & Diame have swapped wings in recent games, I think they may start on their more natural sides like below.

West Ham's Preferred Approach
West Ham's preferred attacking style is to get down the wings and get crosses into the box. In recent games, the threat has largely come down the left side of the pitch. Below is a graphic of this approach in their 2 most recent home games.

Overall, The Hammers average the 2nd most crosses per game, with Downing the player that has attempted the most crosses in the league with 226.
In the Man Utd game alone, Downing attempted 19 crosses. I think this tactic will be amplified against Liverpool, especially going down the left side. If Downing and McCartney can get off a lot of diagonals from left to right then it will likely pitch Agger and Flanagan up against 2 of West Ham's most powerful players in Carroll and Diame – something which I think Allardyce will look to target. Below is an example of Noble putting the ball in from deep when Diame got forward.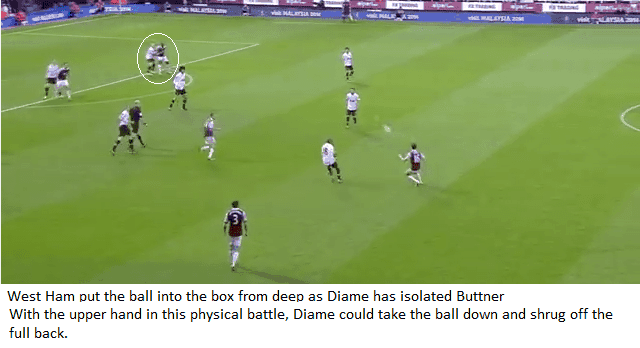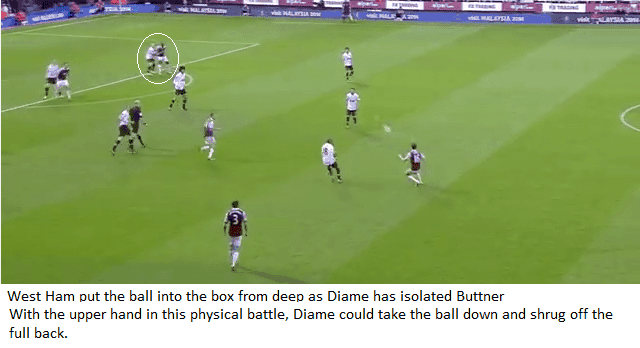 Below is a 'Plan A' goal for West Ham in Andy Carroll's first game back from injury against Swansea. West Ham break out which requires Taylor and Nolan to sprint over 40 yards in order to get into the box. These sprints could take their toll on the midfield later on in the game (will be discussed later). However, in this instance it pays off, but when it doesn't, it can leave West Ham open and put more strain on the midfield to sprint back and help the defence.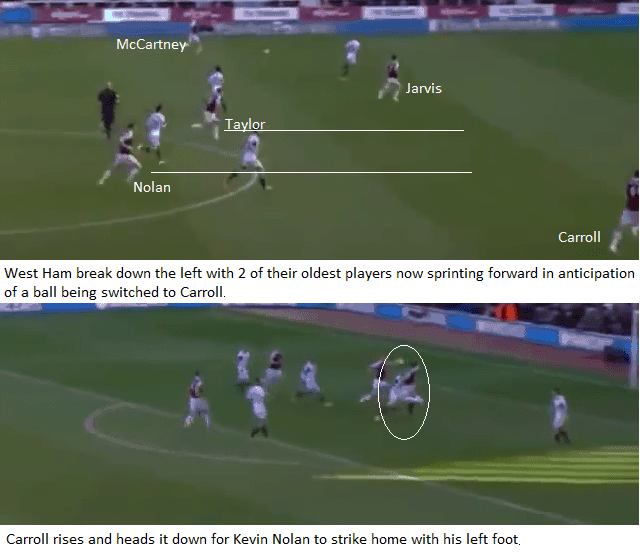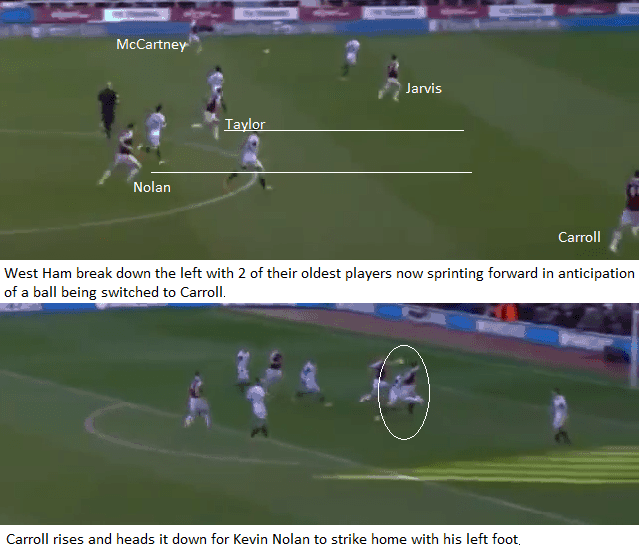 Possession sacrificed for territory?
West Ham's game is generally more territorially focused rather than possession based which brings an element of lottery to their play. Only four times this season have West Ham had more possession than their opponents and over the course of the season have the 2nd lowest amount of possession in home games at 43.1% and the also the 2nd lowest pass completion rate in home games at 74.5%. At the Boleyn Ground, they record an average of just 286 short passes per game (again the 2nd lowest in the league).
Rather than build out from the back, they have a propensity to try to play the game in the opposition's half, in part, by looking to play off a target man. Some of the players in the league with the highest pass completion rates (> 90%) are defenders, largely due to simple passes they play into midfield. However, with West Ham's desire to play football in the opposition's territory as much as possible, the defenders appear to be encouraged to play percentage football and knock it beyond the midfield and let the likes of Taylor, Nolan and Diame to push up and win the lay-off or alternatively, keep the opposition hemmed if they lose the second ball.
The pass completion rates of their defence in home games are: McCartney (77%), Tomkins (74%), Reid (73%), Demel (70%) and James Collins at just 63%, the 3rd worst in the Premier League from outfield players.
Below is a look at West Ham getting players to support the attack which can leave them susceptible to the counter attack: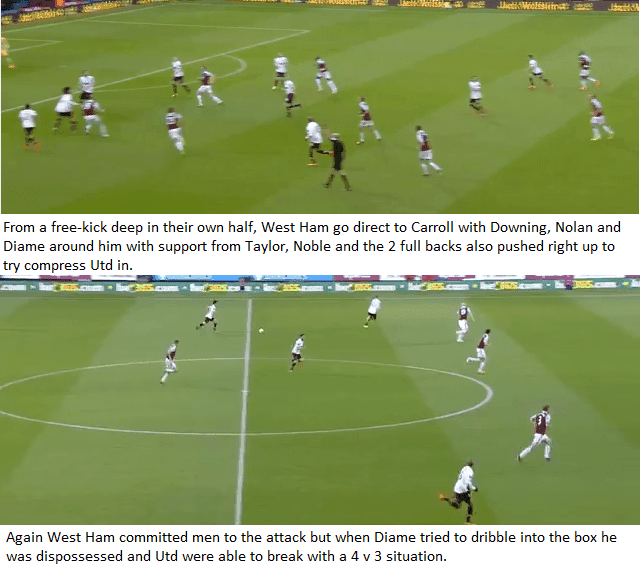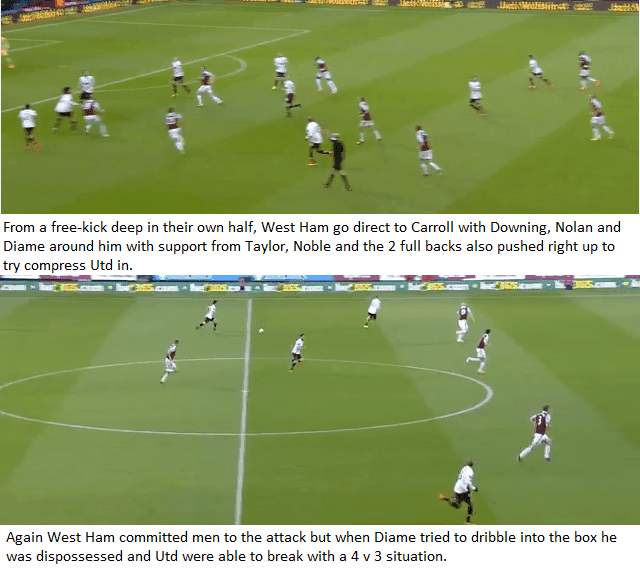 Next is a look at part of the reason for West Ham's poor possession stats and pass completion rate. This season, Allardyce's side have played the 5th most long balls per game (passes over 25 yards) and rank 3rd highest in successful aerial duels which does nothing to try dispel the 'myth' that the Hammers have become a long ball team under Allardyce.

Random success in attack
Two studies on crossing in recent Premier League seasons show a low conversion rate with headers from 10 yards having a 5% chance of scoring and that, on average, only 20% of crosses actually find their target.
With more crosses than anyone else in the league, West Ham are 5th lowest when it comes to the number of shots they take in home matches (12.5 per game). Interestingly, last season, Matt Jarvis was the player that created the most chances without registering an assist.
To remedy that, Allardyce purchased Downing, who had the same honour in the 2011/12 season at Liverpool. In both those seasons Andy Carroll was a common factor, playing 26 games last season and 35 for Liverpool in 2011/12.
However, whilst crossing may not be their primary threat, winning the second ball will be crucial with their midfield willing runners to try benefit from any loose balls with Nolan being the clubs top scorer this season, with just 7 goals.
Home Form
West Ham have the worst home record when playing the current top 10 teams with a record of 7 defeats and just 1 win. In these 8 games they scored 8 and conceded 19. It's a different story against the bottom 10 teams with a record of 5 wins and 3 draws in which they only conceded 4 goals. Liverpool's away record against sides in the bottom half is W4 D2 L1 with only 1 clean sheet.
Defending
West Ham have kept 13 clean sheets this season which is surprising for a team that was in a relegation battle until recently. However, they've conceded 3 goals on 9 occasions which is the highest in the league.
In their recent match against Norwich at home, Hughton's team sliced through their defence at times and should have been leading by at least 2 by the time West Ham took the lead late on in the game. At home they have conceded the 5th most most goals with Sunderland, Villa, Fulham and Cardiff only conceding more.
However, West Ham did put on the defensive performance of the season when they drew 0-0 at Stamford Bridge. In that game Chelsea recorded the highest number of shots on goal (39) without scoring.
Below shows just how deep Allardyce was willing to have his team sit in order to remain compact. After seeing how Sunderland performed at Anfield with 5 defenders and 2 holding midfielders, this approach may appeal to a manager that appears to take great personal delight should he 'out-think' one of the leagues top managers. However, employing such primitive tactics at home just after they have been booed for winning a game would be a bold move for a manager already under pressure from the fans over the style of play on display.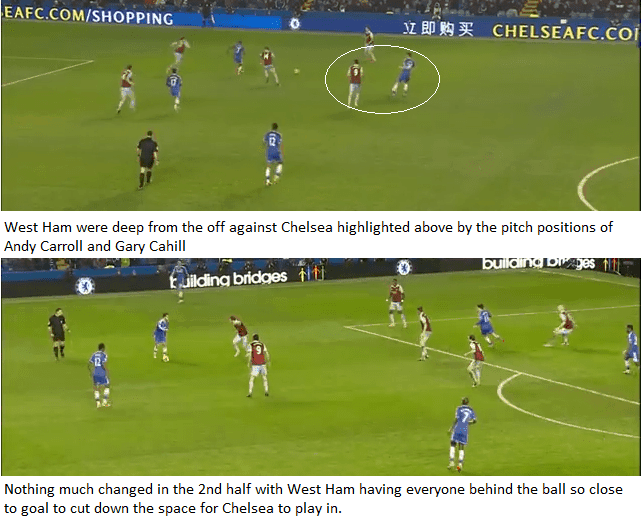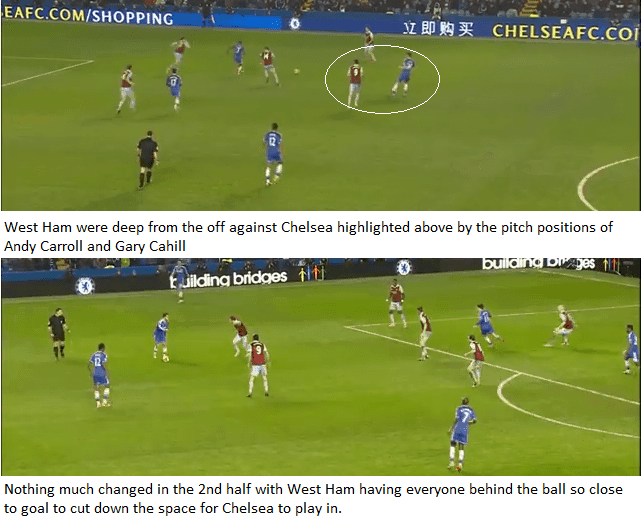 Could fatigue play a part?
The average age of the West Ham squad is 29, the oldest in the league. Apart from Tomkins, the rest of the back line is either 30 or over – Demel (32), McCartney (32) and Collins (30). In midfield, they also have Nolan (31) and Taylor (32). This may, in part, explain why West Ham have conceded the 3rd most amount of goals in the last 10 mins and are joint 4th lowest for scoring between 80-90mins. However, in the first 15 mins when energy levels are higher, they've only conceded 4 goals which is the 4th best in the league.
Perhaps fatigue could be an issue in this game with Liverpool looking to benefit with a very young and energetic team – the average age of the team that played Spurs was just 25.5yrs with most of the youth at the attacking end of the field (Henderson 23, Sterling 19, Coutinho 21, Sturridge 24, Suarez 27). In the last 10 mins of games, Liverpool have scored the 4th most goals with 12, whilst being joint best conceding just 5 in the last 10 mins. If this game is tight going into the final stages of the game, chances are that Liverpool would be the team to strike late on.
Conclusion
West Ham don't have a particularly fast attack which should make it easier for Liverpool to play higher up the pitch and really press the opposition when they have the ball at the back. West Ham don't need an excuse to play a longer game and I do not think they particularly have the players (or the support of their manager) to play out from the back especially if Liverpool hunt in packs like they have done this season.
If Liverpool can force West Ham into playing percentage balls up to Carroll, it puts more strain on the midfield to race up in support of the front man whilst also increasing our chances of regaining possession.
When West Ham do get possession though, I expect them to move the ball to their left and look for the diagonals that get Carroll and Diame up against Agger and Flanagan and if they are really adventurous, give licence to Demel who is also an imposing figure to get forward. From here, it will all be about the second ball and picking up the runners from midfield. If Liverpool can do that then they have the legs to really hurt West Ham on the counter attack.
Overall, I think Liverpool will dominate this game and cause West Ham lots of problems with intelligent movement and continually trying to drag defenders out of position. When attacks break down, Liverpool can afford to press really high up the pitch and try force West Ham into playing longer balls.
However, with this being West Ham's first home game since being booed in the Hull match, Liverpool should expect a reaction, with Downing and Carroll also having additional motivation one might suspect. On the whole though, Liverpool should be able to create enough chances to win the game against a side that has struggled at home against the better sides.
References: whoscored.com; squawka.com