Dan Holland reflects on not just Sunday's convincing win over Tottenham Hotspur, but back at weekend that changed Liverpool fans from dreamers to believers.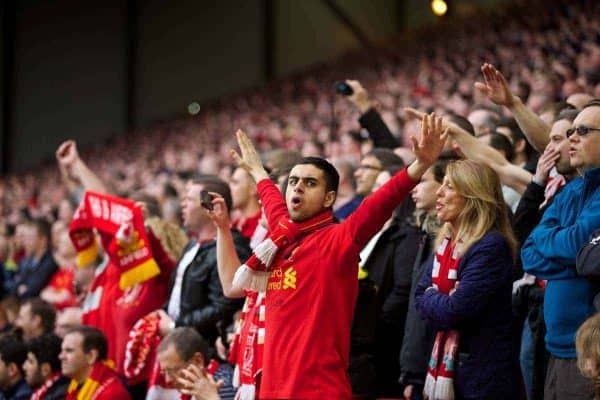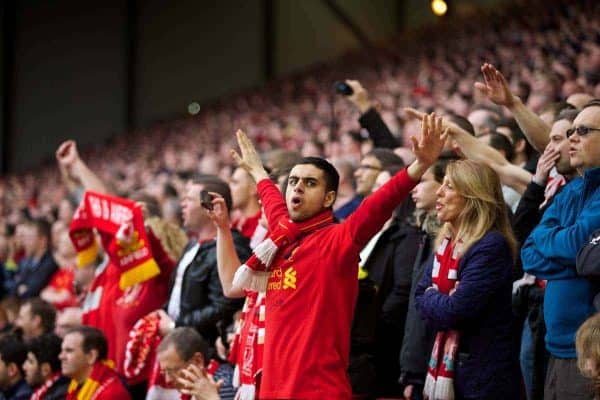 A View From The Paddock
Over the past couple of months we have seen Liverpool's aspirations for the season change from finishing 4th and facing a crucial Champions League qualifier to being right amongst the title race.
Going into this weekend after a nervy win over Sunderland we trailed Chelsea by a point — which would surely still be the case going into April as they were only playing Palace — and led Manchester City by only two points which would soon evaporate as they had two games in hand and played nearly 24 hours before us against an Arsenal side who struggle against top sides.
Couple this with the fact we were facing a wounded Spurs after the 5-0 mauling we handed out at the Lane.
It was quite conceivable therefore that the table on the last day of March would see Chelsea lead Man City by 1 point with Liverpool a further point or two behind as surely seven wins a row couldn't become eight.
Even the most optimistic fans amongst us would still only be dreaming of that 19th title rather than believing we could win it.
A truly incredible weekend then unfolded in front of us and I can only speak for myself but something clicked inside my head: "wait a minute, we're going to win this thing".
At around 10 minutes past four on Saturday afternoon, as Jeff Stelling informed us Mr Chelsea (John Terry) had given Palace the lead (his Ma obviously delighted), things became very serious.
Surely though the strength of Chelsea with over half an hour remaining would turn this round and I found myself praying that Tony Pulis' boys we had at least hold on for a point.
As the clock ticked down and chance after chance was missed (by Palace) my desire for two dropped points from the Blues turned into a realisation that they could lose and lose they did.
Chelsea still only led by a point and we have a game in hand against a suddenly easier Spurs side than I had imagined little over an hour ago.
We can be two points above Chelski with a win tomorrow so they're no longer the danger but City are the team to beat now surely.
I was in the kitchen preparing a meal for my Mum as an early Mother's day gesture ahead of my trip to Anfield on Mothers' Day. I switched on my laptop, tapped into my friend's Sky Go account and watched in hope more than expectation.
The best result for us would be a draw I thought, that way Arsenal will be too far behind and the title is then in our hands as a win over City would see us one point clear assuming both teams won all their games.
If not a draw then an Arsenal win but that just isn't going to happen – the Gunners are too fragile at the moment. A City win will see us needing favours off others and one look at the fixture list didn't leave me with much hope.
So the game kicked off and an early David Silva goal seemed to put pay to any hope of a slip up here as their dominance over Arsenal was significant.
Half-time arrived and City were one up. Then a different Arsenal came out for the second half and within eight minutes they were level.
Pork Steaks in, butternut Squash prepared, glass of red wine poured and I sat back and watched suddenly there was a chance.
I couldn't sit still for long and found myself prowling round my kitchen and watching the clock tick round to 90 minutes.
The ideal result, a draw – excitement levels and increased tenfold. Could I be seven matches away from witnessing my beloved team win their first title since I have been attending Anfield on a regular basis (some 16 years)!
Sunday arrived and it was now over to our exciting free flowing team led by the master tactician. Breakfast in bed was served to the Mrs on behalf of my two young boys and off I go to Anfield.
Once on the bus I found a mixture of emotions from fellow Reds.
Some were still very cautious — "surely 14 wins in a row is too much of an ask", some were convinced it was our year and others like me believed we will do it but realised there is still a lot to do starting today.
Having said that my mate Andy Crane said on the bus, "I'm not coming home you know [after the Newcastle game], if we win it".
"Neither am I", I said. "Let's get a hotel sorted just in case. We can always cancel it if things don't work out."
Hotel booked at £25 for two but no breakfast. Can't imagine it being the Hilton!
Right Redmen over to you. As kick-off approached excitement made way for nerves. One look over my shoulder saw figures of past greatness, Ian St John, Ian Rush, Kenny Dalglish and Alan Hansen.
Then in front of me were a squad of players who have the opportunity to write themselves into Anfield folklore.
Anfield was buzzing today. You have to have a fairly long memory to recall You'll Never Walk Alone being sung with as much gusto.
The Kop were superb throughout with all sides of the ground singing in unison in large parts was another suggestion to me that the crowd are now really believing.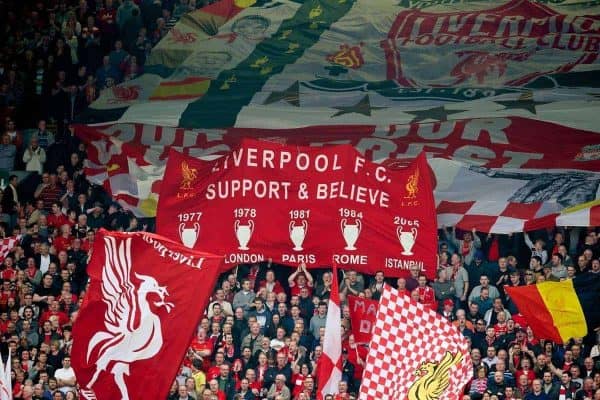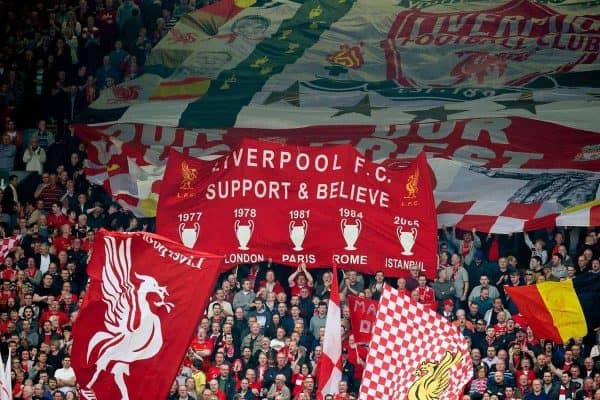 The nerves thankfully didn't last for long. Less than two minutes on the clock and Phil Coutinho plays a superb diagonal ball into Raheem Sterlings feet (both of whom were immense today). Raheem slipped the ball to Johnno who picked out Younes Kaboul perfectly for him to put us one up.
Spurs couldn't get close to us in the first ten minutes but they aren't the first to suffer that fate at Anfield and hopefully three more sides will find that before the end of this season.
Just over halfway through the half saw Michael Dawson replace Jan Vertonghen and the substitute didn't take long to get an assist!
His wayward pass to Kaboul was typically seized on by the relentless Suarez, who shrugged off the Spurs centre half with relative ease before arrowing a ball across Hugo Lloris into the Spurs net. 2-0 up and cruising.
Only a superb save by the aforementioned French goalkeeper stopped Luis putting us three nil up and him getting his 30th of the season.
Half-time arrived with Simon Mignolet only having one meaningful save to make. Daniel Agger and Martin Skrtel looked as solid as a rock at the back albeit against the much maligned Roberto Soldado.
Jordan Henderson and Steven Gerrard were running the show in midfield. Coutinho and Sterling were causing all kinds of problems going forward. Spurs would surely hope to regroup and get an early goal in the 2nd half but that wasn't too be.
Liverpool started the half in a similar vein to the way they started the first.
The otherwise impressive Henderson should have scored when being presented with a simple chance by the effervescent Sterling.
We didn't have to wait too long for that third goal though as the Scouse Cafu produced some magic in his own half before feeding Coutinho who carried the ball before driving a perfectly placed shot in the bottom corner of the net.
The convincing victory was rounded off by a Henderson free kick which eluded everyone before nestling in the Spurs net.
A thoroughly entertaining, convincing and deserved win saw us sit two points clear at the top with only six wins needed.
Easy when you say it quickly but in all seriousness, with the momentum and belief that we currently have it will take a huge change in form and fortune to stop Brendan Rodgers leading us to an unexpected 19th title.
Bring on the Hammers!