Throughout this week, Marco Lopes uses the success of Liverpool's 2013/14 campaign to dispel seven different myths and claims about the club, players, manager and owners.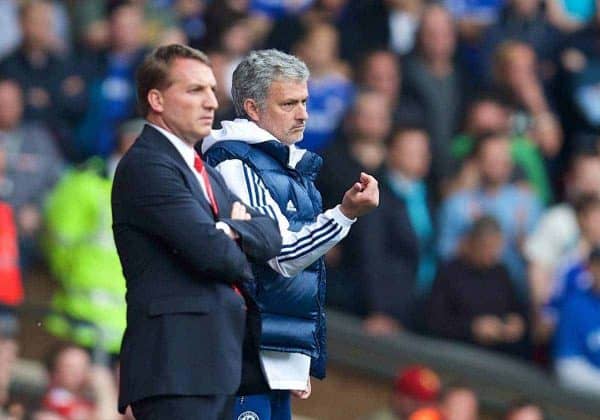 6. Brendan Rodgers is tactically inflexible, and tactically naïve
When Brendan Rodgers first arrived at the club, he came with baggage. The kind that made some curious and excited, while others weren't going to be convinced by his nonsensical footballing vitriol.
A 180 page tactical manifesto? More like a resume on overkill. Tiki Taka? Yeah, it may have won Spaniard's trophies, but it "lacks a plan B". Then there's Brendan's (obviously deliberate) hubristic portrayal of himself in "Being: Liverpool". Many called for FSG's heads in appointing him.  After all – what had he won?
But Rodgers' results now speak loudest.  Dislike his footballing style all you want. Pour venom over the anecdotes of "death by football" and "Anfield being the longest 90 minutes of an opponent's life".
The reality is this – Liverpool have just completed arguably their best Premier League campaign. With the manager easily the "junior" of nearly all the men managing before him since Kenny's title winning spell in 1989-90.
The great results are numerous and all equally astounding in their respective measure.  99 goals, itself a Premier League high for Liverpool.  10 wins and 23 points more than last season.  An 11 game winning run.  A shift from 7th to 2nd.  Champions League football – directly into the group stages. 
Finishing 2nd despite having the 5th highest wage bill (a common measure of squad quality). Finishing 2nd to the highest wage bill in sport.
How has he done it?  It's an inquisitive notion, because many will suggest it comes down to his "pragmatic" decisions to adjust the team's tactical shape from the "naïve" attempt to implement tiki taka immediately in his early months.  Yet there's an irony in this.  Rodgers' Liverpool are still using much of the style he likes.  It's true that he's adjusted aspects of the tactical approach to tailor more seamlessly to the players available.
However, the adaptions have concentrated on Liverpool's true current strength – speed of attacking transition.  The team's ability to turn any possession win situation into an attacking opportunity of significance from any position on the field quickly is what makes them dangerous. It's also why the team is often used confused for being a counter attacking team, even though, by strict definition, only 9 of their goals this season were scored on the counter.
The reason they're not a "classic" counter attacking team is because of the way they press the ball high up the pitch as opposed to sitting very deep.  Think about the most dominant Liverpool performances (5-1 vs Arsenal, 4-0 vs Everton, 5-0 vs Spurs, etc) and the common thread is the team's ability to pressure opponents in their own half, causing possession wins or forced errors (illustrated well by the tackling numbers of the Liverpool forward line). 
Because these changes in possession happen close to the opponent's goal, they lead to quick and often dangerous opportunities where the opponent doesn't have time to recover defensive shape.
It's about game control, and even though it poses risks in itself (read Gerrard's slip vs. Chelsea), it's clearly a viable tactical approach over the 38 game season, where the majority of opponents are going to sit deep and hope for their parked buses to drive them over the final whistle intact.  As for the opponents who press high against Liverpool… well, for the majority of them, as Gerrard said… "all the best".
The plan "B", as many extrapolate, is not to have a large lump of a ponytail in the six yard area that you hope to land a cross onto.  It is changes in system (Rodgers showed flexibility here with 3-5-2, 4-4-2 Diamond, and 4-3-3), changes in tempo (Liverpool's tended to start matches like a vicious hurricane beating opponents senseless) and changes in personnel qualities (the use of Sterling in the front 3 to occupy defenders, allowing a target for dangerous passes from behind by Gerrard or Coutinho, or constant switching of position by the "SSS" further forward).
It's not to say Rodgers hasn't still displayed naiveté, of course.  There are clear examples. 4 centre backs vs Southampton. A few matches too long in pursuing success with the immobile double pivot midfield of Lucas and Gerrard. The failure to send Daniel Agger on when the score was 3-1 against Crystal Palace. 
The Liverpool defence in general, which accumulated a disappointing Premier League high of 50 goals conceded.  But these are some of few issues that need ironing out, and if there's one thing Rodgers has shown, it's that he has both the appetite – and the capacity – to learn and improve.