Following Liverpool's miserable 3-3 draw away to Crystal Palace on Monday night, Jack Lusby provides an in-depth analysis of the performance of Steven Gerrard at Selhurst Park.

Emerging from the Selhurst Park tunnel unshaven and sullen, the disappointment of a costly slip against Chelsea the previous weekend could still be seen etched on the face of Liverpool's Steven Gerrard.
Whilst the result turned out far from what the Anfield faithful were hoping for, the performance of Gerrard went some way to make amends for the personal torment of this error.
Throughout proceedings it was clear that the 33-year-old midfielder was more determined then ever to cast his influence over Liverpool's fleeting title hopes, and whilst he was seen consoling a sobbing Luis Suarez on the final whistle, it is likely that this result would have cut the Englishman much deeper than any other player in Brendan Rodgers' ranks on Monday night.
Defensive Determination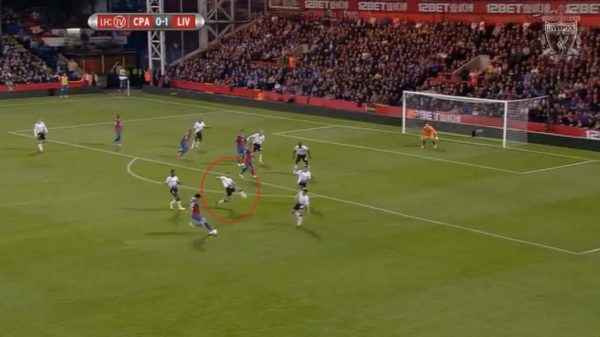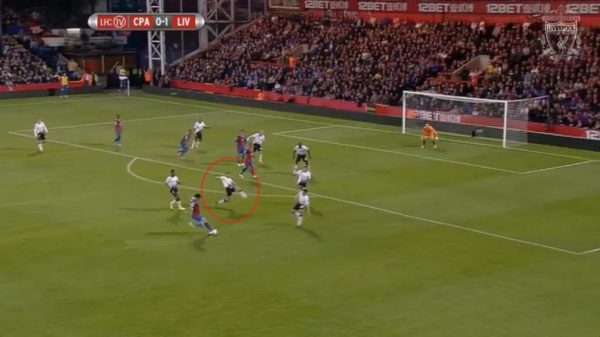 This determination could be seen throughout Gerrard's performance, particularly with his contribution in his defensive duties as the least advanced midfielder.
The image above shows Gerrard's (circled) attempted block on Mile Jedinak—a shot which eventually forced a fine save from Simon Mignolet.
Despite being 10 yards away from the Australian international as he wound up the strike, Gerrard exhibited his furious determination by showing up his teammates—Raheem Sterling, Joe Allen and Jon Flanagan—and flinging himself in the way of the ball.
This was not the only occasion where Liverpool's captain took matters into his own hands to compensate for a probing Palace side, as seen in the eighth minute as he made a crucial slide tackle to deny Adrian Mariappa an opening on the byline.
According to Squawka, on the whole Gerrard had an impressive game defensively, winning three of four tackles attempted and six of 10 headed duels.

The Hollywood Ball
One of the main attributes of Gerrard's game, throughout his career, is his prowess when it comes to long range passing, and against Crystal Palace this was again effective.
Against Crystal Palace—and again, as per Squawka—Gerrard boasted a 77 percent accuracy (10/13) when it came to long passes, and an average pass length of 23 metres—the largest of any outfield starter last night.
This is a facet of Gerrard's game that Rodgers is happy to utilise now that the 33-year-old is deployed in a less-advanced position, and one that came off to great effect throughout the game at Selhurst Park, as can be seen with his assist for Daniel Sturridge's goal on 53 minutes.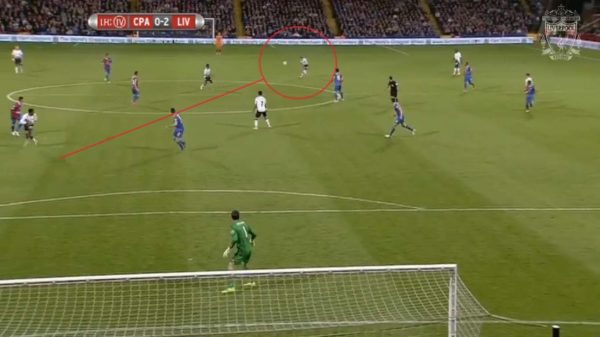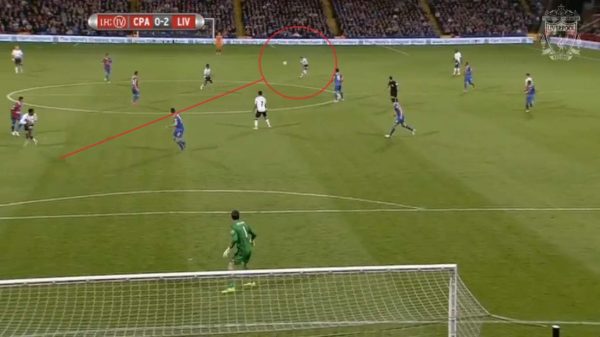 As seen in the image above, Gerrard's exceptional passing qualities from long range were utilised to open up a usually solid Palace defence, aided by the pace and movement of forwards Sturridge, Luis Suarez and Raheem Sterling.
Having already left his marker, the accuracy of Gerrard's pass allowed Sturridge the time to touch the ball down and cut inside onto his favoured left foot before any attention could be afforded to him by Palace's defenders.
This accuracy was also seen as he provided the assist for Joe Allen's headed goal, a finely curled corner which defied the typical set-piece prowess of a Tony Pulis side:
@guardian_sport @bglendenning @guardian palace's first goal conceded from set-pieces since Pulis became manager!

— Benjamin (@FootyPunditBen) May 5, 2014
The Capitulation
Unfortunately, the result didn't manifest itself for Rodgers' men quite as well as they'd have hoped, and Liverpool eventually shipped three goals, dropping two points in the process.
Following the result, Liverpool icon and Sky Sports pundit Jamie Carragher tore into the Reds' defence in his analysis of the game for Monday Night Football:
"[Mamadou] Sakho and [Martin] Skrtel don't communicate enough and they're not pushing out. They're good players, but they're not leaders. They need people out there pushing people out. You can't keep dropping back against these teams, inviting pressure and think you'll get away with it."
It can be argued that, in his new position between the two central defenders, Gerrard should have provided these leadership qualities, and at times he could be seen as culpable for Liverpool's defensive frailties; however, more often than not the blame could be placed at the feet of Liverpool's established defenders.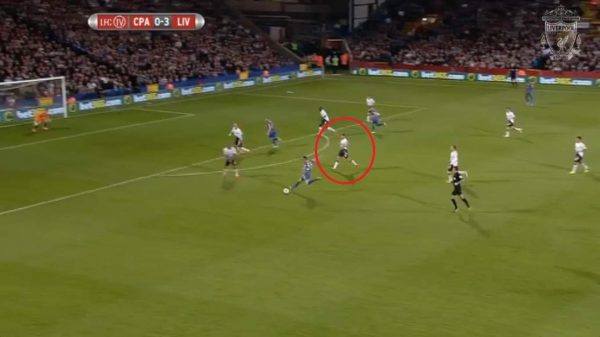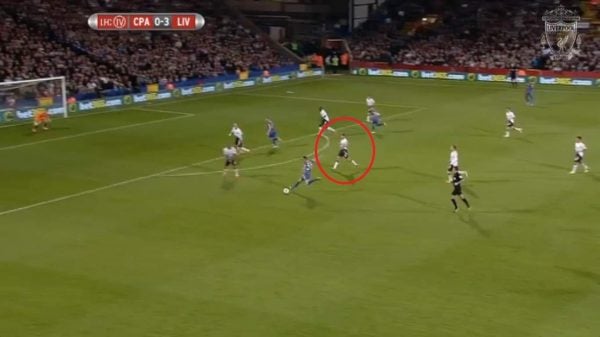 For the first goal Gerrard can hardly be described as at fault for Damien Delaney's shock deflected effort on 78 minutes, if anything Glen Johnson could have closed the centre-back down quicker to block any chance of a shot.
This was initially seen as a mere consolation goal for Pulis' side, and this may have contributed to the complacency that could be seen with Dwight Gayle's late brace.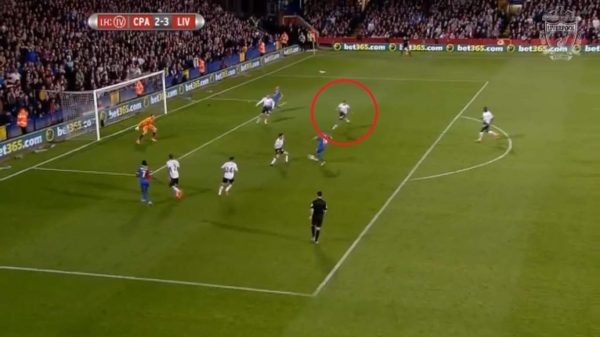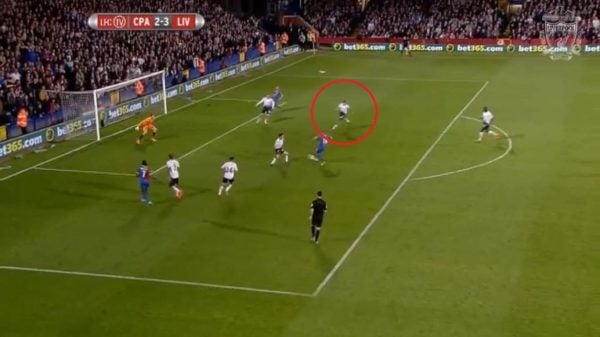 Carragher continued in his analysis that, in their want to narrow Manchester City's goal difference margin, "Liverpool were throwing men forward and people were staying up front and maybe weren't coming back"; with Gayle's first Gerrard can definitely be seen as one of these guilty parties.
With Yannick Bolasie leaving Johnson trailing in his wake with a lightning-fast counter attack, Rodgers' charges struggled to make ground on a rampaging Palace.
Gerrard, abandoning his defensive duties in order to focus on Julian Speroni's goal, made the 18-yard box way too late to influence proceedings; however, the blame is somewhat absolved by a dismal effort by Sakho to make it back in time.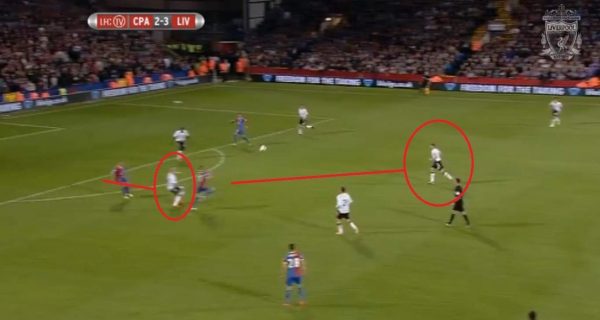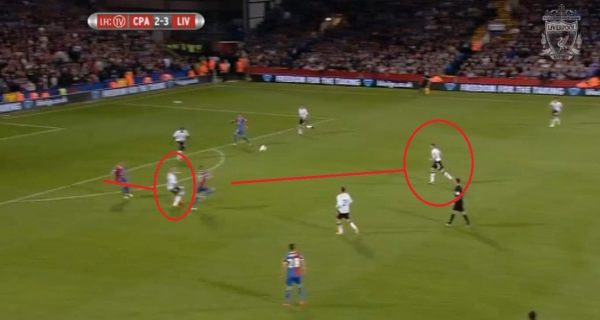 For Palace's third goal, and Gayle's second, however, Gerrard can be seen as positionally at fault.
Carragher's main criticism was the deep-lying nature of Liverpool's back-four as pressure was applied in the closing stages, and this is a valid point.
However, in this one instance, with Skrtel making a last resort push forward in an attempt to win a headed duel with Palace's Glenn Murray, the space for Gayle to receive the resulting knock-on is created in abundance.
Deployed as a defensive midfielder, Gerrard should be in that position contending with Murray, and Skrtel should have been left to fend off the energetic Gayle—unfortunately the 33-year-old was once again too high up on the pitch to be able to assist his defensive partners.
Overall Analysis
On the whole, whilst he could be seen as culpable for both of Gayle's goals in some way, Gerrard's performance against Crystal Palace was one of the highlights on a miserable Monday night.
Contributing with aplomb on both ends of the pitch, the determination of a title-hopeful could be seen clearly in this display, and as with the Chelsea game the previous weekend it could be argued that Gerrard just tried to do too much, and he was punished in the closing stages.
Overall performance rating: 7 out of 10.
Do you agree with Jack's analysis? Let us know in the comments below.