With England set to play Italy on Saturday in their World Cup opener, Jack Lusby writes how Liverpool's Jordan Henderson can play a starring role.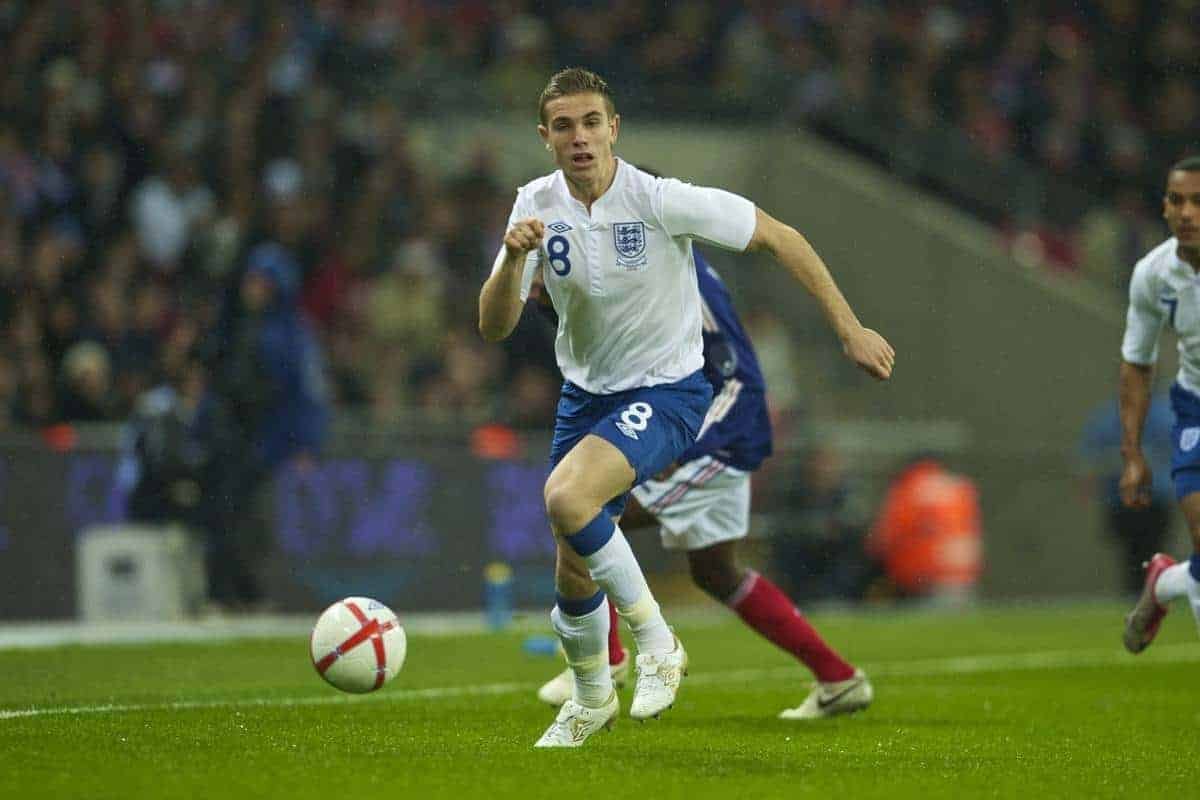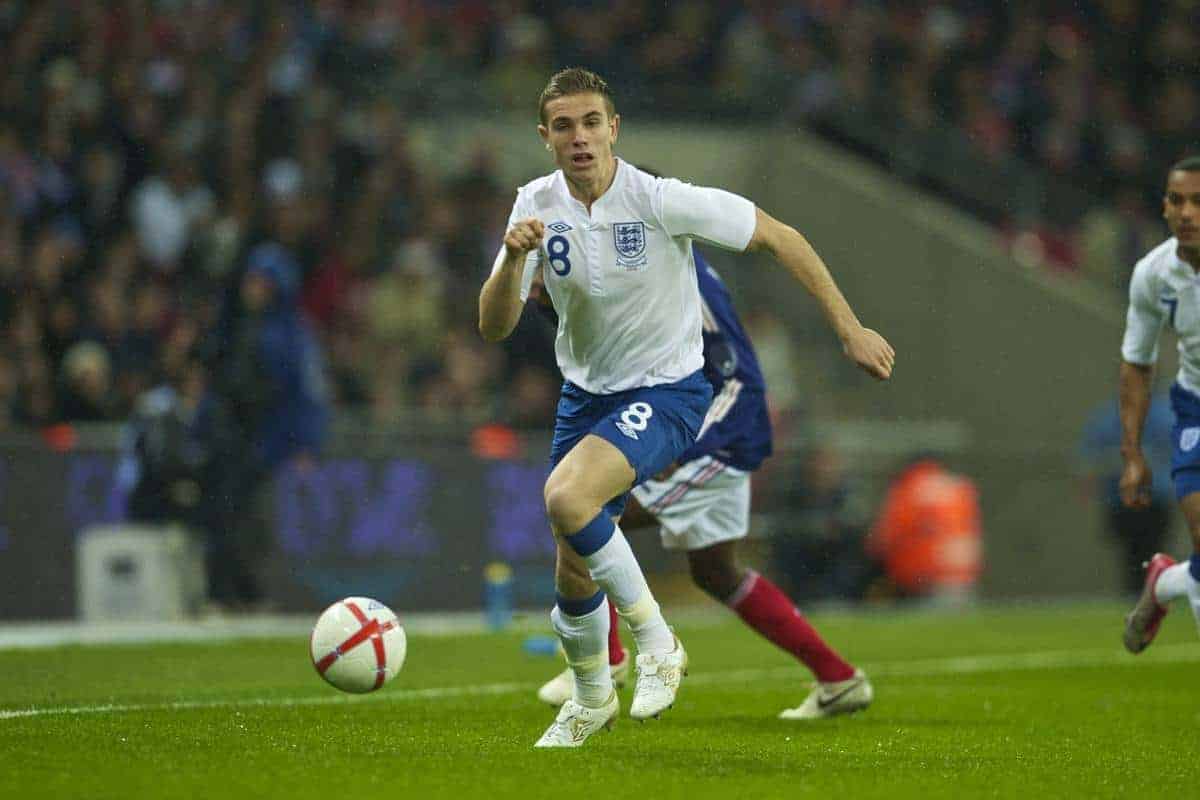 Three years ago this week, then-Liverpool manager Kenny Dalglish sanctioned a reported near-£20 million fee for Sunderland midfielder Jordan Henderson in the first of a series of costly moves for the club as FSG began their ownership.
Three years ago today, #LFC completed the signing of Jordan Henderson from Sunderland… pic.twitter.com/wLGNIk8S2R

— Liverpool FC (@LFC) June 9, 2014
An inflated fee at the time—soon to be joined by those of Stewart Downing and Andy Carroll—Henderson soon became a maligned figure on Merseyside; often played out of position by the Scot, the midfielder failed to impose himself significantly.
However, flash forward those three years, and Henderson has become a key figure for the Reds, and is beginning to impress in much the same way for Roy Hodgson's England side.
This is the best I've seen Jordan Henderson play for England. He should definitely start against Italy.

— Matt Law (@Matt_Law_DT) June 7, 2014
The Daily Telegraph's Matt Law was full of praise for the 23-year-old following a dominant performance in the Three Lions' 0-0 draw with Honduras in their final World Cup warm-up friendly in Miami.
Starting alongside club teammate Steven Gerrard in the centre of midfield, Henderson's energetic verve proved vital in the humid Floridian air, and the former Mackem's tenacity proved crucial in a heated encounter.
Set to start against Italy in Manaus on Saturday night, Henderson can prove himself an integral player for England at the World Cup for many reasons.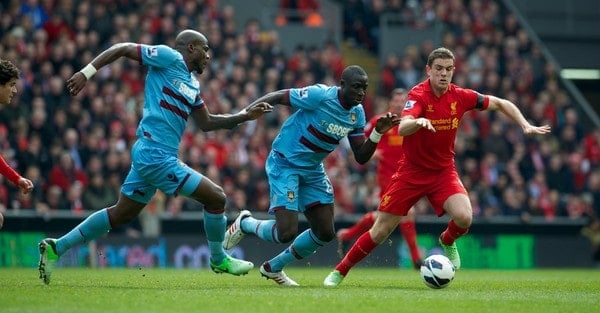 Energy
Firstly, a hallmark of Henderson's game is an unrelenting work rate, underlined by an unfaltering energy; even in the heat of Miami, Henderson was able to impose this on proceedings.
In particular, a recovery run, at 1:23 of the video above, shows how crucial this may be as England begin to get stretched in their World Cup encounters.
Making a 40-yard sprint back to the centre-circle to retrieve the ball, the 23-year-old thwarted what could have been a dangerous attack against a leggy England team.
Hodgson himself believes this will be vital component of his side's game.
RH: Jordan Henderson's energy, desire to get round field, to get tackles in, is something we'll find a lot of use for http://t.co/NpIxYgCYlJ

— England (@England) June 9, 2014
Deployed more closely alongside Gerrard than at club level, this suggests that—whilst a link between defence and attack will be required—Henderson will be tasked with pressing the opposition even more so than under Brendan Rodgers at Liverpool.
Former Reds midfielder John Barnes agreed with Hodgson as to the importance of Henderson to England at the World Cup, as per the Liverpool Echo:
"I think he has [justified his inclusion]. He is one who can work hard, defend and he's strong. That's what Roy likes. Will he be able to play the same way for England [as at Liverpool]? We don't know. But with his energy, I think he could be very important in Brazil."
It can be argued that Henderson is in direct competition with Arsenal midfielder Jack Wilshere for the starting role alongside Gerrard.
Statistics, courtesy of Sky Sports, show that the Reds' midfielder is much more effective in terms of energy.
https://twitter.com/Anfieldlnsider/status/476109715026751488
Hugely important at the World Cup will be Henderson's ability to cover the ground quickly and with consistency, a trait that Wilshere's game seemingly lacks.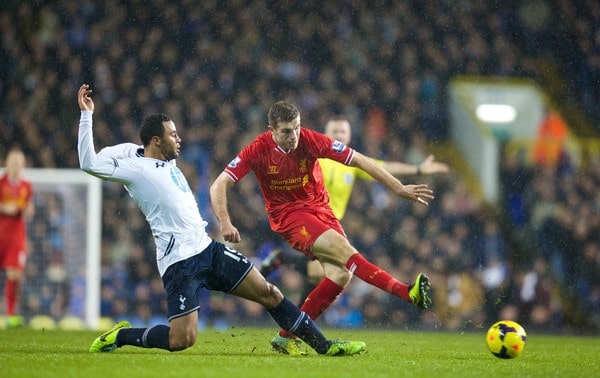 Passing
A greatly underrated facet of Henderson's game—one which has developed considerably of late—is his ability to pass the ball.
For the Reds in 2013/14, the 23-year-old boasted an 87 percent passing accuracy, according to Squawka.
This places Henderson behind only Lucas Leiva, and on par with Joe Allen, in terms of Liverpool's midfielders; Gerrard found a Liverpool teammate with the ball 86 percent of the time.
This is an ability that Henderson has used throughout England's World Cup preparations, as he is tasked with linking the Three Lions' defence with the attack.
In the 3-0 victory over Peru in May, Henderson was particularly effective in the pass.
104 – Jordan Henderson completed 104 of his 114 passes (91.2%) versus Peru last night, 40 more than any other player. Controlled.

— OptaJoe (@OptaJoe) May 31, 2014
Furthermore, this is something that the midfielder continued against Honduras.
41 – Jordan Henderson made more passes than any other player in the first half of England's game vs Honduras. Radar.

— OptaJoe (@OptaJoe) June 7, 2014
The continuation of this passing quality, paired with such an energy, in a marked increase in heat between that of London against Peru and Miami against Honduras should prove that Henderson is the man to start for England in this role.
PHOTO: @England and @LFC midfielder Jordan Henderson in training @StGeorgesPark #3lions pic.twitter.com/tvux9pZ8Va

— England (@England) May 28, 2014
Partnership with Gerrard
As mentioned previously, Henderson should start alongside Gerrard in the centre of midfield for England.
It is in the continuation of this partnership that should prove the former Sunderland man an integral player for England at the World Cup.
The pair only missed seven games between them in the Premier League last season, and their combination in the heart of the midfield proved pivotal in the Reds' title charge.
All signs point to Gerrard taking up his newly-developed regista role for Hodgson's side at the World Cup, dictating play from deep with an exceptional passing range.
For Liverpool, Henderson's energy is required for this situation to flourish, as the 34-year-old captain is no longer so effective at harrying opponents and winning the ball back.
As per LiverpoolFC.com, Henderson told Sky Sports that he is eager for his partnership with Gerrard to continue for England:
"Since I've been at Liverpool, Stevie has helped me a lot personally – on the field you pick up little things, training with him every week has really been a help to me."
"We've got to keep that relationship going as long as possible and hopefully bring it to England. Me and Stevie have played through the season together and it's worked really well at times."
There should be no surprise, then, that Henderson's club and country captain feels the same way, as their partnership has been so dominant at Anfield.
SG: Everyone has seen Jordan Henderson's quality. I've seen he's improved his whole game. It wouldn't surprise me if he had a big impact.

— England (@England) May 29, 2014
When Wilshere has started for England alongside Gerrard, their combination has at times been effective, but not to such an extent.
Gerrard and Henderson's combined experience should start against Italy on Saturday night.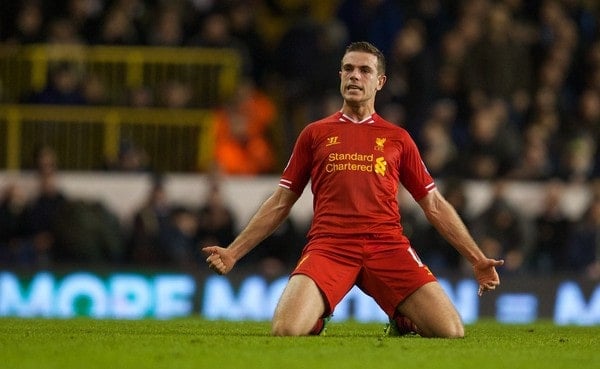 Experience
Whilst Henderson is still only 23 years old, his transformation under Rodgers at Liverpool has exuded a confidence and maturity beyond his young age.
This can also be said of the midfielder on the international stage.
Henderson has experience beyond his years that will be vital as England look to advance towards the knockout stages of the World Cup.
Speaking to TheFA.com, Henderson believes his experience of captaining the country's Under-21's side at the 2013 European Championships, and with the senior squad a year prior at Euro 2012, will stand him in good stead for the future.
"I learned a lot in both. Being at the Euros with the senior team and being around and involved with them, coming on and playing some part, I did learn from that experience. And being captain of the Under-21s and in a big tournament I learned a lot from that too. There's no dressing it up, we didn't do as well as we should have done."
Much like in Poland and Ukraine in 2012, and Israel in 2013, England's journey at Brazil this summer will likely be a rocky one, and Henderson can mine from this experience throughout.
Individually, the midfielder has develop significantly between then and now, and his shift in importance to Liverpool underlines this.
https://twitter.com/FASfootball/status/471361463157002240
A hugely important player for his club, Henderson will be looking to translate this onto the international stage and become an integral player for England at the World Cup.
If the Three Lions shine, it will likely be due to the efforts of the 23-year-old.
Do you agree that Jordan Henderson can be a key player for England this summer? Let us know in the comments below.