Following tentative reports this week linking Barcelona's Cesc Fabregas with a move to Anfield, Jack Lusby explains why this would be the wrong move for Liverpool.

With the reports this week that Barcelona midfielder Cesc Fabregas was available for a fee of around £30 million, naturally one of the clubs instantly linked with the Spaniard were Brendan Rodgers' Liverpool.
First off, that shows just how different life being back in the Champions League is. A year ago we'd never have been linked with a signing of this type.
The Independent claimed on Sunday that the Reds were "leading the race" for the 27-year-old.
This speculation, and anticipation, has heightened as Liverpool legend Robbie Fowler told TalkSport of his admiration for the player, saying "Fabregas is a player I've always liked. When those kind of players become available you always want to sign them."
Most importantly, the former Reds striker continued "Fabregas is a world recognised player and he would suit the Liverpool system."
While it is undoubted that Fabregas is a world-class player, it is debatable whether he would genuinely suit Rodgers' system at Liverpool, and paying £30 million, plus huge wages, for the Spain international at this juncture would be the wrong signing for the Reds.
Strengths
Assessing the strengths of Fabregas' game unearths a vast array of talents, most namely his passing range and creative abilities.
According to Squawka, Fabregas had an 87 percent passing accuracy in the 2013/14 La Liga season, making 78 passes per 90 minutes.
The only Liverpool midfielder to have a more successful passing accuracy was Brazilian defensive midfielder Lucas Leiva, and his abilities on the ball were generally limited to short passes between himself and the defence.
For Fabregas to have such an impressive success rate in the pass, and be able to pair this with an exceptional creative ability, is a remarkable defining trait for the Spaniard.
Again as per Squawka, the 27-year-old created 58 chances for his Barcelona teammates last season, including 13 assists.
Translate this to the Premier League – in Fabregas' time at Arsenal — and it makes for even more impressive reading.
Cesc Fabregas 2nd in minutes per assist in Premier league history just behind Dennis Bergkamp #ComebacktoArsenalCesc pic.twitter.com/55IFk6tE7o

— ? CÖME ÖN ARSENAL ? (@davidhickman14) May 31, 2014
However this, and Fabregas' statistics at Barcelona, were generally from a deep-lying position nearer to that of Steven Gerrard last season, and in 2013/14 Gerrard made the same amount of goals, but with an extra nine chances made.
It would be hard to imagine Fabregas dislodging the first-team place of Gerrard just yet—the 34-year-old is set to sign a new contract in the fullness of time and played a significant part of the Reds' successful 2013/14.
This would leave the Spaniard vying for a first-team spot further up the field, and this is where his weaknesses are uncovered.
Weaknesses
Signing Fabregas, and negotiating around the integral nature of Gerrard to Rodgers' system at this moment in time, would leave the Spaniard vying for a starting spot with Jordan Henderson, Joe Allen and Philippe Coutinho.
The former, set to start alongside Gerrard at the World Cup for England, embodies the system that Rodgers has implemented at Liverpool: able to contribute to the attack, whilst ever-willing to win back the ball when on the back-foot.
The latter have morphed their games over the past two seasons to fit in with this system, and it is mainly in their defensive work that they outshine Fabregas, exposing his flaws.
Last season in La Liga, as per WhoScored.com, the 27-year-old made on average 1.3 tackles, 0.4 interceptions and committed 1.2 fouls per game.
Each suggests that Fabregas has a lot to work on when it comes to this facet of his game.
These defensive statistics pale in comparison to Rodgers' current midfield charges, as shown with further data via WhoScored:



At 27 years old, it may be too late for Fabregas to tailor his game to Rodgers' system as a more advanced midfielder, and in this high-intensity squad there is no room for what could be deemed a 'luxury' player.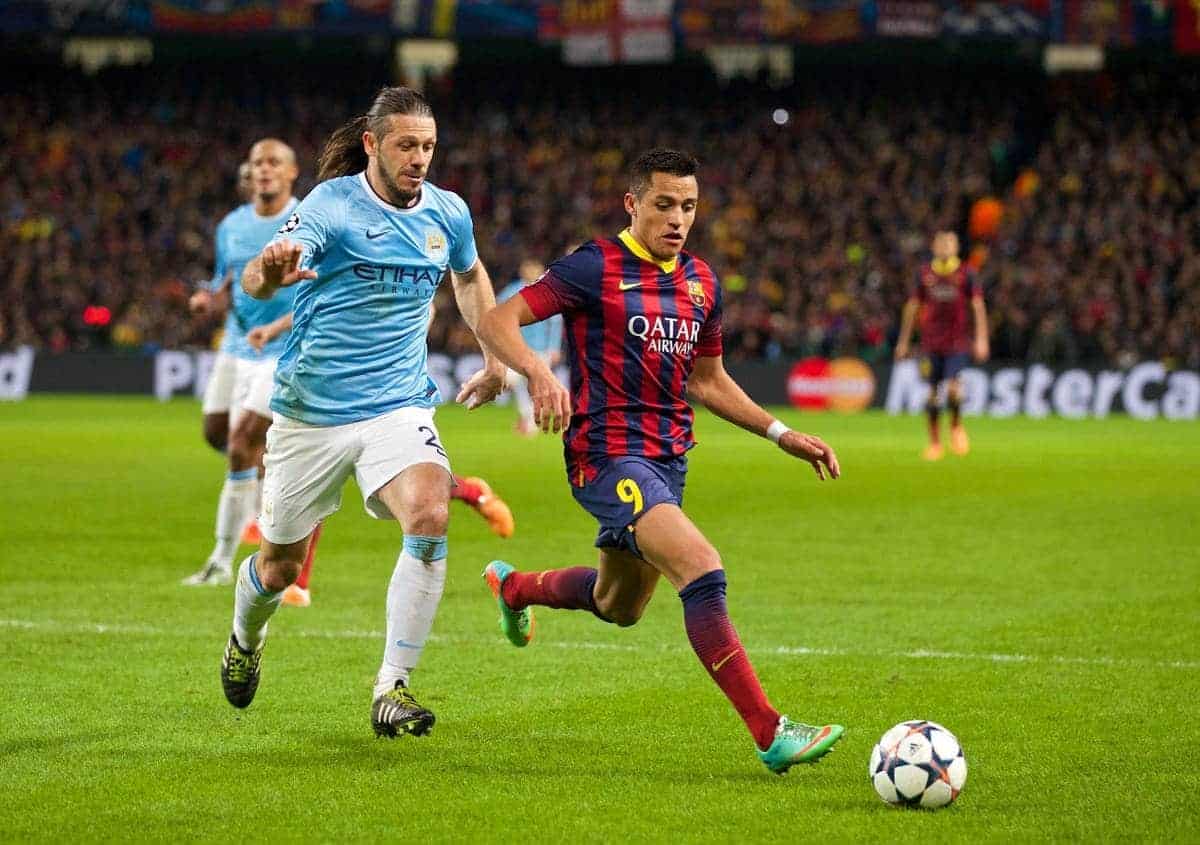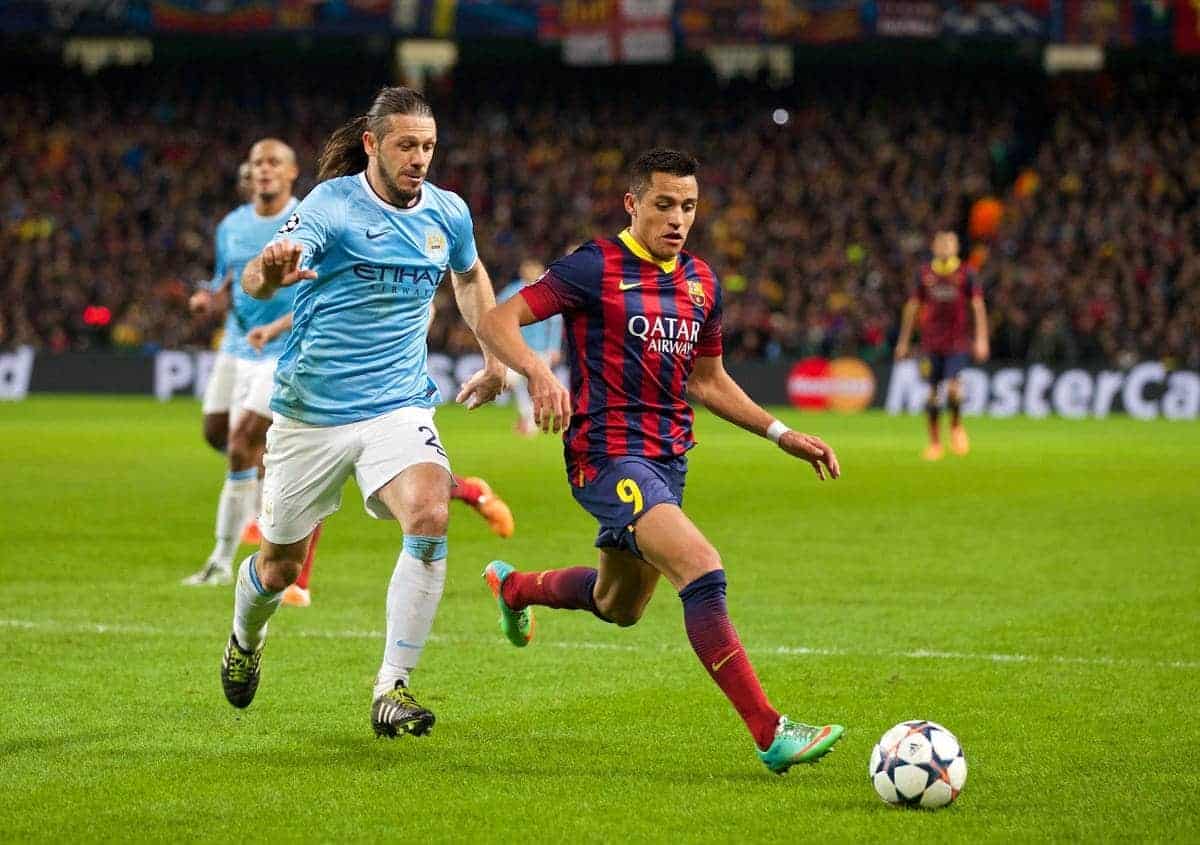 Other Targets
When assessing the Reds' other reported targets, the signing of Fabregas makes even less sense; the other options currently conceivably available to Rodgers would suit his system more adeptly.
Along with central midfield, Fabregas has been utilised as a forward, generally in the 'false nine' role, for Barcelona at times this season; and in this role he has been competing with Liverpool target Alexis Sanchez.
As per WhoScored, the Spaniard scored three goals from 10 appearances as a striker last season, less than when deployed in midfield, where he managed five goals.
GOAL!!! Alexis #Sanchez' amazing near post bullet gives Barca a 1-0 lead vs #Atleti https://t.co/o6C1cygw42

— Eat My Goal.tv (@eatmygoaltv) May 17, 2014
Chilean forward Sanchez, linked with Liverpool by the Daily Mirror, scored 19 goals in 34 league appearances in 2013/14, and would provide Rodgers with a more versatile and effective forward option than that of Fabregas.
With Rodgers likely to opt for a flourishing Coutinho as his less-advanced creative option in the midfield three, other targets such as Xherdan Shaqiri of Bayern Munich and Adam Lallana of Southampton look to be the Northern Irishman's priority as more direct attackers.
Swiss winger Shaqiri (Guardian) and England international Lallana (BBC Sport) are more explosive forwards more attuned to Rodgers' system of running at full-backs and creating space.
Shaqiri boasts a 63 percent take on success rate from last season, as per Squawka, whilst Lallana beat his man 56 percent of the time; both dwarf that of Fabregas' 42 percent.
Furthermore, WhoScored shows Fabregas as having made only 0.7 dribbles per game, compared to Shaqiri and Lallana's 1.8 apiece.
Both would present Rodgers with a more suitable attacking option, leaving Fabregas lacking a place in the Reds' manager's prospective starting XI.
Verdict
With these factors in mind, it is hard to rationalise a move for Fabregas this summer, particularly when the 27-year-old's value is considered.
At £30 million, the Spaniard would take up a large proportion of any 'war chest' that Rodgers has at his disposal this summer.
This price, Fabregas' age and his reputation would surely demand a key position in Rodgers' squad, but it is hard to find—with his particular attributes—the right fit for him at this moment in time.
[poll id="199″]
Fabregas would make sense as a prospective replacement for a retiring Gerrard perhaps, but that would be in the next few seasons as opposed to this summer.
The other targets that are currently linked with a move to the club are far better suited to Rodgers' system, and would likely cost less in terms of both wages and transfer fee.
He may be chosen by 'God', but he isn't the right fit for Liverpool.
Do you think Liverpool should sign Cesc Fabregas? Let us know in the comments below.