With £75 million to spend from the sale of Luis Suarez, Liverpool may be linked with 'big name' signings, but is it really what they need?

It seems only a matter of time and mere formalities before Liverpool and Luis Suarez part ways, bringing down the curtain upon one of the most fascinating, controversial and memorable relationships between a club and player in recent years.
Around £75 million is expected to be hitting the Reds' bank account as a result of the Catalan club securing the services of the Uruguayan hitman. And so with it, the rebuilding begins.
Depth
It was no secret that the Reds seriously needed to flesh out their squad for the coming campaign, particularly with the return of the Champions League on the horizon. Nevertheless, the departure of Suárez somewhat signals a change in priority.
Whilst Daniel Sturridge evidenced adequately last season that he is more of capable of finding the goal in Suarez's absence, the Birmingham-born striker and new acquisition Rickie Lambert alone will not be sufficient if the Reds are to seriously impose themselves upon the domestic and Champions League campaigns.
The potentially imminent signings of Belgian youngster Divock Origi and exciting Serbian Lazar Markovic show clear intent from Rodgers and co to quickly and efficiently reinforce the Liverpool front-line, however grumblings of unrest from some Reds fans have emerged, calling for bigger, internationally-established names to be arriving at Anfield.
Big names?
Marred by the summer-long flirtation with world-class Chilean winger Alexis Sanchez, who now appears to have opted for a move to Arsenal rather than stand as a mere transactional detail in the Suárez saga, many fans would be excused for being a little irate at the lack of instantly recognisable talent being linked with a move to Merseyside.
Nevertheless, one important thing to remember is Brendan Rodgers' renowned mantra for pursuing players who fit his philosophy and the project he has in mind.
Rather than snap at the enticing allure of one of world football's biggest stars becoming available, Rodgers' assessment of whether the individual will be compatible with the project currently flourishing at Anfield is quite admirable.
This isn't to say however that Alexis Sanchez would not have been a fantastic acquisition and impressive outlet for Liverpool, far from it. Yet with the strongest chance of acquiring the Chilean, via the transfer of Suárez, not coming to fruition, little time can be spent dwelling on what may have been.
Spending power
Whilst it has been noted that much of Liverpool's spending this window, on messers Lambert, Lallana and Can respectively, has been independent of the incoming finance soon to be received from the sale of Suárez, one has to remember that the Reds' spending power still falls far short of the likes of Manchester City, United and Chelsea.
In black or white terms, the remainder of this transfer window can go one of two ways.
The first, a slow but steady process of acquiring individuals both suited to the Liverpool way of playing, yet possessing either the experience or the potential to flourish into top European footballers. A steadfast way of seeing results, albeit heavily requiring a hearty dose of patience.
The second way however bodes much more bleakly. Consider a window of hastily cast decisions, procuring players with reputations around Europe as 'the man of the moment' or the die-cast 'next big thing'. Think Tottenham Hotspurs and the countless millions plundered away on the likes of Eric Lamela, Christian Eriksen and Roberto Soldado, all for a collective sum of around £62 million.
Each of course, top footballers within their own right, having had their lion's share of solo success upon the continent. Nevertheless, haphazardly assembling talent together in the hope that they will click simply does not always work, sometimes the jigsaw pieces just will not fit – an overall philosophy is paramount.
Maintaining composure
Suarez will undoubtedly leave a huge void in his immediate absence. Nonetheless, frittering vast sums of money away on household names who may not even adhere to 'the Liverpool way' would be a classic case of one step forward, two steps back.
Perhaps the anguish of some fans is born from the fact that Liverpool came so close to clinching the Premier League title last season, a feat that was simply beyond the wildest dreams and expectations of the best of us.
Ironically however, it is perhaps this achievement which dictates that Liverpool should not simply plunge head first into the transfer market like a bull in a china shop, intent on securing 'big names' in aim of merely making a statement. Sometimes the loudest and most impressive statements don't always make that much logical sense.
Optimism
As it stands, the creative platform of the Liverpool XI next season will take some beating. Adam Lallana joins the likes of Philippe Coutinho and Raheem Sterling, with the acquisition of Markovic hopefully not too far behind.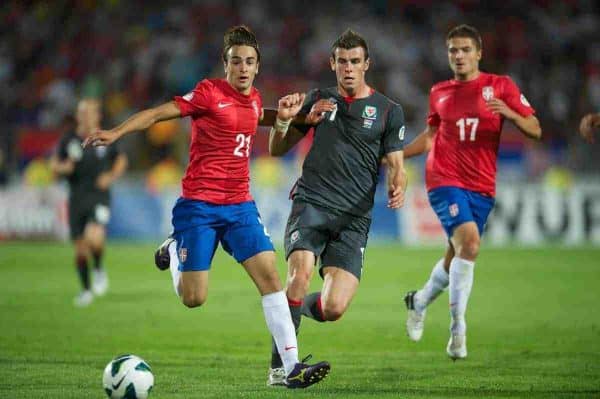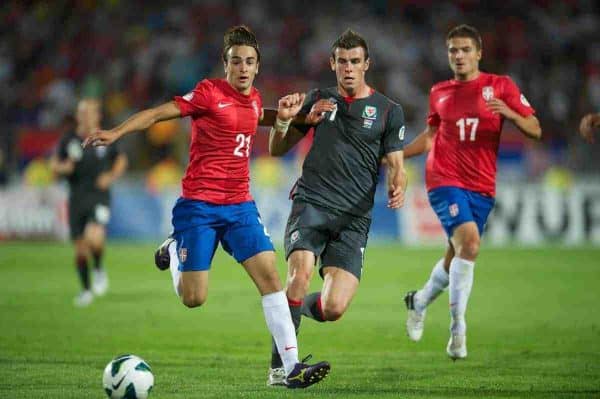 Should this quartet forge a clockwork-like rhythm, entwined neatly between the engine room of Henderson and Gerrard and the main spearhead of attack in Daniel Sturridge, Rodgers again finds himself with a very meticulous and flexible offensive ensemble, to rival the very best.
The transfer window is an exciting, yet often long-drawn and fascinating sort of beast. Purchases unquestionably have to be made; and they will be.
Yet do not be expecting coveted names of Suárez-esque magnitude to be arriving in knee-jerk fashion, merely to satisfy the loss of the Uruguayan.
As last season evidenced, a building project is well under way at Anfield. Personnel changes but philosophies remain the same.
In Brendan we trust.