Columnist Aaron Cutler gives his take on Luis Suarez's departure and seeks to reassure worried fans.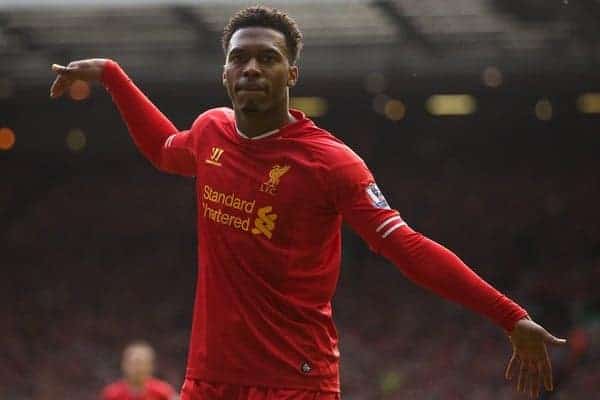 And so it ends. A tumultuous, controversial, divisive, traumatic yet utterly brilliant three and a half years. It was fun while it lasted, Luis.
Suarez leaves for Barcelona, not as a Liverpool great but arguably the club's best player in 30 years. A contradiction? Perhaps. But greatness befalls those who display true loyalty and achieve tangible success. Legendary status is bestowed on a select few – Dalglish, Gerrard, Rush, Souness – mighty figures who stayed the course.
Our Uruguayan menace, while a footballing genius, falls short of that particular pantheon.
Granted, we will miss those mesmeric skills, coupled with a sheer force of will that elevated him to another level entirely. But then nobody will miss the drama, the headlines, the suspensions..
Nobody need consciously blur the line between loyalty and morality anymore. Forever posturing, the time had come to negotiate an inevitable parting of the ways.
Abba once sang 'breaking up is never easy' and indeed losing the world's best player certainly hurts. Yet Benni and Bjorn, those famed football philosophers, also wrote 'the name of the game', a pertinent reminder that commitment is not always a two-way street. The leaving of Suarez simply underlines football's incessant rate of staff turnover. Players come and go, with true allegiance ingrained in the stands, nowhere else.
Remembering such will ease the pain.
Liverpool themselves will 'go again', as we did when Keegan bid farewell, when Rush turned to Turin, when Owen severed all ties, when Torres betrayed his adoring public…
Dwelling on the past is simply not our style. Suarez may have abdicated the throne but a worthy heir lies in wait.
That man is Daniel Sturridge – the second deadliest striker in England, lest we forget. A phenomenal talent in his own right, the England forward has long craved centre stage. Forced to share the limelight, he has played second fiddle, foil and pretender since joining Liverpool in 2013. Now is his moment to shine and rest assured he will clasp it with both hands.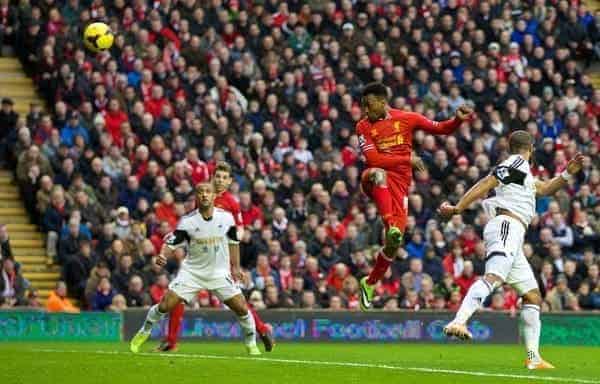 The difference between Suarez and Sturridge is their projected career paths. The former saw Liverpool as a stepping stone, another rung up a ladder scaling the Nou Camp. But for Sturridge Liverpool is a destination. Well publicised struggles at Manchester City and Chelsea render this his last chance. He's here for the long haul, with sights trained on firing himself into Anfield folklore.
There is another twist to this transfer's finality, one that could benefit the reds in the long-run. Though not immediately obvious Barcelona's acquisition will allow us to settle on a preferred style of play. For manager Brendan Rodgers has always favoured a 4-3-3 formation, this with one central front-man.
In order to accommodate Suarez and Sturridge together, Rodgers wavered from that platform somewhat, opting for a 4-4-2 diamond, an expansive 3-5-2 and an evolving 4-1-3-2 at different junctures. When reverting to type one of the deadly duo was forced into a wide berth for the sake of the team. A temporary measure, that was never sustainable.
Losing the league's best player, and with him 31 goals and 12 assists, can never be looked upon as a positive; not even Alistair Campbell would dare spin such nonsense. But what it does do is allow Rodgers to press ahead the way he originally envisaged. Sturridge will become his main man and focal point, with any signings likely to compliment him in wider positions. A huge show of faith it is a belief that Sturridge himself has fostered.
An underrated striker he truly is the complete package. Pace, skill, movement, creativity and confidence, combined with a quite astonishing goal record, make him the complete modern day forward. A superb finisher his variety of goals echo Fowler in his prime.
36 strikes in 49 games would make him a club great at lesser sides, ones not party to the brilliance of Hunt, Keegan, Dalglish, Rush, Aldridge, Fowler, Owen etc. Likewise, breathtaking goals and displays against the likes of Aston Villa, West Brom and Everton would command Player of the Year recognition but for the Suarez spectre.
Basically, those currently in mourning should remember the younger, faster and more committed (to LFC) member of the SAS remains in situ. Sturridge WANTS to be here and deserves the mantle of Liverpool's outright centre-forward.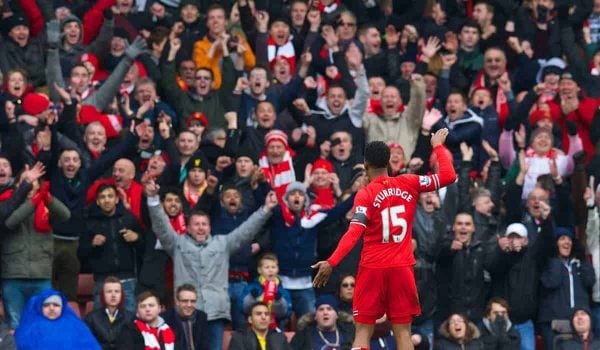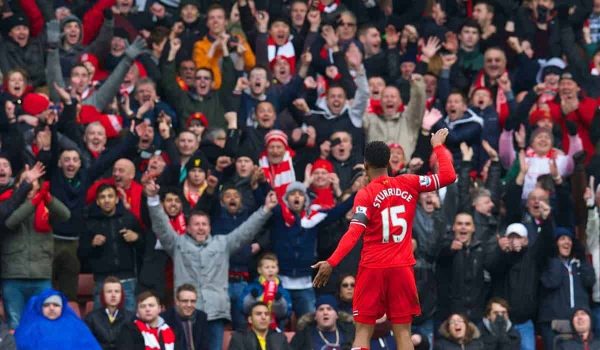 The only variable threatening a glorious succession would be injuries. Our number 15 struggles to retain a clean bill of health, succumbing to ankle, hamstring and thigh problems since arriving on Merseyside.
Many question his stomach for the fight in that respect. It is said a slight knock or a series of questionable decisions are enough to dishearten and rob his focus. Perhaps resilience is the one attribute to be honed, that never-say-die approach something which so endeared his strike partner.
Then again that cool, composed and confident air has become a trademark, the maverick in him no doubt instrumental to an impressive rise. Why change that? Not everyone can tear an anus (ala Javier Mascherano).
Either way, the loss of our talisman is not quite the full-blown crisis rival fans and media outlets would have you believe. Liverpool may not plunder 100 league goals next term but their attacking options and style of play mean they'll come mighty close. Our output is systematic remember, not solely the work of one man.
With Sturridge entrusted Rodgers and his committee will most likely identify options to field around him. Lazar Markovic is as good as signed, while both Wilfried Bony and Loic Remy can interchange in a front three. This is surely the way forward.
Our business thus far, though unspectacular, is decent enough. In Adam Lallana and Emre Can we have added much needed depth to a paper-thin midfield. Lallana's creativity and tendency to carry the ball meanwhile will fit perfectly into our attacking principles.
The only concern is the lack of obvious first-teamers. Do any of the aforementioned command an automatic start? Buying in quantity, though encouraging, is not inspiring. Finding players good enough to impact our first XI is no easy task yet Chelsea and Arsenal have achieved just that. Both look set to push on.
Having secured a long-awaited return to the Champions League, Liverpool cannot – under any circumstances – rest on their laurels.
Buying from a position of strength, they need to hammer home that advantage. Seize the initiative and pull away from Tottenham and United, both of whom will be forced to settle for second, third, even fourth choice targets due to a lack of continental involvement.
NOW is the time to act and ensure we have the better end of this bargain. The presence of Sturridge compensates for the loss of Suarez himself. The real blow will come if the club squander the money received for him.
£75m for a near 28-year-old with excess baggage is a good deal with the potential to become a great one. Ian Ayre and co can make it just that. So here's hoping FSG embark on a case of retail therapy, buy well gentleman and ease the pain.